I get asked A LOT about my hair routine so I thought I'd put together a post and share what hair styling products I use and a little bit about my hair color, cut and how I style my hair. Being blonde isn't always easy, but it sure is fun!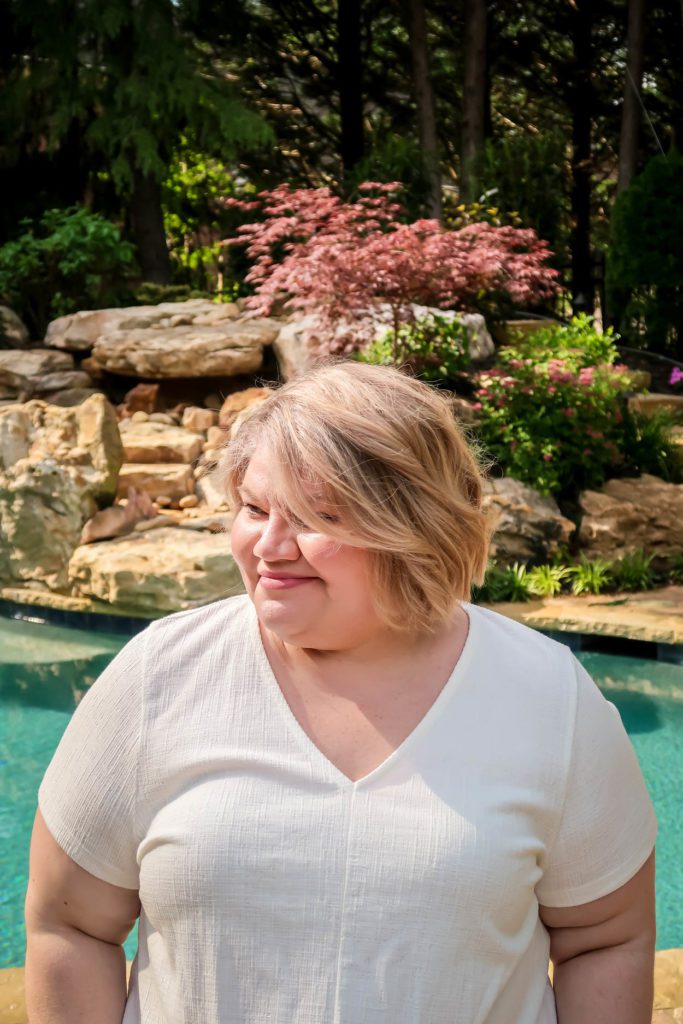 Short Bob Hairstyle and Honey Vanilla Color
Most of the credit for my amazing head of hair goes to my hair stylist because if it wasn't for her, my hair would be a hot mess! She's given me a hair color that I love and a hair cut that works great with my hair.
This length has been great for me as I can wear it sleek and straight or throw in some beachy waves. It's versatile and simple to style. My hairstylist describes this cut as a bob that is slightly stacked. I have a horrible cowlick in the back of my hair on the bottom, so we trim that up and stack the back so it works best with my hair.
My color seems to change slightly each time. I really just let my stylist be in control of it because she knows what I want and I trust her. She says that my color is a Honey Vanilla with strand lights. I had no idea what strand lights were so I had to look it up, LOL! Apparently, they are finer than baby lights. She also goes in with another color and tapped my roots to give it a softer blend. It's similar to balayage. As far as what color she uses, she uses Redken Shades EQ for my color.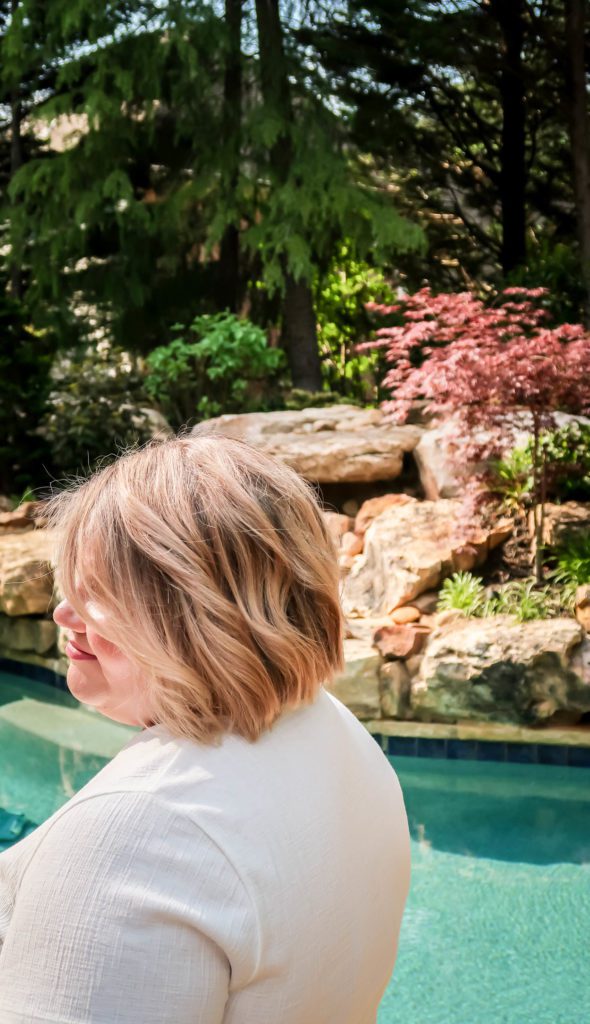 My Hair Routine: The First Steps
The biggest challenge I have is that I have wavy/curly natural hair and not in a cute way either. I have weird cowlicks that are scattered throughout my head of hair. I also get really frizzy hair and considering I live in the South, I need help with frizz control! Plus, going this blonde is a lot of work. It's definitely not natural and I try to make sure that I'm taking care of it the best that I can. That means a lot of good quality hair products.
The first thing I do to keep my hair healthy is by making sure that I'm using a good shampoo and conditioner to cleanse my scalp. Lately, I have been using Verb Sea Shampoo and Conditioner. I like this because it's been great for my fine hair at giving it a little bit of texture and a tad bit more volume. It doesn't weight my hair down. If you have fine, medium or even thick hair, I think you will enjoy this shampoo and conditioner. Plus it smells great!
– Sea Water: Protects hair from breakage, improves strand quality, and restores minerals into damaged hair.
– Natural Sea Salt: Adds natural volume and effortless texture.
– Quinoa Protein: Repairs damage while coating, strengthening, preventing breakage, and protecting hair.
From time to time, I have to use a product for my dry scalp. It's an issue that I've always had for as long as I can remember. When my hair needs a bit of help with that, I turn to this product in particular.
One is the drybar On The Rocks Charcoal Scalp Scrub. I've used this for the past month or so to test it out and I really love it. It does a great job at getting my scalp back to normal and I think of this almost like a deep cleanser for my scalp. It's also great for oiliness and safe for color treated hair. I'm very impressed with this!
– Micro-fine Sugar: Provides gentle exfoliation while minimizing damage to the scalp or hair cuticle.
– Activated Charcoal: Helps purify and deep-cleans hair and scalp.
– Lemon and Orange Extracts: Help support cell renewal for a healthier scalp.

I also will use a shampoo and conditioner that helps with dryness. I only have to use this like once every other week or so, but I find that it helps if I notice that my scalp is getting dry. I've used everthing from Dove to a high-end brand.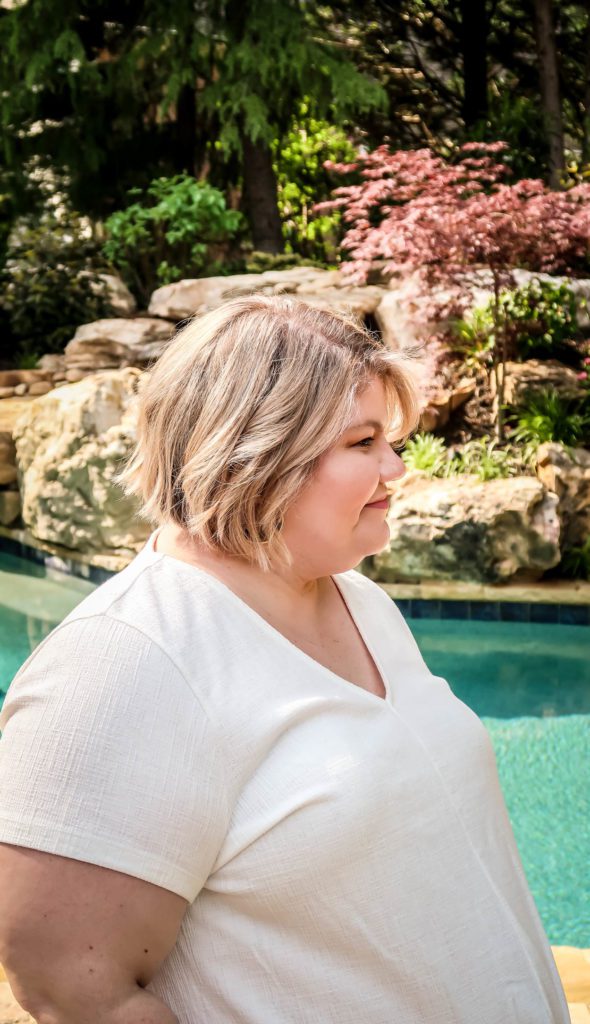 How I keep My Blonde Hair Healthy
When you have blonde hair, you know how quickly your hair can go from super healthy to straight up straw in a matter of minutes. It's always been so important for me to make sure that my hair is healthy. So I make sure to use good products to help keep my hair in it's best shape. I think whether you are blonde or just chemically treating your hair or using heat styling often, these products will be very beneficial for you.
First up, my hair wouldn't be here if it weren't for Olaplex. This has saved my hair for years! My stylist uses Olaplex on my hair at the salon and I use the No. 3 at home. This product repairs and strengthens my hair. If you suffer from breakage or want to prevent it, this is THE product to pick up. I use it once weekly. Apply to my damp hair (pre-shampoo) and let it sit on my hair for ten minutes or longer. Wash and style your hair as usual afterwards. You will notice such a difference in your hair once you start using this product.
I also make sure that I'm using a purple treatment to keep my blonde looking fresh and not brassy. I've been using Pravana for a while now and I really like it. I use this once a week and let it sit on my hair for about five to ten minutes. The longer you let this sit, the more intense your blonde will be. It also conditions, but I will admit that I don't love this for extra hydration as much as I like it for helping with brassiness.
To keep my hair hydrated and a little pampering, I use L'Oreal Elvive Total Repair Damage-Erasing Balm. This leaves my hair so soft and at least ten times better than it looked before using the product. It helps fight frizz, it helps hydrate my hair, it keeps it smooth and it's just an all-around STEAL from the drugstore.
I also use the Aquis Rapid-Dry Hair Turban once I'm out of the shower. I used to throw my hair in a towel and go about my business, but someone suggested this to me and I have been using it since. I think this is much gentler on my hair than a towel is. Does it dry my hair quicker?!? Maybe a bit, but honestly, I wasn't really using this for that reason. I typically get out of the shower, put my hair in the turban and go about my business for a bit and then blow dry my hair.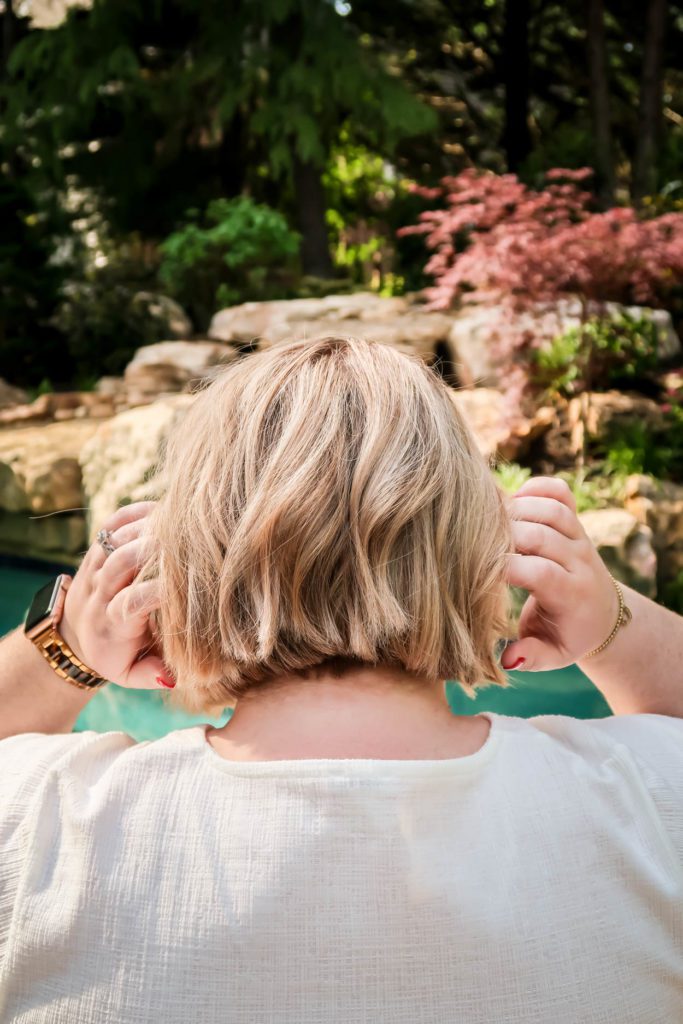 How I Style My Hair
So after I've let my hair sit in the Turban for a while, I will then apply products to my hair to prepare it for heat styling. I will rarely let my hair air dry as I have found that my scalp gets way oiler this way than if I just blow-dry my hair.
The first product that I apply is Bumble and Bumble Hairdresser's Invisible Oil Heat & UV Protective Primer. I've already been through an entire bottle and I just placed an order for another one. It detangles, it helps soften the hair, it helps tame frizz and also helps to restore moisture to the hair. I also love using this because it also provides UV protection from the sun.
I then brush that through my hair and then I apply the Shu Uemura Blow Dry Beautifier BB Hair Serum. I like this because it's for medium to fine hair and it leaves my strands super silky. It's a very lightweight, watery texture that helps prime the hair fiber, moisturizes without it being too heavy, smooths and softens the hair, helps protect from heat damage, and shapes and reshapes the hair with some kind of magic. It basically is reactivated when you reapply heat to the hair. It's awesome!
So after I get done blow drying my hair, I will use a hair oil to go over my ends and help with any additional flyaways. I just ordered the Kerastase Nutritive Oil as my SIL has the sleekest hair I've ever seen and she swears by this product! I'm hoping my hair likes it so I'll be reporting back!
After that, I will probably wear my hair straight. Sometimes I'll throw in a few tousled curls, BUT not all of the time. I do like to add a texturizing spray. I've been using Kristin Ess Dry Finish Working Texture Spray. I get this product at Target and I really like it. It adds a little bit of texture and volume to my hair without being too much or leaving behind any residue.
Hair Styling Tips and Facts
If I want some serious volume to my hair, I will always use the Living Proof Full Dry Volume Blast. The volume it can provide IS CRAZY!
Remember the days when our moms would basically rip out our scalp when brushing our hair? Thankfully, kids, these days don't need to relive those moments. The Wet Brush is a godsend.
Want to make your own leave-in conditioner? Add in a tablespoon of you conditioner and add water to the rest of a spray bottle. Helps detangle and add moisture to your hair. I'll take this to the pool with me to keep my hair protected and hydrated.
I swear by this Revlon One-Step Volumizing Hair Dryer. It's incredible. I rarely use a flat-iron anymore because this gets my hair so straight.
I only wash my hair about two times a week. Other times, it's dry shampoo!
My favorite hairspray is L'Oreal Elnett Precious Oil Satin Hairspray
If I put curls in my hair, I have used this BabylissPRO 1 inch iron
The one trick that I have benefited the most from, is curling my hair and not touching the "waves or curls" until they are cool. Then I brush through them or tossel with my hands.
Use a hair mask. They really help.
Try to limit the use of heat-tools, but if you do use them, prepare your hair for them. Use products to protect them!
That's my hair routine and everything I use to keep it looking it's best. It's a lot of thanks to my hairstylist and the products that I use. It's just important to make sure that you are taking the very best care of your hair that you possibly can. See a professional for color when you can and find a signature hairstyle that makes you feel like a Queen! When you look your best, you will feel your best!
Shop The Post