Here's the thing, we all love NOT having to wash our hair so in turn, we tend to use A LOT of dry shampoo through out the week. I've heard from a lot of people recently that they just don't love dry shampoo and they're amazed when I tell them that they might not be using the right type of product for their hair type AND that they might not be applying it correctly. I thought if others are asking me, then I obviously had to share my tips and tricks for using dry shampoo on here!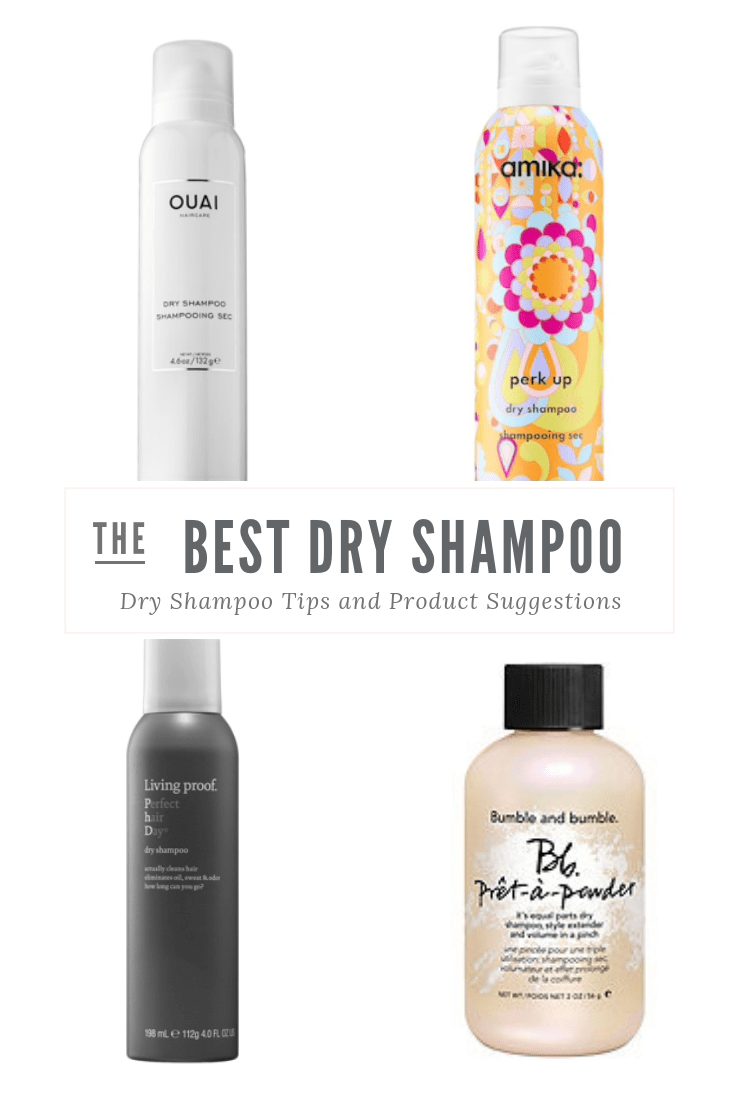 Sure, everyone hates washing their hair and if you can go a couple days (or more) with only using dry shampoo, you'll notice your hair becoming a lot healthier, your color lasting longer and you'll see more volume and texture in your hair! The moment I stopped washing my hair every single day, my hair got so much healthier and the change was DRASTIC my friends. Especially for those of us who are blonde, washing our hair daily (just using heat to style honestly) can take a toll on our locks!
1. Different Hair Types Require Different Dry Shampoo
Here's the thing with Dry Shampoo, you have to try to find the right type to work with your hair. It's just like makeup and skincare, not all products will work for everyone! Don't try one and assume it doesn't work for you. Here's some helpful tips:
Powder Dry Shampoo: I like powder dry shampoo for fine hair and very oily hair. However, I think everyone can use it! Shake it onto your roots and work it into the hair. Follow with a quick shot of low heat with your blow dryer. You can also sprinkle onto your hands as well! Then apply into your roots.
Bb.Pret-A-Powder is a great powder dry shampoo that also adds in texture and volume to the hair.
Aerosol Dry Shampoo: I'd say that Aerosol Dry Shampoo's are probably the most known of the Dry Shampoo products that are available. I like an Aerosol Dry Shampoo for thicker hair and for those that want a Dry Shampoo that also features a tint! I feel like it really gets into the root of the hair and I like some better than others, but again, not every dry shampoo works for everyone.
Take each section of hair, spritz and move on to the next section. Give it a couple of minutes and work the product into your hair. Also, hit your hair with the blow dryer on low and style!
Ouai Dry Shampoo is an aerosol dry shampoo that I really enjoy using! I spray it into sections on my hair and also use it to add some volume and texture! Plus, it smells absolutely incredible!
Paste Dry Shampoo: This is a new-to-me formula that I haven't personally used. The paste formula is half dry shampoo, half styling paste. I wasn't that familiar at all with paste versions, so the Redken website had a lot of great information if you're curious!
Redken Dry Shampoo Paste looks like a great product for when you want to have the dry shampoo benefits, but you're also looking for a product to help with definition and lift to the hair!
2. You're Applying Your Dry Shampoo Too Close To Your Head
Don't make the mistake of applying dry shampoo really close to your roots. You actually want to take the bottle and spray about 8 to 12 inches away from your scalp. This way, you aren't getting too much product into your roots and you won't have an issue with your hair feeling super stiff and dry and turning white at the roots.
If you are using a powder, obviously you have to get the product into the hair. I work the powder into my hands first and then apply (very small amount) the product into the hair. Little bit goes a long way with dry shampoo!
I tend to section my hair and spray into each section. I apply a little bit at a time because I'd rather build it up instead of having too much on my roots at one time. I tend to get really oily above my neck and around my temples. So I spray in those areas only for the most part.
I then hit my hair quickly with my blow dryer to give the hair a little refresh and also, to give my hair a quick run through with a brush to straighten out and get some more volume back into my hair. It's amazing what adding a blow dryer to your dry shampoo routine can do for your hair!
3. You're Not Allowing It Time To Do it's Job
Just like skincare, you have to let the product sit on the skin before you notice results. It needs time to really work and have a minute or two to absorb oil at your roots. So I spray and let it sit on my hair before I touch it! Then after a minute or two, I will work the product into the areas that I sprayed and then blow dry my hair. Then it's time for the hair dryer!
Plus, using dry shampoo is a great way to get some texture and volume in your hair! It not only smells amazing, but most of the time the starch content in the actual product will grab onto the hair shaft and make it appear fuller which equals more volume! One of my favorites is the Oribe Dry Texture Spray. This acts like a dry shampoo, but it also offers volume and texture to your hair as well as giving a little bit of hold to the hair. It's one of the absolute best hair products I've ever used.
4. You're Using Too Much Product
Again, I see so many people use way too much product when they're spraying the product in their roots. Spray a little bit at a time OR even consider spraying product into your hand and running your hand through your roots. Like I said before, spray a little bit and work your way up to more product if needed. There is nothing worse than stiff, dry hair from too much dry shampoo.  We've all been there! 
I love Dry Shampoo and find it an essential part of my hair routine. Some days I use it because I'm lazy and don't want to wash my hair. However, it's also a product that I turn to for volume and texture and to sometimes refresh my hair so it smells clean and fresh! One of my favorite ways to use Dry Shampoo is to spray it on my hair before I go to bed. If you tend to have oily hair when you wake up, this is the best trick for helping with this!!
What's Your Favorite Dry Shampoo You've Used?