Am I the only one that hates using a dry shampoo because of the white residue it leaves all over my hair?!? Let's not forget about the "odd" way it can leave our hair feeling.  I have no better term to describe that feeling other than…well, just weird! Don't get me wrong, I live for a good dry shampoo. They can help give life to an otherwise dull and flat hair day.   However, not all dry shampoos are created equal.  I normally pick mine up at the drugstore and I'm generally, for the most part, ok with their performance, but could it be improved? YES!
The amazing people at MOROCCANOIL have listened to us complain about our dry shampoos long enough!  They just released two new versions of dry shampoo.  One in a Dark Tone and one in a Light Tone.  I had an appointment at my salon, which happens to carry MOROCCANOIL and picked up the Dark Tone.  At first, since I've been going blonder, I thought my stylist would suggest the Light Tone, but we changed up my hair color (gave me a little more of a darker root) so instead she suggested the darker tone.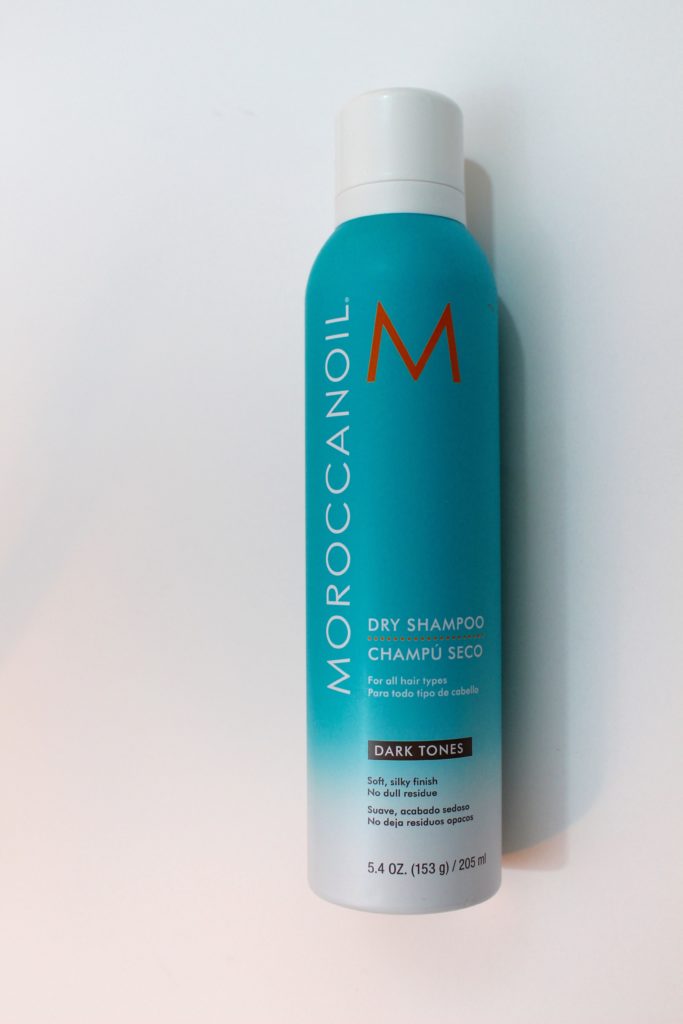 Moroccan Oil Dry Shampoos 
How much does it cost?
A hefty $26.00.  Quite high for a girl who is used paying for her drugstore go-to $7.00 bottle.
Size of the bottle?
5.4 fl oz. Which is much bigger than the ones I normally use
Does it do anything special that they drugstore versions don't? 
Actually, yes!  Not only does it not spray out a chalky white color, but the two tones are actually very different from each other.  Showing us that not all dry shampoos are the same!  They both contain rice starches that break down immediately once they are massaged into the scalp and they are both Argan-Oil infused.  This dry shampoo is also great for UV protection,which I love!
Dark Tone: Sprays out a darker shade which I can best describe as a brunette-ish type color.
Light Tone: You know that purple shampoo and conditioner that you normally use? Well, the Moroccan Oil Light Tone Dry Shampoo actually contains subtle violet undertones that help with that brassiness issue blondes have.
PS Can we talk about how good this smells?!? If you haven't ever tried anything from Moroccan Oil, you are missing out!!
How do I use it?
You'll want to spray about 6-8 inches away from the root. I let it sit on my scalp for a minute or two and I massage my hair like I do when I'm using a traditional wet shampoo.  Then I take my bush through my hair and that's it!
Can everyone use this?
YES! Everyone needs a good dry shampoo in their arsenal of products.  Now with the different tones available, both darker shades and lighter shades have a product for them! I got asked about using this on fine hair types and I think you'll be totally ok with this.  In fact, I think it will help give your hair some texture and volume.  I'd start off using a small amount and see how it works with your hair.  I always, always suggest using dry hair on fine hair because it can really help to give it some life!
What do I think of it?
A while ago I would have told you that a dry shampoo is a product that I wouldn't spend a lot of money on.  Even when I was at the salon and she said this one was $26.00, I hesitated for a minute.  It's not that I'm cheap, I just don't think you have to spend a fortune on every product.  However, since using this product, I've realized that it's worth the extra bucks that it costs.  My hair doesn't feel chalky and weird like it used to when I'd use dry shampoo and it's great not having to make sure I don't have any white marks in my hair from the dry shampoo formula.
The MOROCCANOIL Dry Shampoo smells amazing and it doesn't leave my hair looking dull and flat like my other dry shampoo used to.  My hair shines, smells amazing and it's being protected from harmful, damaging UV rays.  So, for the day (or four) that I've skipped washing my hair, I know that it's still being cleansed and taken care of when using the MOROCCANOIL Dry Shampoo. LOVE IT!
 For more information:
MOROCCANOIL Dry Shampoo Dark Tone and Light Tone