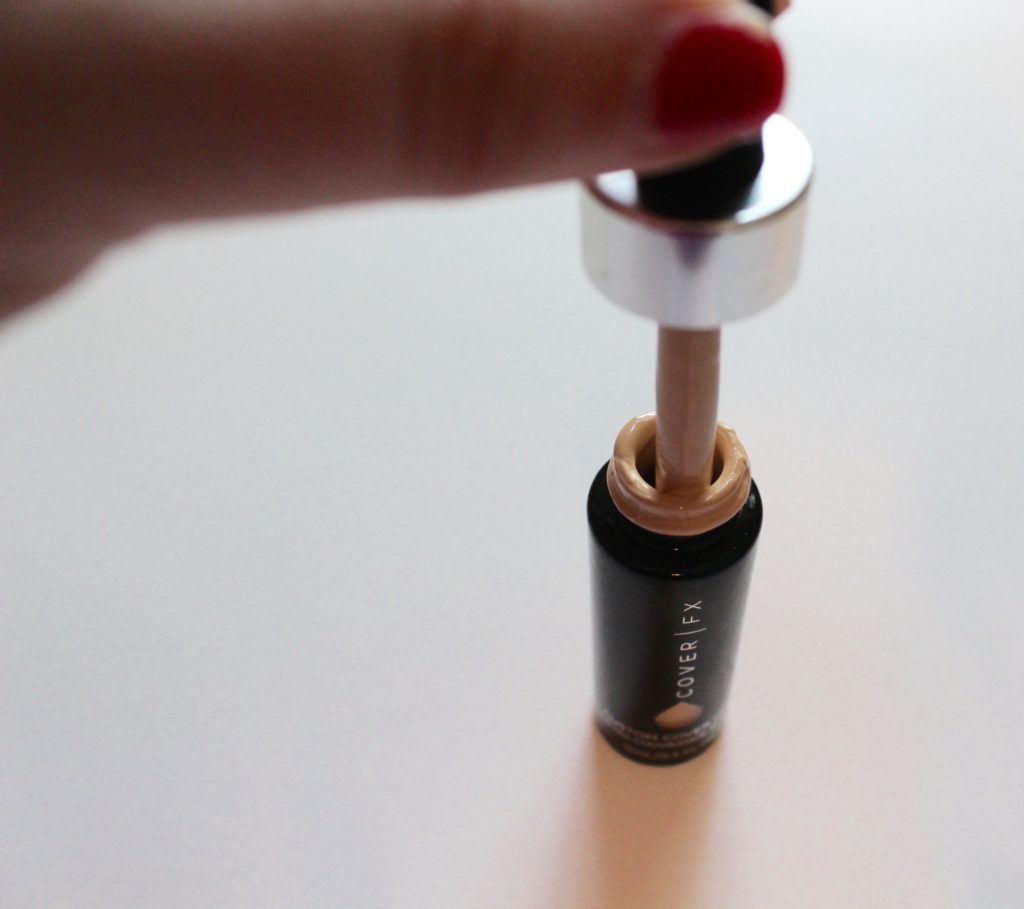 CoverFX has just introduced a new product called Custom Cover Drops. The idea behind this product is that these drops can be mixed into your skincare and other makeup, leaving you with a custom application that gives you even skin tone and radiant skin.  Sounds interesting, but do they work? Let's take a look.
[line]
First Impressions: CoverFX Custom Cover Drops
How Does This Product Work?
Basically from what I understand, these are pure pigment drops.  You can drop them into your skincare or makeup to create a customized foundation.  You decide the type of coverage and shade that you will have.  These drops are PURE PIGMENT that means they are just the pigment and nothing else.
How Do I Use This Product?
Decide the type of coverage you want.  Mix in the appropriate drops and mix into your skincare or makeup. It can be used with water, silicone or oil-based products.  So think moisturizers, serums, oils, primers, foundations, lotions, gels, mousse, bb cream, cc cream and tinted moisturizers.
Coverage Information:
1 Drop = Sheer Coverage
2 Drops = Medium Coverage
3 Drops = Full Coverage
4 Drops = Total Coverage
[line]
[line]
Will this work for all skin types? 
Yes, because this is just pigment. It's all going to be about the product you are mixing it with.  So oily, dry or combination-it should be fine on all skin types when used with the appropriate product for your skin type. I have pretty sensitive skin type and this has NOT irritated my skin at all. I always suggest if you are worried about any sensitivity to go to a Sephora store (or where you can purchase this) and see if you can get a sample.
Will this change the product that I'm mixing it with?
I think yes, POSSIBLY!  I've mixed this with a couple of different products and I have found that on one occasion, the product I was using gives a very dewy finish, but when mixed with the CoverFX Custom Color Drops, I found it to make the finish a little bit more matte.  A lot of people have asked me about using this with an SPF and I keep going back and forth on this. I'd like to get some more information on this before I answer it, but my thoughts are that it would probably be ok.  As long as it's not changing the formula of the SPF (I don't really see that it would) you'd be completely ok! If it's somehow changing the formula and you aren't getting enough protection, then that's where there would be an issue.  I'll hopefully have more info on this soon!
Will there be a color for my skin tone?
YES! There are 3 different types of undertones available.  Cool, Neutral and Warm tones.  I kind of categorize them as Cool= Pink, Neutral= Neutral (Ha) and Warm = Golden. There are total of 24 shades available in the entire line.  I picked up the N20.  The N10 was a little bit too light and the N20 was a perfect match. I went with a Neutral shade because I do already have so much pink undertones to my skin. I don't need anymore! HA!  I'm thinking about also picking up a shade darker so I can customize my color as Spring and Summer roll around. I don't generally get that much darker, BUT the N20 might be a tad bit too light.  I think this is one reason why I love this product so much.  I'm generally considered by most to be very fair and sometimes matching foundations can be tricky.  Using a product like this is a great option because I can add a drop or two of the pigment to create my own perfect color.
Why use this with makeup?
Like I said before, this is a great product for customizing! I have plenty of BB and CC Creams that I love the finish, but it's not enough coverage sometimes.  I can add a drop (or however many) to give me a little bit more coverage, but I'm still getting the benefits of using the BB/CC Cream.   Someone might ask why not just use two foundations? Well, not all foundations are the same and sometimes I'd have to buy a second foundation for each of the foundation I'd be using. With something like the Custom Cover Drops, I can always have a pigment on hand to lighten or darken up whatever product I'm using.  Also, I love this product as a concealer.  I can take my eye cream, add a drop or two of the Custom Cover Drops and voila, I have a concealer! It's worked great for me.
Do I need to do anything special with this product?
You MUST shake this product before using it! A side note on that, this is a bottle of pure pigment.  If you were to drop it, it will go everywhere and ruin whatever you drop it on.  So be extremely careful when using this product.
Can you wear this without mixing it with anything?
I'd say no.  This is pure pigment and if you did, you'd probably end up looking like you have fake skin on, ha! It's just too much alone.  I have read where people have applied the tiniest (and I mean tiny) amount to areas that are issues for them such as dark spots, etc.  I'd just caution you when doing this.  Make sure you are applying a really, really small amount of product and really buffing it into the skin.  Overall, in my opinion, this is better mixed with another product.
[line]
 
Final Thoughts
The CoverFX Custom Cover Drops have seriously impressed me.  I like that I can get a different look by switching up what product I'm using with the drops. I find that moisturizers give me a heavier, more pigmented look.  Using the drops with an oil or serum gives me a more skin-like finish that looks more radiant. Adding the drops to a primer is also another option! One thing that is a negative in my opinion, but I'm not sure how else they'd package it, is that the bottle sometimes has pigment all over the under side of the cap.  This seems like extreme wasted product and I'm constantly using my makeup brush to wipe that area off, so I can use those drops.  Just know, that there might be some spillage under the cap.
I would suggest starting off with the smallest amount of drops and seeing how it works for your skin.  I sometimes didn't need four drops to give me total coverage.  I think it really depends on what you are using the drops with. Also, you can use your hands, brushes or a beauty blender type product to apply the product,  once the drops have been mixed into whatever product you choose.  I would suggest trying each of those applications and seeing what gives you the best finish.
Coverage seemed to last a pretty good amount of time on my skin.  I'm really curious how this would last when the weather starts warming up and becoming more humid.  I know it's more about what type of product you are using this with, BUT I'm still curious how they'll hold up in very warm, humid Georgia Summers. More on that once it's horrible outside again! LOL! I mentioned this above, but I used this with a primer and well, it  could be the primer just not working like it used to on me OR I just didn't love the combination of the drops with the primer.  I happened to notice my pores a lot more when I used it with the primer.  I'm going to have to test that one out a couple more times, with a different primer.
A lot of people are talking about the price point on the CoverFX Custom Cover Drops being high, but I completely disagree with that.  You are getting a bottle that is nothing but pigment, nothing else.  When you're paying for a bottle of foundation, you're not getting just pigment.  The pigment has been mixed with other ingredients.  The bottle of CoverFX Custom Cover Drops will last you a very long time since you aren't using more than four drops each time.
I'd  suggest going to a Sephora store (or where ever else you can get these??) and trying out  a shade to see see what color you are.  Correct color matching will be key with this product! Plus, if you get a sample, you can try it out before you buy it!
Buy or pass? I'd say buy! I don't really see any other product like this on the market.  I love that it gives you the control to get the exact finish and coverage that you want.  Plus, with the shades that they have available, it makes it a great product for so many people.  It's not everyday that we get the opportunity to really have a product that customizable.