Introducing the L'OcciBox by L'Occitane! Have you heard of it?  I hadn't until I accidentally stumbled upon a website talking about it.  This is a Limited Edition, Online Exclusive box that features some of L'Occitane's Best Selling products.  The L'OcciBox is L'Occitane's Sampling Box, AKA Subscription Box.  It's not billed repeatedly, instead it's released seasonally (I think) and you have to place an order each time it's launched.  You are only allowed 1 box per household only! It retails for $48.50, but with the code SUGAR, you can snag the L'OcciBox for only $20.00, plus shipping and taxes.
This is the description on L'Occitane's website:
Spring has arrived in Provence with L'OcciBox, L'Occitane's exclusive sampling box, unfolding its latest and greatest products. 
This collection includes:
o 1 Jasmin & Bergamote Eau de Toilette, 0.04 fl.oz (Small Sample, not sure of $)
o 1 Immortelle Precious Serum, 0.23 fl.oz (Sample, but valued at $17.00!!!)
o 1 Immortelle Brightening Essence Sample, 0.03 fl.oz (Small Sample, not sure of $)
o 1 Shea Butter Hand Cream, 10ml 0.3 .oz (FULL SIZE $12.00)
o 1 Shea Whipped Hand Cream, 30ml 1 .oz (Valued at $3.00)
o 1 Bonne Mere Rose Soap, 3.5 .oz (FULL SIZE $7.00)
o 1 cube of Sugarfina Champagne Bears®* (Full Size $8.00)
First of all. A+ for packaging! This is the prettiest package I've seen in a long time!  As soon as I saw how the L'OcciBox was presented, I immediately thought of Mother's Day coming up!  I wish there wasn't a limit on how many of these boxes you could purchase, because I think this is such a beautiful gift to give to someone.  So I guess you have to either keep it for yourself or choose that one lucky person that you'd love to gift this to, ha.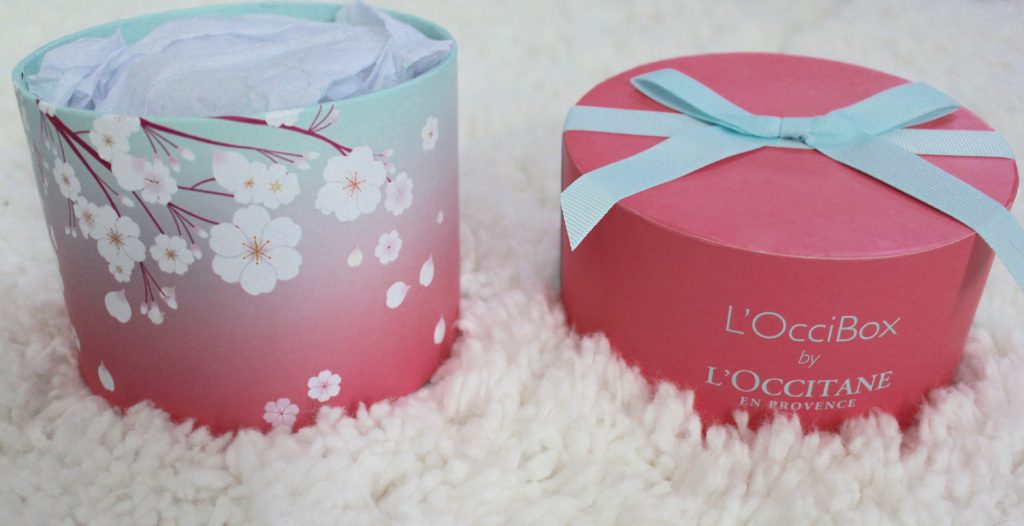 I think they did an excellent job on the products that they included.  I'm a HUGE fan of their Shea Butter Hand Crems and I love the Bonne Mere Soap.  I haven't tried the other items that were included, but I did try just a drop of the Immortelle Precious Serum and I was immediately impressed enough to the point I almost ordered it just based on what that one drop did to my hand.  Not kidding at all.  The Sugarfina Champagne Bears are a fun touch to the box and make it that much more fun for gifting! Or for eating all for yourself.  You decide!
This box normally retails for $48.50 and to be honest, I thought, at first, there was no way that this box was worth that price point, but after doing some research and finding out the value of the products they included; I think it's completely worth it and it's a steal at $20.00!  If you noticed above, I gave each of the items a dollar value.  That value of the products totaled up to $39.00 and with the $8.00 Sugarfina Champagne Bears, that's a total of $47.00.  So when I calculated everything, it made sense to me. I think that a few more samples would make it worth the money even more, but I'm not complaining with what was in the box.   Plus, there is also a nice little extra coupon included in the box that allows you to get a free gift with any $25.00 purchase!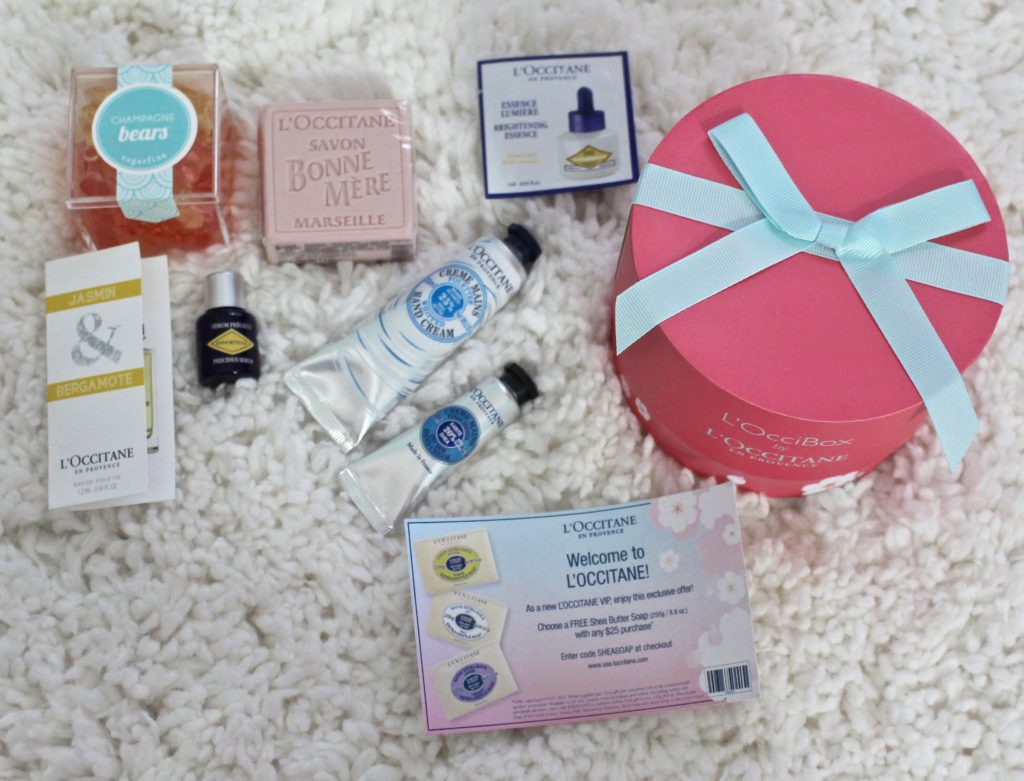 I'm such a fan of L'Occitane and having these Sampling Boxes makes it a nice treat for myself every now and then. Plus, this would make such a fabulous gift for someone who loves beauty products.  If you haven't tried their brand of products before, I highly suggest using the code I mentioned above and picking up a box for yourself.  I'm not being paid to tell you to try the box, I just honestly really enjoyed it!  You'll fall in love with L'Occitane's amazing scents, but the products work and that will keep you returning for more! Have you picked up one of these L'OcciBoxes yet? Leave me a comment and tell me what you think, if you did!
[line]
USE CODE SUGAR to get this box for only $20 (Plus shipping and taxes)
[line]
Not a sponsored post. Affiliate links included.