With Spring approaching, I'm already starting to think about my wardrobe situation. We have exactly 32 days to get our closets in order and have what we need readily available. Here are my ideas for a capsule wardrobe.
As far as a capsule wardrobe goes, basically my goal is to fill my closet with items that will work well together and that I'll get a lost of use out of. Raise your hand (I'll pretend that we can see each other doing this) if you have a closet full of items that you never wear. I sure do, hence why I'll also be having an IG sale soon! I want my closet to be lined up with clothes and accessories I'll actually wear more than once.
So many time we have a tendency to buy things when they're on sale because we think we're getting something cheap. However, have you ever bought something but have still yet to wear it?!? I have. I'm looking at two pairs of boots, a skirt, and two dresses that I have yet to wear. It's shameful I know.
My ideas for a capsule wardrobe for Spring consist of basics and little pops of colors and accessories to tie it all nicely together. I'm talking jeans, t-shirts, tops that can go with numerous outfits, a good blazer, a white button down shirt, lightweight sweaters, fun slides and flats, rain coat (forever raining here lately) gimme all the flowy dresses and midi skirts as well. Basics and then some is what I'm working towards.
My Ideas For A Capsule Wardrobe for Spring 2020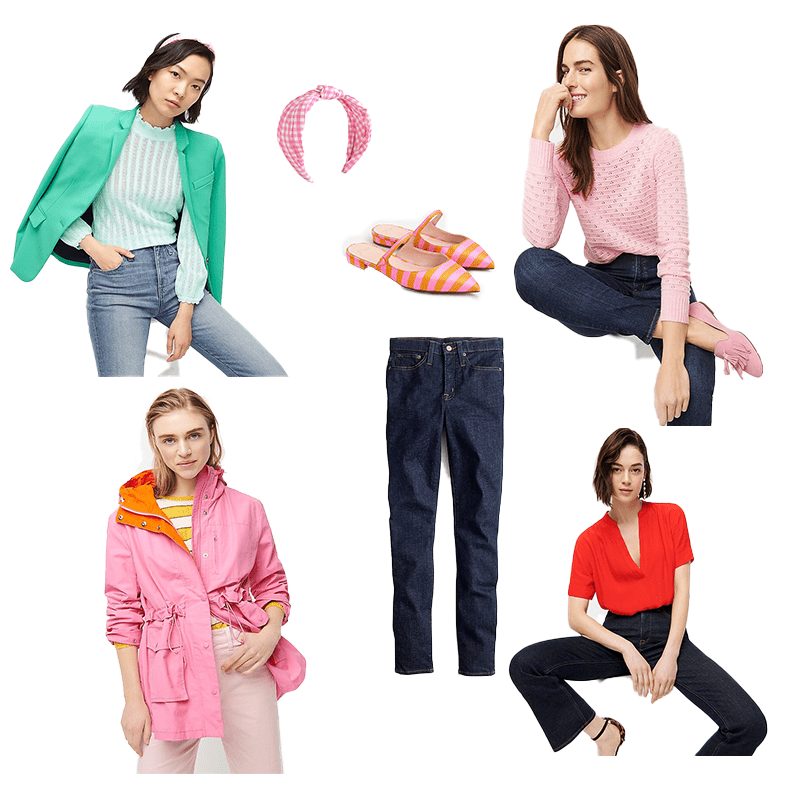 First of all, I am so happy to bring back some color into my wardrobe. There's something about Spring and lots of colorful pieces that I love. Since the weather can still be up and down, I like to layer. Add in a lightweight sweater or a blazer and it can take you from day to night.
Also, I'm very into the pops of color and patterns. Add a fun pair of shoes or a fun headband to dress up an otherwise casual outfit.
I added the rain jacket because right now, it feels like Georgia is never going to see a sunny day anytime soon. However, this is a fun rain jacket and it's available in a variety of colors and sizes. I'm going to be taking this to Europe with me!
I still feel like we need a high rise jean to add to our wardrobe. I also am seeing a lot of cropped, high rise jeans with a slight flare. I'm kinda into that trend, I just need to find one that looks right on my body type. WIll be reporting back on that one.

Cozy and Comfy, But Still Put Together Wardrobe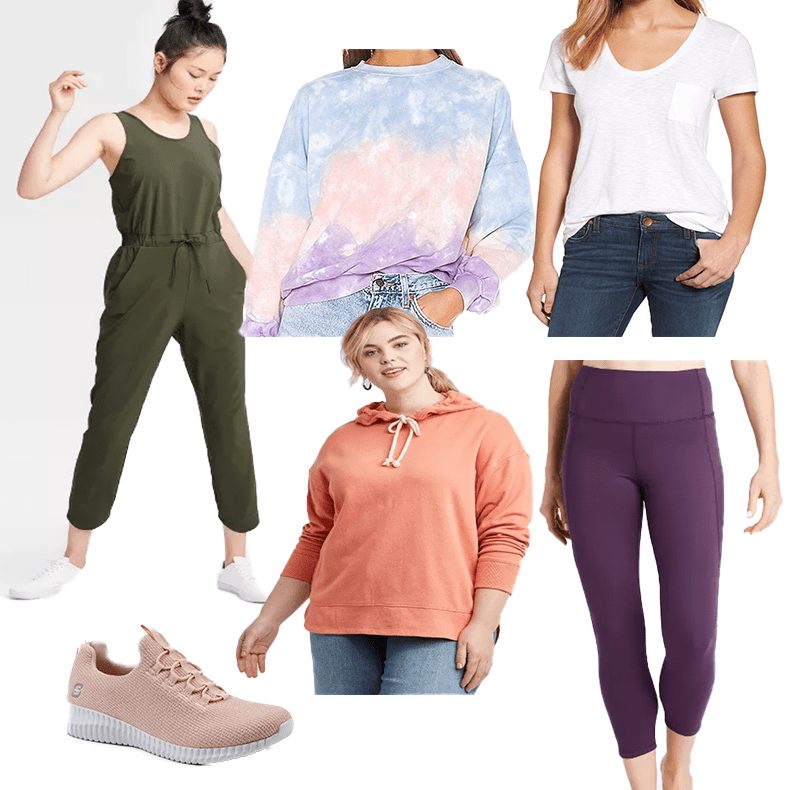 I love a good casual outfit. With that said, I still need to look somewhat put together when I go out into public. I'm very into the tie dye trend, but I can only do one piece at a time. There are so many tie dye sweatshirts and bottoms that are very on trend right now and at all prices.
I feel like we all need basic t-shirts and this is my favorite brand! There are more colors available as well. I'm still into the jumpsuits and this one is fun and reasonable! Add a denim jacket and a cute pair of shoes and it can be easily dressed up a bit for date night.
Anyone else still very into the sneaker trend that is happening? These are so cute and comfortable and very, very inexpensive.

Pops of Color For Your Wardrobe
Give me all of the cute beachy dresses right now! I also am loving the flowy midi skirts that are still trending. You can easily pair them with a t-shirt or something for a more dressed up appearance.
Short and flowy dresses are all over amazon fashion right now and you can't beat the price. Just don't expect the best materials for that price tag. Also, be sure to check out Target!
If you're into white denim for Spring and Summer, be happy to know that it's still everywhere! I love the white denim trend because they look great paired with a pop of color.
Also, it's that time again for some fun sandals and slides! I will never get enough gingham print in my life, so this pair from J.Crew is right up my alley.

Spring Wardrobe Accessories
I love a good accessory! Give me a denim jacket and it can be paired with so many outfits! I feel like a good denim jacket can make an outfit! I pair it with joggers and a plain t-shirt on the weekends. Pair a jean jacket with a flowy, beachy dress and it's perfect for those cooler days.
A Trench Coat is one thing that I really love for Spring. They can be paired with jeans or a nice dress and it just completes the outfit. There are a variety of coats available at all lengths and all price points.
This Free People Duster is so so so good. I'm ordering it ASAP! I love that I can still wear it with jeans for an added layer. PLUS, a simple casual dress would look incredible under this with some booties! It doesn't have to be a Free People Duster to be cute; research some other brands because Duster's are everywhere!
I added a simple white blouse as I think this is a great piece to own. Pair it with denim and a simple flat shoe (like those posted above) and you've got yourself a casual outfit that can be comfy, yet so put together. Pair this shirt with a jean jacket, a cute moto jacket and you're set!

I hope that this post about ideas for a capsule wardrobe is helpful! Don't forget to add some lightweight sweatshirts, leggings and cute booties to the mix. Pick and choose pieces that you know that you will wear and get a lot of use out of.
Also, don't forget about basics as far as undergarments. I'll have a seperate post all about those. I'm actually going to go be fitted for a bra because it's been awhile since I've done it. Stay tuned for that!
Shop The Post