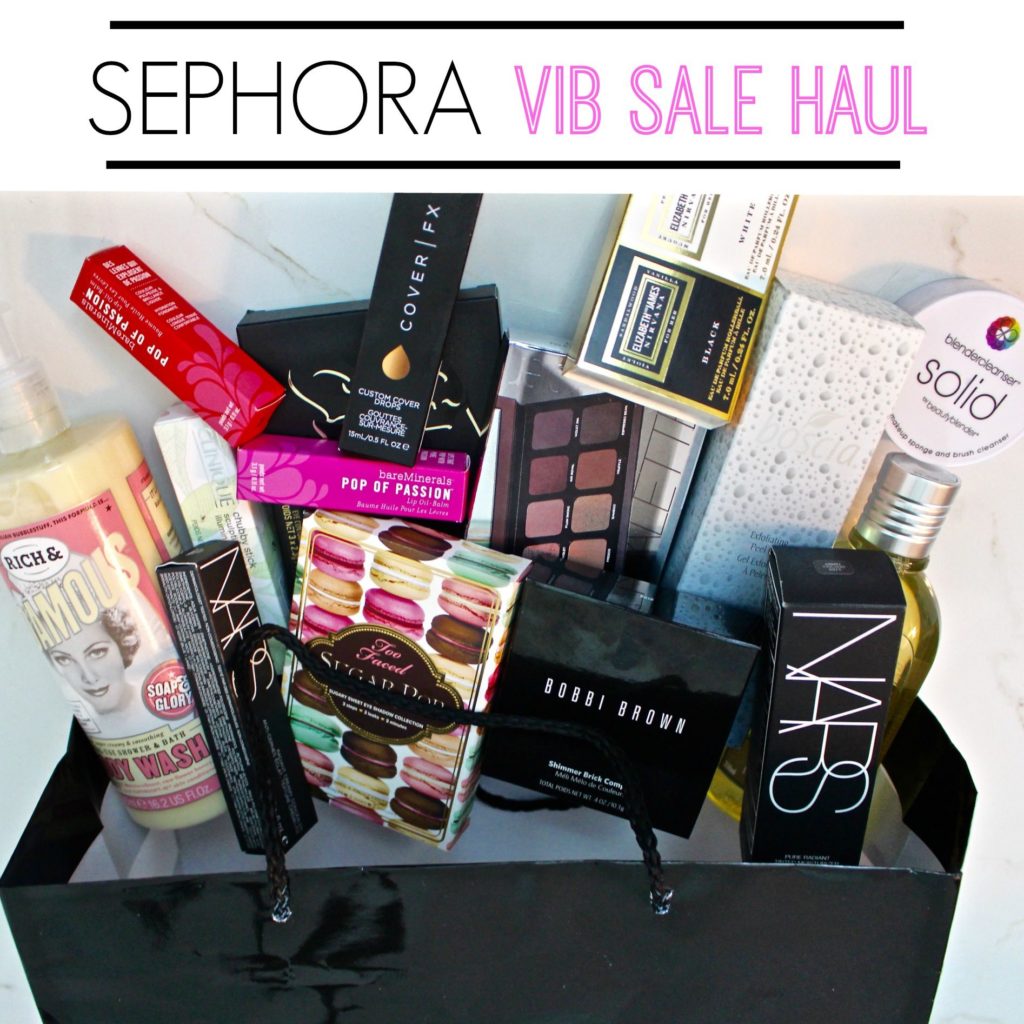 I am so excited to share with you guys my Sephora VIB sale haul!  I went to Sephora yesterday and the store wasn't busy.  I took my time, asked some questions, played in makeup and just had a relaxing time shopping and looking at all of the new stuff.  You'll remember that I had already made a list before, well I pretty much followed that list, besides a few items I couldn't get in the store because they were out or I just decided against purchasing.  Want to see what I did pick up? Keep on reading….
[line]
My Sephora VIB Sale Haul
Clinique Chubby Stick Sculpting Highlight $21.00
I had no intentions of purchasing this, until I looked at it at the store.  It's the most gorgeous highlight shade, without being too shimmery or sparkly.  Plus, I love the twist up packaging.  It's easy to travel with and to take on-the-go!
L'Occitane Shower Oil w/ Almond Oil$25.00
I've used this so many times before.  It's such a beautiful shower oil that leaves my skin feeling like silk.  I love to shave with this because it leaves my legs feeling amazing! It's thick, but not too thick.  It does foam up a bit so you can use this as a cleanser for the body.  Plus, can we talk about how heavenly the scent smells!
Boscia Exfoliating Peel Gel $34.00
My friend left a sample of this and I used it and instantly was like WOW!!! It's a peel that's unlike any others I've tried.  It's not only a physical peel, but also a chemical peel as well.  Plus, it's a treatment to help brighten the skin.  I'll get more into this as I learn more about it and use it.  So far, I've used this (the sample I had previously) a couple of times and I've been very, very pleased with the results.
Laura Mercier Eye Art Artist's Palette $55.00
I'll be sharing some looks from this palette soon! It sold out in 2013 and it's back!  PS this was sold out online, but my store did have plenty of these in stock when I was there.  So be sure to look in store for this if you're interested! This was one item I was so happy I picked up!
Sunday Riley Juno Hydroactive Cellular Face Oil $90.00
This line of products has had me curious for almost a year.  I hear so many people talk about and if I'm being honest, I've probably sat in Sephora and looked at these Face Oils twenty times, at least.  I finally decided enough was enough and I picked up the Juno Hydroactive Cellular Facial Oil! I can't wait to see what this does for my skin….
Elizabeth and James Nirvana Mini Rollerball Set $20.00
I am 100% in love with both of these fragrances. They smell amazing! Worn separate or blended together, they are fantastic! Plus the packaging is very chic!
BareMinerals Pop of Passion Lip Oil-Balm $16.00
Candy Pop and Punch Pop are the colors that I picked up, but if I'm being honest, I probably would have purchased all of them if I could. They are these beautiful lip-oil balms that go on super sheer and feel fantastic on!  I haven't worn them much, BUT I think these are going to be a favorite!
NARS Pure Radiant Tinted Moisturizer $43.00
I picked up the shade Finland again. I've used this so many times before and I love it because it covers up my redness and it has SPF! It's a great product to use for when you want something quick, but something that covers the skin beautifully!
NARS Creamy Radiant Concealer $29.00
The best concealer I've ever used! It's the only concealer I have actually used the entire tube of.  I wear the shade Vanilla and it's the perfect match!  I can also use this as a highlight color on my face as well! It doesn't crease on me, it doesn't wear off at all. It's perfection!!
Kat Von D Shade + Light Eye Contour Palette $46.00
I've heard about this palette for quite some time now and I had not really thought about purchasing it.  It's pretty to look at, but it wasn't until I was looking at it at the store and talking to the Sephora employee did I realize how much I wanted this.  This, to me, is mainly warmer colors, BUT it's supposed to have some cool tones as well.  I'll have swatches and all of that coming up for you!  But how gorgeous is this palette!!!!
Bobbi Brown Rose Shimmer Brick $44.00
A beautiful blend of shimmery rose colors make this Bobbi Brown product one of the best shimmer products I've used.  I have never owned this, but it's been used me at events time and time again.  I figured I'd actually pick it up while it's on sale!  Her shimmer bricks are something that I feel like everyone should own.
Too Faced Sugar Pop Eye Palette $36.00
Packaging that is adorable and the colors inside this palette are  so fun for Spring and Summer.  I can't wait to use this for some fun Spring and Summer looks!  I'm a bit on the fence about the packaging and some of the colors, but I'll have more on that after I've used it some more!
Sephora Collection Teint Infusion Ethereal Natural Finish Foundation $24.00
I've seen this compared to the Dr. Perricone's Serum Foundation.  I finally got a chance to pick one up and I'm excited to see how it wears on my skin.  I've heard this is fantastic for all skin types, but especially oily skin types.  It's supposed to be a very natural finish and a feeling of wearing no makeup!  I'm all for that! We'll see how it wears.
Cover FX Customer Cover Drops $44.00
Another makeup that is new and all over the blogging world.  Imagine that you could take a moisturizer, serum, sunscreen or even a serum and apply a couple drops of color and that's your foundation.  I love this because it eliminates the need for another product all over my face.  This is a product that allows you to drop pigment into your skincare products and gives you coverage.  The coverage is up to you! One to two drops for light coverage and all the way up to four for full coverage. I'm keeping my fingers crossed that this works for me!
Beauty Blender Solid Cleanser $15.95
This cleans beauty blenders fantastic AND makeup brushes.  It's a solid cleaning bar that makes cleaning your brushes and beauty blenders a breeze!
[line]
Are you planning on shopping the sale? Be sure to check your store availability on certain items and always remember that you can order online! My store showed that they had the items, but they weren't out yet! I had to ask for several products.  Just an FYI!  I also filmed a video yesterday to show you what I got! Enjoy and happy Sephora Shopping!

Affiliate Links Included.