I love Spring, I really do.  Other than my constant struggle with the insane amount of Pollen all over the place, I love this in-between weather we have.  The temperatures are normally in the lower 80's and the humidity is not too bad yet. I've been cleaning out my closet and preparing for warmer weather outfits.  I sat down over the weekend and put together an April wish list! So let's pretend that I'm not currently on a no-buy right now.  These are all of the fun things I'd love to purchase for April!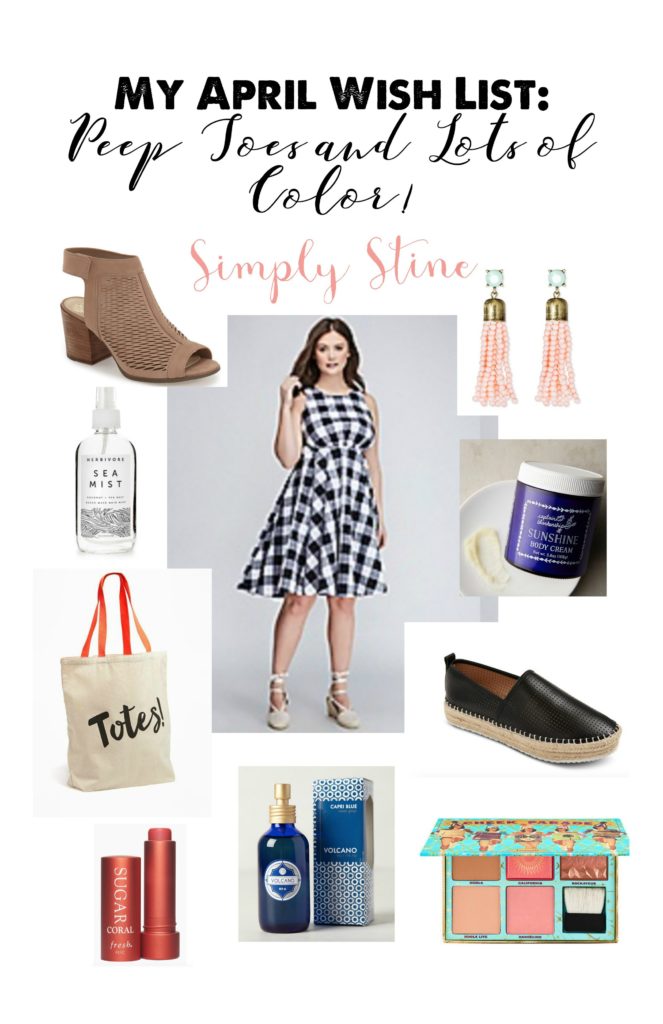 April Wish List
Vince Camuto 'LAVETTE' PERFORATED PEEP TOE BOOTIE
These peep toe booties are so cute and they're on sale!  #Score
Herbivore Sea Mist Coconut Hair Texturizing Spray
While shopping at Nordstrom, I came across their K-Beauty section (my store has the smallest section which I wish they'd make a lot bigger!!) and I came across some Herbivore products.  This Coconut Hair Texturizing Spray smelled like Spring Break in a bottle.  OH MY GOSH! I'm still regretting not picking it up.
Fresh Sugar Tinted Lip Treatment (Variety of Colors)
Not only does this lip treatment have an SPF included, but it's also available in an assortment of colors.  I'm loving the coral shade for Spring and find that it's just enough color to make me look like I made an effort to put myself together!  If you suffer from dry lips, this stuff is amazing!
Mossimo Women's Maelys Espadrilles 
These slightly remind me of a certain designer pair of Espadrilles that I've seen all over Instagram, yet these are like 90% cheaper.  I feel like these could be paired with so many different outfits and that I'd get a lot of use out of them.
I love pretty much everything Gingham and this dress is one that I absolutely want to pick up.  I have a Shower that I'll be attending this Summer and I feel like it would be perfect.  Yes, I'm basically searching for a reason to break my #NoSpending ban, BUT can ya blame me?!?! It's adorable and would also make the best dress for an Easter Brunch!
Benefit Cosmetics Cheek Parade / Benefit Cosmetics GALifornia Blush
The GALifornia Blush from Benefit Cosmetics is so pretty!  It's available alone, or with a few of other Benefit Cosmetics best-selling cheek products in the Cheek Parade palette.  I really, really enjoy the palettes that Benefit Cosmetics puts together because they always contain very wearable cheek colors! The GALifornia blush looks so beautiful. Coral blush with pops of gold shimmer.  I think it's going to be the perfect blush color for the Summer.
I feel like this is the time of the year when I really put canvas bags to use. From trips to the pool, the farmers market and other random trips-I always want a good canvas bag and this one is #totes cute! See what I did there?!?!
I love this candle and I'd love to pick up this room spray.  This is such an amazing scent that I love to gift because so many people love this scent!
Captain Blankenship Sunshine Body Cream
I found this browsing online on Anthropologie and it seems awesome and very reasonably priced. It's a small, female-run company, so I can totally get behind supporting that!  The ingredients sound promising as well: Sea Salt, Seaweed, Coconut and Cocoa Oils, Jojoba Seed Oils.  It sounds fantastic and at a great price!
Sugarfix by Baublebar Beaded Tassel Earrings 
Baublebar released a line at Target and it's so cute, plus it's really affordable. The drop-down Tassel earrings are a great way to add some color to an outfit!
I feel like April is really the kick-off for Spring and to me, Spring is full of bright colorful, fun pieces.  Fresh fragrances, nothing too powerful, but more soft and floral.  I also am showing way more skin because I'm not so covered up and I'm in the sun more! That means I need soft skin and I need to remember the importance of SPF. My  hair is always a hot mess (sometimes literally) so having good products that will take me from pool to dinner are important! Now that I'm obsessed with Kimonos (Did you miss my most recent post featuring my favorite Kimono right now?) I'll be wearing those a lot!
Around this time of year I like to switch up my makeup and skincare routine as well.  I go for much lighter looks and skincare that helps keep my skin balanced because it can get a little crazy in the warmer months! Want to know what I'm using now?!?! Comment below!  Also, let me know what is on your April Wish List!!