I've been hinting at something so exciting on my social media lately and guess what.. I can finally spill the beans! If you love skincare as much as I do, then you'll love today's post! I've partnered with Peach & Lily, my favorite destination for all things Korean Beauty to talk to you about their K-Beauty Award Winning Products for 2018.  These are the best of the best when it comes to K-Beauty products and if you are into skincare, these are products that you WANT to know about.  Stay tuned for another surprise at the end of my post!
Korean Beauty, more importantly, their skincare is just fascinating to me.  It's way superior to our advances here in the US and Korean women in general, really take their skincare seriously.  I read an article once that stated that Korean women think that their beautiful skin is really what beauty is all about. That's a drastic difference between what we in the states consider "beauty." To them, it's not about piles of makeup on the face. Their skin is the shining star of their beauty game! Their skincare routines will show you alone just how hardcore they are about their skin.  Rather than just a couple of steps, you have six plus steps.  Which seems like a lot, but once you try the actual routine yourself and see your results, you will understand why they spend that much time on their skin. It's worth it!
I've used all of the products being mentioned.  Some more so than others.  I haven't tested them out long enough to have an exact opinion on them, but the ones that I do love, I'll let you know why.  For now, there will be a brief description that I'm posting about each product so that you can get the information you need and decide if it's a product that you'd like to experience for yourself!
BEST OF K-BEAUTY AWARD WINNING PRODUCTS FOR 2018
Lagom Cellus Sun Gel  $23.00 Simply Stine Thoughts:  The one product I forgot to photograph on its own. #oops I've used this product about four times and it hasn't made me break out, it didn't make my face feel funny and it worked great under makeup. So far, so good!
(1) SPF 50 UVB protection plus PA+++ max UVA protection provide a full and comprehensive sun shield for your skin all day long (2) Won't leave a white cast (3) The incredibly lightweight texture absorbs matte and won't tug and pull skin during application (4) Nourishes skin thanks to a lovely formula featuring natural herbal extracts and oils
Peach Slices Acne Spot Dots $4.49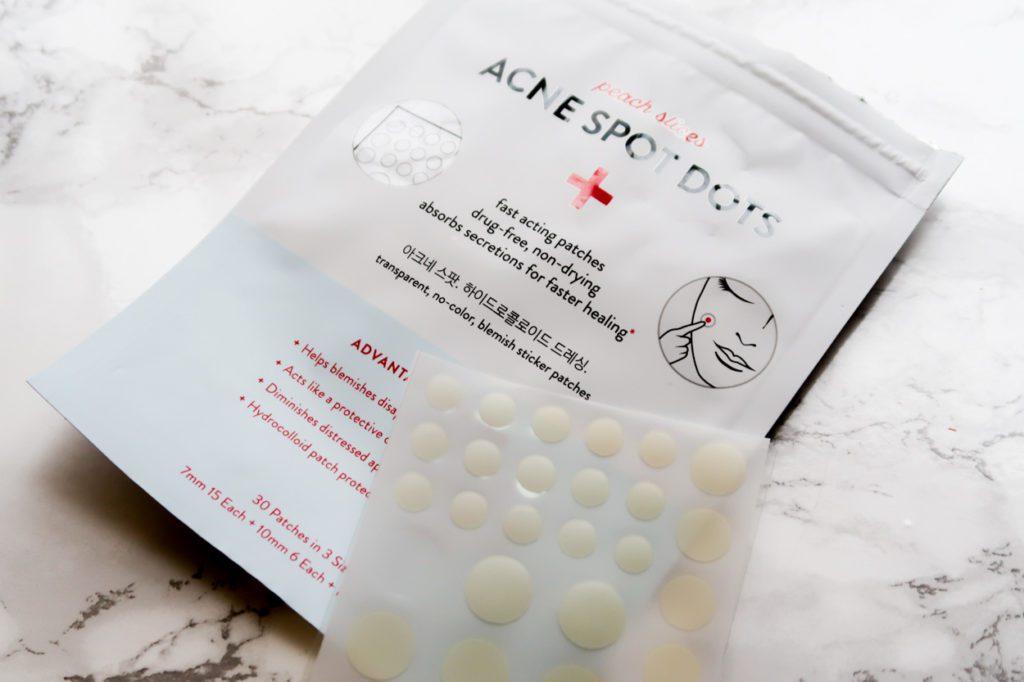 Simply Stine Thoughts: Why weren't these around when I was a teenager is all I keep asking myself when I use these.  I don't often get breakouts, but when I do, it's nice to have something so easy that works so good! Plus, they're under $5.00.  These little patches come in a variety of sizes and you can wear them during the day or night, with or without makeup.  They contain hydrocolloid which helps to protect the area that is being treated.  It guarantees that you won't pick the blemish and that your blemish will be smaller in less than a day! They are amazing!
The Lotus Essence With Lotus Leaf $64.00
Simply Stine Thoughts: I haven't used this product that much yet, but I'm excited to make it a full part of my routine soon!  From what I can tell, it feels amazing on my skin when I use it and like all other essences that I've used from Korean Beauty brands, I'm loving it when I do use it! 
This product features white lotus leaf from Jeju Island, which is a special flower harvested from the pond of the Jeju Beophwa Temple and it contains high levels of antioxidants and antibiotics that are great for your health! This Essence, unlike most, is made with 89% lotus leaf extract and not water.  So that means very high amounts of good-for-you ingredients! This is a toner and essence in one that will help with giving your that brighter, more dewy complexion. I plan on reviewing this more after I've used it for a while!
Mizon All-In-One Snail Repair Cream $14.00 (normally $38.00)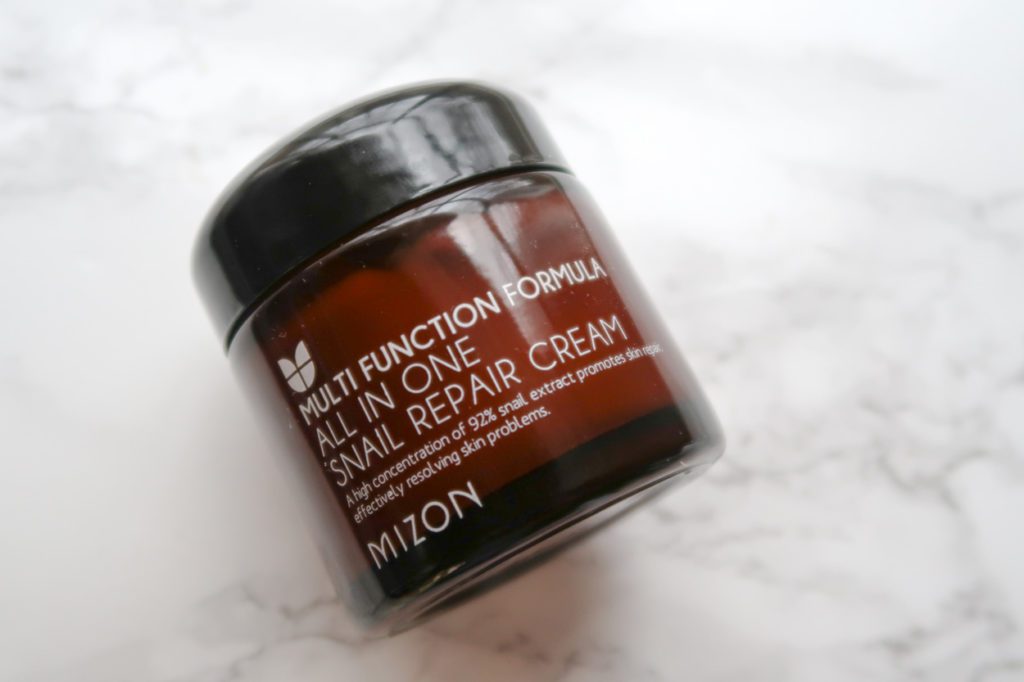 Simply Stine Thoughts: Previously, I used a complete Korean inspired skincare routine that Peach & Lily put together for me. In the products that I was using, were several products that contained snail extract.  First of all, I was a little freaked out, but after reading about the benefits and making sure the animals weren't harmed, I realized that this ingredient might be something that's worth giving a shot and guess what-every product I tried with snail extract turned out to be a product I really enjoyed. I haven't tried this repair cream yet, but I'll be reporting back about how I like this one compared to the one I used previously! Mizon is a brand that I've really enjoyed using.
This All-In_One Snail Repair Cream features 92% snail extract.  It's a best-selling product across Asia which is said to help brighten and hydrate the skin as well as helping with fine lines and reducing any scaring or blemishes. It's an unscented product that is ideal for combination, oily and acne-prone skin types.  If you are using this for dry skin, they suggest using this under a heavier moisturizer. This product is also known to be a great spot treatment for blemishes as well.   (1) Abundantly hydrates to firm and plump the appearance of skin (2) Discourages the formation of fine lines and wrinkles (3) 92% snail mucin encourages skin renewal to diminish the appearance of acne scarring and blemishes
Aromatic Natural Coconut Cleansing Oil $45.00
Simply Stine Thoughts: I am a complete sucker for a good cleansing oil.  However, I tend to be pretty particular about the ones that I try. I'm currently using a Tata Harper Cleansing Oil that I love and it's probably my favorite.  I have nothing to say bad about it other than it's expensive, ha! I've used this Aromatic Natural Coconut Cleansing Oil and so far I am very, very impressed.  It feels great on my skin, removed my makeup very nicely.  I could see myself repurchasing it for sure! 
This natural coconut cleansing oil is supposed to be an extra-gentle formula that uses 100% organic virgin cold-pressed coconut oil that cleanses the skin but also provides nourishment and hydration.  It's formulated with Omega-3's which help prevent signs of aging.  It does contain Lavender Oil, Sunflower and Almond Oils. Great for sensitive skin!   (1) All-natural 100% virgin coconut oil (2) Silky smooth texture that's easy on sensitive skin types (3) Formulated with Omega-3's and other vitamin-rich oils to nurture skin while cleansing
ECO Your Skin Volufiline15 Eye Essence $70.00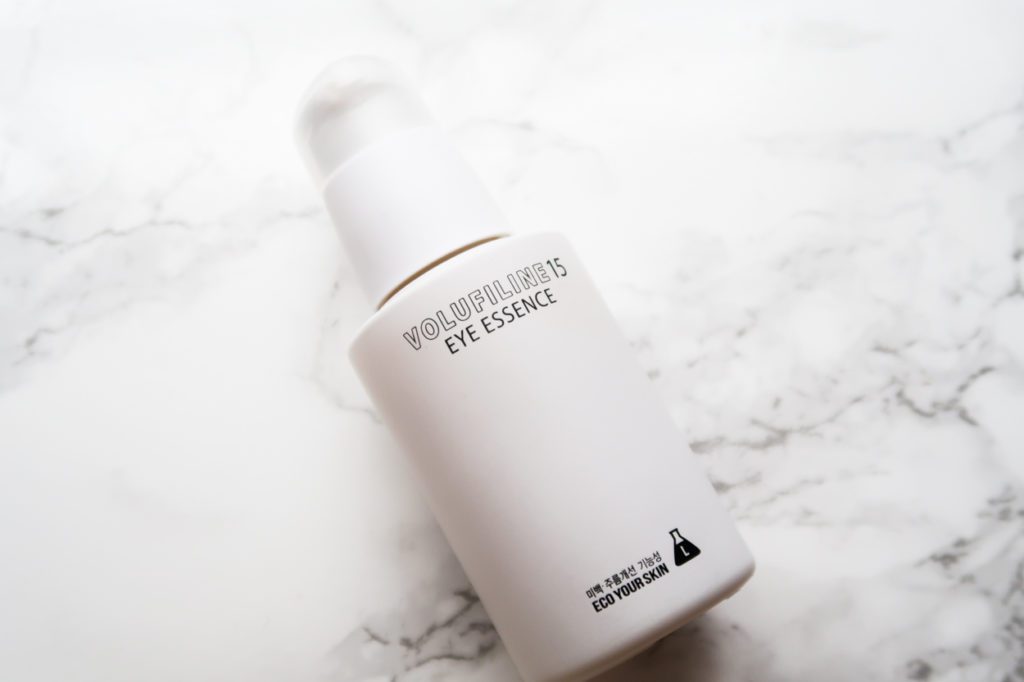 Simply Stine Thoughts: I haven't used this product yet, but I am so intrigued! I felt the consistency of the product and it's very much a silky gel. I'm a sucker for a great Eye product, so I'll be testing this ASAP!  Suffer from fine lines and crows feet?
This silky gel textured product contains Glutathione and peptides which help promote Collagen products which help the skin retain more bounce and helps with elasticity! This also addresses under-eye wrinkles, lid creases, forehead, and neck lines-all thanks to the 15% Volufiline and Polylactic Acid.  It's a lightweight texture, which makes it great for under makeup. It's also said to help prevent concealer or foundation from creasing. Apply to the eye area both morning and night. No need to apply an eye cream over the eye essence. This eye essence sinks into skin and seals in moisture.
Ariul Stress Relieving Purefull Cleansing Tissue $2.49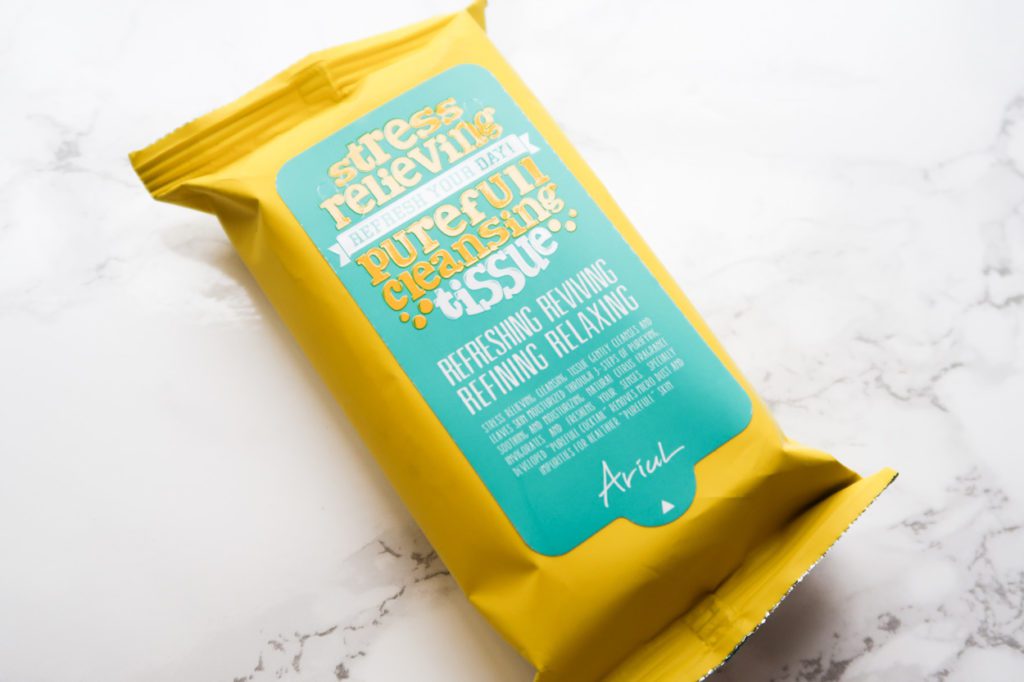 Simply Stine Thoughts: I haven't tried these just yet as I need to finish up the brand I was using already.  However, I love to discover new cleansing wipes, especially when they're only $2.49! I'm curious about the fragrance in these because that can sometimes be an issue for my skin. 
This cleansing tissue helps to remove makeup quickly and helps to moisturize your skin.  Plus, it also helps to relax you as it contains a natural fragrance.
Peach Slices Citrus-Honey Aqua Glow $11.99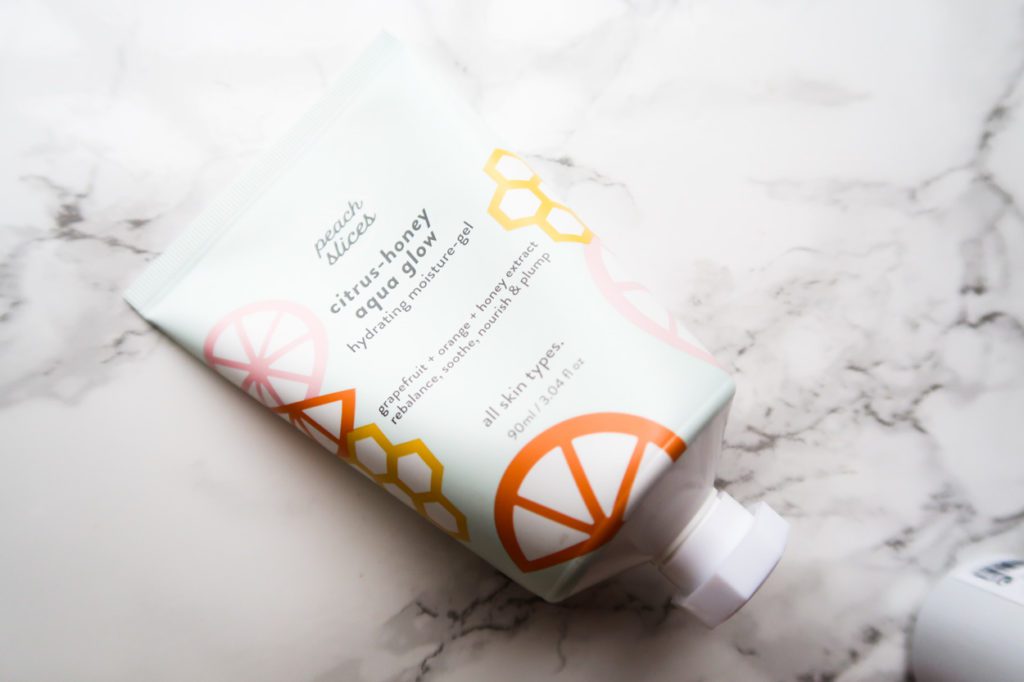 Simply Stine Thoughts: This is hands down my favorite, go-to moisturizer for the daytime.  It's insanely hydrating, but it doesn't leave my skin feeling super oily at all.  It's very fast-absorbing and it gives my face this beautiful glow.  It's under $12.00 and I've already used at least three of them in the past.  It's so good and it's probably one of my favorite moisturizers I've ever used! 
This product is infused with annatto seed and grapefruit, orange and lemon peel oils.  It'a very lightweight product that helps to hydrate and soothe the skin. Honey extract and other hydrating ingredients such as glycerin and ceramides help to nourish and plump the skin, giving the skin a lit-from-within glow. This is great for combination to oily skin types! Because of the great benefits, this moisturizer contains, if you want to use this and have dry skin, try layering this under a thicker moisturizer.
Femmue Gypsy Rose Calming Mask $38.00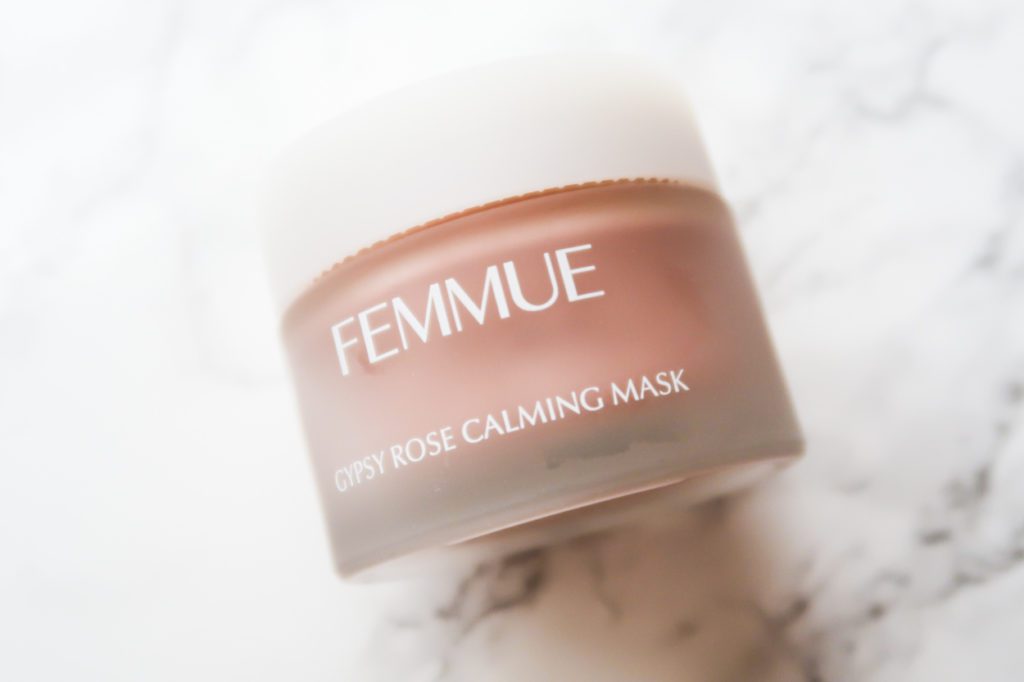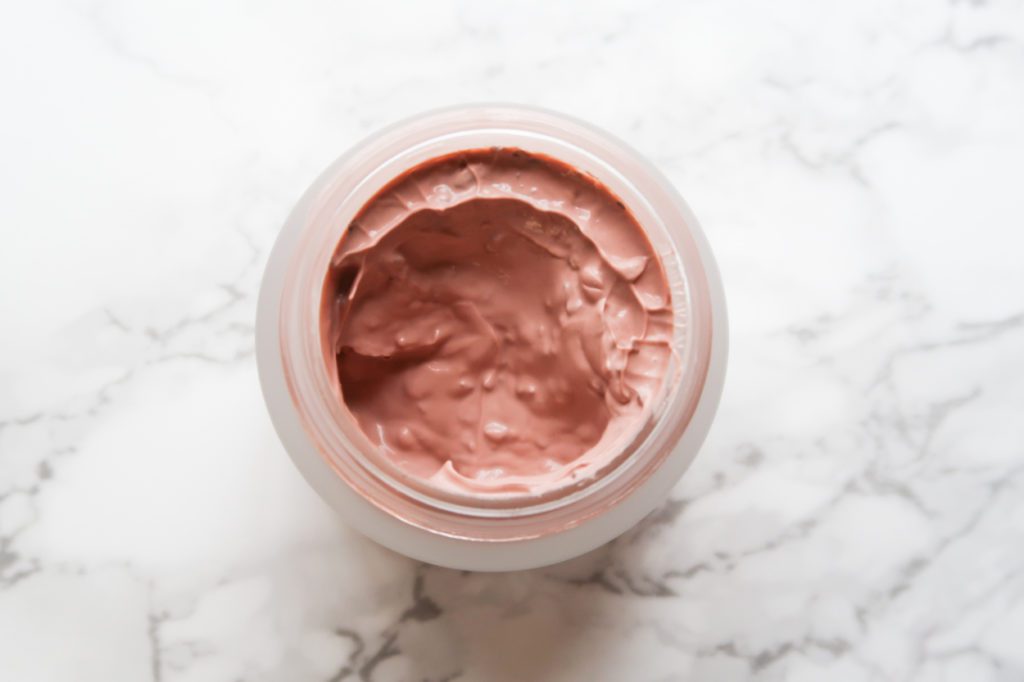 Simply Stine Thoughts: I haven't used this yet, but I'll be reporting back soon! I'm always down to try out a new mask! Especially one that contains rose and helps to calm my skin! This mask I'm curious about because it's a clay mask and they can be drying, however, this claims to nourish and hydrate the skin. 
This pore-cleansing mask claims to keep the skin nourished and hydrated, but also helping to de-gunk and remove impurities from the pores.  Kaolin clay (with squalane) draws out the impurities, while the rose extracts help to hydrate and sooth the skin.  It also features green tea oils which help control oil production.  The mask features a blend of bluebell, clove, rosehip, jasmine, amber, and musk that help to "transport you to a freshwater lake buried deep in a pristine forest."   Apply to clean, dry skin. Gently massage onto face. Rinse off after 15-30 minutes. Follow up with remaining skincare routine. Can be used multiple times a week. We recommend every other day for normal to oily skin types, and three times a week for dry skin.
We believe skincare products should first be about results. When a product can deliver outstanding results — and then also wow because the entire experience of using the product brings so much joy, then we fall in love. Not only does this Gypsy Rose Calming Mask leave us with sparkly clear pores, but it made us happy to see the pretty jar on our vanities. Then, we found ourselves looking forward to using this product as the fluffy, slightly cool mask is smoothly spread over skin and calms skin down. All the while, a decadent and subtle scent fills our bathrooms and minds taking us away from our busy lives and transporting us into nature. The mask never changes texture and stays dewy and fluffy. The scent stays the whole time, but in that sweet spot where it doesn't disappear too quickly, but it doesn't invade your space and overwhelm you. It's a faint background scent that invites you to relax. After rinsing off, we found ourselves touching our soft skin and looking in the mirror at clearer, sparklier skin in wonder.
Be The Skin Botanical Pore Toner $25.00
Simply Stine Thoughts: So right away, the bottle completely grabbed my attention.  It's the gorgeous blue!  I will admit that I've seen Alicia (the founder of Peach & Lily) use this brand before and I've been excited to give it a try! The few times that I've used it, I've enjoyed the product very much and I'm excited to see what long-term use does to my skin! 
This toner helps to balance the skin's pH level with all-natural ingredients.  It helps to minimize the look of pores by balancing the oil production and providing you with a clear, matte surface for the rest of your skincare routine.  This product features botanical herbs and Alaskan glacier water which helps to soothe the skin.  This particular formula is great for combination to oily skin types.  There are other formulas available for other skin types as well!   (1) A toner that provides sebum control ideal for combination to oily and acne-prone skin (2) Ferment extracts use fermentation technology to break down beneficial ingredients to be absorbed and "digested" by the skin more effectively (3) Features soothing witch hazel, an active ingredient known to combat blemishes and breakouts
May Coop Raw Sauce $33.00 (normally $43.00)
Simply Stine Thoughts: This was the first essence that I've ever used and it's such an amazing product. This is a toner, emulsion, and essence in one that helps to hydrate the skin.  It features 93% maple tree sap, skin-nourishing fructan powder (eco-cert certified) and Asian herbal and fruit extracts to achieve that hydrated, dewy glow to the skin. This is a product that I suggest to so many people and one that I really swear by! 
Shangpree S-Energy Long Lasting Concentrated Serum $120.00
Simply Stine Thoughts: Ok, so this serum has so much hype behind it that I had to dig into it as soon as I got the package.  From what I can tell, it's very lightweight and feels fantastic on my skin.  I have to be honest and say that I haven't used this long enough to form an accurate opinion on it, BUT so far I am loving it. I've used it AM and PM since I got it and my skin has felt incredible! Is it this serum?!? We'll find out the longer I keep using it, but so far I'm really into it!  If this serum is supposed to be the holy-grail of serums, then I can't wait to see what results I'll experience! 
Seoul's highly demanding spa-going elite have been flocking to the iconic Shangpree Spa for a first-class beauty experience for 25 years now. Every Shangpree esthetician must complete an incredibly lengthy and rigorous training process to ensure that they embody the spa's high standards (even an esthetician with 20+ hands-on experience is required to train the Shangpree-way for 3 years before being able to provide client services)— and when Shangpree launched their product line, that same level of perfectionism was expected in every formula.
This serum took for years to develop and it's pretty interesting, but a tad complex. So let me explain to the best that I can. This serum contains super antioxidants that help combat daily environmental factors that can cause free radical damage.  It has a very lightweight texture, which is easily absorbed into the skin and you can layer it with any other part of your skincare routine. All skin types will love this serum because it's even ok for even the most sensitive skin types.  It's fragrance-free, addresses anti-aging issues, helps brighten dull complexions and hydrates the skin.
This serum is a favorite and staple serum of our Founder & CEO, Alicia Yoon, who has product-tested thousands of the best serums coming out of Korea and Japan. When we heard Shangpree launched the dream serum of all serums, we went to focus-group testing this beloved serum right away. We wanted to see if this really lived up to all the hype by the discerning celebrity clientele of the spa. Our favorite comment: one focus group tester said after just three days of use, "my friends came up to me and remarked 'you look like you shaved off years! – what did you do?"
(1) Uses S-Cell Energy complex of Skullcap Callus, oxygen, and Violet Herb Complex to facilitate cell regeneration
(2) Hydrolized silk, propolis and panthenol repair and hydrate the skin
(3) Provides nutrients and moisture from inside the skin while improving facial contours
(4) Great for all skin types including sensitive skin for anti-aging, lifting, and strengthening your skin
(5) Unbelievable liquid silk texture with no fragrance makes it ideal for layering in with any skincare regimen
Peach & Lily Sheet Masks $15.00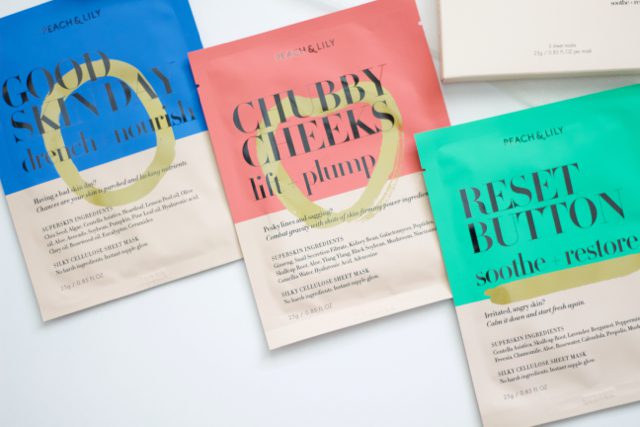 Simply Stine Thoughts: I've used the Peach & Lily Sheet Masks before and I love them! They don't move around on your face, they've super budget friendly and they give amazing results! If you haven't tried the whole sheet mask trend yet, these are a great way to introduce yourself to them! 
This pack comes with three of the following Sheet Masks:
RESET BUTTON: soothe + restore
CHUBBY CHEEKS: lift + plump
GOOD SKIN DAY: drench + nourish
Shangpree Gold Black Pearl Hydrogel Eye Mask $60.00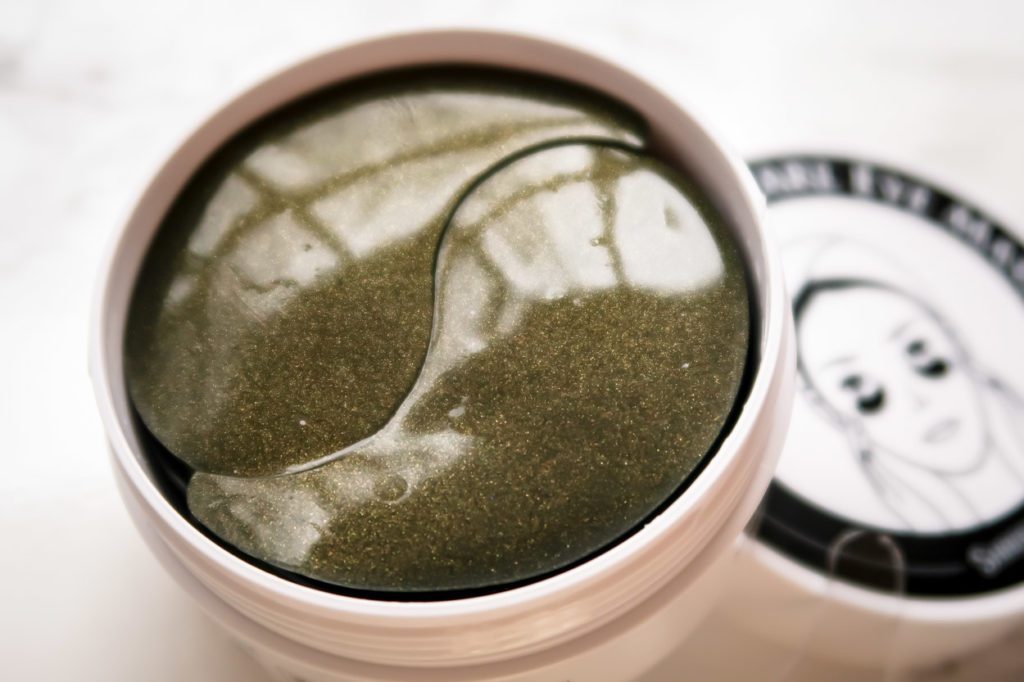 Simply Stine Thoughts: OMG. They are amazing.  I've been loving eye masks a lot since 2017 and I am so glad that I've incorporated them into my routine.  However, this brand has been blowing the others out of the park in my opinion. They leave my eye area feeling so fresh and hydrated. They're very soothing and if I've had a bad night or my allergies are killing me, these are amazing at helping to depuff my under eye area. Plus, they're gorgeous!!! In terms of price, there are 60 eye masks in the container, which means you're getting 30 treatments! 
This is a mask for your eyes! It's loaded with minerals, amino acids and proteins in a concentrated essence that is delivered into the skin thanks to the hydrogel material.  They're great for anyone who is looking for anti-aging benefits as they contain black pearl and gold to help with rejuvenating the skin and helping fight lines, wrinkles and other issues that come along with aging!
(1) Hydrogel material holds moisture and won't dry out
(2) Formula featuring active ingredients like gold and black pearl fights signs of aging like fine lines and wrinkles, debuffs, and smooths out skin for overall healthier looking eyes
(3) Light fragrance makes this an experiential spa-like treatment
Jungsaemmool Essential Star-Cealer Foundation $44.00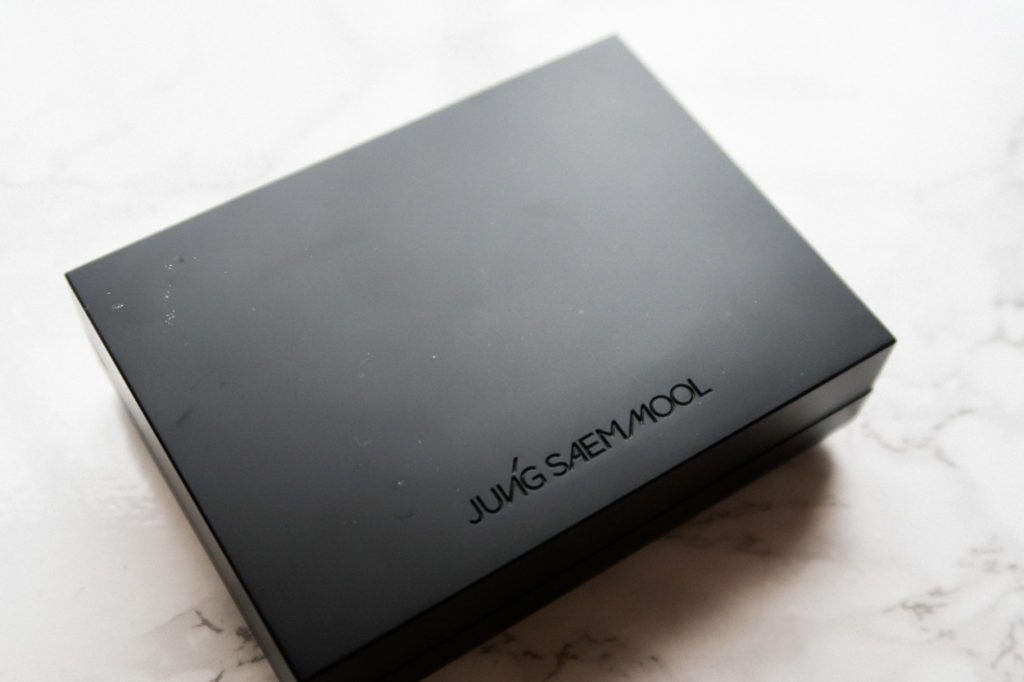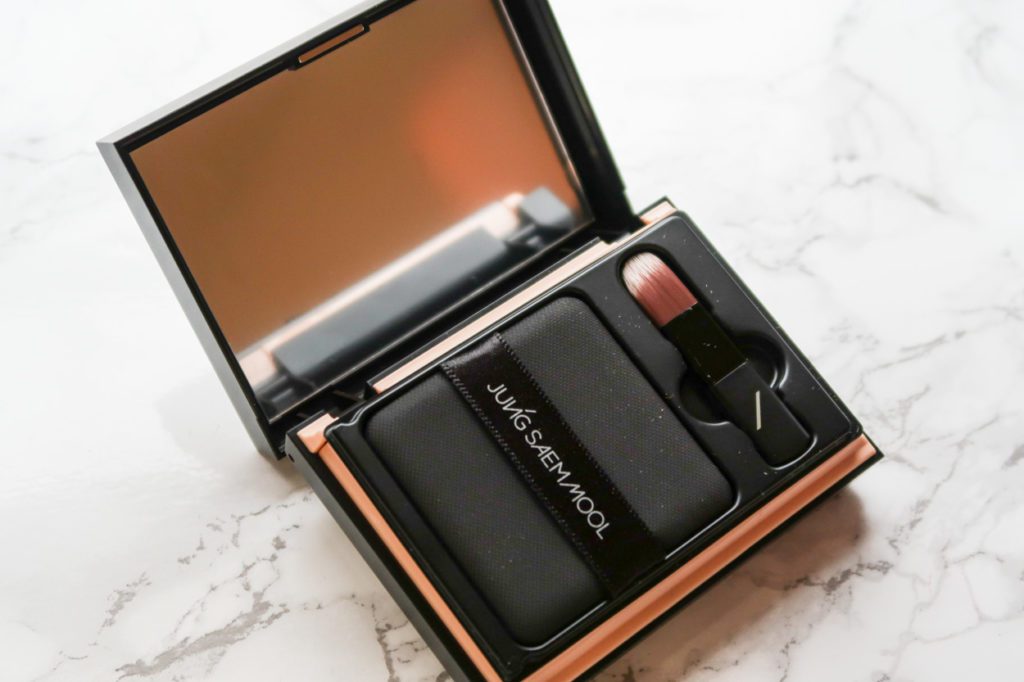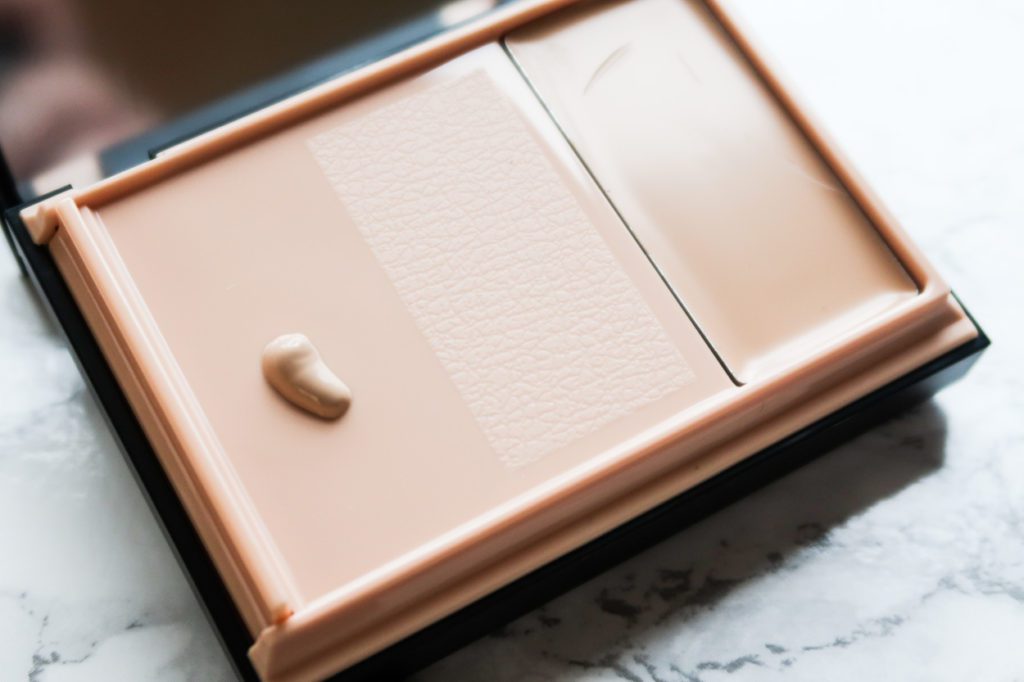 Simply Stine Thoughts: First of all, can we talk about the packaging of this product?!? It's a foundation and concealer in one palette AND its design makes it so amazing for taking with you on-the-go.  I have the shade light and it works perfectly for my skin. Like I'm so in love with this that I am for sure going to continue to use this product because it gives such a gorgeous complexion to the skin while keeping it looking like skin! It's gorgeous!
This product is going to blow your mind.  It's a foundation and a concealer, but the packaging is unlike anything I've ever seen before.  It's the perfect product to take on-the-go, but this foundation and concealer are as good (maybe even better) than the normal go-to products that I have in bottles and pumps.  I'm obsessed with this product because the finish it leaves on my skin is amazing! The concealer is fantastic at covering dark circles, redness, blemishes, and discolorations. The foundation, which is a medium-full coverage product, can be built up in layers if needed. After opening the case, push on the left end of the palette to pump out the foundation. Apply desired amount to the skin using the enclosed puff. Then, use puff or brush to apply concealer to any trouble spots that may need extra coverage.
Have you ever taken a photo or seen yourself in the mirror under certain lighting conditions, and noticed that the concealer under your eyes looks especially noticeable? We love this ingenious product that ensures that never happens. The concealer and foundation can be mixed together in whatever ratio is needed and applied all over skin for as much or as little coverage as needed. The best part is that the concealer and foundation is already seamlessly paired so you can create an impeccable blend. In fact, we learned from Korea's most celebrated makeup artist, Jung Saem Mool, who created this brilliant line is that this ability to blend foundation and concealer seamlessly is one of the key things that sets makeup artists apart. Jung Saem Mool is celebrated for her ability to make everyone's skin look like their own skin — no unnatural undertones or cover-ups — yet impossibly perfect. And all her expertise was put behind her best-selling product, this Star-cealer Foundation. This is an Allure's Editor's Pick product in Korea and has taken the beauty world by storm for the super easy way everyone can apply foundation like a pro. Here at Peach & Lily, we can't get over how foolproof this foundation is — we can give ourselves a full-blown professional makeover every morning in a matter of minutes.
Olivarrier Fluid-Oil Squalane $44.00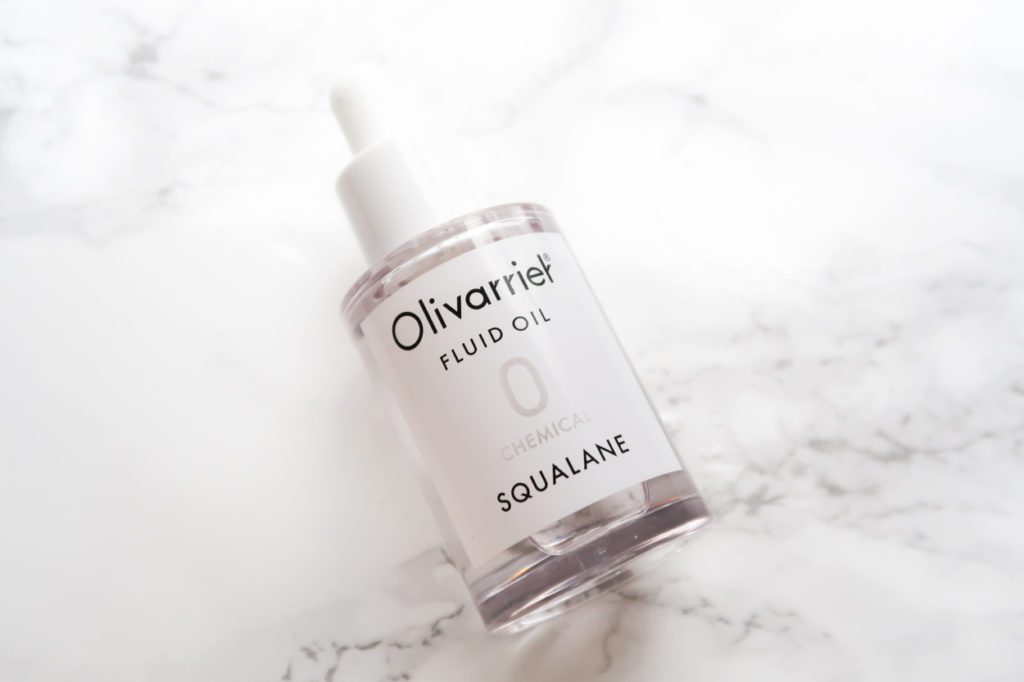 Simply Stine Thoughts: I've had my eye on incorporating a Squalane oil into my routine before, so I was so excited to see this arrive.  The texture is super lightweight and it doesn't leave my skin feeling greasy at all. I blend this in with another serum and find that it's really great to help with hydration and to help with my redness. A variety of skin types can benefit from using a product like this and so far, this is something I'm really into! 
This 100% Squalane oil is a great product for helping to strengthen the skin barrier, help with hydration, and also for helping with acne-prone skin. While most people are scared of using oil on their skin if their skin is already oily, this will leave no greasiness on the skin at all! It sinks right in! Use alone, or blend a couple of drops into your serum that you use daily. If you suffer from dry, irritated skin that can sometimes be a little red, use this to help give you a boost of hydration and to calm the skin.
We love this oil because it's lightweight, absorbable, and especially for our dry-skin having team members provides much-needed moisture in the winter months. We've found that with regular use, the need for as much product has reduced as we retain moisture better, likely because of our properly cared-for skin barriers!
* Squalane – derived from the highest quality olives (only 0.2% make the cut!), squalane is great for all skin types including oily and acne-prone skin as it is non-comedogenic; it helps moisturize, soothe, prevent irritation, fight bacteria, and prevent damage from free-radicals ** All of Olivarrier's products are dermatologist-tested, certified Vegan and Cruelty-free, free of toxins, EWG verified and hypo-allergenic.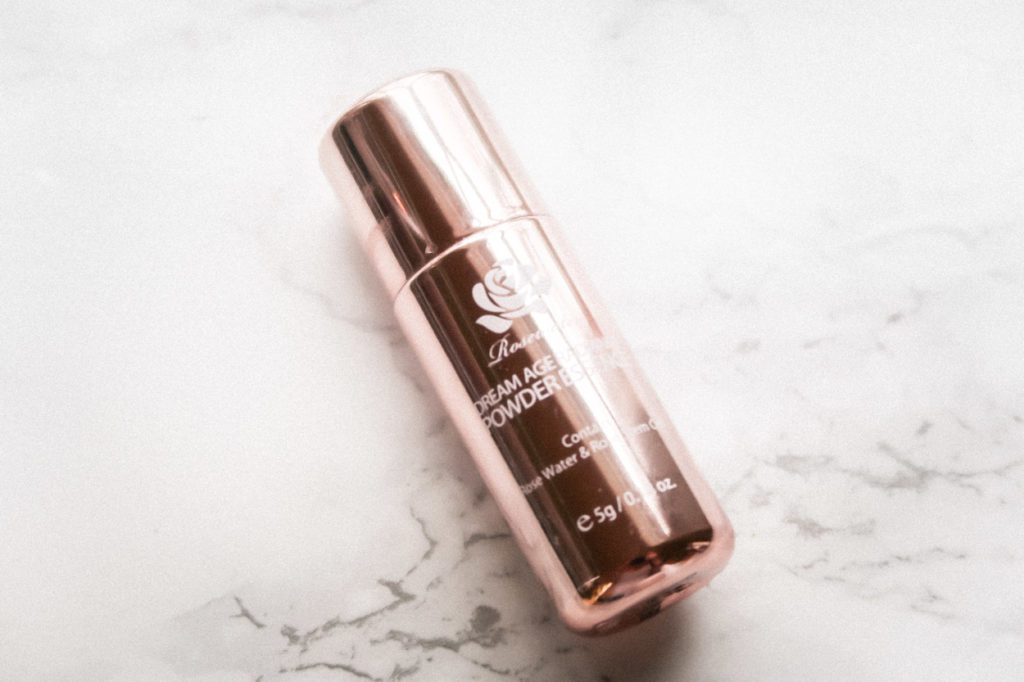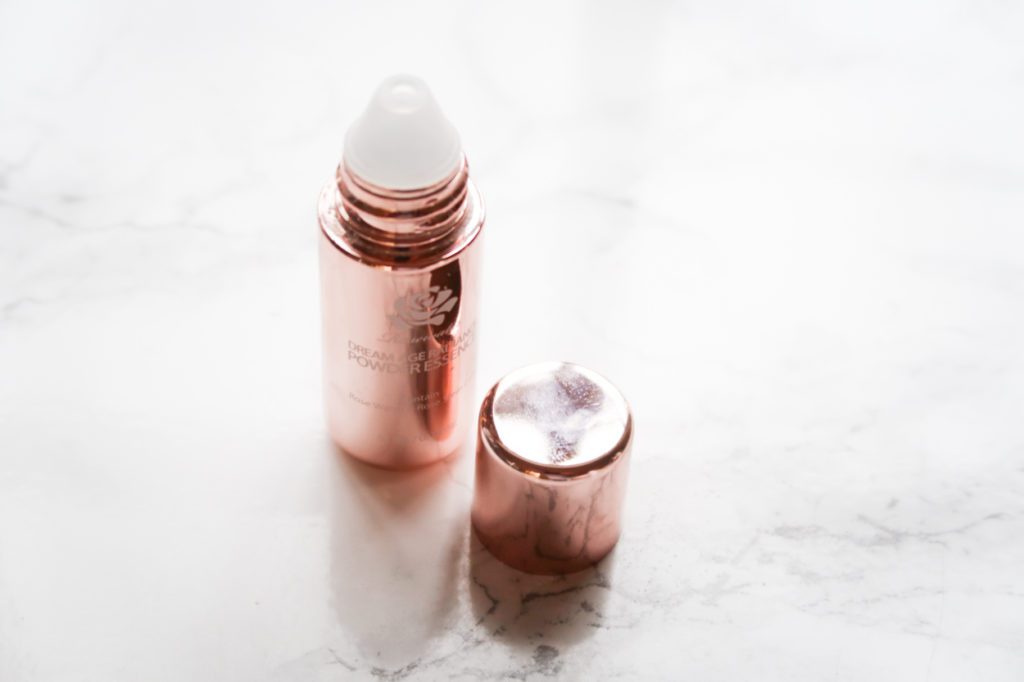 Simply Stine Thoughts: First of all, be sure to not open this if the product has been upside down at all, ha! I made that mistake and powder went all over me. #oops This powder essence melts into a liquid that is easily absorbed into the skin.  This is unlike any other product I have ever used before. I've only used a liquid essence, so I'm really intrigued to learn more about this one as I use it! 
This powder essence starts off as a powder but transforms into a liquid once massaged into the skin. It contains rose stell cell, rose distilled water, grapefruit, and yuzu extracts which all help provide moisture and vitamins to dry and rough skin.  Allowing those skin types to feel hydrated and healthy. This is a great product for mature and dry skin types.
This powder essence can be used on its own or as a booster by mixing it with another serum or essence. To use on it's own, shake it a few times into your fingertips, rub together and apply to your face. You have the option to use this method as a "spot treatment" by applying the essence to drier areas on your face or to target hyperpigmentation. To use as a booster, first add serum to your palm or to the small white plastic disc that comes with the product. Shake a few drops of the Rose essence on top of the serum and mix. Apply to your skin with light finger taps and delicate massaging.
(1) A unique dry powder that melts into a hydrating liquid essence upon application
(2) Contains refreshing eucalyptus extract, rose water and rose stem cell to make for a nourishing and healthful skin supplement
(3) Vitamin C from citrus extracts of yuzu and grapefruit brighten dull, spotted skin
I've included the links to each product above, but here is a list of all of the products that were mentioned in this post!
1. Eco Your Skin Volufiline15 Eye Essence https://www.peachandlily.com/products/eco-your-skin-volufiline15-eye-essenc…
2. Ariul Stress Relieving Purefull Cleansing Tissue https://www.peachandlily.com/products/stress-relieving-purefull-cleansing-t…
3. Be The Skin Botanical Pore Toner https://www.peachandlily.com/products/be-the-skin-botanical-pore-toner
4. Lagom Sun Gel https://www.peachandlily.com/products/sun-gel
5. Peach Slices Citrus Honey Aqua Glow https://www.peachandlily.com/products/peach-and-lily-citrus-honey-aqua-glow
6. Jung Saem Mool Essential Star-Cealer Foundation https://www.peachandlily.com/products/essential-star-cealer-foundation-ligh…
7. Aromatica Natural Coconut Cleansing Oil https://www.peachandlily.com/products/coconut-cleansing-oil
8. Peach & Lily 3 Sheet Mask Set https://www.peachandlily.com/products/3-sheet-masks-set
9. Mizon All-In-One Snail Repair Cream https://www.peachandlily.com/products/all-in-one-snail-repair-cream
10. Shangpree Gold Black Pearl Hydrogel Eye Mask https://www.peachandlily.com/products/gold-black-pearl-hydrogel-eye-mask
11. May Coop Raw Sauce https://www.peachandlily.com/products/raw-sauce
12. Femmue Gypsy Rose Calming Mask https://www.peachandlily.com/products/gypsy-rose-calming-mask
13. Olivarrier Fluid Oil Squalane https://www.peachandlily.com/products/fluid-oil-squalene
14. Shangpree S-Energy Long Lasting Concentrated Serum https://www.peachandlily.com/products/s-energy-long-lasting-concentrated-se…
15. Dr. Dream Dream Age Radiance Powder Essence https://www.peachandlily.com/products/dream-age-radiance-powder-essence-sin…
16. The Lotus Essence with Lotus Leaf https://www.peachandlily.com/products/essence-with-lotus-leaf
17. Peach Slices Acne Spot Dots https://www.peachandlily.com/products/acne-patches
The entire world of K-Beauty fascinates me and it seems like no matter how many products I try, I'm always so impressed.  The US looks up to Korean Skincare trends because they are so ahead of the game as far as innovative ingredients and technology.  THIS is why I'm such a huge fan of K-Beauty and appreciate brands like Peach & Lily for bringing so many more skincare brands that we otherwise wouldn't know about or have access to.
Peach & Lily Best Of K-Beauty Award Winning Products For 2018 is an impressive list of skincare that would make a great starting point for trying to incorporate more K-Beauty products into your routine. I've loved trying all of these and the amazing team at Peach & Lily want to give you a chance to try some of them for yourself!  YAY! So be sure to enter the giveaway below! Good luck!
Want To Win?

This giveaway is being sponsored by Peach & Lily