"What order should I apply my skincare products and does it really matter?" This is a question that I am asked all of the time. The simple answer to that question is that it does really matter! After hearing this question over and over again, I finally sat down and put this post together so that you have a guide you can turn to.
I get how confusing it is to know what product to use and when to use them. Given the number of skincare products in our routines these days, it can be so confusing knowing which steps should come first, etc. I'm going to share the exact step-by-step process that I follow for my skincare routine every single day.
If you follow this routine, your skincare products will work more effectively and you will see results. Given that you're using the right skincare products for your skin type. Another post for another time….
What Order Should I Apply My Skincare Products?
There are a couple of reasons why you should be applying your skincare products in a certain order. For one, some products won't be able to be absorbed into the skin properly if you're applying a very thick skincare product first and then trying to apply a very thin serum on top. That serum won't be able to do its job correctly because it won't be able to penetrate into the skin so you're basically wasting product at that point. Always remember to apply your products from thin to thick!
Also, we want to prepare the skin for the products we will be applying on it. We want it to be clean, toned and hydrated before we start layering acids and products like retinol onto the skin. We want to finish off our routine with a hydrating sleeping mask or perhaps a facial oil to lock in moisture.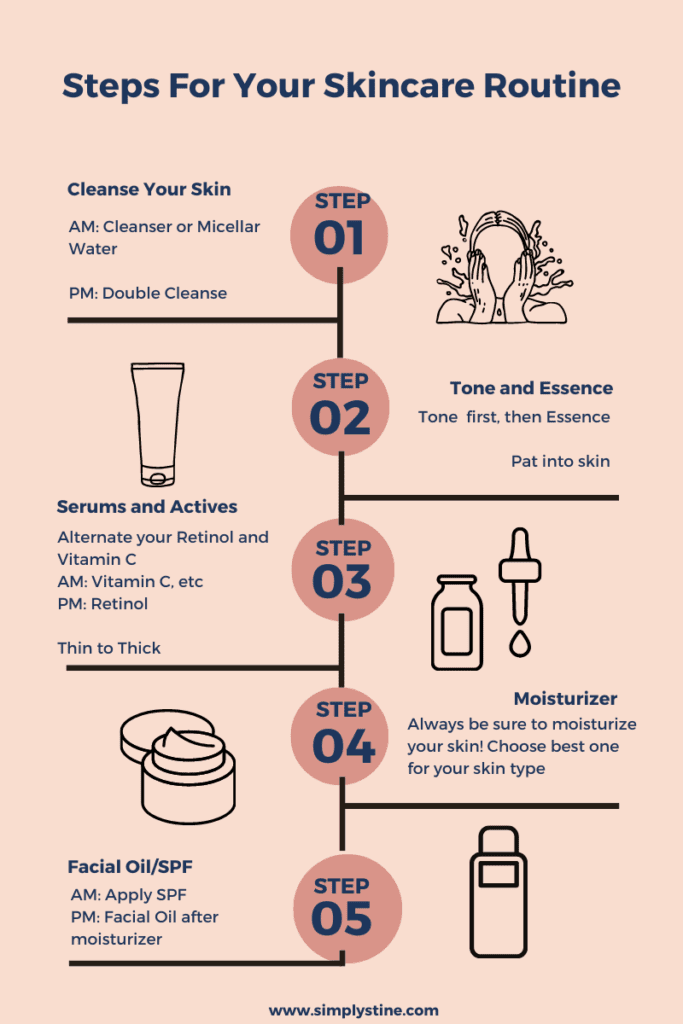 Why Do I Need To Double Cleanse My Skin?
First Step: Cleanse
AM: Regular Cleanser or a Micellar Water
PM: Double Cleanse
It's very important to make sure that you're first of all properly cleansing your skin; especially at night. This is why I always suggest a double cleanse in your nighttime skincare routine. Start off with an oil-based cleanser and then follow with your regular cleanser. You need to make sure that you're removing all of the makeup, dirt, and debris from your skin before you move on to your other skincare products. Some of my favorite products for this are the Clinique Take The Day Off Cleansing Balm / Elemis Pro-Collagen Cleansing Balm / Paula's Choice Cleansing Balm / Colleen Rothschild Cleansing Balm /Tata Harper Oil Cleanser/
When using an oil-based cleanser, apply the product to your hands and rub them together. This warms up the product. DO NOT WET THE SKIN before using an oil-based cleanser. You want to apply this cleanser to dry skin. Apply the product all over the face, including the eye area, as this will take off your eye makeup and mascara. Once you have applied the cleanser over the entire face, slowly start to add water to your skin and rinse.

As far as regular cleansers to use (meaning, an everyday cleanser) it honestly depends on your skin.
-If you're dry, you might want to stick with a gentle, non-foaming cleanser.
-If you're combination or tend to break out, you might want a cleanser that will help with oil control and helping with breakouts.
-If you have normal skin, but are concerned with aging, I'd opt for a cleanser that is full of antioxidants and good-for-you ingredients that will help keep the skin hydrated and protected.

Are Essence and Toners The Same Thing?
Second Step: Toner and Essence
Toner, Then Essence
After cleansing our skin, we use a toner to help remove any dirt or debris leftover from when you clean your face. It also helps restore the skin's pH level. THey can also help with getting dirt that is locked down in the pores, out of there! So do you need to use a toner?!? It helps prepare your skin for the next step in your routine. Remember: toner first, then an essence.
What is an essence? Do you need to use an essence? No, an essence isn't something you HAVE to use in your skincare routine, but there are benefits of including them. They can help hydrate and plump the skin, as well as helping to soothe irritated complexions. To get technical for a moment, an essence can be similar to a serum because they are thinner and have the ability to get deeper into the skin than say your moisturizer.
I talk all of the time about my love for the Fresh Black Tea Kombucha Antioxidant Essence, but there are so many options available now. Some are hydrating and calming, others can be brightening as well as protecting. An essence is a must-have product in K-Beauty routines and have become very popular here as well, for good reasons.
An Essence is basically another way to add hydration, antioxidants, and ingredients into your skin that will help protect against free-radicals and pollution. I notice that when I'm using an Essence, it plumps up my skin and the hydration that it provides me is insane! An Essence is similar to a Toner, but still different! My favorite Toner? This alcohol-free Toner from Kiehl's! It's amazing for redness and calming the skin!
I use an Essence after I have applied my toner. I like to take a little bit of the product and pat it into my skin. I DO NOT RUB this into my skin, but instead just pat it all over my face, in layers.
I've noticed that since I've gone through at least two bottles of the Fresh Essence, that my skin is more hydrated, less red, and much plumper! I recommend this product to everyone that I know, every single time I have an opportunity to talk about it. It's that good!!!! I've also had my eye on this Essence!

Eye Cream / Neck Cream
Third Step: Eye Cream and Neck Cream
After toner and essence, I apply my eye cream and neck creams. Some people prefer to wait until after their moisturizer is applied for these products, but I strictly follow Caroline Hirons advice on this one. Right now I'm using the Neocutis Lumière Eye Cream and really like it. I'm also a big fan of Dr. Dennis Gross Eye Serum (I like to use this prior to applying an eye cream) and the Dr. Dennis Gross Eye Cream. My favorite splurge eye cream is the D.E.J by Revision. I also have to include this Fresh Eye Cream and this eye cream for brightening and hydrating.
Tips for applying eye cream: Go easy!!! Honestly, your eye area is such a sensitive area. Just pat the eye cream on the skin gently. Don't tug and pull. Small amount goes a long way with most eye creams.
When applying a neck cream, I like to start at my chest and work up. I never pull down. We want to lift that area, so I work in upward movements to work the neck cream in. If you don't want to use a special product for the neck, just take all of your skincare down to your chest area.

Serums and Acids
Fourth Step: Serums and Active Acids
So you've cleansed your skin, toned, applied an essence, neck and your eye cream; now the next step is your serums and actives. When thinking of what order to apply your serums, you need to take into consideration what you're using. YOU DO NOT WANT TO MIX products like Vitamin C and Retinol together. So I alternate them. I'll use my Vitamin C in the morning and my Retinol at night. I also go from thinnest to heaviest as far as consistency.
Retinol: I use it 1-2 times a week (I pay close attention to my skin and alter if needed) PM ONLY AND ONLY USE A PEA SIZE AMOUNT
Vitamin C: I use daily in the mornings AM ONLY (Yes, it's normal for some vitamin C products to smell similar to hot dogs, ha!)
Hyaluronic Acid: I use daily morning and night (I spritz a thermal water on my face before applying)
Lactic Acid or something like a BHA (Exfoliating acid): Use on nights when you aren't using retinol. Apply after cleansing and toning. Then work into your other serums like your Hyaluronic Acid, etc.

Do I Need Retinol in my Skincare Routine?
I want to dedicate an entire post on Retinol because there's a lot to talk about, so I'm only going to lightly touch on the subject in this post. Retinol (or Vitamin A) is pretty much a holy-grail product that will treat everything from acne, fine lines and wrinkles. hyperpigmentation, clogged pores, rosacea, and even redness. It's a product that many people use, but are still a little confused about. Here are some tips when it comes to Retinol:
Start using Retinol when you are noticing any issues that I mentioned before, but generally, the late '20s to the early'30s is a pretty common age.
Start off with a low percentage, over-the-counter product and include it into your skincare routine up to two times a week at first. I suggest a pea sized amount!
Must be applied to dry skin!
It can be harsh on your skin as you are first introducing it. You could notice some redness and peeling. Adjust as needed.
You MUST only use it at night and be sure to include an SPF every day in your routine.
Also be sure to include it on your neck and your décolettage.
Retinol will be applied to the skin AFTER you cleanse and tone. This is the only product you'll be using before you moisturize and apply a facial oil. I do not use anything else on the nights I'm using retinol. Considering retinol can be pretty tough on the skin at first, we want to slowly introduce it into our routine. Some people like to layer when they use retinol. So they will use a Hyaluronic Acid to help hydrate the skin and some people even mix the retinol into their moisturizer. It all depends on your skin and how it tolerates it.

Let's Apply A Moisturizer
Fifth Step: Moisturizer
You've cleansed your skin, you've used a toner and you've applied your serums and actives. Now it's time to moisturize your skin. You can use the same moisturizer for AM and PM if that's your preference, I tend to use a moisturize in the daytime that isn't as heavy and that has an SPF. At night, I use a heavier moisturizer. It's all preference. I apply about a quarter size product into my hands and work it into my hands, and apply pressing it on the face and apply in upward movements on my face and my neck, down to my chest.
Do you need a moisturizer? I'm going to say yes. Even if you're oily, you still need to hydrate your skin. Sometimes oily skin types are actually dehydrated. If you have dry skin, you know you need hydration. Just be sure to pick out a moisturizer that isn't too heavy for your skin type.

Facial Oils
Sixth Step: Facial Oil
You've made it to the final step of your skincare routine. Congratulations! I like to end my routine with a facial oil because they help lock in moisture and protect your skin. I find that they help with the occasional dry patches we get from weather related issues and from using something like retinol. They also give the skin a luminous glow. I use my facial oil at night and find that they really make a difference in my complexion. My favorite facial oil is the Face Oil No 9 from Colleen Rothschild. This is the supposed facial oil that Kate Middleton swears by!

SPF
YOU MUST NOT FORGET SPF! After you've completed your skincare routine, you must finish with an SPF. It's one of the most important parts of your routine. I have a few that i really love that don't irritate my skin, but find one that works for you and use it! You need to use it on your face, ears, neck and chest!

How Many Times A Week Should I Use A Skincare Mask?
I think one of the most missed opportunities when it comes to skincare is NOT using a skincare mask. I hear from so many women that they just don't take the time to use them and y'all, that is crazy talk!
Skincare Masks DO NOT have to be expensive. You can get an inexpensive sheet mask and get fabulous results by using it. My suggestion is to figure out what your needs are and go from there! Do you need one for acne? Maybe try a mask like this one! Maybe you're on the dry side and you need a skincare mask that is hydrating. This Neutrogena Moisturizing Hydro Boost Hydrating Face Mask is under $3.00 and it is incredible! A splurge-worthy mask has to be the Tata Harper Resurfacing Mask. It's 100% natural and it leaves my skin glowing like an angel!

I suggest using a skincare mask at least once a week, but feel free to use them up to three times a week! Depending on the mask, there will be the guideline for how often you'll want to use them. Some masks can be used every single day, others it's best to stick to once a week. Take your skin type into consideration and go from there!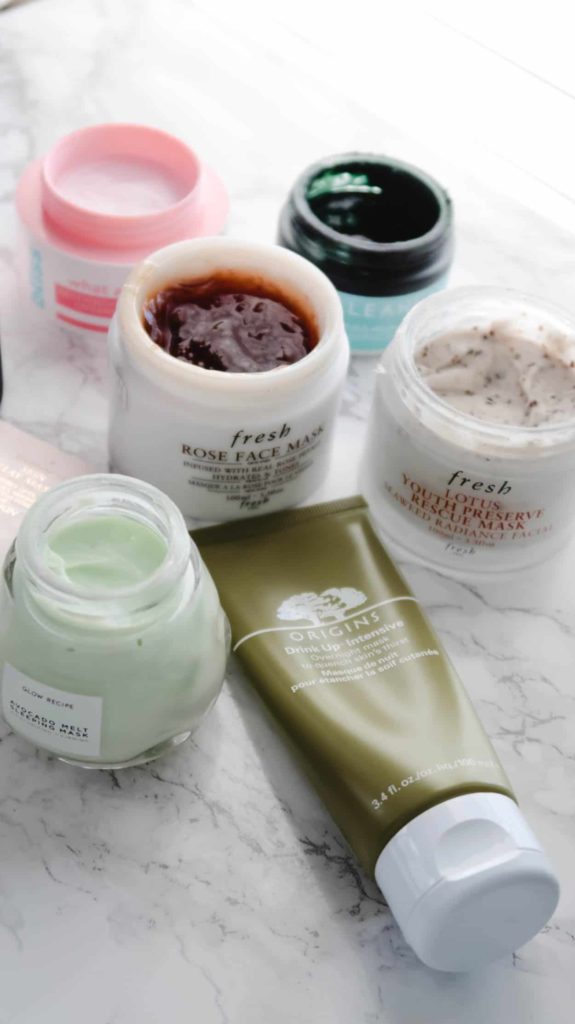 Tips For Using A Skincare Mask
Cleanse your skin before you use a skincare mask!
Do NOT apply your skincare mask with dirty hands! Grab one of these very inexpensive mask applicators and leave the bacteria behind! Just be sure to wash your applicator as well!
Don't be afraid to multi-mask! Say your t-zone is oily, but your cheeks are dry, use different masks for the areas concern.
Sheet Masks are inexpensive and are a great addition to your routine! Perfect for traveling as well!
Some of my favorite skincare masks!
Your skincare routine doesn't have to be confusing once you know the right order to apply skincare products. Keep this post saved so you can come back to it if you need some guidance. I am going to put together another post explaining how I use skin care devices in my routine. So stay tuned for that one!
Shop The Post