Have you ever heard of the Trish McEvoy Makeup Planner System? Well if you haven't, you're in for a treat today! I've always loved the idea of a planner full of makeup and Trish McEvoy made my dream a reality! This whole planner system is nothing new. I knew that Trish McEvoy sold them, I just never got around to actually trying them until now.
There are so many reasons why I just love this planner system for makeup.  It's perfect for on-the-go and traveling, but it's also a great product for those of you who don't tend to wear a lot of different makeup each day and want a good set of basics that work for any makeup occasion.  The planner is gorgeous itself and the makeup inside is all refillable and so easy to pop in and out of the case.  Plus, you can always add more to your actual planner, which I'll explain later.
I recently shopped at Nordstrom to browse the Nordstrom Sale and I happened to run into Shannon, who works for Trish McEvoy.  You guys, she applied makeup on me way back when I attended my first blogging event at Saks.  She offered to touch up my makeup and she used the Trish McEvoy Makeup Planner System: Sunlit Glamour that is for sale during the Nordstrom Sale and y'all, I was so impressed that I picked up the planner system for myself to take home.  Conveniently I was about to leave for Florida, so this was the perfect opportunity to give it a try!
The Trish McEvoy Makeup Planner System is exactly what you'd think it is.  It's a planner that holds all of your beauty items that you need. I'm obsessed with the idea of this.  I recently held a poll on my social media asking you guys if you tend to switch up your makeup daily or if you wear the same makeup everyday and the results were super close, but for both polls, most of you said you wear the same makeup daily. I don't tend to wear the same makeup everyday because I like to switch up my looks, however, I still think a planner system like this is doable, even for those of us who switch it up often.  The makeup in these planners are so easy to change up, I feel like I could pop in some new shades and have options! There is also more than enough room to add other products into the planner system itself.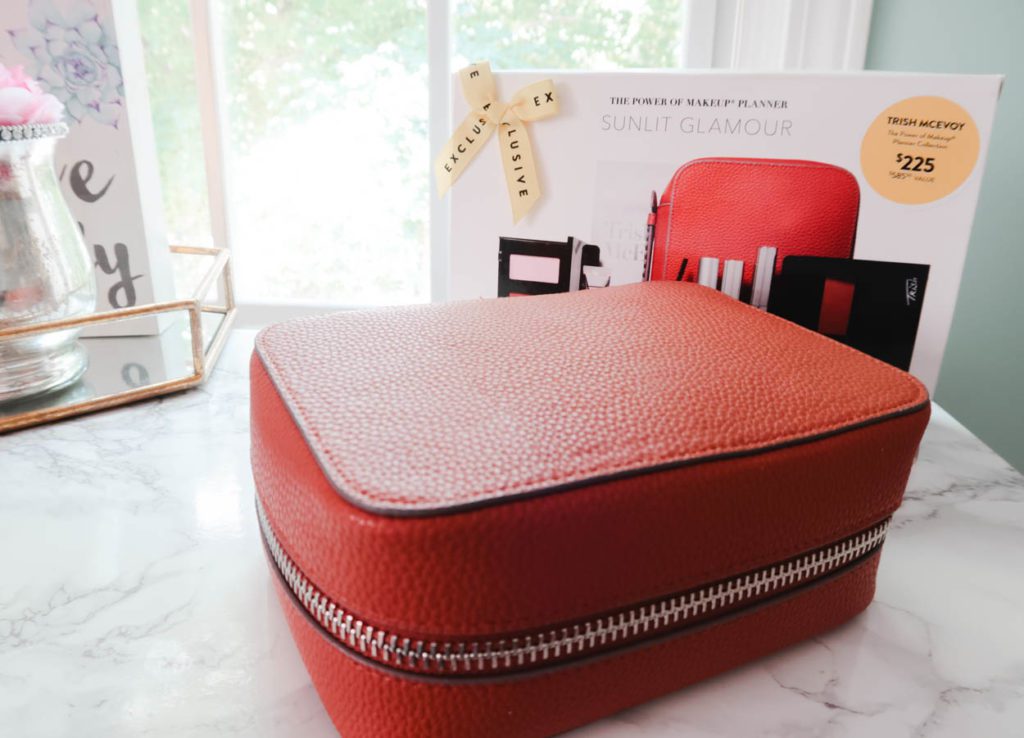 Meet the Trish McEvoy Makeup Planner System: Sunlit Glamour Planner Collection
– Limited-edition Makeup Planner® ($82.00-$85.00)
– Medium Makeup Wardrobing® Page ($24.00)
– Eye Base Essentials (0.12 oz.) ($35.00)
– Intense Gel Eyeliner in Black (0.04 oz.) ($30.00)
– Eye Definer in Paris Nights (0.04 oz.) ($20.00)
– Deluxe Eyeshadow in Shell (0.1 oz.) ($20.00)
– Eyeshadows in Caramel and Sienna (0.04 oz. each) ($20.00 each)
– Starry Eyeshadow in Bronze (0.04 oz.) ($20.00)
– Bronzer in Weekend (0.25 oz.) ($33.00 for a full size)
– Blush in Pink Glow (0.1 oz.) ($26.00)
– Translucent Finishing Powder (0.1 oz.) ($40.00 normally for a full size)
– High Volume Mascara (0.18 oz.) ($32.o0)
– Instant Eye Lift® (0.13 oz.) ($45.00)
– Correct and Even Full-Face Perfector® in Shade 3 (0.12 oz.) ($45.00)
– Essential Pencil in Natural Rose (0.5 oz.) ($28.00)
– Beauty Booster® Lip Gloss SPF 15 in Sexy Petal (0.28 oz.) ($27.00)
– 100 Eau de Parfum Spritzer (0.07 oz.)
– Instant Solutions® Hydrate & Glow Dry Sheet Mask (1 mask at 0.09 oz.) ($29.00)
All of the products listed above, are what come in the Nordstrom 2018 Anniversary Sale Makeup Planner. The products included in the planner for the #NSale easily adds up to about $600.00 if you purchased everything separately.  So while the price tag of $225.00 seems like a lot, you are actually getting such an insane bargain.  If you're just looking at starting your makeup collection or you're wanting to put together a great set of basic makeup products, this is such a good investment.  I'm so impressed with the quality of everything and the actual products are so good.  I wore the eye base, gel liner and mascara to the beach one day and got soaked from waves and my makeup didn't come off! That's pretty impressive!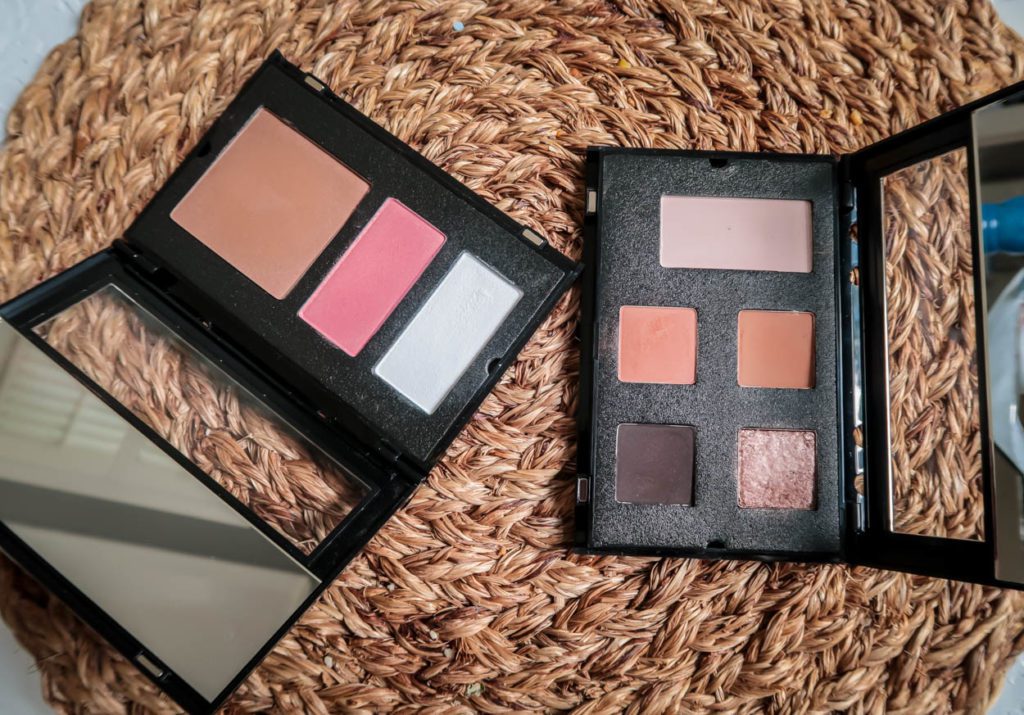 Pictured above are two of the Trish McEvoy Makeup Wardrobing Pages.  I have one for face that includes a translucent powder, bronzer and a blush.  The other one is my eyeshadows and eye definer that can be used as liner or brow color. The "pages" are magnetic, so you can easily pop in and out the makeup that you want to use in your planner. No more bulky palette packages taking up unnecessary space. Psst..most makeup that comes in palettes are normally housed in a magnetic packaging, so you can easily pop those out and use in the planners!  I show in the video I have posted below, how you can easily change out the makeup and how they go in the planner.
I think that the wardrobe pages are so nicely made! Their packaging seems really durable and I love that they included a mirror.  So even on the go, I still have a great sized mirror to touch up my makeup with! They have holes in the package so they can easily be put into the planner.  It's just genius packaging if you ask me!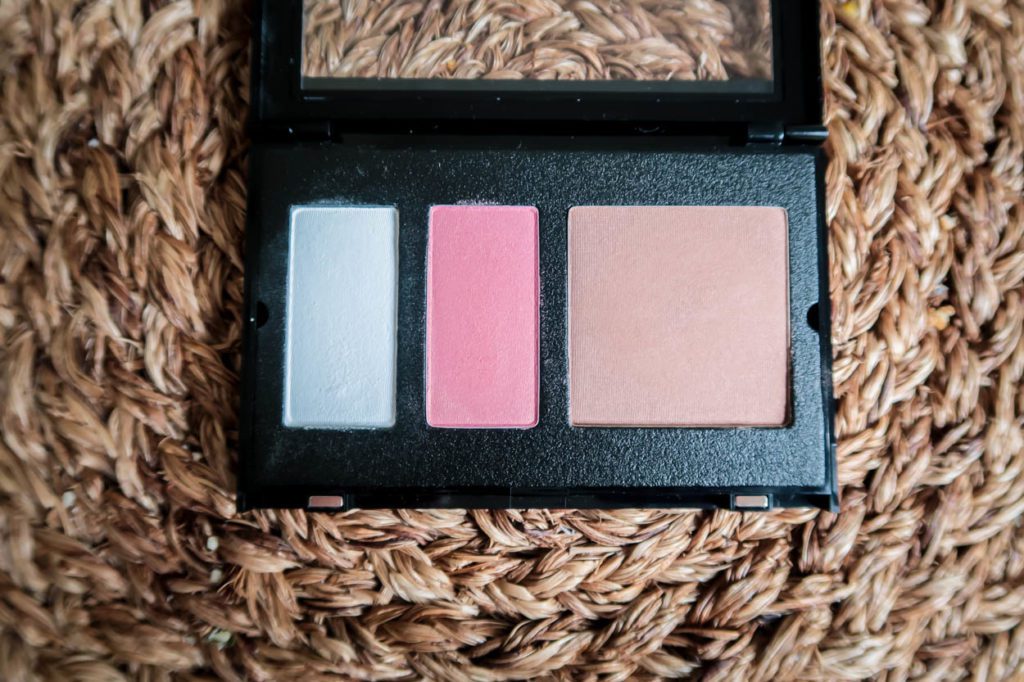 I'm such a big fan of all three of these products.  The translucent powder is fantastic, the blush is the prettiest color and it reminds me of my favorite NARS Orgasm and the bronzer works perfectly on my fair skin.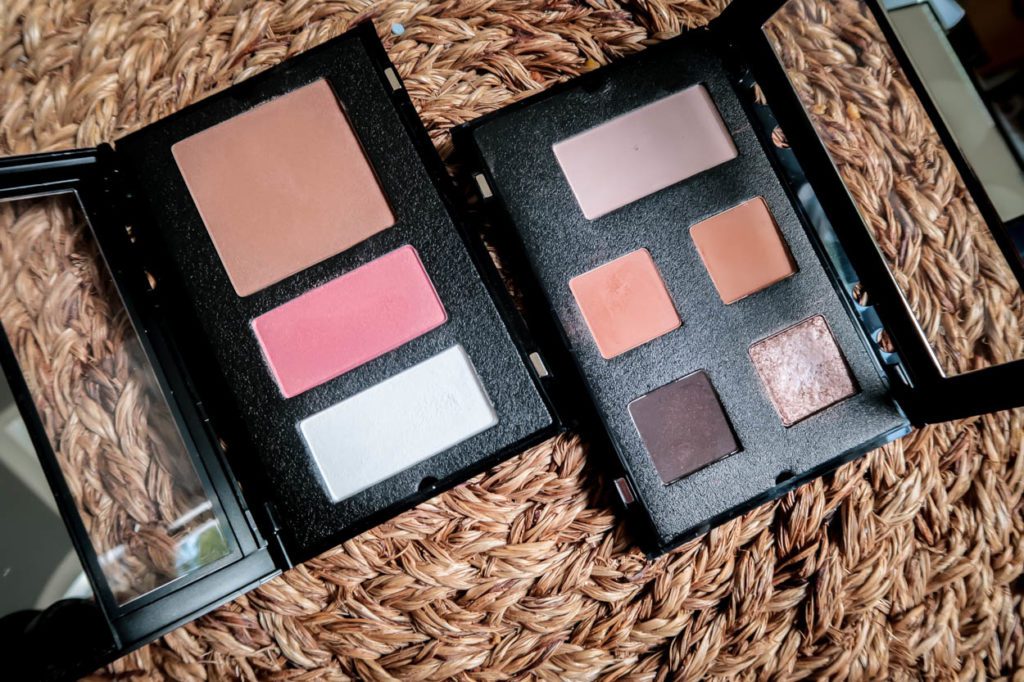 The eyeshadows are gorgeous.  They have different finishes and are shades that I can totally wear daytime or for when I need to really create a nice glam makeup look. You can use them wet or dry and the colors blend so nicely and are perfect for all of those Fall looks you'll want to create.  I really regret not picking up the Trish McEvoy Brush Planner because now that I know how much I really love her products, I'm curious about the brushes.  Have you used them!?!?
Trish McEvoy Makeup Planner System: My Favorite Products
Intense Eye Gel: 24 hour wear that is waterproof (I totally agree with it being waterproof) and the pencil has a built-in sponge that is great for smudging. It applies so easily and has intense pigment! Plus, it lasts!
High Volume Mascara: This is a tubular mascara.  That basically means that the mascara formula wraps around the lashes and forms tubes around them.  It's smudge-proof and doesn't come off until you add warm water to the lashes. I swear by tubular formulas, especially for someone like me who has sensitive eyes.  Plus, I'm a big fan of the brush on the wand! It really allows you to get into the lashes and wiggle the brush to get some definition and volume.
Essential Pencil (Rose Nude): This pencil glides on so nicely and allows you to use it as a lip liner and a lipstick all with the one product.  The finish is a semi-matte finish which is very easy on my lips to wear. PLUS, you can also use this as a blush color!
While I enjoyed using every product, I really did find the three products listed above that impressed me the most. Yes, I really did enjoy the eyeshadows and the face products because the pigment was incredible and they blended onto the skin so nicely, but the wear time on the eyeliner and the mascara blew me away! I was getting soaked in the ocean and they didn't budge!  Plus, if you guys know me, you know I love a good rose nude lip pencil! I plan on doing an entire separate post where I show you how I use each product later on!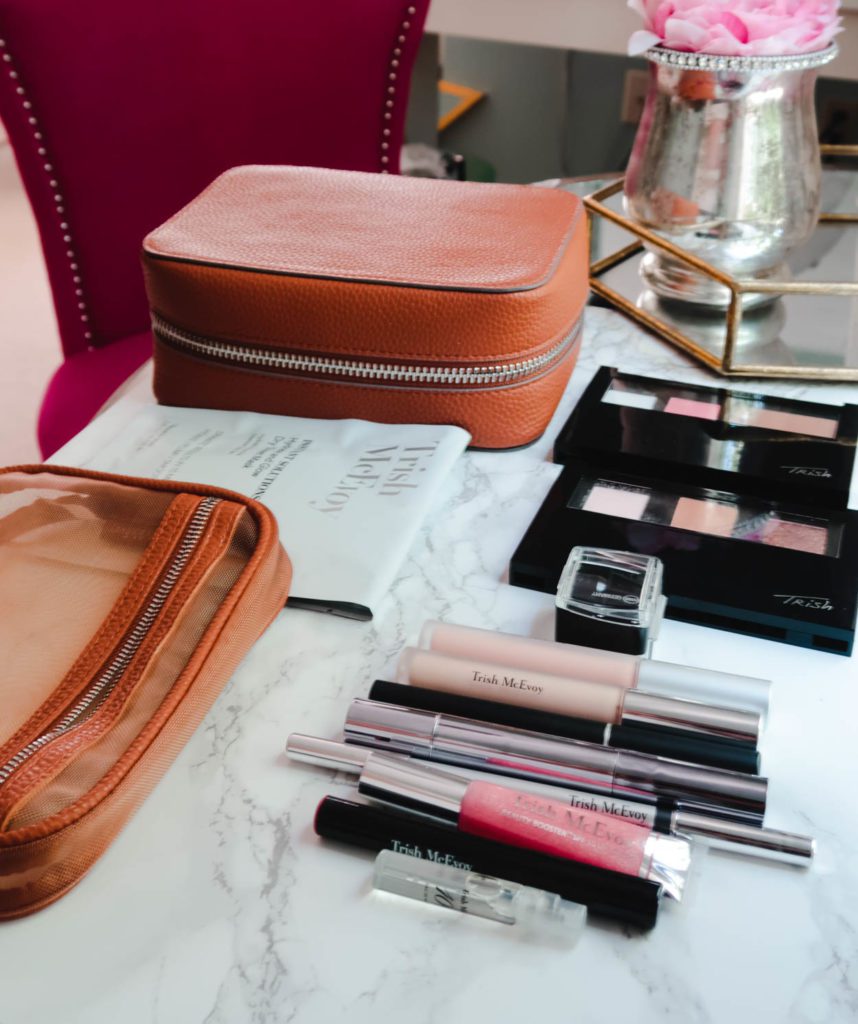 If you're an organization freak like me, you will love this planner! It keeps everything in place and the quality of the actual planner itself is so good! It's perfect for those of us who just want to keep all of the makeup we use in one place! When you run out of an eyeshadow or whatever, you can buy refills! They just go right into the planner.
Included in this set is an eye base, an instant eye lift and also a correct and erase full-face perfector. Again, to not make this post any longer than it already is, I'll be reviewing these in a separate post.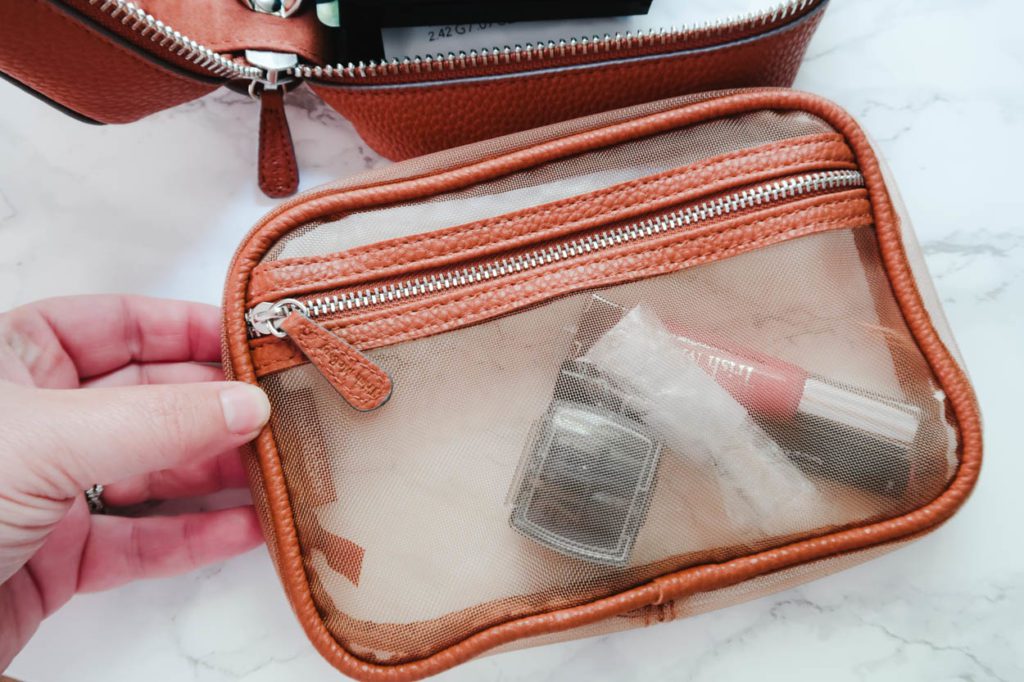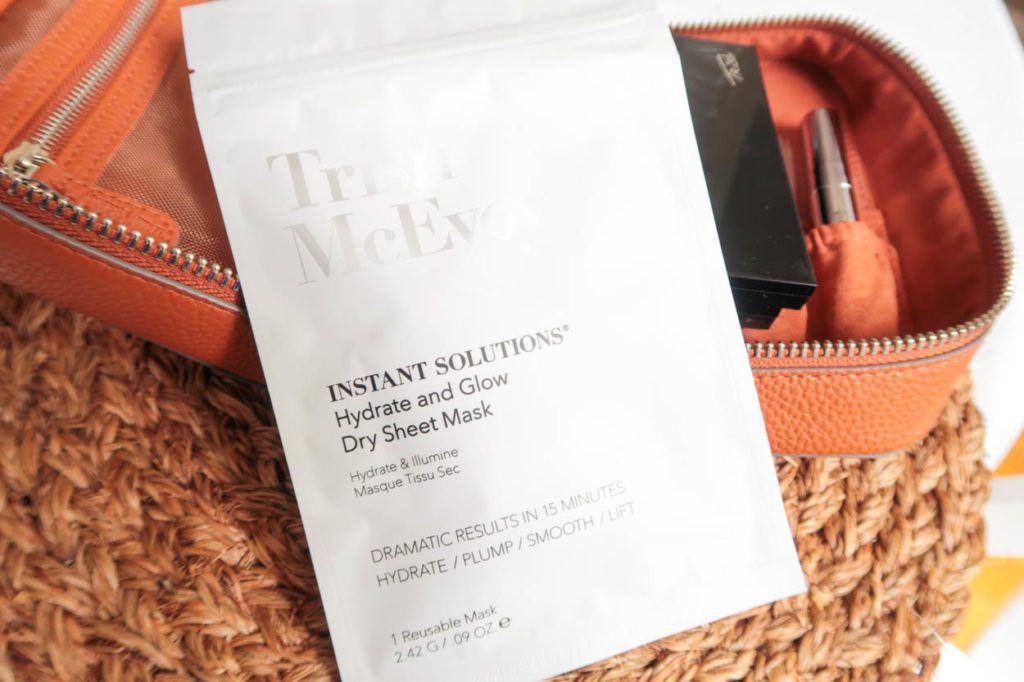 You can reuse this mask up to three times! I'm excited to give it a try because I haven't used a dry sheet mask yet!
Yep, they even included a sharpener and a small sample of the Trish McEvoy 100 fragrance.  The packaging is glass for the perfume, so do be careful with it! Also, if you aren't normally a lover of lip gloss (like me) I'll say that this doesn't feel sticky at all on my lips and it has SPF included!
Also, I am really curious about their Beauty Balm! I've read a lot of good reviews, so I might have to pick that product up.  It's a hefty price tag, but I'm curious enough to see how I like it. I love a good Beauty Balm because they offer SPF protection and just enough color to make my face seem like I look like I'm wearing makeup, but still show my skin.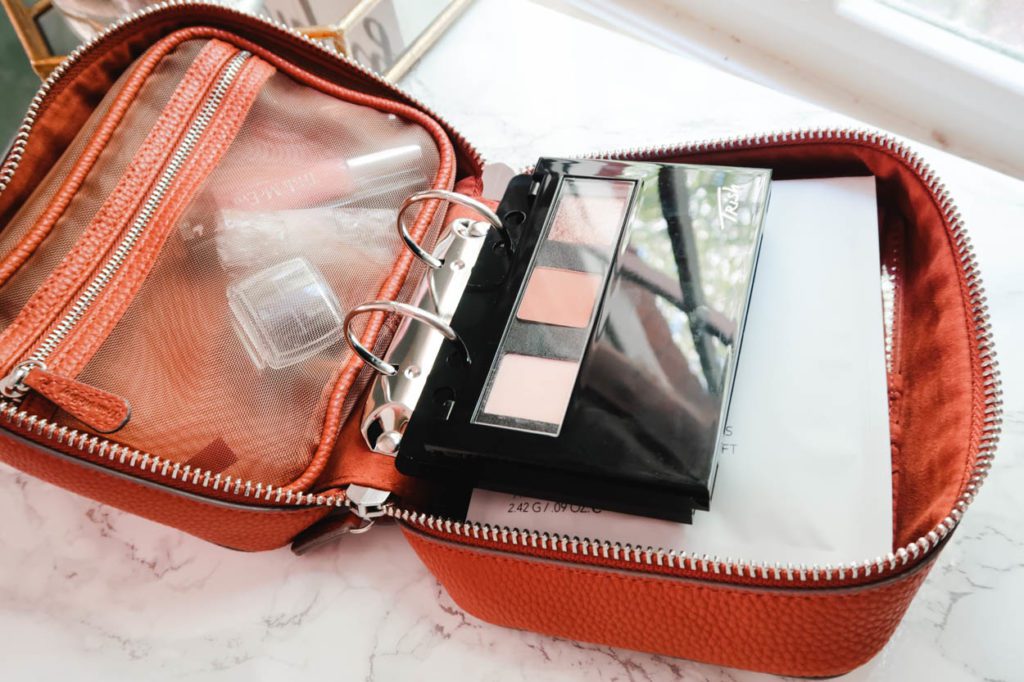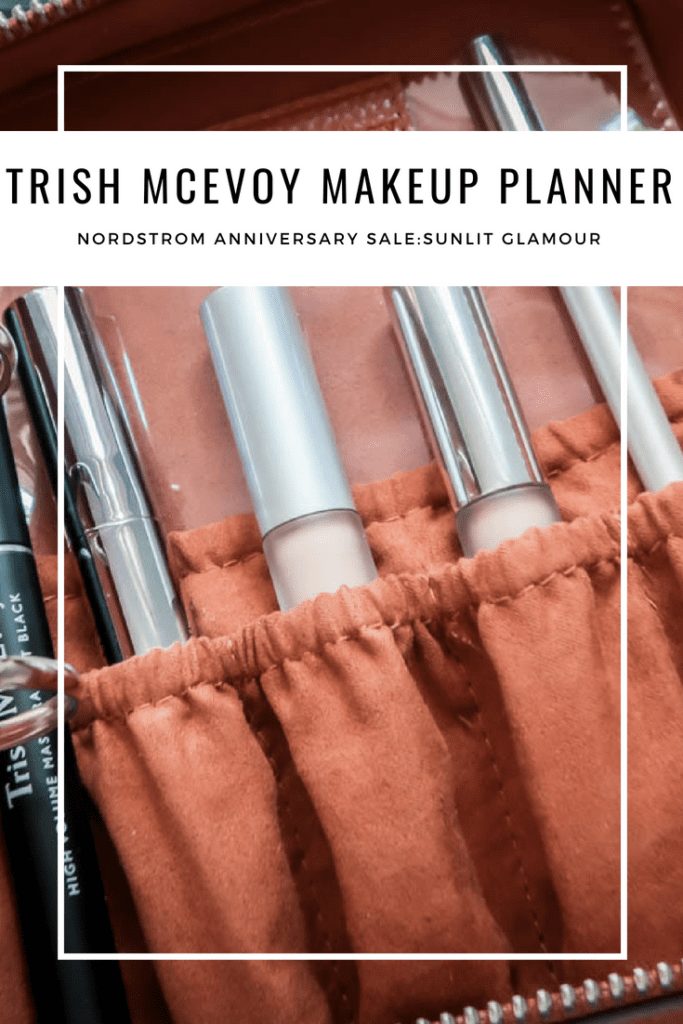 The Trish McEvoy Makeup Planner System really impressed me. The quality of everything just blew me away. I haven't had a chance to try the Dry Sheet Mask yet, but I'll do a follow-up post on that one for sure. Now that I've experienced their makeup, I'm really curious about their skincare and some of their other makeup products. If you're in the Atlanta area, be sure to look up Shannon and send her a message on Instagram! She's a fantastic makeup artist and she knows so much about Trish McEvoy!
Tell me, do you like this idea of your makeup being housed in a planner? Is it something that you would buy? Have you ever used anything from Trish McEvoy before?