I was invited to attend a Blogger Brunch at Sak's Fifth Avenue and I had so much fun learning about new beauty trends for fall. Plus, I got a sneak peek at their gifts that they are offering with purchase, during their Fall Beauty Event, which is happening now through October 5th! They will be doing tons of special offers, gifts-with-purchase and makeovers. This is the perfect time to "master the look!"
What better way to start a morning than at Sak's, before the store opens?!?!? That's right. I had the fabulous shoe department to my left and all of the beauty counters to my right. I had a Mimosa in my hand and snacked on some yummy treats, oh and I got a new eye look from the SUPER talented YSL makeup artist, Shannon Coats. Life is good! Here are some of the pictures I took while I was at the store: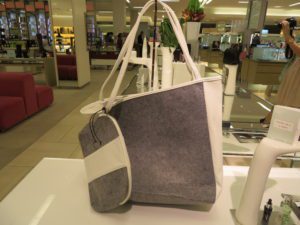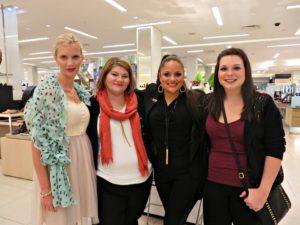 We got a chance to learn about three new looks for Fall. The Phenombre (lips), the Goddess Glances (eyes) and the Nymph Glow (skin).  Plus, we also got to hear a perfume expert from Dior, explain all about the  La Collection Privee Christian Dior. This collection of perfumes are really, the most beautiful products I have ever seen. Something so simple and the overall presentation of the whole collection is stunning. It's a must-see. The perfume they were featuring, that was new to the collection, was Gris Montaigne. It was the perfect mix of feminine and masculine. I do love a good scent and this one might be my new signature scent. I could have listened to him talk all day about all of the stories about Dior and what sets them apart from most companies. **This fragrance collection is going to be a MUST have for the holiday's. They even feature a candle that would make the perfect gift**
Can we talk about the Phenombre lip? It's where two colors are fading into one. It's a perfect new look for fall. Shannon Coats, the makeup artist from YSL, demonstrated this one fellow blogger, Amber, from Glam Trotter. She lined the lips with a burgandy color liner and filled in with a different shade of lipstick. On top of that she used a YSL Glossy Stain to add another pop of color and to give a glossy effect.
I had so much fun learning about Sak's, new Fall Beauty trends and speaking to all of the employees.  Shannon, the makeup artist for YSL, was a total sweet heart and had such a knowledge of beauty. I'd recommend seeing her for an updated makeup look for sure! The gifts-with-purchase that the beauty counters are offering is amazing! Plus, if you spend $100 on beauty/fragrance, you get your choice of one of the three fabulous totes and if you spend $150, you also get the matching cosmetic case!
Sak's Fifth Avenue is THE store to go to when you want to be wow'd and impressed. Not only do they carry designer clothes, shoes and handbags, but they also have a very impressive beauty and fragrance department. These aren't your typical counters you see at other bigger department stores.  These are FABULOUS and you feel like you are in beauty heaven. The best part about the whole Sak's experience is the employees. They are friendly, knowledgable and there to help you pick out products to help you look your best. Stop by and treat yourself to something new!
I have to thank Sak's for inviting me to the event and for the goodie bag they gave to us! I had an amazing time and I can't wait until the next one!
For more information, click the link to go to Sak's website:  Fall Master The Look Beauty Event
La Collection Privee Christian Dior

I was not paid to write this post. I just love Sak's and makeup!!