Every other Wednesday, the
Metro Atlanta Beauty Bloggers
will answer a beauty-related question just for fun! This week's question is…
What makeup items are you more likely to splurge on?
This is such an excellent question and one that I get asked a lot! I've always been a firm believer that makeup doesn't have to cost a fortune, but there are a few items I do splurge on.  Could I use a cheaper alternative? Yes, but I find that sometimes these products give me better results and they last longer on me.
Here are a few items that I splurge on:

Foundation
I have several drug store foundations that I use on a day to day basis, but there are those certain foundations that just give you a perfect complexion or have added ingredients or benefits that make you feel extra special. I have a difficult complexion to perfect at times. I have very fair skin, but I also have a lot of redness. On top of that, my actual skin has large pores and can sometimes be oily/combo. So for those special times when I am really concentrating on my actual skin and want it to look extra amazing, I use my Chanel Perfection Lumiere Foundation.

Chanel Perfection Lumiere Foundation
Eye Shadow Primer
I have incredibly oily eyelids. It doesn't matter what the weather is like. If I don't use a good eyeshadow primer, my eye makeup doesn't last. I have tried several brands and I've found that my absolute favorite is the Too Faced Shadow Insurance. It lasts and my eye makeup stays put for most of the day. I have tried several drug store primers, but they just don't work for me.
Too Faced Shadow Insurance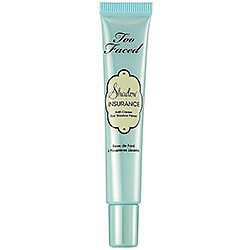 Makeup Brushes
Lastly, if you don't have good tools to apply your makeup, you won't get the best makeup look that is possible. I find that great makeup brushes are so important. I have splurged on many of these because they give me a look that I sometimes can't get with cheaper brushes. The hairs that are in the brushes are very important. I've found that the better quality brushes last longer and don't shed and leave hairs all over my face.  I have used several more inexpensive brushes that do work, but there are some brushes that just can't compare. I love my Sigma Beauty Mr. Bunny Essential Kit.
Sigma Beauty Makeup Brushes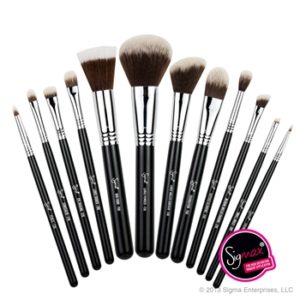 Those are the products I tend to splurge on the most. Are there any that you can't live without? Be sure to check out the rest of the MABB Member's splurge worthy products below!
– – – – – * – – – – –
Be sure to check out the other Metro Atlanta Beauty Bloggers' blogs!
Ashley Elizabeth from Ashley Elizabeth's Beauty Blog
Brittney from BellBelleBella
Dawn from Ritual Beauty
Dionne from Glittery Fingers & Sparkling Toes
Emma from Manicurity
Harri from TrailerHood Chic
Kaitlin from Blushing Beauty
Mandy from MandysSecrets
Pam from Pammy Blogs Beauty
Quinn from Mama Fashionista
If you're a beauty blogger in the Metro Atlanta area and would like to join us, please visit our website! We would love to connect with you!