Raise your hand if you drive a big ol' SUV like I do. Not only is it big, it's also a huge gas guzzler. I frequent the city a lot. That means, since I live in the burbs that I spend a lot of time sitting in the car in traffic. If I'm not in the city, I'm just driving around running errands. The two problems I have with driving a big SUV is that it's difficult to park in the city when parking spots are super limited and who has fun parallel parking?! My second problem is that the amount of money I spend on gas is a killer on our budget. I might have found a solution to my problems: Meet The Fuel-Efficient 2017 Mitsubishi Mirage GT.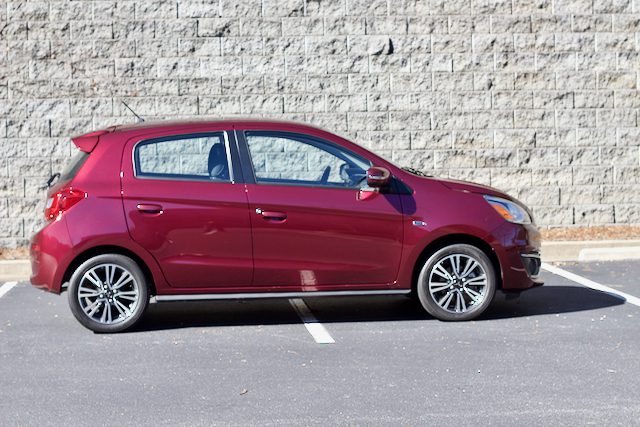 Thanks to DriveShop and Mitsubishi, I got to drive the 2017 Mitsubishi Mirage GT for a whole week. At first glance, I loved the color of this car. I normally drive a plain jane white vehicle, but this one was called Wine Red and it was gorgeous. It didn't really look like a red, but more like a burgundy/purple that changed colors depending on how you looked at it. I called it my purple beast the entire time I had it #Seriously
I also noted just how small this car was. Y'all, it was really, really small looking. Here's the thing, don't let that first glance fool you into thinking that four (or possibly five) people can't fit in this car, because they can! I tested this with my in-laws and husband as we drove about a half hour to go have burgers and shakes. Culvers happened and I'm not ashamed one bit! It's important to note that my FIL is a very tall man. He fit comfortably in the front and back seat no problem. My husband and MIL both fell asleep on the way home #FoodComa. Yes, the car does appear small, but there is plenty of room and when you're driving it, it doesn't feel so small after all. We were all perfectly comfortable the entire time.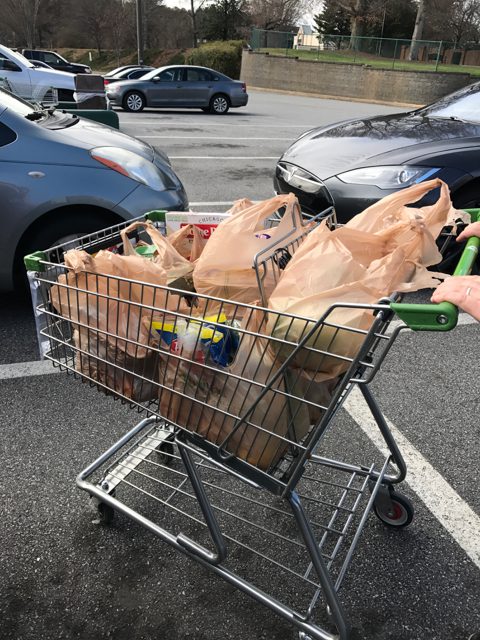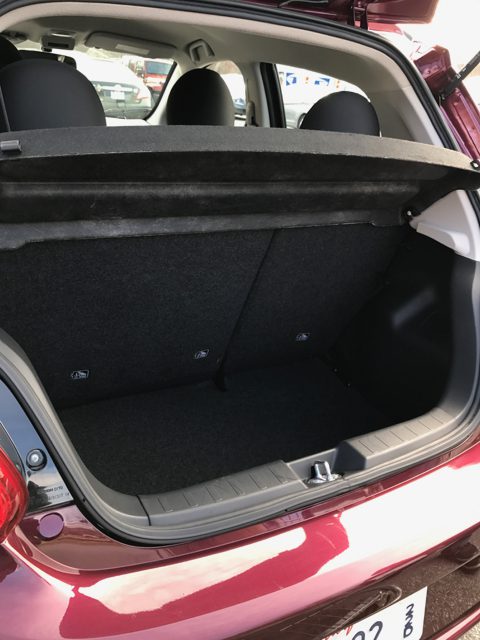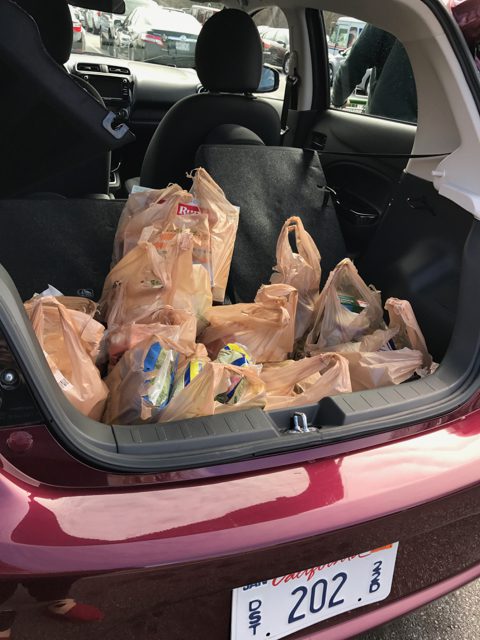 A full cart of groceries wasn't even a problem!
I got nervous when I brought the groceries out to the car, but it fit in the back seat (which the seats can fold down if needed) no problem at all!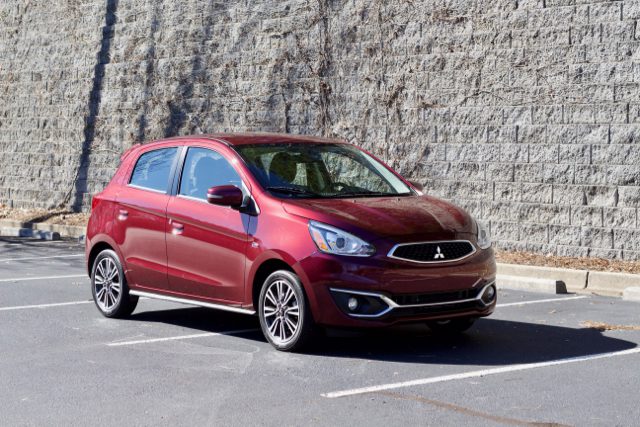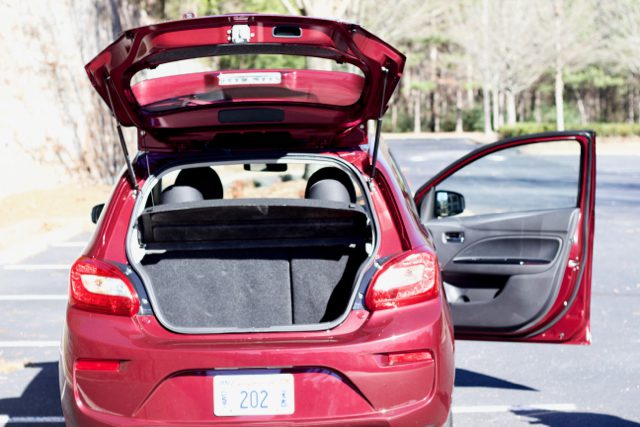 Let's talk price tag! The exact model that I got to drive was priced at $17,330.00 and upon doing more research on the car, I have found that these typically go off the lot for around $12,000 or a little bit more. I know what you're thinking, "There can't possibly be any options on that car at all, based on a price tag like that." I want to give you an idea of what this car came equipped with:
Heated Seats (These seats warmed up way better than what my SUV did)
Power Windows
Back up Camera
Apple CarPlay and Android Auto
Fog Lights
Bi-Xenon HID Headlights
Bluetooth Hands-Free System
Push Button Start
10 year/100,000 mile warranty
Active Stability Control
7 Airbags
Cruise Control
and honestly, there's probably a lot more that I'm just not remembering or know enough to talk about. So you can see, that even though this vehicle is priced so low, it's still loaded with quite a few options. Compare that to what I drive and it's got a lot of the same options that I paid a much higher price tag for. Obviously, I drive a bigger car and with that comes other options, but still…how much more do we need?
The only big downfall I noticed when driving this vehicle was that the pick-up on it was pretty sluggish. This is only a 3 cylinder vehicle, so don't go into it thinking it's going to zip in and out of traffic super easy. I will say that once I got it going, it was no problem at all. It's just that a couple of times, I had to really push it to get around Atlanta traffic. I'm used to having quicker pick up when I push the pedal, so this was something new to me. It's just something to think about if you're looking for a lot of acceleration, this is a little bit sluggish at first.
One of the features that I really enjoyed was the option of using the Apple CarPlay or the Android Auto. I love this because I have an iPhone and my husband has an Android phone. Having both available worked out perfectly for us! There's no need to pay extra for a navigation system because the car works with the navigation on your phone. It also displayed some of my app's like spotify and I can could easily send messages to others. That isn't even something I can do in my own SUV!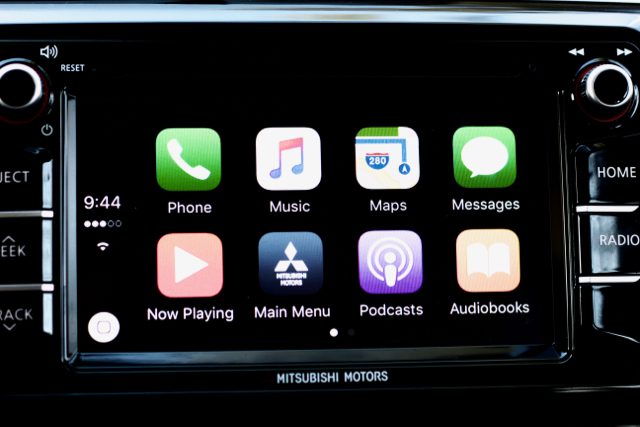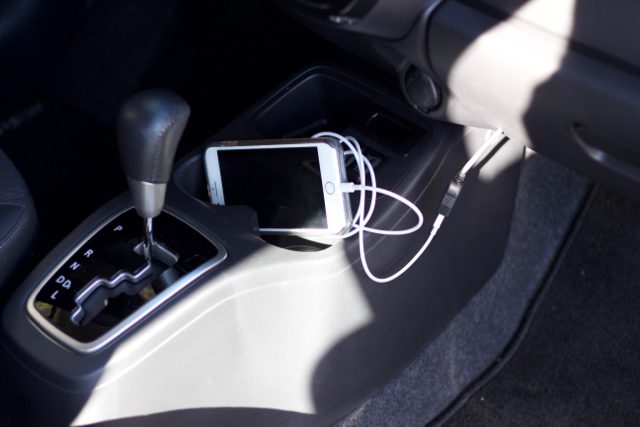 This was a fun car to drive for a week. It got me where I needed to go and driving around in traffic was much easier (for the most part) than being in an SUV. I never realized how much work goes into parking SUV's Also, I noticed how amazing this was on gas. I normally only get about 15-16 mpg if I'm lucky and this was easily 30 mpg or more the entire time I had it. That's a HUGE savings compared to what I normally get.
I see this car being a perfect vehicle for someone who's younger, who lives in the city or someone who's not needing a bigger vehicle. Honestly, the more experience I get with driving other vehicles, really has me taking a moment to re-evaluate what our next car purchase will be. I'm not going to lie, the thought of having this low of a car payment is very, very tempting. I could easily see this being a second car that we would own.
As always, I am in no way shape or form a car expert, but I know what I like in a car and I share what I find interesting about the vehicles that I test drive! I hope that you find these reviews helpful and if you have any questions, ask away!