When I drove the Mazda CX-9, I honestly fell in love! I DID NOT want to give it back to DriveShop when they came to pick it up. It has all of the fancy bells and whistles that wow'd me, but the way it drives made me fall head over heels for it. It was such a fun driving experience and as usual, it really impressed me.  I'm telling ya, Mazda has really upped their game in my opinion!!!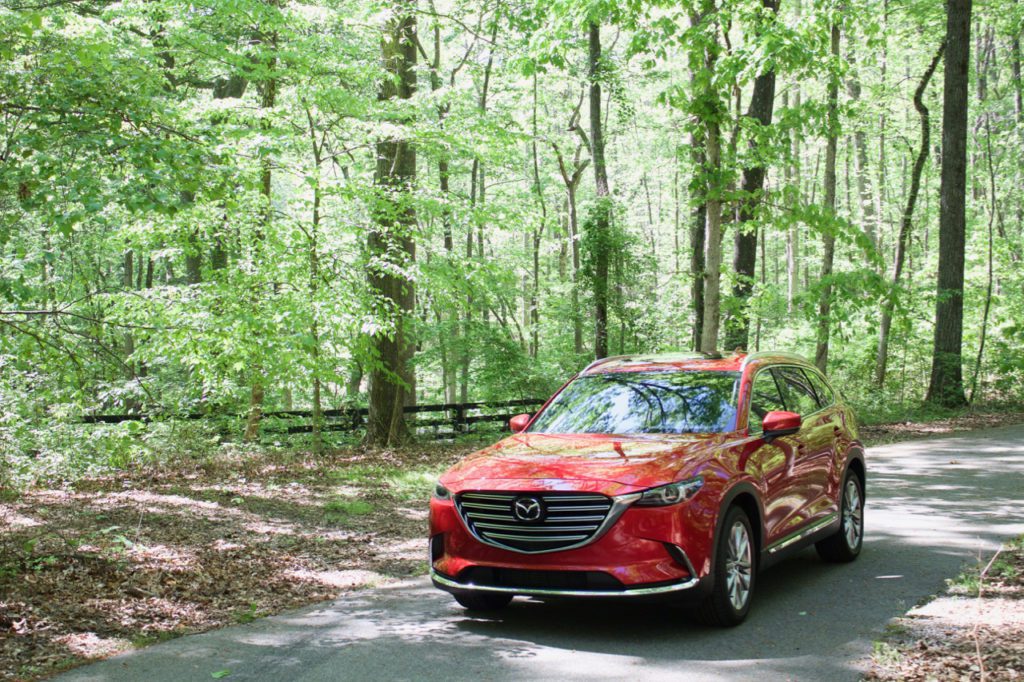 2017 Mazda CX-9 | Starting around $40,000 for the model I test drove
2017 Mazda CX-9
Let's be honest for a moment. Atlanta traffic is a nightmare normally, but add in a collapsed bridge, several accidents and lots of construction, well that can make it pretty much unbearable! Actually wanting to drive your car here can sometimes not happen and be completely avoided at all costs. In the Mazda CX-9, I actually didn't mind being in the car or driving. The Mazda CX-9 has so much to offer that even the pickiest of drivers would be impressed driving this around town.  It has the same gadgets of previous Mazda's I have driven. If you missed those reviews check them out here! Not only was this a comfortable drive, but it was easy to navigate around town in!
Mazda CX-9 Features:
Power-Sliding Glass Moonroof
Auto On/Off Headlights (I LOVE this feature so much)
EPA-Estimated Mileage City/Highway 22/28
Rain Sensing Windshield Wipers
Bose Surround Sound System
LED Interior Illumination
Lane Departure Warning System
Smart Brake Support
Mazda Connect Infotainment System
Review Camera
Heated Mirror and Seats
60/40 split fold-down and reclining 2nd-row seats with tilt and slide 3rd-row access
50/50 split fold-down 3rd-row seats
2nd-row center folding armrest with integrated storage, cup holders and 2 USB charging ports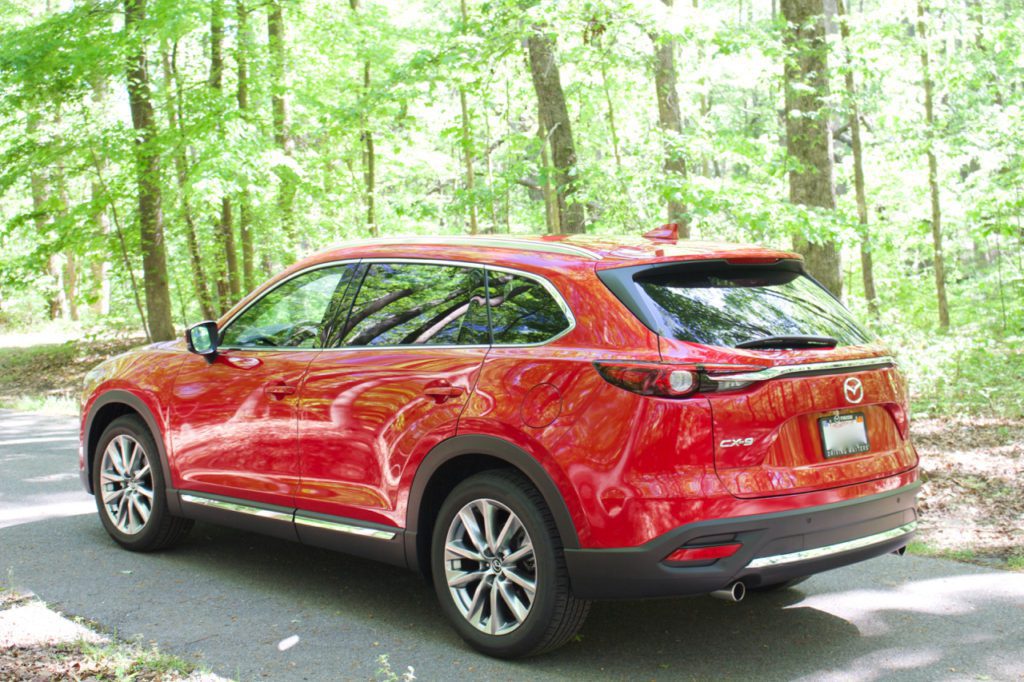 How gorgeous is this Soul Red Metallic Color?!?!  We ventured outside of the city and did a little bit of sight-seeing around town.  It was a nice change of pace compared to the hustle and bustle (never ending traffic jams) that the city offers us most of the time.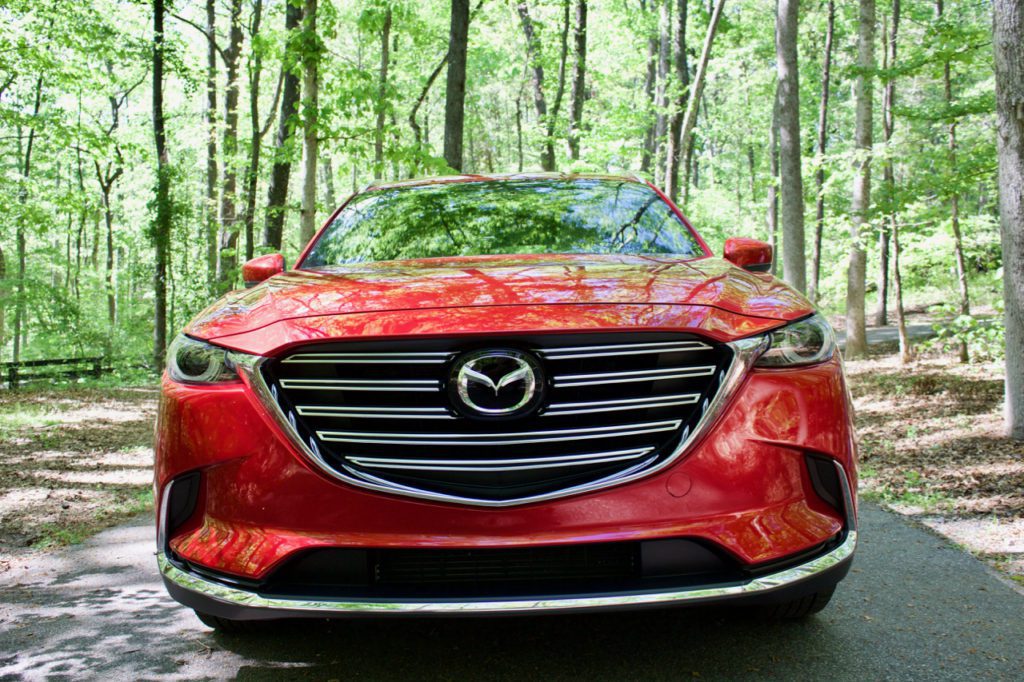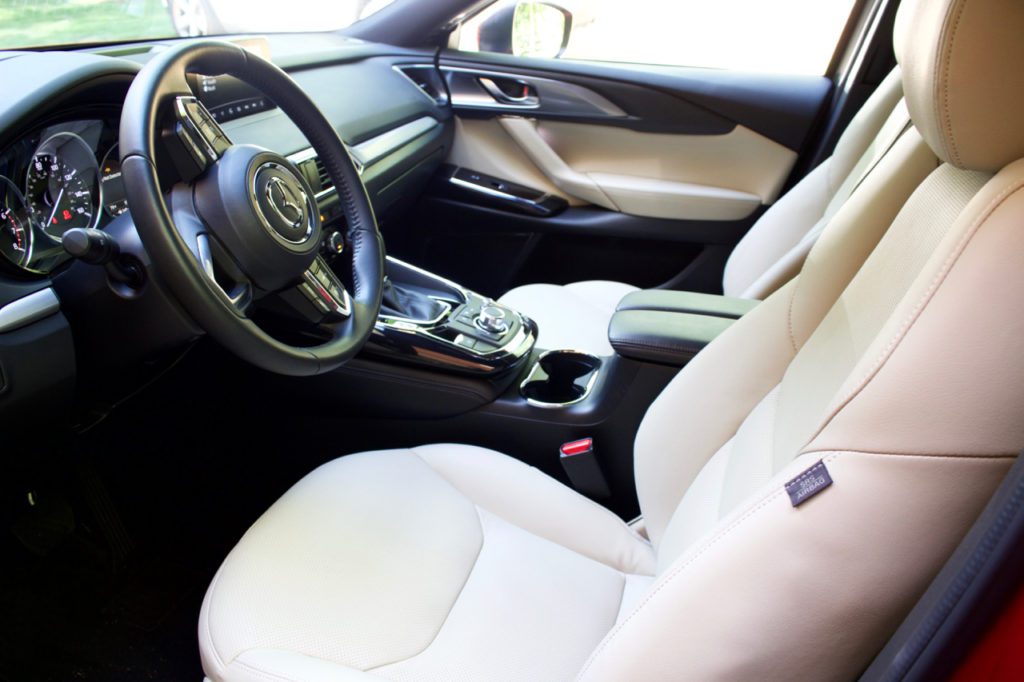 The interior of the CX-9 had a very "luxury"  feel to it, but was still completely user friendly!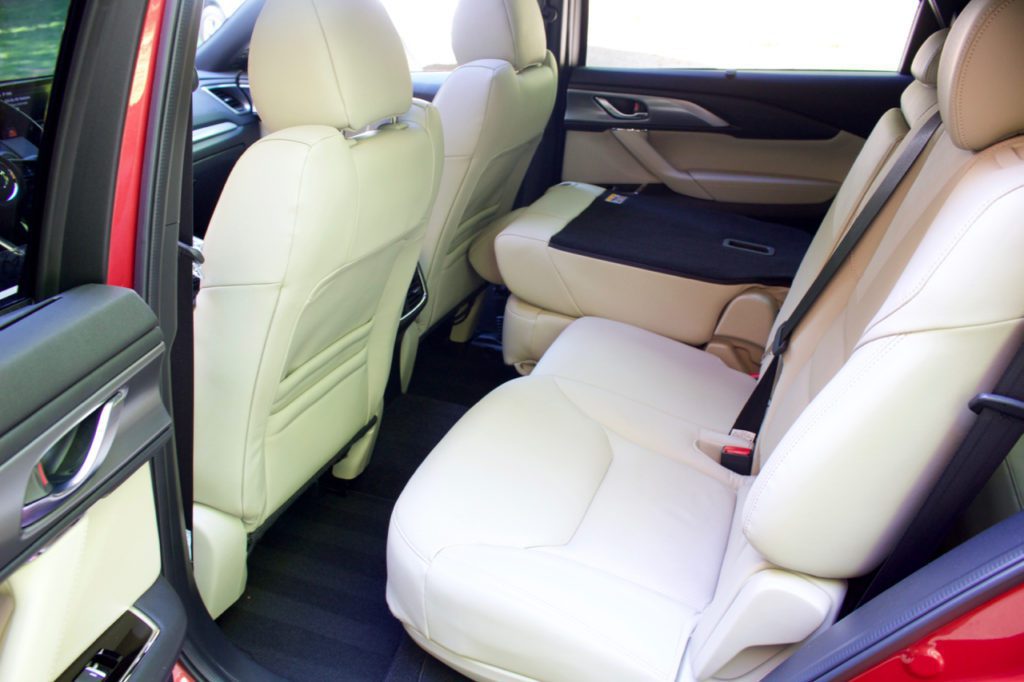 Seats fold down very easily and can provide you with additional flat space if needed!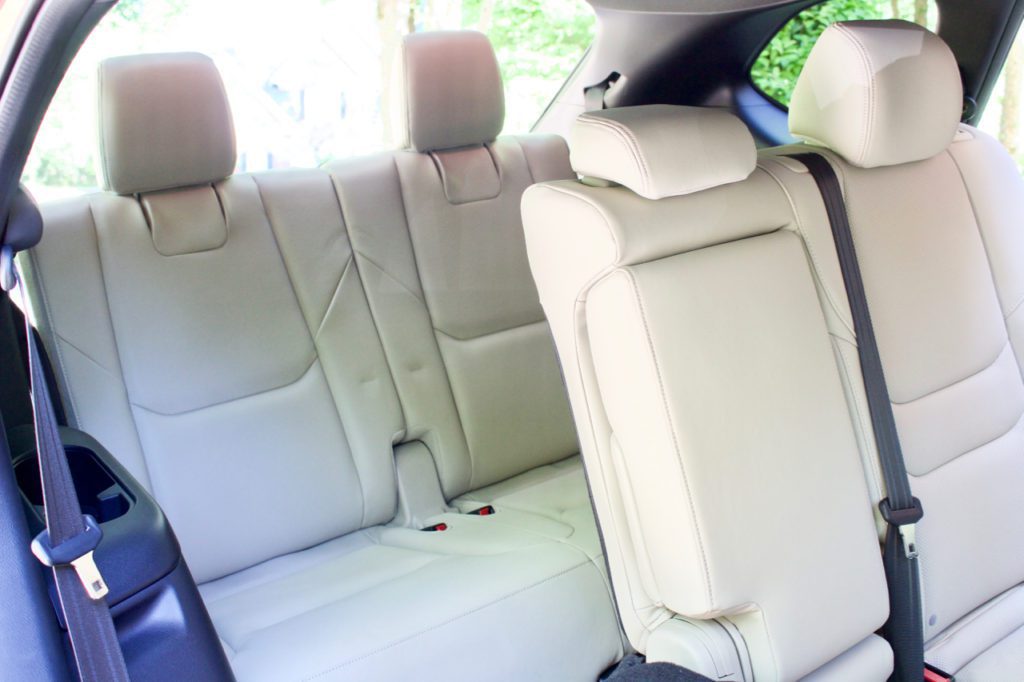 The third row options is more useful than I thought!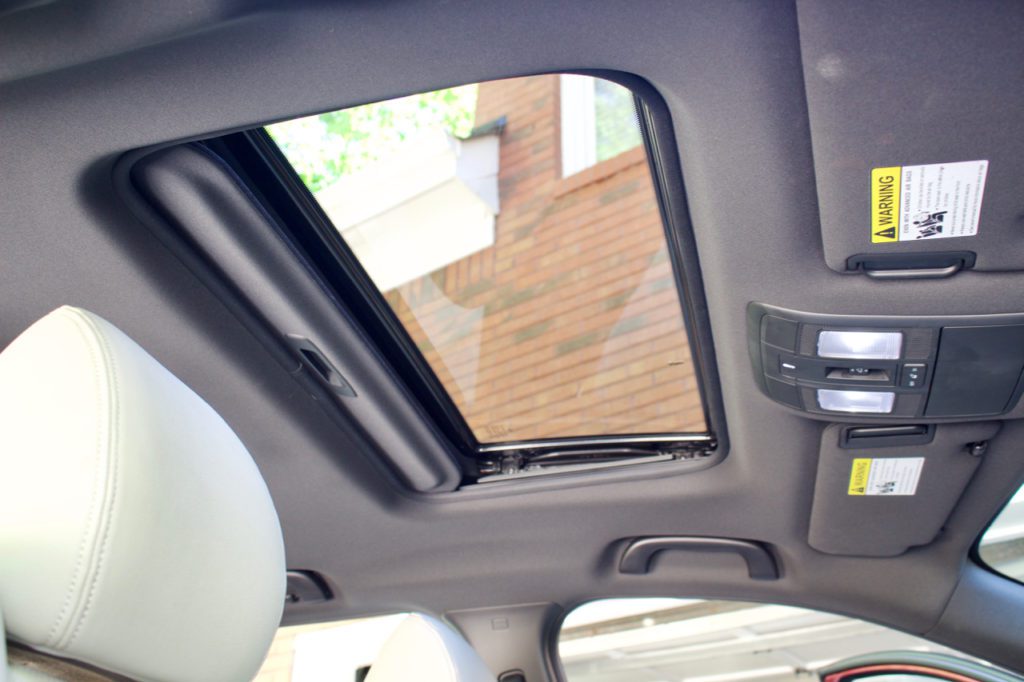 The moonroof was a nice addition to the car! I was shocked they didn't take this the full length of the car or a little bit longer like some of the SUV's have lately!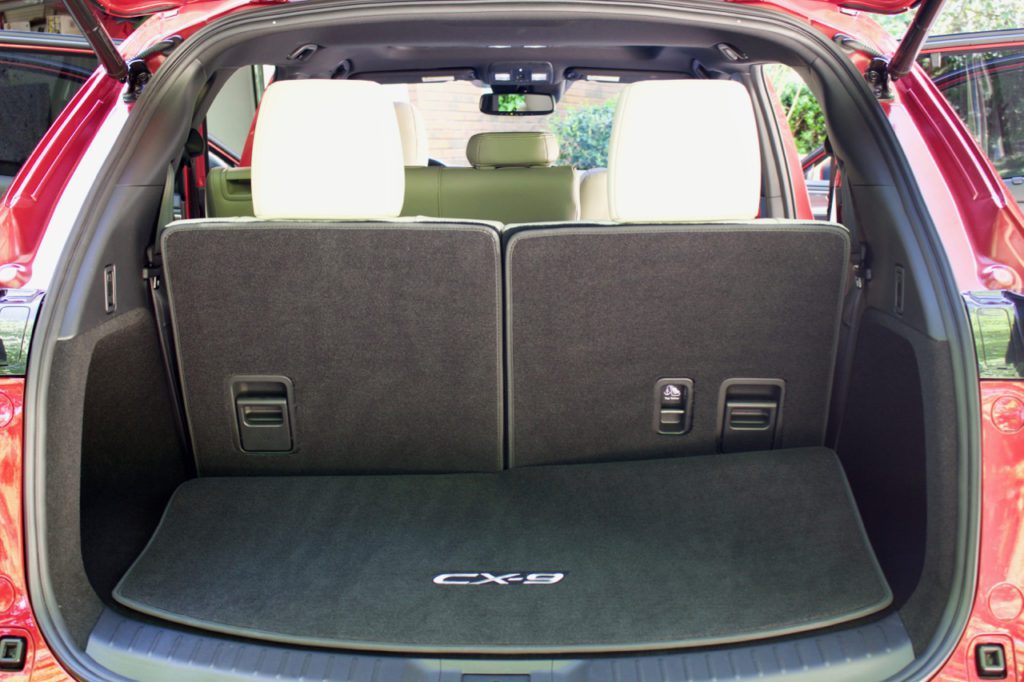 Even with the third row seats up, you still have plenty of storage and even a hidden compartment in the back! It had way more room than I thought it would with the seats up!
The one thing that kept impressing me about the Mazda CX-9 was that I never felt like I had to say "I wish it had this feature" because it had everything and more that I could want in a vehicle. Whether you're driving around town running errands or fighting horrible traffic that seems to be a daily occurrence around Atlanta anymore, I think you'll enjoy the driving experience that the Mazda CX-9 has to offer.

Thanks to DriveShop for providing me with this awesome car to drive for a week to review!