This post contains items that were provided by Lane Bryant #AD
Spring Style Inspiration
Spring time is in full swing here and pretty soon, we'll be right in the middle of summer.  With that brings warmer temperatures and lots of outdoor activities.  I, for one, love to still look my best even during the insane weather that Georgia presents.  I like to bring in a lot of print and lightweight pieces that will keep me looking classy, chic and put together, but also not too heavy that I'll be sweating even more.
Gingham print and off-the-shoulder tops are still having a serious moment in the fashion world and honestly, they're having a HUGE moment in my closet.  It's like I can't get enough of the pattern and off-the-shoulder tops are just so good right now.  These two pieces, which Lane Bryant very kindly sent to me to style, have been worn repeatedly since I received them in the mail.  I can't get enough of them!
Gingham Print Love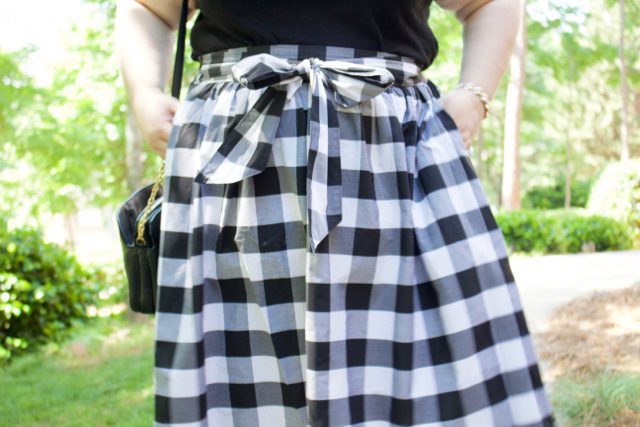 Gingham Belted Skirt $69.95 (Currently on sale for 50% off with code SALEYEAH)
Gingham print is just so classic and chic.  I honestly have been such a fan of this print probably even before it was back in style again. This gingham belted skirt from Lane Bryant is perfect for all of those graduation parties and weddings that you'll be attending.  It's lightweight, which makes it amazing for all of those warm temperatures we're having AND the best part?! It has pockets.  Any skirt that has pockets is pretty much an immediate winner in my book.  Plus, I adore the "belt" because it gives the skirt that little bit of something else that just brings the entire look together.  I can't get over how much I love this piece.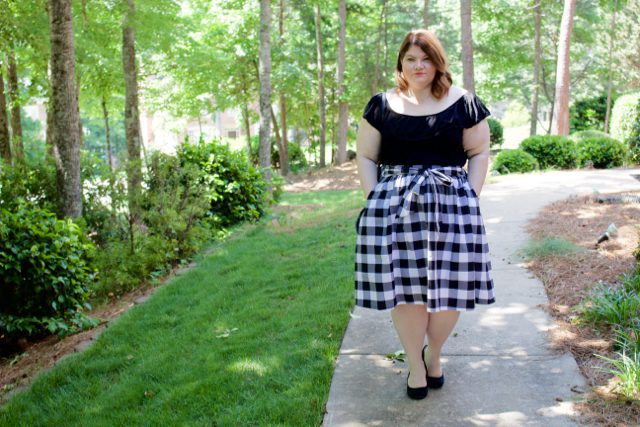 I paired this with a simple black, ruffled top which can be worn off the shoulder if I wanted to, but I've also paired this skirt with a classic white tee and some simple shoes like adidas or converse and it worked perfectly for that low-key, but still put together look. I love pieces like this because it can be instantly transformed depending on what you're wearing with it.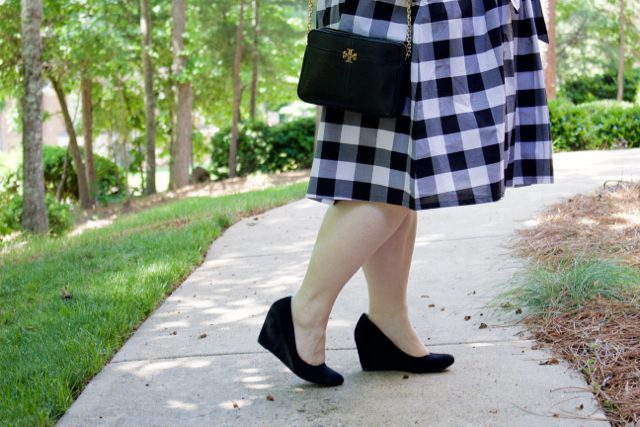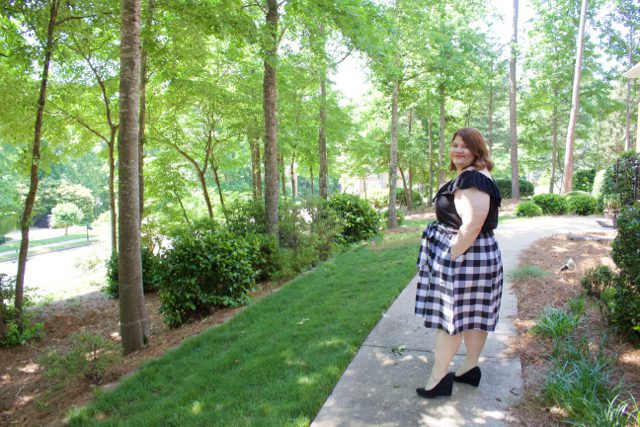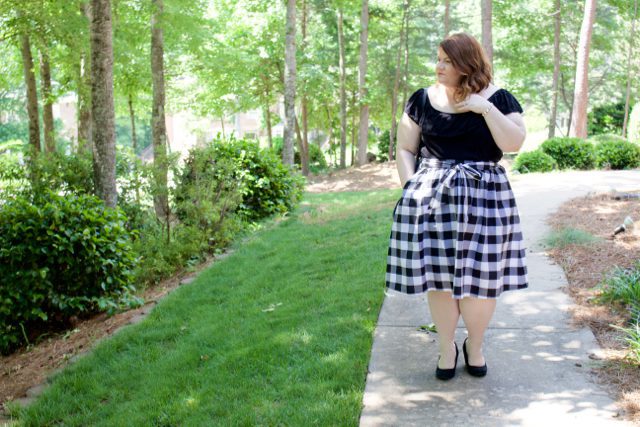 Off-The-Shoulder | Classic and Chic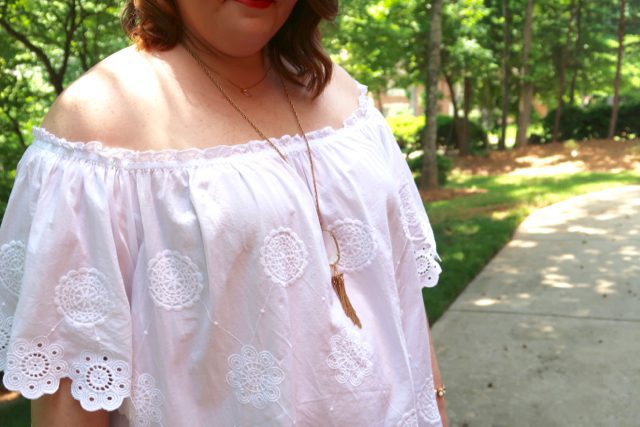 Embroidered Eyelet Off-The-Shoulder Top $39.99 (Currently on sale for 50% off with code SALEYEAH)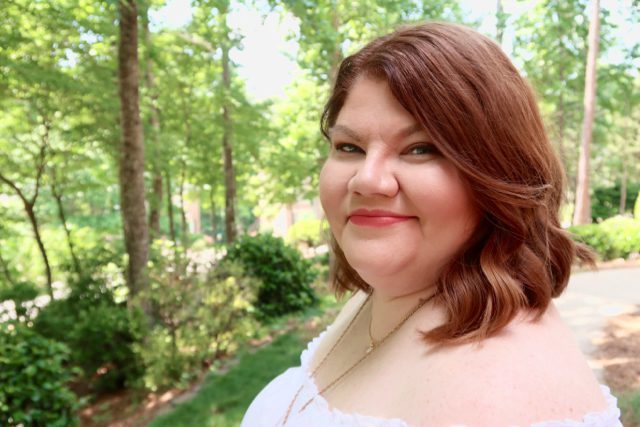 This eyelet off-the-shoulder top is so comfortable to wear and I feel so feminine and chic when I wear it. I've worn this with jeans and I also plan on wearing this with the gingham printed skirt that I mentioned above for a wedding that I'm attending soon.  I love this shirt because it's so casual, but depending on what items you pair with it, I feel like it can instantly be transformed into something for even the most stylish occasions, if needed.  Also, it's super light weight and that's awesome because the weather in Georgia is about to get really hot and humid.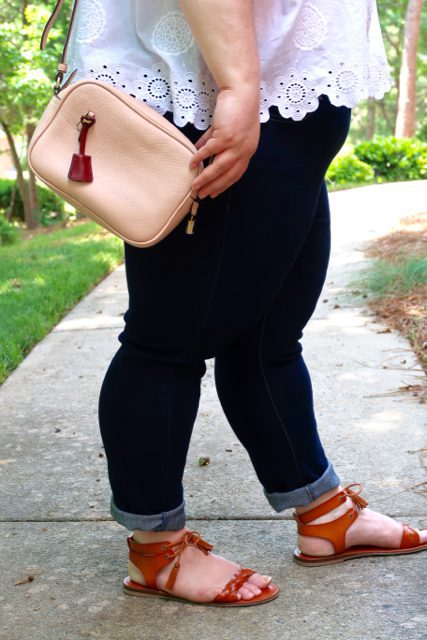 I paired this top from Lane Bryant with a simple pair of jeans and sandals.  The purse is just an added pop of color.  I love the eyelet detailing on the shirt.  I feel like it's so feminine without being over-the-top.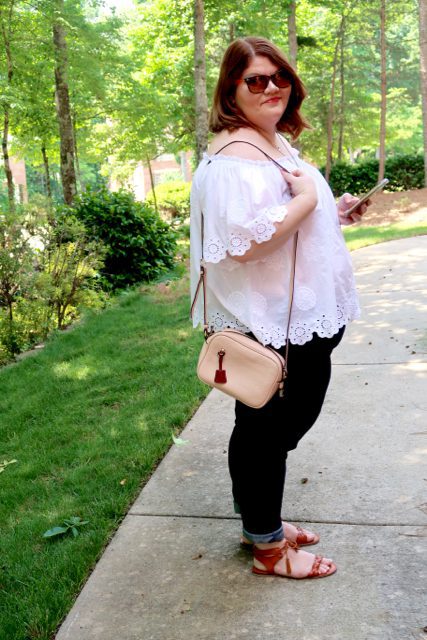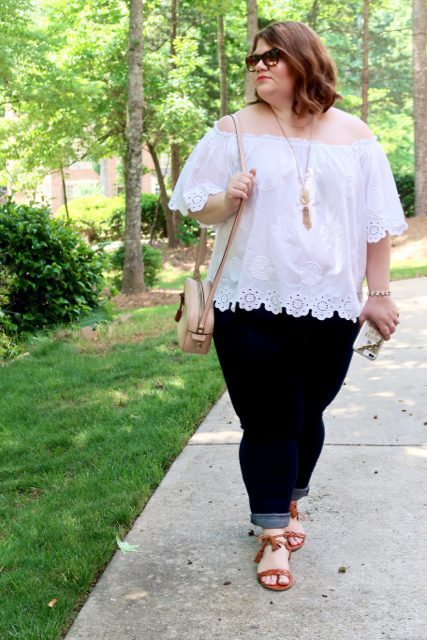 Thank You For Always Supporting Me
I want to take a minute to say thank you to every single one of you who has taken the time to send me comments, emails and messages.  While I did fashion posts before, I've really gotten into styling outfits again.  I say this every time but it's still true; I want to show women that no matter what size you are, you can still be current with trends and have fun with fashion.  Growing up, I felt like I had no options and I had to settle for clothes that weren't me, but thanks to companies like Lane Bryant, they have made it possible for women like myself, to have closets full of fun, inspiring clothes that we actually want to wear.


Thank you to Lane Bryant for providing me with pr samples!