It's that time again! I hope you were able to watch the Emmy's that were on the other night. Not only were there some major award upsets (Jeff Daniel's!!!), but there were also some major fashion upsets happening last night! How about some winners? There were quite a few actors and actresses who I thought looked stunning! Let's take a look at some of my "winners and upsets."
 Winners
Claire Danes picked up an Emmy last night for her AMAZING work on the show Homeland. I loved her look last night. Let's start off with her hair. She should run to her hairstylist immediately and demand that her faux bob she was wearing last night, be her actual hair cut. She looked phenominal. Her ivory gown was so gorgeous on her skin tone and I loved her simple makeup with a slight bolder lip.
Christina Hendricks is an actress that always knows how to rock her curves. She is hands down one of the most beautiful women I've seen on the screen and she isn't afraid to show us how to dress like a lady! While most people were not a fan of her hair last night, I loved it! So retro!! Her dress was amazing and it hugged in her in all of the right places. We can't forget about that gorgeous ring either! Love the pop of color.
Betsy Brandt is stunning in the Alice + Olivia dress. I loved the color with her skin tone and it was a statement dress for sure, but I think that's ok because after all, it was a big win for her show Breaking Bad.  I loved everything about this dress and I would wear this in a heart beat! Can I also mention her fabulous hair and makeup??? She was a stunner!
Taylor Schilling is one of my favorite actresses on Orange is The New Black. If you haven't watched it, go to Netflix immediately and watch. You won't be dissapointed. She looked so elegant and classic old style Hollywood Glamour. I loved everything about this look. Her hair looked amazing and her makeup was perfect! In my book, she can do no wrong!
Sarah Hyland wow'd in a lovely shade of green and a major lip! I loved this gown on her. It's young and fun, but still very classy. I think it's hard for young actors and actresses to keep their look age appropriate, but still be event appropriate. Green was a very popular shade last night and I think it was a great choice for her.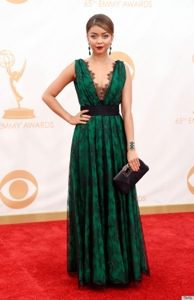 Sofia Vergara was a true lady in red!  I mean, can it get much better?? I thought this was a great dress for her figure and how about that gorgeous ring? She was a stunner! She works hard for that body and it pays off!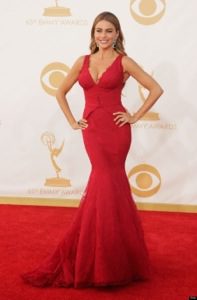 Allison Williams wore such a lovely shade of blue. I love her style. This was a perfect example of how gorgeous simple can be sometimes. I loved everything about her look. Her hair was gorgeous, her eyes were stunning and jewelry was just enough to not overdo the look.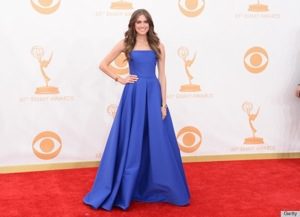 Kaley Cuoco was stunning in this Vera Wang gown. It was a perfect "vampy" type look for this time of year and while it still felt age appropriate, I loved the way it still seemed so elegant. Perfect color for her! I loved that they chose a bolder eye and kept all of the other makeup simple and soft.
Losers
Lena Dunham look was all sorts of bad. I don't even know where to begin. The makeup was just way too much and I couldn't understand why her stylist chose this Prada gown for her. It did abosolutely nothing for her figure. I get that she is ok with trying new fashion and I think that's a great attitude to have, but this was a no go for me. I still can't get over that makeup….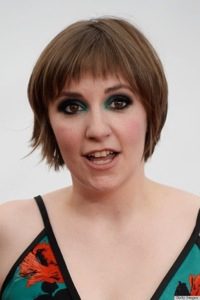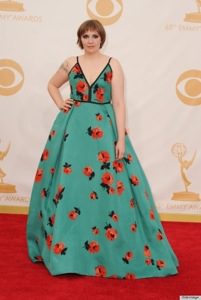 Paula Abdul only had one thing going for her look, her Chanel purse. Other than that, she looked HORRIBLE!! I mean how much gold before you think to yourself, this is too much? Well, this is a great example of when it's too much. Her high neckline and the whole chest area doesn't work on her petite frame.
Connie Britton looked like she stole some curtains off her windows and made a dress. I don't get this Naeem Khan dress at all. I think the colors are gorgeous, but I am not a fan of the velvet. I will give Connie an A+ for her always perfect waves. I felt like her neckline was empty. I needed to see something and all I got was a bare chest….
Zosia Mamet is one of my favorite character's on the HBO show Girls, but this dress was not even close to being my favorite of the night. I think that this custom-made Honor gown had potential, but it went way wrong with that black bralett. Again, this is a star who likes to take major fashion risks, but this one didn't pay off.
Amanda Peet what were you thinking? I LOVE Amanda, but this looks more like an unusual dress you'd wear to a funeral and not something you'd wear to an award show. There's just too much going on with this look. I did love her clutch, but not too much else about her look. The black sheer lace was a popular choice and she was not the only one not looking their best that night.  Read this to see who else made some unusual choices.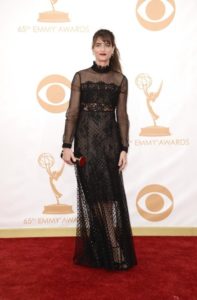 Best Dressed
And my favorite look of the night went to Anna Gunn. Everything about her was perfect for her big win last night. I loved everything about her look. Her dress was so elegant and her hair and makeup were the perfect accessory to her dress. She wow'd me everytime I saw her. This was a perfet example of a dress done right! Plus she won an Emmy!! She looked FABULOUS!
 http://www.eonline.com/photos/9823/2013-emmys-red-carpet-arrivals/315508