Have you ever had your makeup done for a special occasion? If so, a lot of the times makeup artists will use airbrush makeup and the finished look has always been amazing!  I've tried airbrush makeup systems before and while they give great finished looks, they can take quite some time to apply and a bit of skill. What if you could have an airbrush finish complexion without using an actual airbrush device? We need to talk about Diorskin Airflash Spray Foundation because this makeup has changed my makeup game!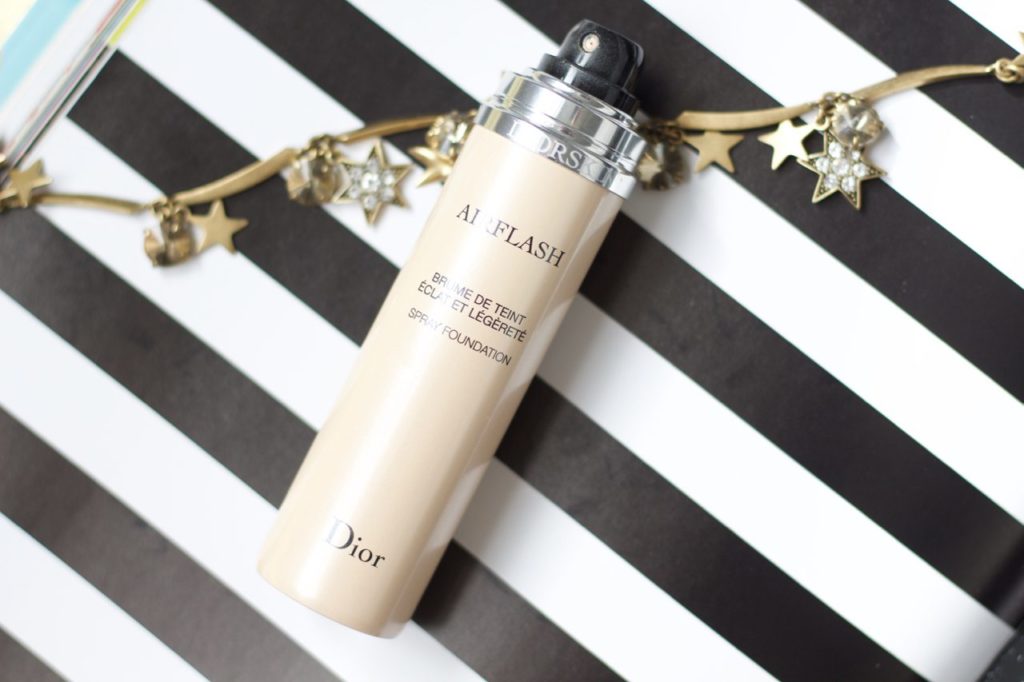 The revolutionary spray foundation that brings airbrushed perfection to your daily makeup routine. The light, silky formula is delivered in an innovative misting spray that starts as a liquid, then dries to a powder for an incredibly even, flawless and naturally radiant finish. The ultra-fine diffusion technology is what gives the formula its extraordinarily fine quality, and allows for the easily buildable coverage — from medium to full. The result is instant: a super-smooth, silken complexion that is radiant and glowing.
Diorskin Airflash Spray Foundation
I found myself in Sephora recently and a sales lady suggested the Diorskin Airflash Spray Foundation to me and at first, the price tag was shocking, but most importantly, I didn't think a spray foundation would work with my skin.  I struggle with oil control on some days, especially around my t-zone, and I was afraid this would emphasize my pore size. Most importantly, I also didn't know if their color selection would work out for me or not. I'm fair, but I struggle with products being too yellow and too pink for my skin tone. I still picked it up and hoped for the best!
Airbrush Makeup In A Bottle
Quickly I learned, you DO NOT spray this foundation directly to your face.  It wastes so much product and it will go everywhere you don't want it to. Instead, I found the best way to apply this is to shake the can and spray onto either a damp makeup sponge or kabuki brush.  I also realized through trial and error that you don't need to use much of this foundation at all.  I maybe use two sprays and my entire face is good to go. I quickly apply it, in small sections, all over my face. It is the fastest foundation I've ever used.
What I love most about the Diorskin Airflash Spray Foundation is the coverage it gives to my skin and how long it lasts.  I'm really excited to test it out this Summer as the temperatures are heating up, but so far, even without a primer, this foundation gives me incredibly airbrushed looking skin and it lasts all day. The mist is so fine, but the pigmentation is incredible!  It dries almost instantly on the skin and looks amazing!
Before and After
Here's my before and after.  Yeah, notice all that redness? I didn't use a primer or anything before using this foundation.  I just spray and go! It's that good.  It lasts all day, covers my imperfections and doesn't feel heavy at all on the skin.  If you're looking for a foundation that doesn't feel like you're wearing anything, THIS is the best foundation I've ever tried for that.  It's amazing how it feels like nothing is on my skin, yet it can offer so much coverage.
Wearing Shade 201 for reference 
Diorskin Airflash Spray Foundation
PROS AND CONS:
PROS:
Amazing coverage that you can build up
Feels like you're wearing nothing on the skin
Long-wearing
Doens't emphasize my pores or any imperfections
Looks like you're wearing airbrush makeup because it's so flawless
CONS:
The price tag is a tough one to get over. It's $62.00 / 2.3 oz
11 Shades Available and that bums me out because I worry that there won't be a shade for all skin tones.
You could easily waste product if you aren't careful with it
Yes, this is a pricey makeup, but I'm telling you, it's the best foundation that I've ever used that really gives you a flawless, airbrushed finish.  You use such a small amount that this will last quite a while!  If you're looking for a foundation that makes you feel like you're wearing nothing, that gives you a radiant, illuminated finish-GET THIS! Splurge, treat yo-self!  I'm telling you, you will love it!
Also Available: 
Airbrush Finish Fluid Foundation Brush