Pixi Beauty has been a brand that I've wanted to try for a long time, but it just never made it's way into my cart during checkout at Target or while shopping online.  So imagine my surprise when the kind people at Pixi Beauty sent me a few goodies to try.  I've been testing the products that they sent to me and I want to have a quick chat about them.  If you're looking for brighter, radiant and healthy skin, you will want to keep reading!
Get Your Glow On With Pixi Beauty | Glow Tonic and More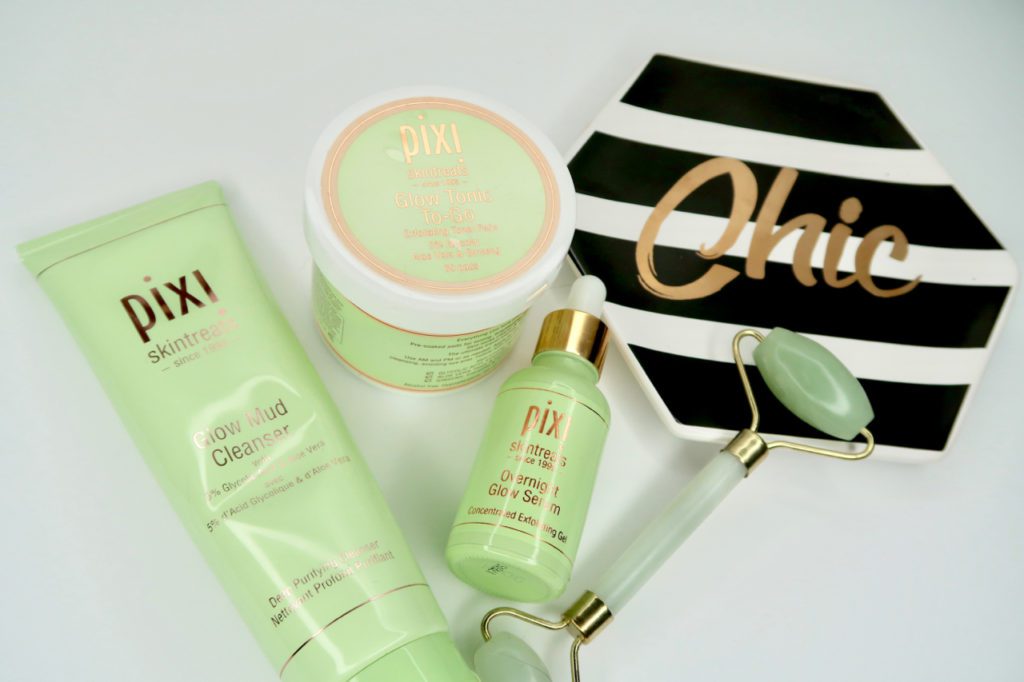 This gentle yet active cleanser exfoliates with Glycolic Acid to remove dead skin cells and reveal more radiant & healthy skin. Mud deep cleans & detoxifies pores while hyaluronic acid, aloe vera, and avocado oil plump & nourish the skin. For all skin types. Paraben free. Not tested on animals.
This cleanser works and what I love about it is while it's exfoliating, it's also hydrating and nourishing thanks to the aloe vera and avocado oil.  It slightly tingles after I use it, but my skin feels so smooth!  This is one of the best drugstore cleansers I think I've ever used! It does have a slight odd fragrance to it, but I think it's from the mud that's used in this. It's nothing horrible, but I notice it every single time.  Still worth it!
Perfect for all skin types, but if you're super sensitive, pay attention to your skin and if it seems to harsh, this might not be the best for you
I don't use this to remove my makeup!  I use a makeup remover first and then wash my skin with this!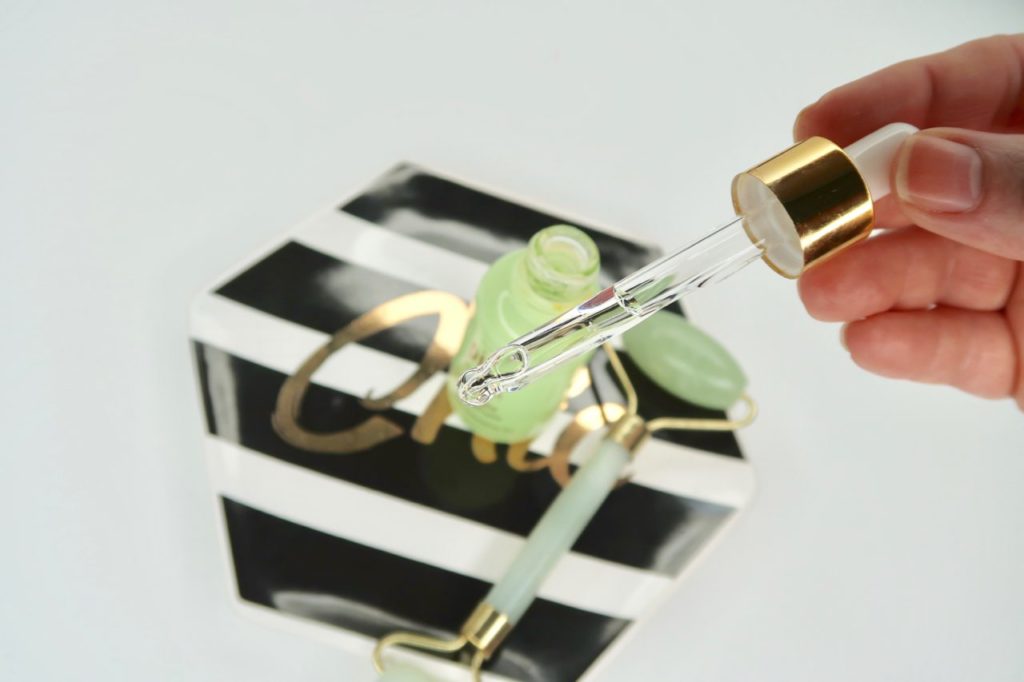 Gently exfoliates to reveal a healthier & more even skintone. Helps reduce the appearance of fine lines & fades superficial sun damage over time. Glycolic acid simulates cell turnover, aloe vera heals & soothes, cucumber calms & relieves puffy skin. Paraben free. Not tested on animals.
Julie from The Salt Life Wife  recently posted about the Pixi Overnight Glow Serum and how much she loved it.  So when the package from Pixi showed up on my doorstep, I was so excited to give this a try.  She's right, it's awesome!  I use a couple drops of this at night (you don't need much at all!) and when I wake up, my skin is glowing.  While the cleanser and the to-go pads have a lower percentage of Glycolic Acid, I believe this has 10% included in it's formula!  So again, nothing too strong that will irritate the skin, but just enough to give the skin a nice exfoliation. I've been using this nightly, but if it were to be a bit strong for your skin type, I'd suggest once or twice a week to start with.
I use this after I've cleansed, toned but before my moisturizer
I use about one to two drops of this serum every night
If this is too aggressive for you, try using this one to two nights a week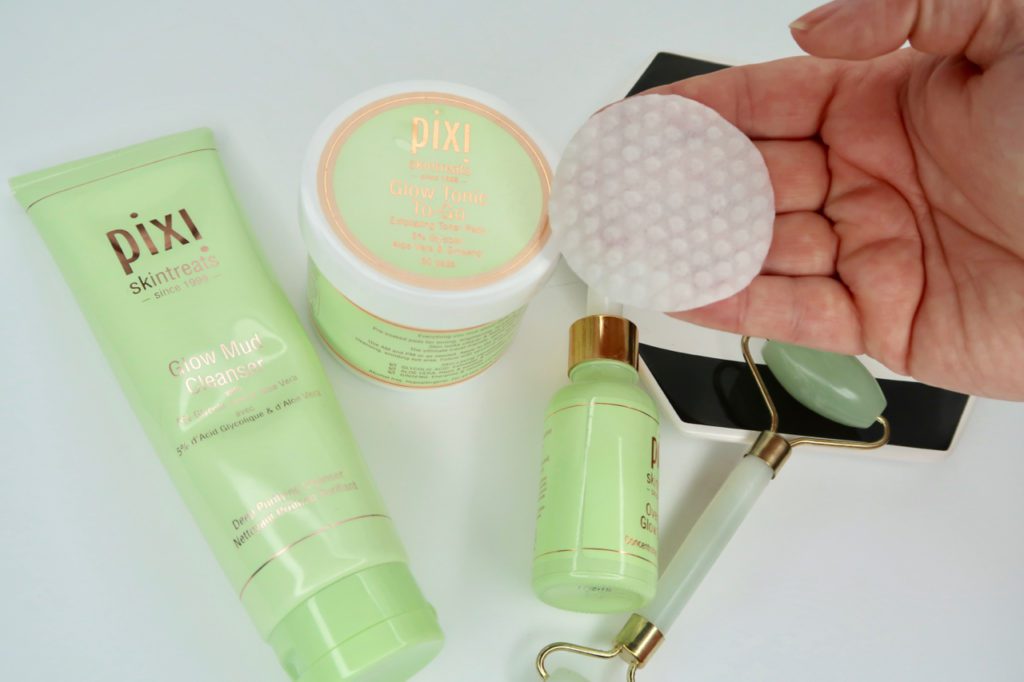 Everything you love about Glow Tonic, to go! Pre-soaked pads for toning, brightening, hydrating, and gently exfoliating. Skin looks clearer & feels smoother. The ultimate travel-friendly, gentle skin renewal. Glycolic acid exfoliates & stimulates cell turnover, aloe vera heals & soothes, gingseng energizes & renews complexion. Alcohol free. Hypoallergenic. For all skin types Clinically proven results. Paraben free. Not tested on animals.
Skin Concern: basic care, dark spots
The Glow Tonic pads are that same version of the original Glow Tonic, but in easy to use pads instead.  They are great for toning, brightening, hydrating and even a little exfoliating!  These do sting a bit on my skin, but that goes away quickly.  The glycoic acid helps to promote cell turnover, but since it has aloe vera, it helps to soothe the skin.  They're so good and so budget friendly!  I use these AM and PM and wow, call me impressed.  If you're looking for a nice, gently exfoliation to help remove dead skin-these are a great option!
Overall, I'm really happy with the products that they sent to me.  They haven't irritated my skin (which a lot of products that are exfoliating can do) and they seem to be leaving my complexion a lot more radiant and I think with time, I'll be able to tell even more results.  They've impressed me enough to want to add more Pixi Beauty items to my normal skincare routine other than the three I was sent.  Their Double Cleanse by the queen of skincare ,Caroline Hirrons has me very intrigued!  Is there anything that you've tried that you really enjoy using that I should try?

PR Samples included in this review. All thoughts and opinions are my own.