Can I let you in on a little secret? I was a part of a test group who got an opportunity to experience the Paula's Choice CLINICAL 0.3% Retinol + 2% Bakuchiol Treatment BEFORE it was released. I started using this product last year and have been waiting to be able to finally talk about this product! Thank goodness it's finally been released so I can talk about why I love this product so much!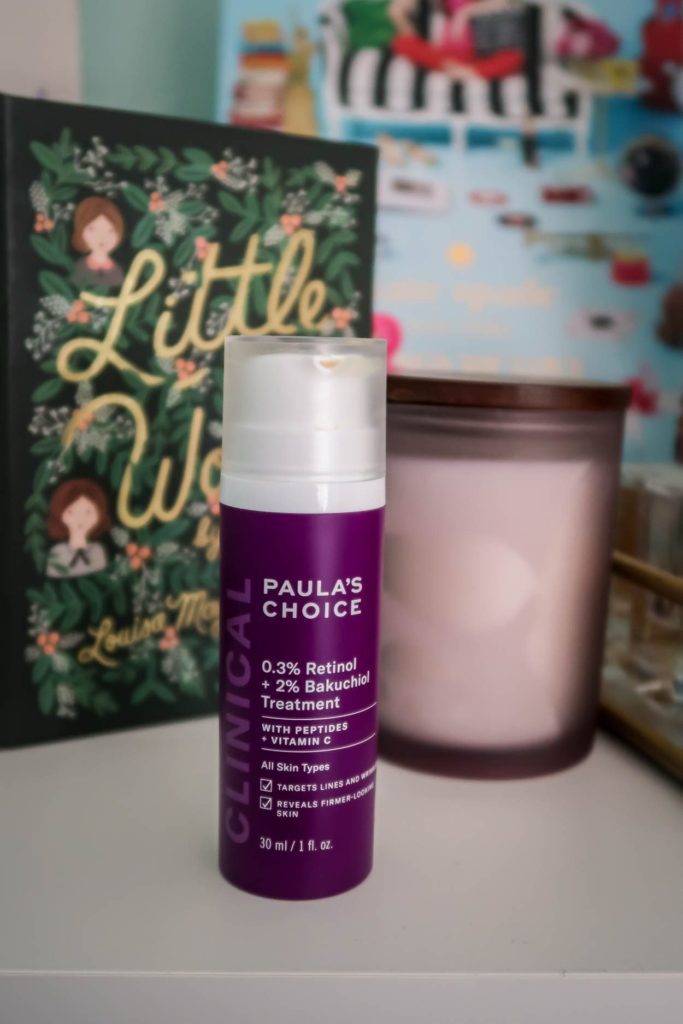 Bakuchiol is an IT Skincare Ingredient
At the beginning of the year, I shared a post all about skincare trends for 2020. One of the ingredients I mentioned was Bakuchiol. A lot of people turn to Bakuchiol when they're pregnant or nursing because they can't use Retinol. Why? Bakuchiol is a vegan alternative to Retinol. So what exactly is Bakuchoil? Let's chat about that.
Bakuchiol is a plant-based antioxidant that is a good alternative to Retinol because it doesn't have as many as the unwanted side effects that Retinol can have. It increases cell turnover and helps with anti-aging. It also increases collagen production and help increase elasticity. Other benefits if that isn't enough? It can calm redness, helps with sun damage, and helps with exfoliation. It's also said to be anti-bacterial and anti-inflammatory properties. Great for oily skin types and those with acne!
The problem with Retinol can be that it can cause major irritations. It can cause skin peeling and major redness and inflammation. Often enough, a lot of people can't tolerate it in their skincare routine. Also, you can not use retinol if you are pregnant, trying to become pregnant or breastfeeding. Bakuchiol is a great alternative that's becoming more and more popular because of these reasons.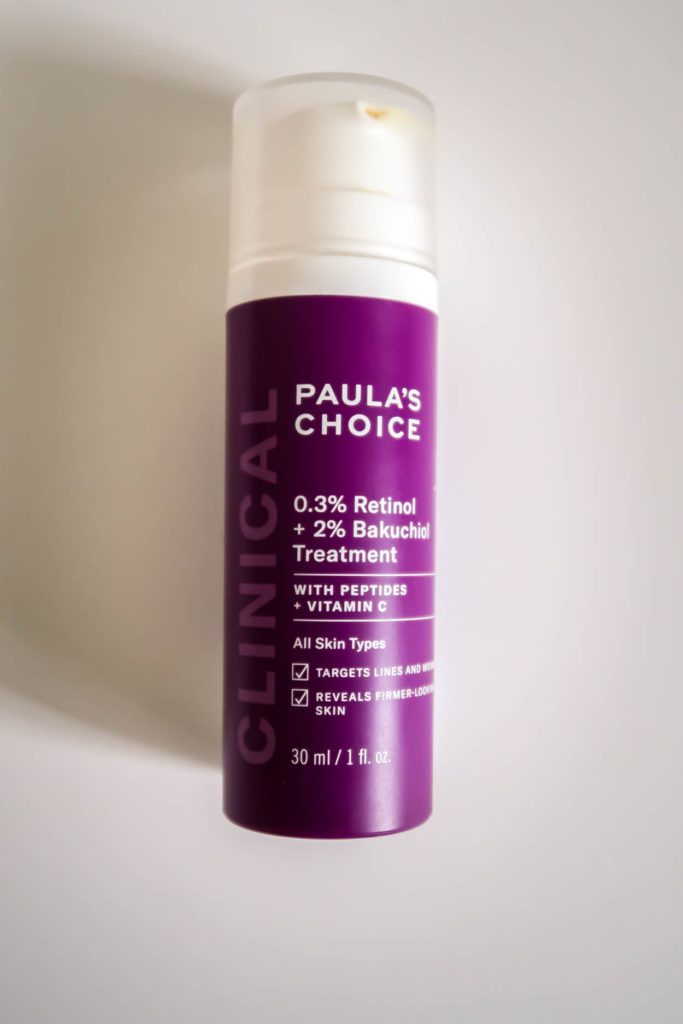 Retinol and Bakuchiol Are Better Used Together
I've been using the Paula's Choice CLINICAL 0.3% Retinol + 2% Bakuchiol Treatment since last year. With my skin type, I have a lot of problems being able to tolerate Retinol when used on it's own. I have had issues with peeling and redness. So when Paula's Choice offered to let me test this product and share my experience, I was delighted!
I've heard a lot about Bakuchiol being a great alternative to Retinol. However, I was curious to learn more about what happens when Retinol and Bakuchiol were used together. In doing more research it seems that Bakuchiol can help stabilize Retinol, which allows Retinol to work better.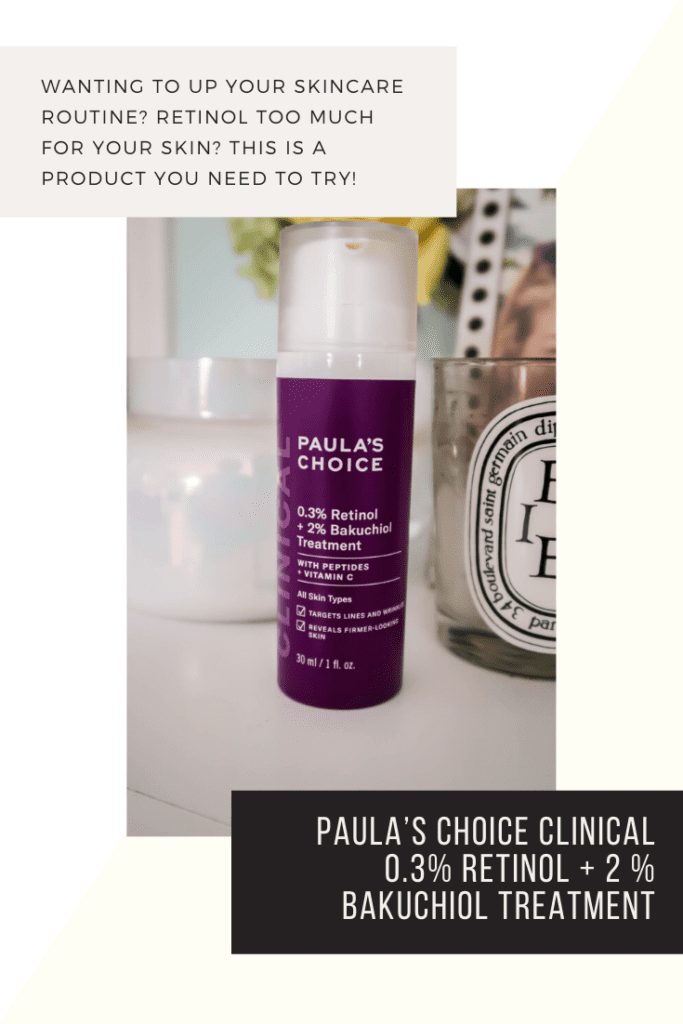 Retinol + Bakuchiol + Peptides = Skincare Bliss
The Paula's Choice 0.3% Retinol + 2% bakuchiol Treatment has been my go-to treatment product for quite some time now (I believe they first asked me in October) and I've used it enough to form an opinion on it. One word to describe this product? FANTASTIC! I really love this product and the longer that I've used it, the more results that I'm noticing when it comes to my skin.
I post a lot of no-makeup looks of myself on my stories on Instagram. One thing that people always tell me is that my skin looks like it's glowing and I honestly think it's because of this product. Since using this product I have noticed that my redness is calmed down and my skin GLOWS! My skin also feels more hydrated and just overall improvements in texture.
I first started out using this treatment once a week (two pumps) and eventually adding it three times a week. I'm now using it daily. I only use this product at night and I've had zero issues (even in the beginning) with any discomfort, redness or irritation. I'm so impressed with this product. I follow it with a moisturizer and make sure to use an SPF in the morning.
I love that this treatment is lightweight and that it can be used with other products already included in your skincare routine. So far, I haven't found a single thing that I haven't liked about it. My skin feels more hydrated, my complexion seems healthier. I have been enjoying my no-makeup days so much more now because I feel so happy about my complexion.
If you've had issues with other Retinol products in the past, I would urge you to add this mid-level Retinol to your skincare routine. I'd consider this product if you're struggling with dark spots, aging and uneven skin tone. It's really a treatment for so many issues so many of us struggle with. I'm not sure if it's a combination of the Bakuchiol and the Peptides that are paired with the Retinol that make this so great, but it's a fantastic product.
Shop The Post