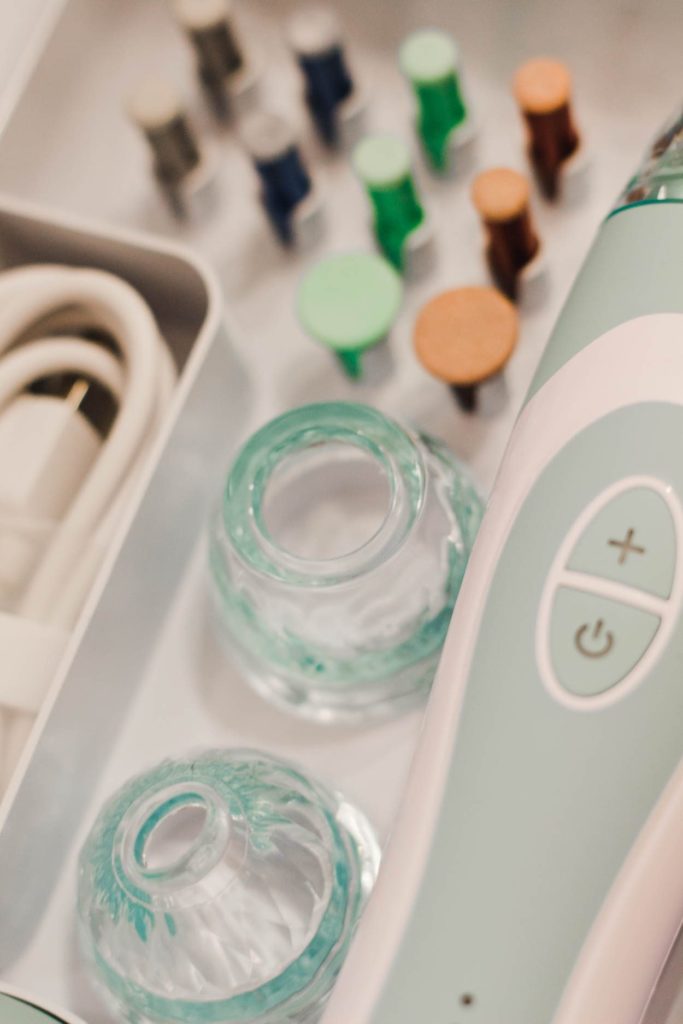 Personal Microderm Tool
PMD recently sent me their newest skincare tool, the PMD Personal Microderm Elite Pro to experience. So before I go into any of that, know that I wasn't paid to post this, but the device was sent to me for free. All thoughts and opinions are my own. As always!
I had previously been using their classic microderm device and I really enjoyed it. If you've never used an at-home, personal microderm device, they're honestly very user-friendly and worth investing in! Sometimes a professional microdermabrasion treatment can cost at least $200 and up in a medical setting, so this might be a better option for some.
I'm a big fan of an at-home facial treatment. While I love visiting a professional for certain skin care procedures, there's something great about being able to take care of my skin, in the comfort of my own home. Especially nowadays when I'm not going to places unless it's 100% necessary.
I take an hour or so every Sunday and I pamper myself a bit. I take this time to do a hair mask, and also work on my skincare a little bit more than other days. The PMD Personal Microderm Elite Pro has been a part of that routine for a while now and it's honestly making a difference. I'm noticing increased hydration, smaller pores, and a smoother complexion.
The Elite Pro is PMD's latest Microderm device. It has some new features that I think are worth mentioning. Like I said above, I have used their older model and I still love it, but some of the new features are pretty cool!
TruTier™ technology combines variable vacuum suction and tri-speed capabilities to provide the most customizable microdermabrasion treatment on the marke
Extended range of discs for all exfoliating needs
Face, Body, and Blackhead Luxe Caps
Cordless (Honestly, the best upgrade)
Comes in a handy container so you won't misplace any of the parts
The Benefits of Microdermabrasion
The benefits of Microdermabrasion are incredible! Microdermabrasion is basically an exfoliation of dead skin cells at the surface layer of your skin. The "vacuum" is essentially suctioning way those dead skin cells. It helps our products be more effective and when performed consistently, we're giving our skin an extra "deep cleanse."
When we use the microderm device, we are essentially causing very tiny abrasions on the skin. This is helping in removing that top, upper layer of the skin. You'll see benefits like improved skin tone and texture, increased hydration, deep cleansing pores, and brightening the complexion.
Microdermabrasion for Wrinkles
For light scars that aren't deep, I think that microdermabrasion will be a great option. It offers no downtime and little to no side effects. It's essentially exfoliating and removing the top surface layer of your skin. However, if you have deeper scarring, this isn't going to be the best option. You will need to consult with a skincare professional for more in-depth treatments.
Microdermabrasion for Pores
With microdermabrasion, you are essentially exfoliating the skin and providing a deep cleanse. The dead skin, oil, and debris are being cleansed out of the pores every time you have a treatment. Pair that with a proper skincare routine and you're going to see results!
Microdermabrasion for Acne Scars
For light scars that aren't deep, I think that microdermabrasion will be a great option. It offers no downtime and little to no side effects. It's essentially exfoliating and removing the top surface layer of your skin. However, if you have deeper scarring, this isn't going to be the best option. You will need to consult with a skincare professional for more in-depth treatments.
Microdermabrasion for Stretch Marks
Stretch marks are nothing to be ashamed of. Please know that. However, there are some people who really want to try to minimize their appearance. Stretch marks, also known as striae, are indented streaks that appear on the skin. They can be different colors and can appear all over the body.
Microderm affects the outermost layer of the skin, the epidermis. Stretch marks are actually in the dermis, the mid-layer of the skin. By performing at-home treatments continuously, you're boosting collagen production and also essentially improving the epidermis. This can help fade the stretch marks and help smooth out the texture of the skin.
Pairing an at-home microderm device with other topical treatments, you might find that the stretch marks won't seem as noticeable. Will this remove the stretch marks completely? NOPE, but with continued use of a microdermabrasion device, they could seem less noticeable.
Microdermabrasion At-Home: Step by Step
Cleanse The Skin Properly
The first thing to do before your microdermabrasion treatment is to cleanse your skin! I tend to use the PMD Microderm Device on days when I haven't worn makeup. So once cleanse is normally enough. HOWEVER, if you are doing this treatment on a day when you've had makeup on, please do a double cleanse.
Select The Best Disc For Your Complexion
Next, you want to choose the proper disc for your treatment. There are an extended range of discs to choose from, based on your skin, so choose the one that best fits your needs. I recommend starting with the more gentle discs and working your way up.
Ultra White Sensitive Disc (Used for starting out and very light exfoliation)
Very Sensitive Grey Disc (Those with super sensitive skin, very light exfoliation)
Sensitive Blue Disc (Sensitive skin, light exfoliation)
Moderate Green Disc (Non-Sensitive skin types, moderate to intense exfoliation)
Very Coarse Red Disc (Only used on those who have coarse skin types and who have used the PMD Microderm Machine consistently, very intense exfoliation)
Turn On Microderm Device and Start Treatment
It's go time! Obviously, it's expected that you've charged your device on it's charging base prior to this point. If not, get to charging and then come back to these instructions!
Make sure the disc is in place and the Luxe Face Cap is on correctly. Turn on device and select your TruTier setting. This will be the plus button on your device! There will be three different levels to choose from.
High speed and High suction
Moderate speed and Moderate suction
Low speed and Low suction
Glide the Device Over the Skin
You're going to want to glide the device QUICKLY over the skin, in upward movements. You don't need to go over areas of the skin twice. Once is plenty. Don't apply pressure. The device does this for you! Lastly, don't pause on an area of your skin. Keep the device constantly going in upward motions.
I start on my chin and go up towards my ear. Then I keep going up the face, only going in upward motions along my complexion. When I am in my eye area, I make sure that I am using the lightest pressure and the lowest suction. That area is more sensitive and delicate. When I am on my nose area, I make sure to go up the sides of my nose, and when I'm on the top section of my nose, I start at the tip and go up towards the middle of my brows.
I split my face in half doing the left side and then the right side.
Time to Tone and Moisturize the Skin
After your microdermabrasion treatment, you'll want to tone your skin. You need to restore the skin's pH balance. I will either use a sheet mask after this or I will apply my serums and moisturize. I skip any retinols or anything intense, as my skin is more on the sensitive side after treatments. They do sell their own Collagen Anti-Aging sheet masks, which are really good! They come in a pack of five and help to calm the skin and provide hydration and ingredients to soothe the skin.
Lastly, make sure you hydrate your skin. A really good face moisturizer and a face oil if that's something that you normally use. You just want to calm the skin and make sure it's properly hydrated.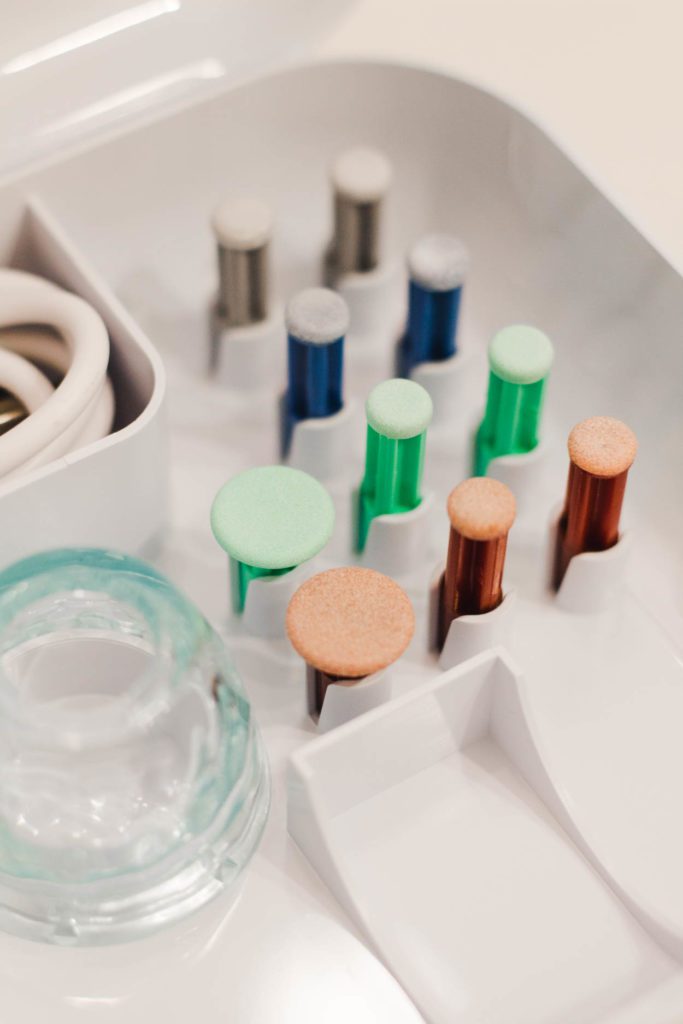 Patented Spinning Discs embedded with aluminum oxide crystals exfoliate away dead, dull cells from the surface of the skin. By removing this dead skin cell barrier, new cell growth is stimulated and glowing youthful skin is revealed.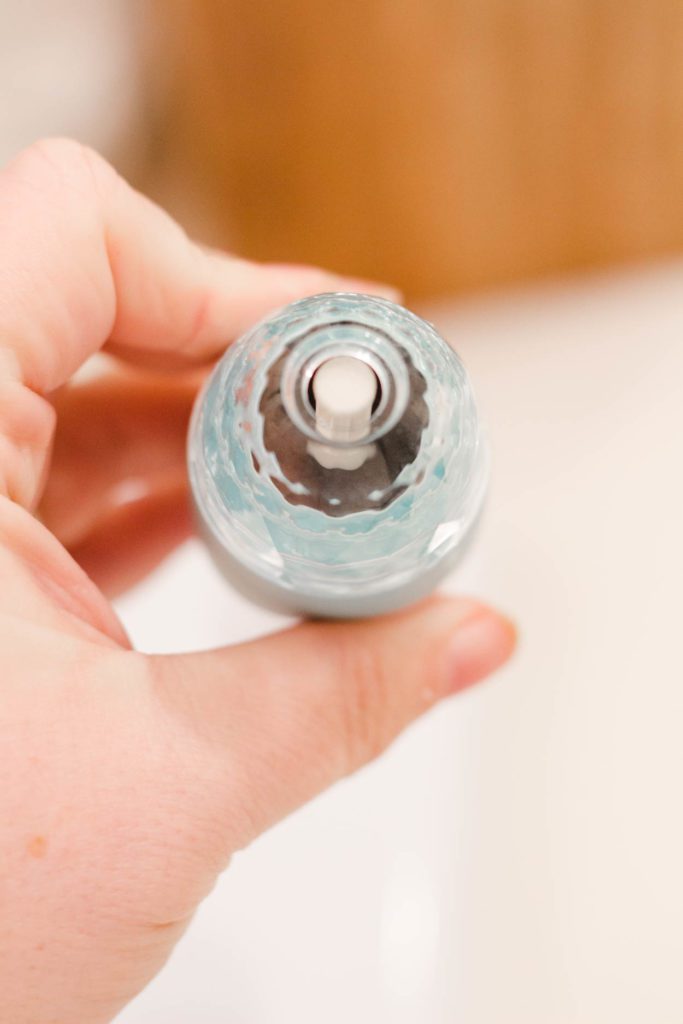 "Perfectly Calibrated Vacuum Suction is the power behind effective microdermabrasion. Suction increases circulation and triggers the skin's natural healing process which boosts collagen and elastin leaving skin firm, fresh and radiant." –PMD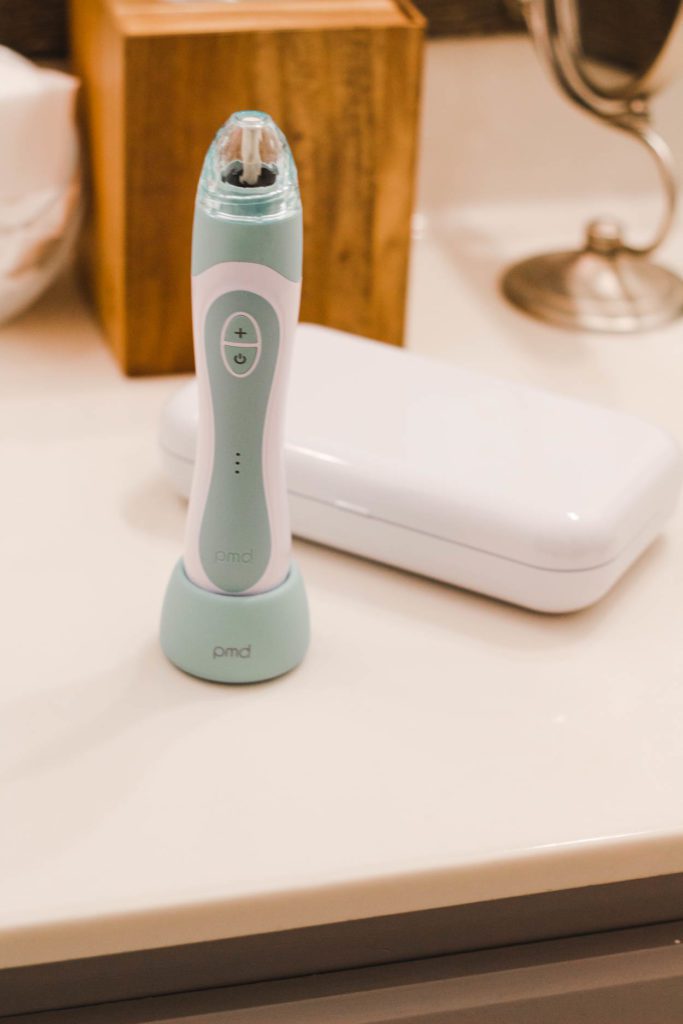 "Personal Microderm removes the top layer of dead, dull skin cells. Once this barrier is removed, skin care products can penetrate 20X deeper maximizing the benefits of skin care." –PMD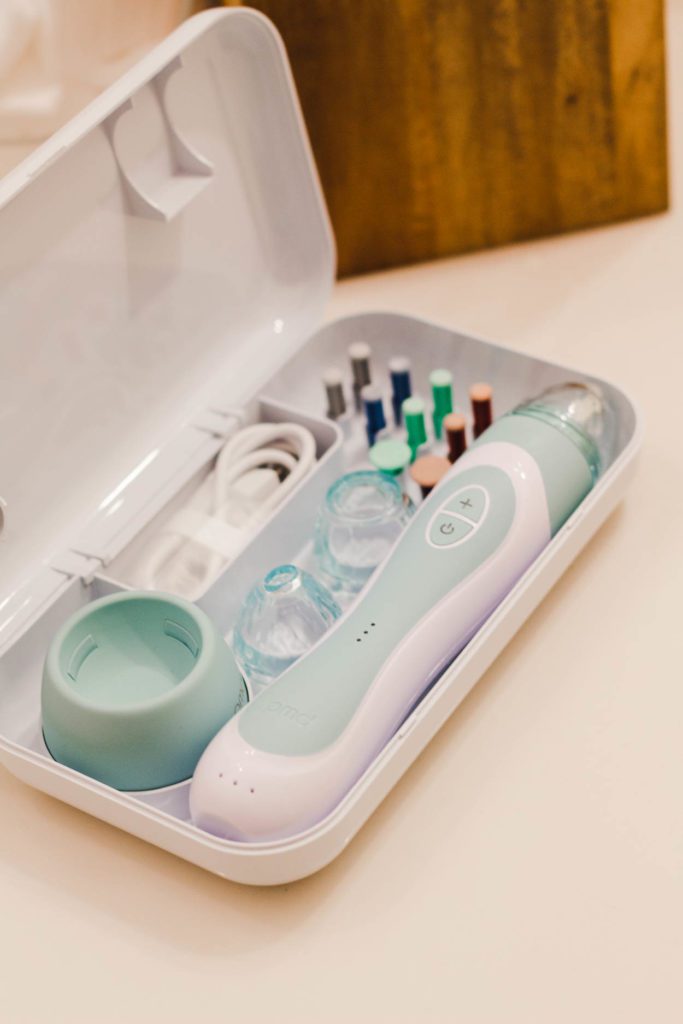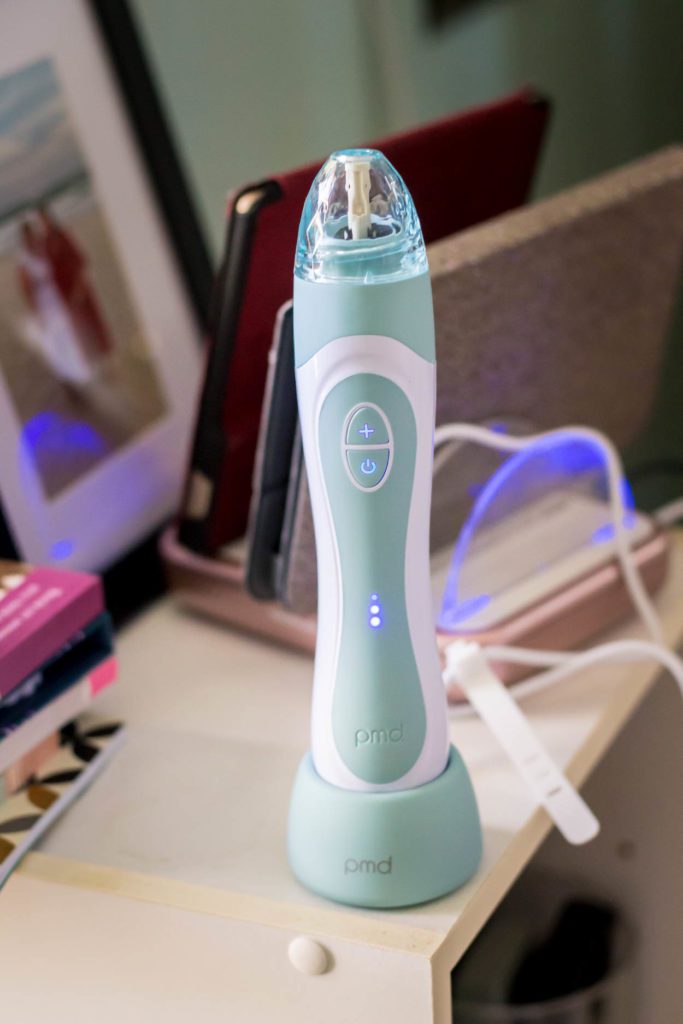 The PMD Personal Microderm Pro Elite is the first wireless, at-home microdermabrasion tool that provides clinical-grade exfoliation, and the same professional results as in-office microdermabrasion treatments. It's a great skincare tool when used consistently. It can give you smoother, softer skin, increased hydration and so much more.
I love that the new Pro Elite tool is rechargeable and wireless. That's a game-changer for me! I also appreciate that the varying speeds can be personally selected based on your own needs.
Give this about 8-12 weeks to see improvements. I know that seems like a long time, but trust me, with skin care, it takes time. However, I noticed improvements right away! The more I used it, the more results I noticed and felt.
Shop The Post