Today's post is all about the best full coverage foundations. These products are meant to cover it all! They'll leave you with a gorgeous, even complexion. Not everyone loves a light coverage complexion product (think skin tints) and that's why I wanted to put together an updated post featuring some of the newer full coverage products that are available. I'm going to give options for all skin types and full coverage foundations that have different finishes, etc. Trust me, there are plenty of options available.
To me, full coverage foundations are products that are buildable. Meaning you can build up the coverage. These foundations will cover any sort of issues you want to conceal on your complexion. One of the myths that are associated with full coverage foundations is that they are heavy and hard to wear. While there can be a bit of a learning curve associated with these products, once you figure out the best way to apply and the correct amount of product, you will be on your way to an amazing complexion.
Now a lot of these foundations can be used for a variety of skin types. As always, test a foundation and see how it wears with your skin. Each one of us is different and what might work best for your skin type, might be completely different for someone else. Also, sometimes using a primer or using a makeup setting powder or spray can make all of the difference when it comes to longevity of the product.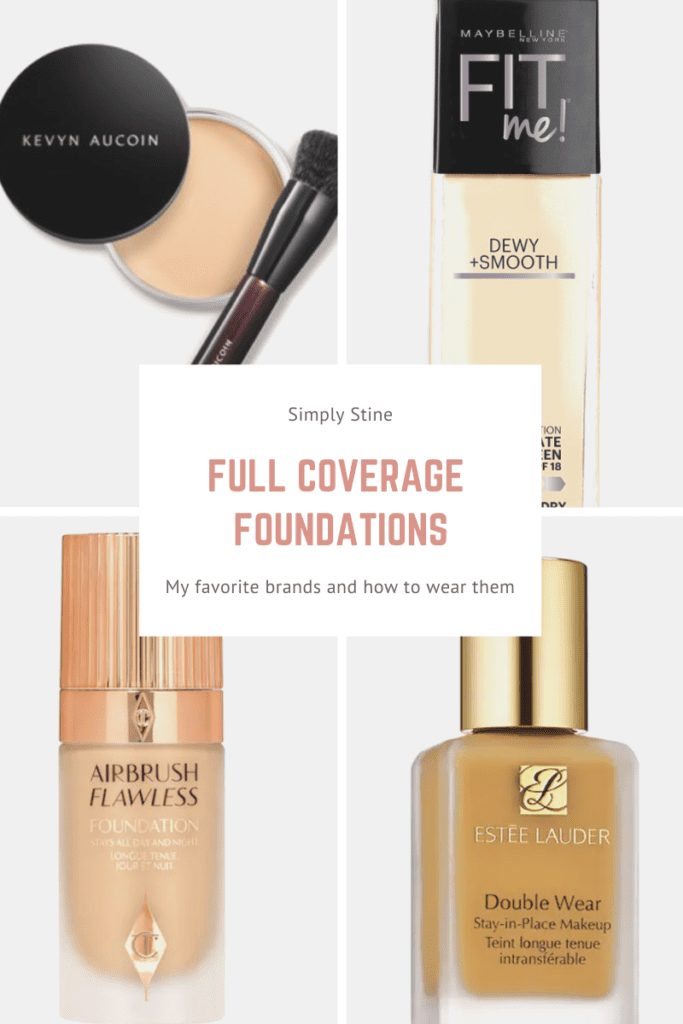 Full coverage foundations for dry skin

Yeah, so this technically isn't a foundation, BUT I think it wears like a full coverage foundation. It will cover just about anything and it is one of my go-to foundations when I need a lot of coverage. Plus, it offers skincare benefits. A tiny bit of this product goes a long way. Plus, I love this CC Cream because it also has an SPF 50! Also, they do have the Bye Bye Foundation Full Coverage Moisturizer with SPF 50. It's similar to the CC+ Cream, but I prefer the CC+ Cream.
*They do make another foundation, Your Skin But Better Foundation, that is more of a medium coverage, but it's buildable and great for dry and mature skin types.

I love, love, love this foundation balm by Kevyn Aucoin. It comes with the foundation and a brush for application. A little bit of this full coverage foundation balm goes such a long way. This is a great product for dry skin types as it contains Hyaluronic Acid and Vitamin E to help to hydrate the skin. This balm will leave your skin looking hydrated and will give you medium to full coverage.

This is an outstanding drugstore full coverage foundation. It's available in a variety of shades (A LOT to choose from) and it's under $20.00. This foundation offers medium to full coverage and will definitely stand up to the heat and humidity. It features an SPF 25. My one issue with this foundation is the scent. It's pretty strong, BUT I can get over it because of the coverage it offers. If you have any sensitivities, keep that in mind.

Another stellar drugstore full coverage foundation. The Maybelline Fit Me Foundation comes in a variety of finishes, but if you have dry skin, this is the one you want. It's available in 24 shades and the finish will leave you with a more hydrated, luminous finish. It feels lightweight and is a buildable coverage. It's a great option if you're looking for some luminosity to the skin.

This foundation is a great buildable medium to full coverage foundation. It features Coconut Water and Hyaluronic Acid, so I think it's a great option for those who have a more dry complexion. Plus, it offers some major coverage! There are over 30 shades available so you should be able to find a good match. A little bit of this foundation goes a long way! A great foundation that offers a natural finish.

If you're looking for a full coverage foundation that not only offers coverage, but one that also leaves your complexion matte-this is the one you want. This foundation helps to minimize the appearance of pores, and imperfections. I like that it feels light as it's water-based, but offers so much coverage. I would not use this on dry skin as I think that it could create some issues with dry patches. If you're looking for an amazing makeup primer to use with this, the Milk Hydro Grip Primer is incredible.

This foundation is available in over 50 shades, offers a very full coverage, matte finish and is extremely long lasting. It's great for dry skin types because it features Hyaluronic Acid which is hydrating. This is sweat-proof, transfer-proof, and waterproof! This is also a vegan formula. So if you loved Tarte's famous Shape Tape Concealer, maybe give this foundation a try!
Full coverage foundations for oily skin

This is my original OG foundation. My SIL and her mom swore by it and got me hooked. This stuff offers very full coverage. It's a matte-finish and is oil-free. This is my go-to foundation if I need to do some major coverage and I don't want it to budge. I'd say this is more for combination oily skin types. I don't wear this one daily as I don't want that much coverage normally, but this is a fantastic full coverage foundation. Plus, this foundation comes in so many shades. (I vary depending on the season but I can go from a 1N2 or darker)

If you're looking for a stick foundation that doesn't break the bank, this Wet n Wild PhotoFocus is a fantastic option. It's lightweight, but is buildable and allows for good coverage. I like to take this foundation and apply a small amount to the middle of my face and blend out. I use a makeup brush to apply it and go over it with a damp makeup sponge to soften any lines. I think this stick foundation is just as good as some of the other more expensive options on the market.

This long-wearing foundation is a buildable, matte-finish foundation. It's beautiful!I think this is good for a variety of skin types, including oily/combination skin. I like that it feels lightweight, but it really does offer a beautiful coverage for your complexion. I do set this with my Charlotte Tilbury Airbrush Flawless Finish Setting Powder. It's a beautiful combo! (I wear shade 4 or 5)

MAC is a brand that has some great options. This foundation offers a matte finish with a medium to full coverage. This is a foundation that all skin types can wear, but this is especially good for oily skin types. It's oil-free, sweat and humidity resistant and is available in over 60 shades. Make sure to prep your skin beforehand and use a primer and setting powder as needed.

This is just such an awesome drugstore full coverage foundation. It's available in a variety of finishes (I listed the one above for dry skin) and it has a decent shade range. This features a demi-matte finish and is great for those who are worried about texture issues on the skin. Long-lasting and offers a great, buildable coverage.

This foundation has been a very, very hyped foundation in the beauty world. It's worth the hype. For a long time, it was hard to find certain shades (my store almost never has it in stock) but so far online it seems to be available now. This is a really nice FULL COVERAGE foundation. I stress full coverage because it offers a lot of coverage. A single pump of this foundation is more than enough for your complexion. I think this is great for oily/combo skin types and probably not for those with dry skin. It dries down matte and offers a long-lasting finish.

If you're oily, combo or suffer from bouts with acne, this is a great full coverage foundation option for you. This gives you a shine-free finish, which if you have oily skin, you will appreciate. It's resistant to humidity and won't budge if you're sweating. Plus, there are so many shade choices to choose from. This is a customizable foundation and can be built up, so you'll get medium to full coverage depending on how you apply.
The Most full coverage foundation I've tried

I kept going back and forth on what category to put this foundation in, so I just decided to give it its own! For me personally, the most full coverage foundation I've ever used is the Dermablend Cover Cream Full Coverage Foundation. It's almost what I would consider stage makeup. This covers acne scars, hyperpigmentation, birthmarks, uneven skin tone and more. I feel there is a certain amount of trial and error with this type of product. I don't consider this to be an everyday foundation for most, but for those that really need some major coverage, this is one to try. This can also be used as a concealer for major dark circles, etc.
This product is going to need to be set with powder for optimal staying power. They suggest buffing in their setting powder and letting it sit on the skin for two minutes and buffing off the extra.
Tips for applying a full coverage foundation
Choose one that is right for your skin type: Dry, Oily, etc
Some foundations work best when applied with fingers, a makeup sponge, or a makeup brush. Experiment and see what works best with the product.
Start with a small amount of product. Foundations like a stick foundation are HEAVILY pigmented, meaning you don't need as much. I like to apply the product towards the center of my face and blend out. Add more as you go, where needed.
I also like to warm up some of my foundations. I'll take a small amount on the back of my hand or on my fingers and warm up the product and then apply by pressing into my skin.
I like to prep my skin when I'm using a full coverage foundation. I moisturize, I prime. I also make sure my skin has had time to really let the products sink into my skin. So I don't moisturize and go for my foundation right away. I allow at least five to ten minutes.
Start out with a small amount. Work up to the coverage you want. A lot of the times, with the right product, you will use way less than you think.
Full coverage foundations can appear cakey on the skin if too much is applied or if you have a lot of texture. This is why it's important to prep your skin and to make sure you use the right tool for applying the foundation.
There are a lot of options when it comes to foundation choices. If you're able to, get some samples at a store and see what works best for you! Wear it when you're sweating, when you're swimming, when you're at work. Try it in different environments. That's how you know what will work for you.
Looking to see what some of my favorite beauty products are? Check out this post where I rounded up my 2020 Beauty Favorites. I'll be updating this list again at the end of 2021!
Shop The Post