When I think of Laura Mercier, I immediately think of her Tinted Moisturizer. It's a cult-classic beauty product that has been around for as long as I can remember. Recently, it received a packaging and formula update. When I first heard that this beloved tinted moisturizer was changing, I immediately went into panic mode. I can now assure you, after testing it myself, that you have nothing to worry about! In fact, I think you might enjoy it even more!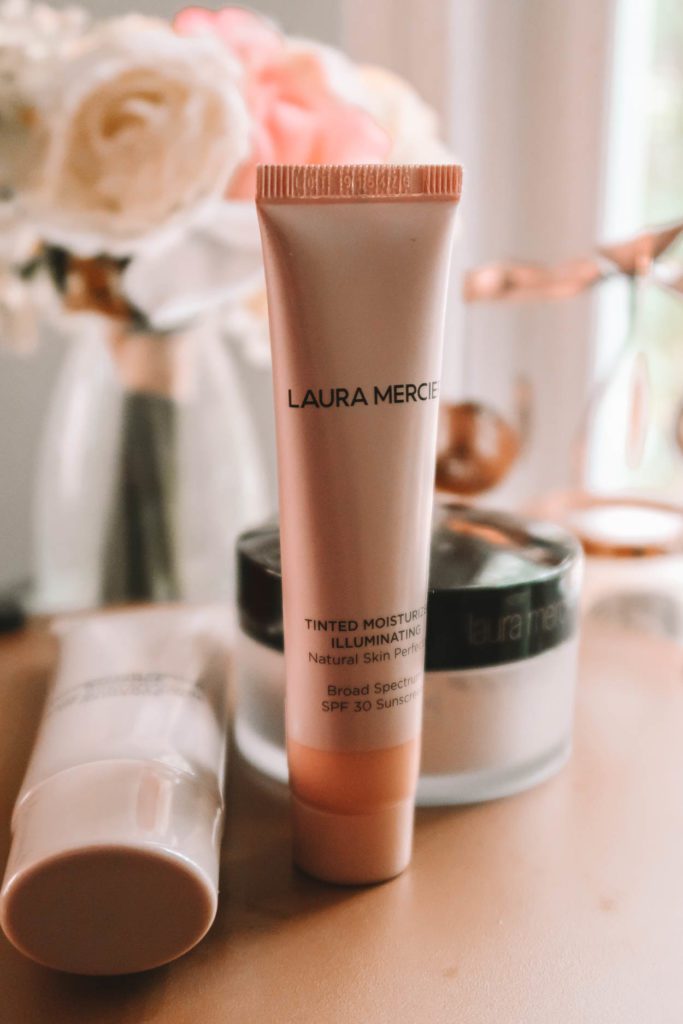 New and Improved Tinted Moisturizer: What's Different
This cult-favorite tinted moisturizer has some new improvements! They upped the SPF from 20 to 30 for one. The new formula also now includes macadamia and kukui seed oils to help hydrate the skin. Also, good for you antioxidants are now included!
You will also find 20 shades ranging from light to dark, and also shades for deeper olive skin tones. There is also an illuminating formula (which I tried) that gives the skin a serious glow!
The tinted moisturizer coverage is still very sheer and buildable and feels completely weightless on the skin. I love this product for giving me a little bit of color, to even out my redness and complexion, but I can still see my skin when I wear this. Now I'm also getting more good-for-me ingredients for my skin as well!
Also, you'll notice an updated packaging. You can now see the shade by looking at the bottle. It's a sleek, yet modern update but it still feels totally on brand for Laura Mercier. I'm a big fan of the update personally!
20 Shades available
Normal, Dry, Combination Skin Types
Macadamia and Kukui Seed Oils help hydrate the skin
Tamarind Seed Extract helps lock in moisture and antioxidant protection
Silica treated pigment helps create a soft focus, dewy appearance
Avobenzone 2.5%, Octinoxate 7.49%, Octocrylene 2%, and Oxybenzone 1% for SPF protection
Tinted Moisturizer Illuminating with SPF 30
6 Shades Available
Normal, Dry, Combination Skin Types
Leaves a radiant finish
Coverage is sheer. Buildable
French Algae and Licorice Extract help improve radiant complexion over time
Reflective Mica helps reflects and transmits light for a radiant glow
Glycerin helps soften the skin
Avobenzone 2.5%, Octinoxate 7.49%, Octocrylene 2%, and Oxybenzone 1% for SPF protection
Contains finely milled pearls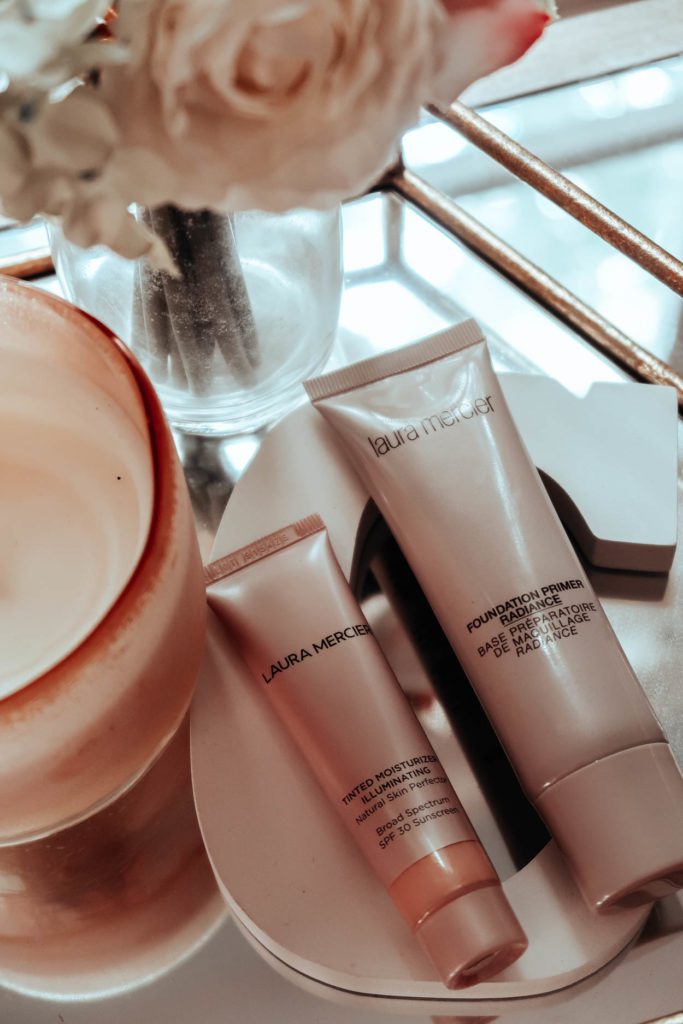 Radiant Foundation Primer
I get asked A LOT about how to use a foundation primer and why anyone should add this product to their makeup routine. Honestly, it's pure preference. Some days I use a primer, some days I don't. For days when I want a more radiant, luminous appearance; I include a primer.
The Laura Mercier Radiant Foundation Primer helps to smooth out your complexion and gives the skin a luminous appearance. It's a gel-like formula that looks like crushed pearls. A little bit of this product goes a VERY long way. Keep that in mind. It DOESN'T contain shimmer.
You can use this product before applying any complexion product, but sometimes if I'm going for a no-makeup look, I just add this to my moisturizer for a little bit of a glow. It contains Vitamins A,C, and E, as well as Jojoba. It's doing more than just priming the skin.
If using this with a foundation or a tinted moisturizer, use the radiant primer BEFORE you apply those products. The primer is going to get the skin ready for the makeup products that you will be applying. I apply the primer and let it sit on my skin for a couple of minutes before continuing my routine.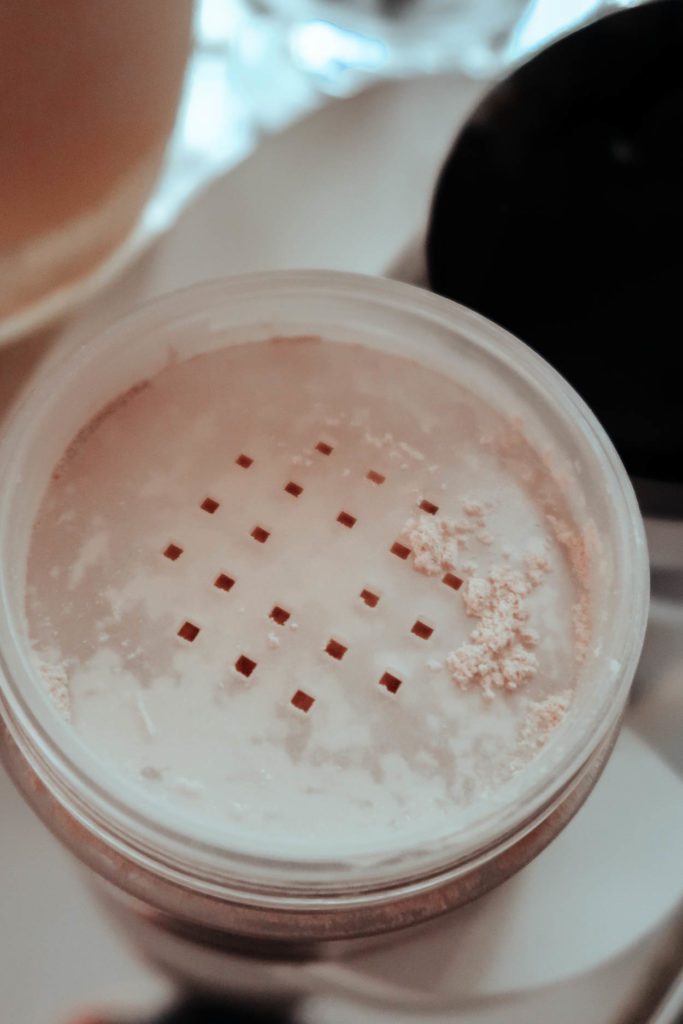 Translucent Setting Powder
I have been the biggest fan of the Laura Mercier Translucent Setting Powder for years now. It's probably one of my absolute favorite discoveries from the brand. Sure, it's a colorless powder, but it does so much for my skin! (There is a medium-deep shade available also)
This powder is what keeps my face looking flawless all-day long. It helps absorb oil and reduces shine, and helps to create a matte finish. I apply this to set my concealer and dust a small amount over the entire complexion to lock my makeup in place. If you've never used a setting powder, this is the best of the best in my opinion. It's lightweight and never makes the complexion appear cakey at all.
I apply this after I've used all cream products (think cream blushes and bronzers) BUT before any powder blush or bronzer products. Even the Laura Mercier team suggest this as it helps the powder products apply easier on the skin.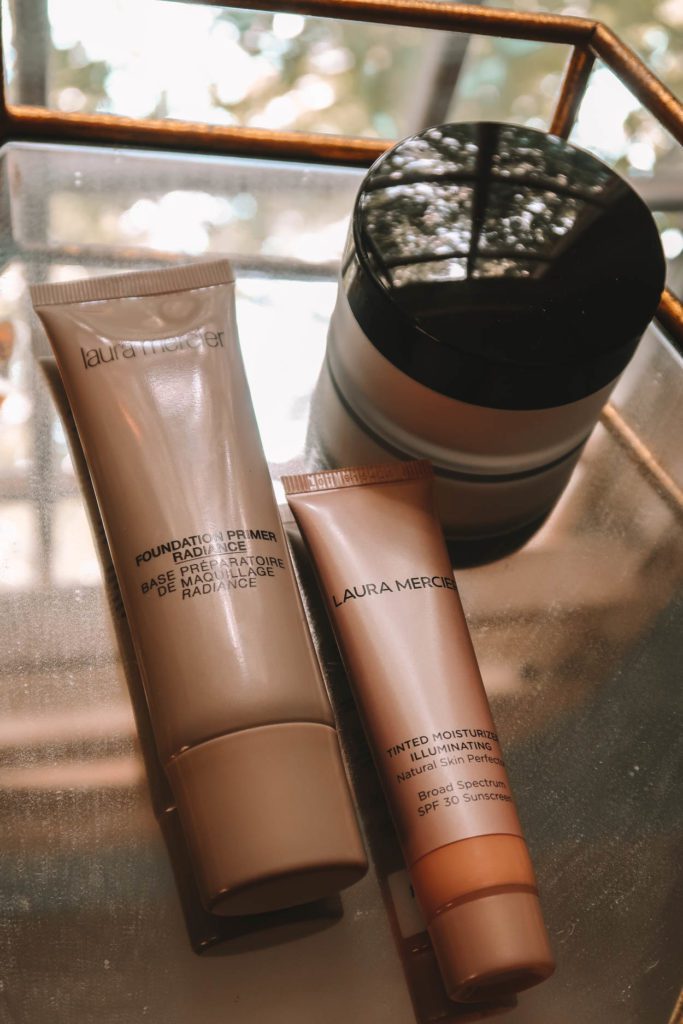 The new tinted moisturizer from Laura Mercier is an update that I can appreciate. Laura Mercier, to me, is a brand that women can turn to for products that will add to your natural beauty. They are products that do their job like their supposed to and help you look your absolute best. You won't find crazy color palettes or hundreds of product options. Instead, you'll find products that you need and you'll end up with a gorgeous complexion. It's the everyday women's beauty brand!
The products mentioned in this post were sent to me complimentary to review. All thoughts and opinions are my own.
Shop The Post