I recently polled my audience on Instagram and asked if people were wearing makeup or not most days. Most of the responses were I don't wear anything most days to also people saying that they still needed some glam. I'm kinda in between those responses. Some days I love wearing makeup and other days, I just focus on my skincare and let me skin do it's thing. Obviously there's no right answer, but if you're looking for the perfect no makeup look type of product, the Ilia Super Serum Skin Tint Foundation is an amazing option.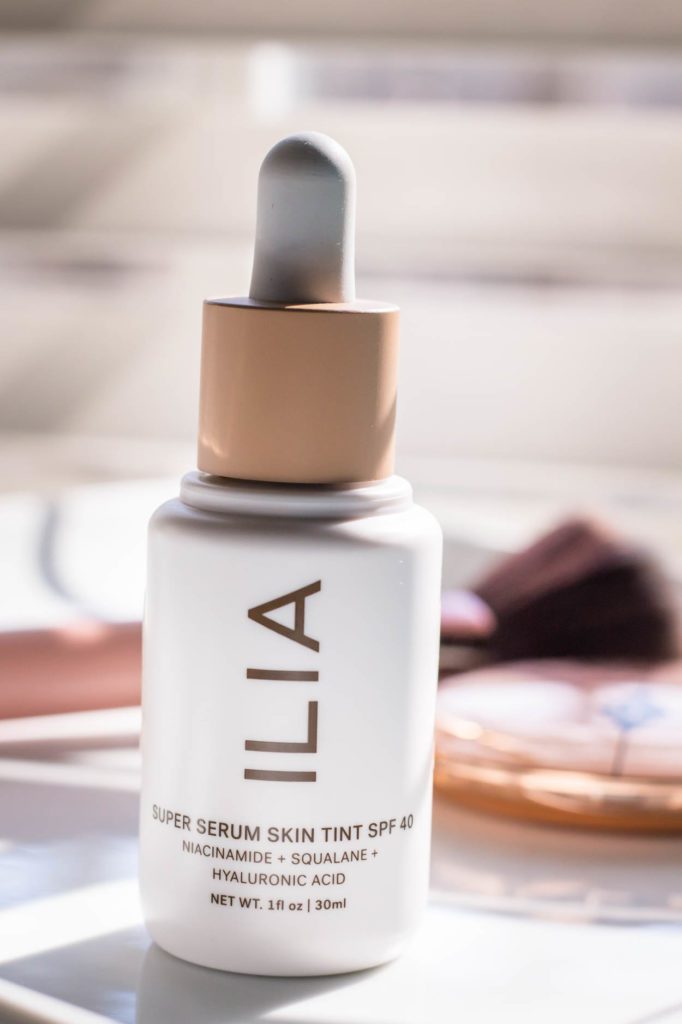 Your Skin But Better
I'm a BIG fan of Ilia Beauty. I love their Limitless Lash Mascara and find that since I've been using it, my eyelashes are so much healthier than they were before. The Ilia Super Serum Skin Tint Foundation has been my latest love. It's the perfect no makeup, makeup product that gives my complexion a little bit of help that it needs. It lightly helps with imperfections, hydrates and also provides SPF benefits. I really love it on days when I need light coverage. It is the perfect your skin but better type of product.
Do not expect this product to give you anything more than light coverage. You will still see your skin. You won't get medium or full coverage with this product. You'll get a serum that will act as skincare, but also offer a bit of coverage. I still see my freckles when I wear this. It's not heavy on the skin at all. It does apply dewy and because I have an oily t-zone, I do have to set this powder.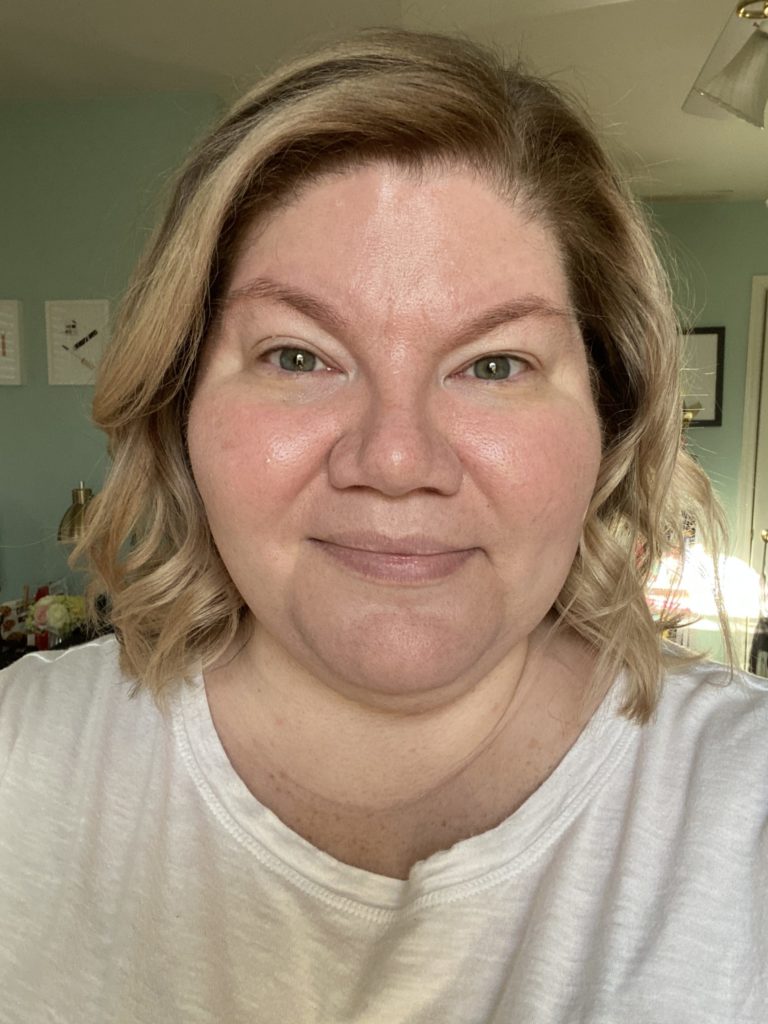 I wear shade 4 Formosa (But would also like to try shade 3)
Oil-Free
Contains Hyaluronic Acid (plumps the skin) Squalane (hydrating) Niacinamide (helps to smooth skin)
Mineral SPF (40)
Fragrance-Free
Light Coverage
30 shades available currently
$48.00 (1 fl oz)
How To Apply A Serum Foundation
I want to talk about how to apply a serum foundation because it's not exactly tricky, but it also needs a bit of explaining. The most important thing is to shake the bottle before you apply and I mean really shake it. I like to apply about a 1/4 of the dropper to the palms of my hands and apply to my complexion all over (in small dots) then I like to use my hands and blend. This will appear lighter at first, but once you start blending it into your skin, you'll notice the product warming up. This is when you will see it's true color. I blend all over my face and even down to my neck. If I feel I want a little more coverage, I'll appy more product.
Can you use a brush with a serum foundation? Yes, you can. I just like the results I get from using my hands. The warmth from my hands warms up the product and it melts into my skin easier. I find using a makeup brush or sponge at first, takes up too much of the product and it gets wasteful. If you use your hands to apply and then go over it with a sponge (to blend the edges) at the very last step of the application, I think you'll get better results.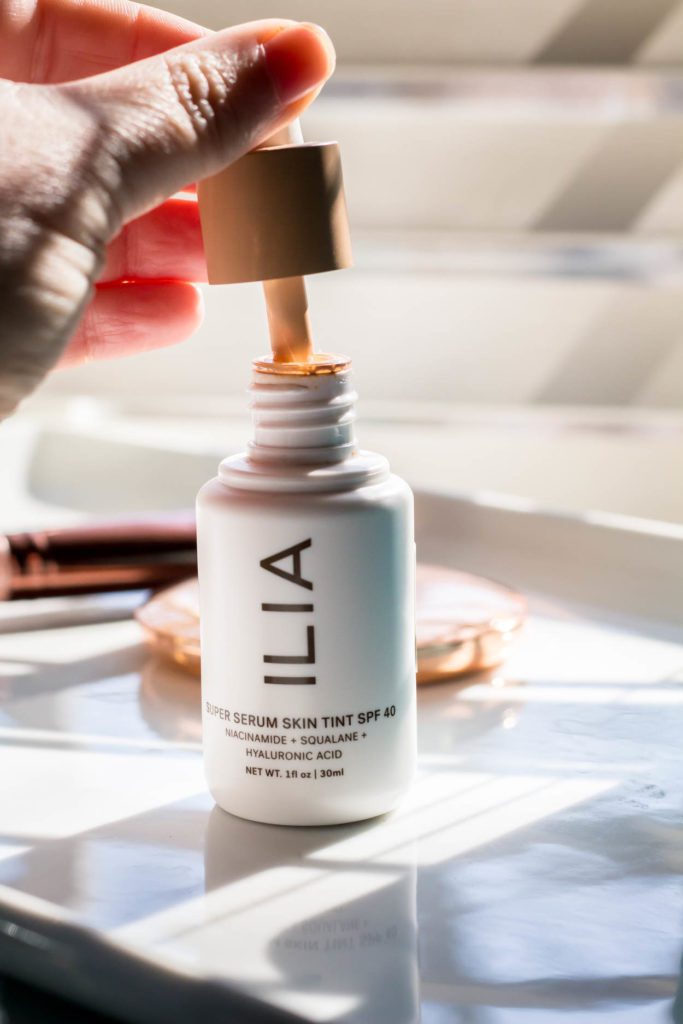 The Ilia Super Serum Skin Foundation helps seal in moisture. It plumps the skin. It boosts Antioxidant effectiveness by 200%. It's silicone-free, non-comedogenic, fragrance-free, chemical-screen free, oil-free, and safe for all skin types including sensitive skin. It protects your skin from UVA, UVB, UVC, blue light, and infrared rays. I love that it's weightless and doesn't feel like I'm wearing anything on my skin when I wear this product. Again, it's that perfect no makeup, makeup.
If you're like me and some days you just want a little bit of coverage to make you feel more like yourself, the Ilia Super Serum Skin Tint Foundation is a great option for those no makeup, makeup days. I love the benefits this product has for the skin and it's a great product for also offering protection. My skin looks more radiant and overall, I'm really happy with this product.