Recently a friend reached out and asked if I had any suggestions for liquid eyeshadows, so I thought I'd share some of my favorite liquid eyeshadows that I use and love. Why use a liquid eyeshadow? They're great for a one and done look. No need to break out the big bulky eyeshadow palettes and create a look with multiple colors. A liquid eyeshadow applies creamy, and dries down to a powder formula. A lot of them are very long-lasting and whether you wear them alone or as a pop of color on the lid, they're a great eyeshadow to have on hand!
I also love a liquid eyeshadow as an option for someone who is trying to learn more about makeup. These are great for beginners (as well as pros) because they give you everything from a simple wash of color to a bold, glittery pigmented look. You can easily tuck them in your purse and touch up your look throughout the day and you can easily go from day to night with a simple touch of a liquid eyeshadow on top of your powder eyeshadow. (I like to add a pop of shimmer on the middle of the eyelid to spruce up my look)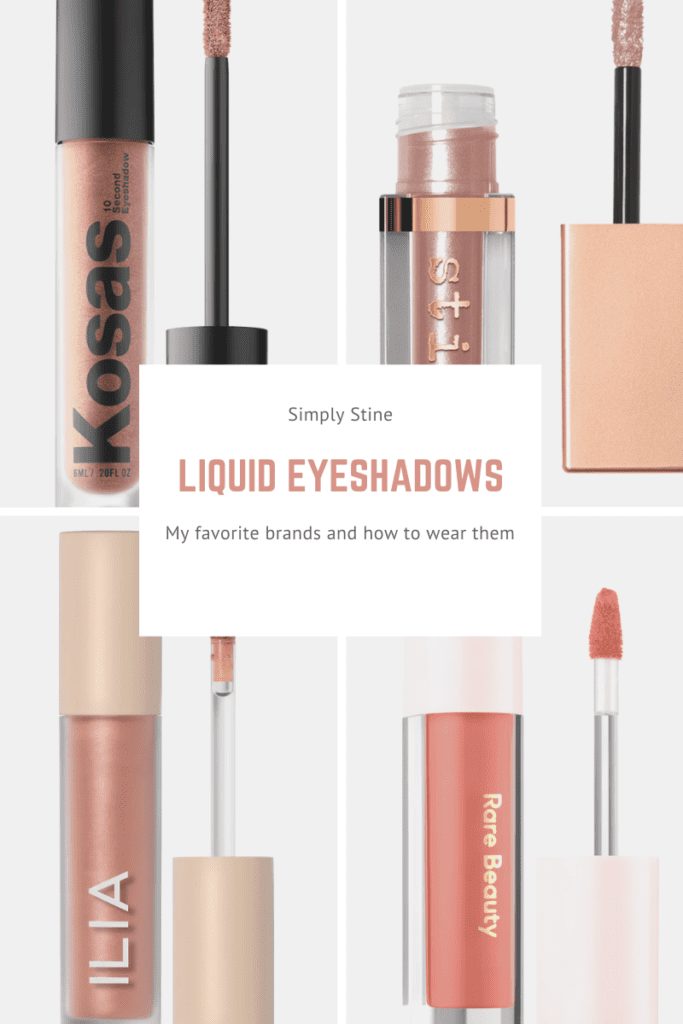 How To Wear Liquid Eyeshadows
I love a simple eyeshadow look that basically is a wash of color, so liquid eyeshadows are a perfect choice! I still use a primer (you don't have to, but I have oily eyelids and find it works best) and I will either blend the eyeshadow with my fingers or a big fluffy brush. They're easy to apply and I find them very long-lasting. Trust me, they aren't intimidating!
I typically apply the eyeshadow towards my lash line and blend up and out. If you plan on wearing a liquid eyeshadow as a topper, simply apply your regular eyeshadow first and add the liquid eyeshadow as a topper when you're finished. So simple! Plus, a lot of the times the formulas are going to be waterproof and crease-proof. So they're not only easy to apply, but they're also long-lasting. GREAT summertime options.
Top Five Liquid Eyeshadows
There are a lot of liquid eyeshadows out there to experience, but these are my top five liquid eyeshadows that I think are worthy of purchasing. They are long lasting, easy to apply, and the colors are incredible. Now these are products that are in a tube and come with an applicator. In my opinion, I still consider a cream shadow a liquid eyeshadow. The formulas are a bit different as the liquid can be a more water-based formula, but both options are somewhat similar. I'll share some of my favorite cream eyeshadows soon!
This liquid-to-powder formula is easy to blend and is waterproof and crease resistant. The perfect summer formula in my opinion. I apply this to my lid and blend with my fingers. I find that works best. I do think you need to blend this pretty quickly to get the best look so it doesn't dry down in areas you don't want it.
This water-based eyeshadow is fast drying, so you need to work with it quickly. The results are gorgeous and it's available in different finishes: Satin, Shimmer, and Glitter. Here's a tip though, you MUST really shake this product the first time you get it otherwise you will have separation issues. Plus, I think you need to build up this formula into layers to get a great eye look. Yes, I still use a primer with this formula.
Oh Ilia, I just love your products. Their Chromatic Eye is gorgeous. There are 8 colors available in this formula and they are beautiful. Again, with this liquid formula, you MUST work quickly. I would do one eye at a time. Apply a wash of color and blend. Apply until you have the desired look.
I'm such a fan of this formula. I've used this for years. It's a pearl-based, liquid formula that dries down. I really like it. It doesn't have fallout and it doesn't transfer. I LOVE Jezebel and use it often. There are other finishes available that aren't shimmer.
These are not only affordable, but if you're looking for a really sparkling liquid eyeshadow,this is it! I normally use this as a topper as I love the way that it sparkles, but you can wear this alone. I'd highly suggest that you wear a primer with this for best results. A little bit goes a long, long way!
If you're wondering about some of my other favorite makeup products, check out this post where I share a few of the products I use in my day-to-day makeup routine! I'll be sharing my go-to brow routine soon!
Shop The Post