My makeup routine most days is either no makeup at all or just enough to make me feel human. Long gone are the days of bright eyeshadows and lots of contour. Now I normally wear a tiny amount of foundation or none at all and do the bare minimum to cover my dark shadows under my eyes. I'll wear a cream eyeshadow, some blush, mascara and a touch of lipstick or gloss. That's it!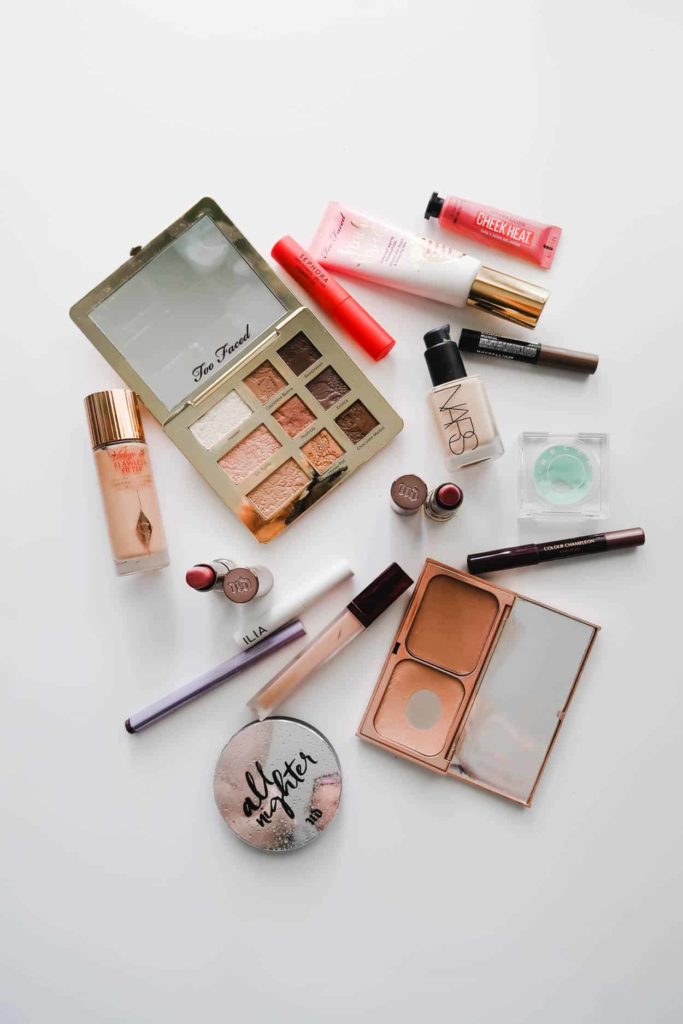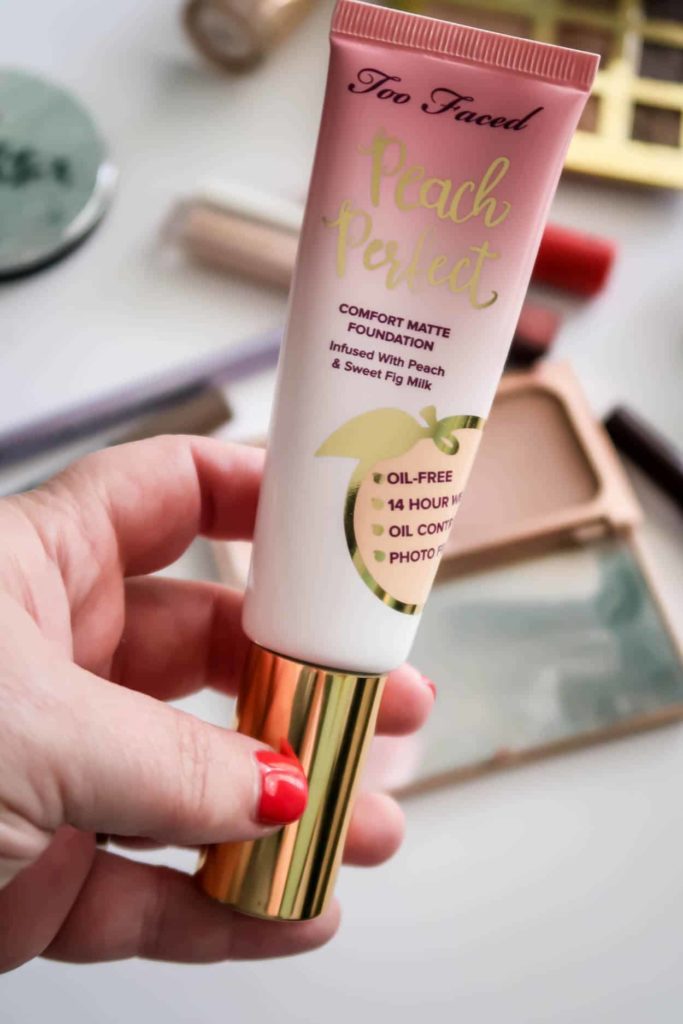 I'm still really enjoying this foundation from Too Faced. Like I said before, some days I'll wear this on it's own and other days, I'll mix a pump with a moisturizer. It's a medium to full coverage foundation and it does a really great job of covering imperfections and evening out my skin tone.
I'm still testing this as the days get warmer outside and more humid, but so far it seems to work ok on my skin. Right now I'd say I'm getting to be more on the combination side as my t-zone is pretty oily some days.
This is a pretty full coverage foundation so a little bit goes a long way. Keep that in mind. It does a great job at hiding imperfections without feeling heavy.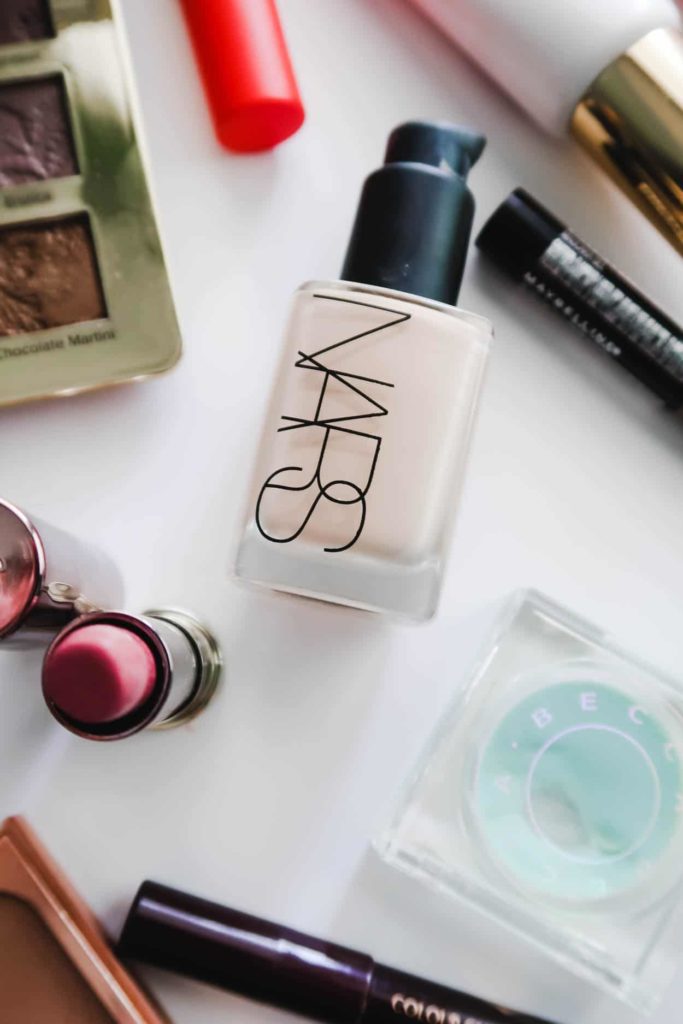 The NARS Sheer Glow Foundation is such a beautiful foundation. It's a lightweight texture that gives the skin such a gorgeous, skin-line finish. It gives off a bit of a radiance to the complexion, but not too much. I like it because it's very light and doesn't seem to be heavy on the skin at all.
This is the foundation I've been using most days as it's such a lightweight product and doesn't feel heavy on the skin at all.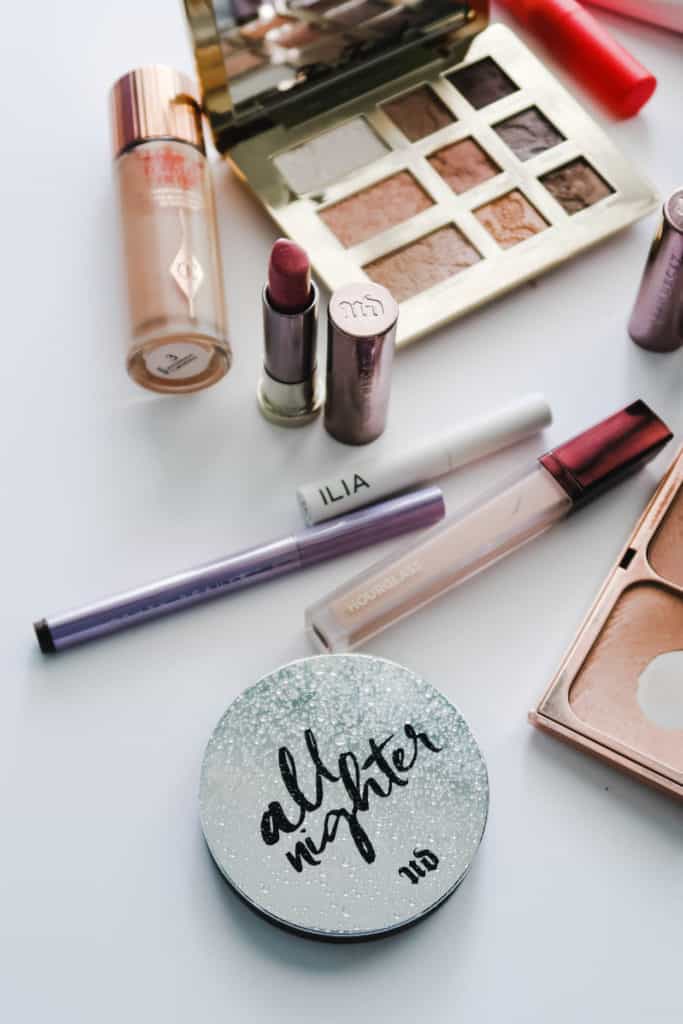 I'm pretty much at the point where I need to order another Urban Decay All Nighter Pressed Powder. I've hit pan and def plan on repurchasing before this one is empty. It's great for keeping my makeup in place and especially when it's warm and humid outside. It's not only a setting powder but also a finishing powder that makes your foundation waterproof and controls oil for up to 11 hours!
For application of this powder, I gently brush this on areas like my forehead, chin, and cheek areas to keep my makeup in place. I pat it onto my nose as that is one of the worst areas that gets oily on my face. It does a great job!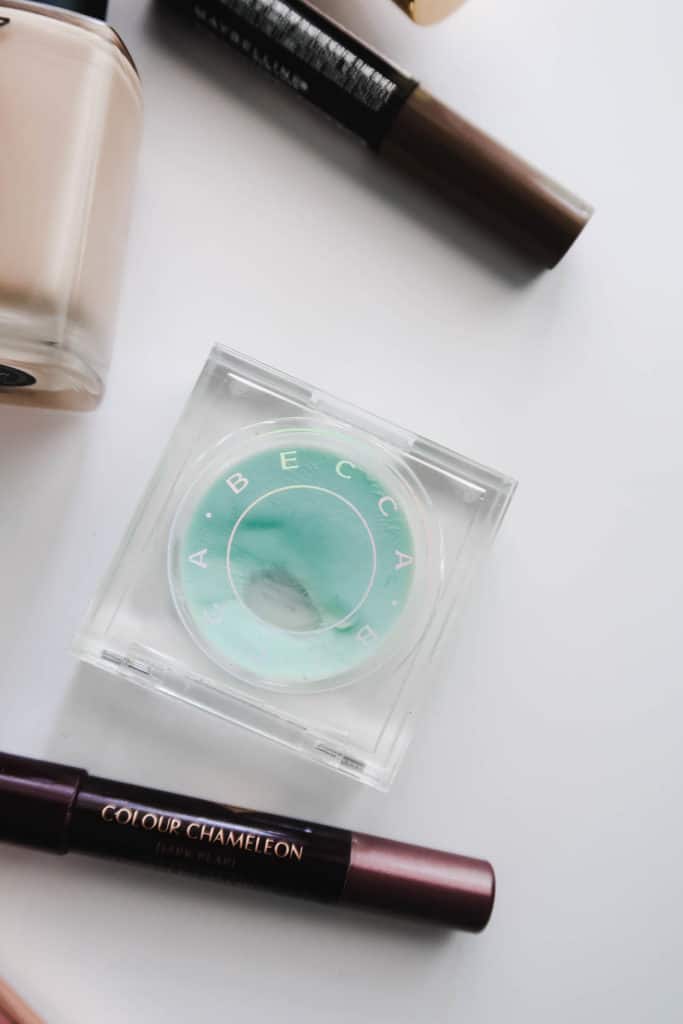 I'm still not sure about the Becca Under Eye Anti-Fatigue Primer. I've even asked my mom what she thinks about it and we're both kinda on the same page. We don't hate it, we aren't in love with it, but yet we still keep using it.
This under eye primer is supposed to prep your under eye area for makeup and help diffuse the light around the eye area. It's also supposed to be cooling, which would help puffiness. Sometimes I feel like it cools, other times I don't notice that.
I don't have a lot of issues with my concealer being too cakey or anything as it is, so I was more interested in this helping with puffiness and helping my concealer last longer.
Again, still on the fence, BUT I will say I still reach for it daily so that has to mean something. I plan on doing a full review once I actually use it all up.
Also pictured is the Charlotte Tilbury Colour Chameleon Eye Shadow Pencil. I LOVE the formula of these eyeshadow sticks. They're creamy and so easy to blend. I have three different colors and use them all of the time. I can easily use an all over eyeshadow, or even as a liner. They're so creamy and really easy to apply. The pigmentation is incredible.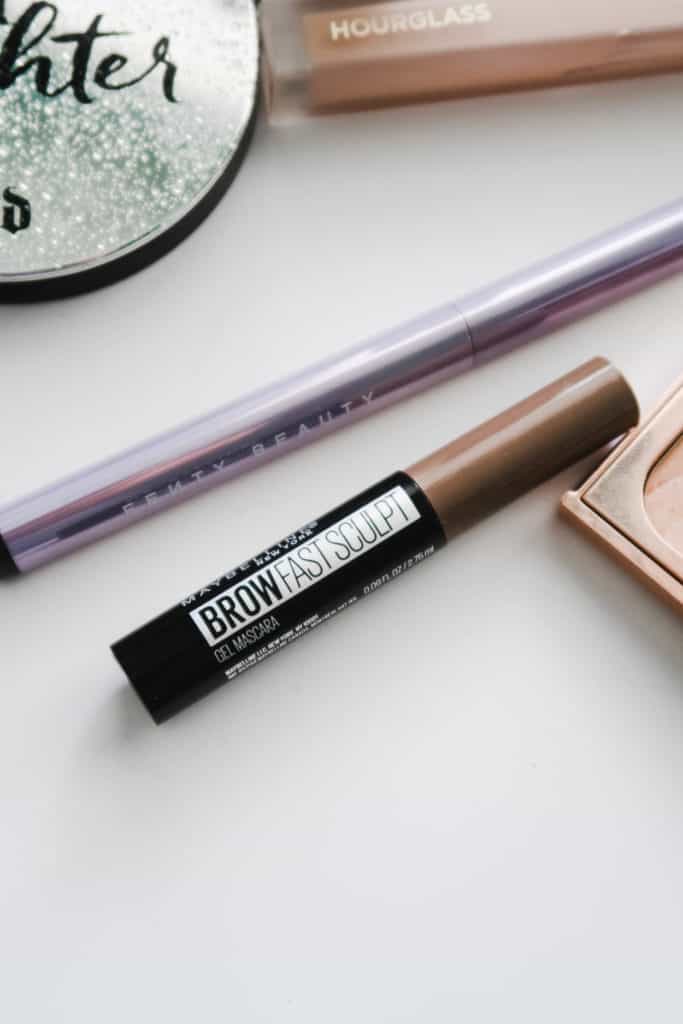 Do I have more expensive brow products on hand? Yep, I sure do. However, I keep turning to this inexpensive Maybelline Brow product. It offers pigment for those of us who have been missing their tint appointments and keeps my brows in place.
I was using a more expensive brand that is basically the exact same as this one and this is half the price. It keeps my random strays laying down in place and it doesn't feel too crunchy. I will say you have to make sure you aren't over doing it with this as it can feel like a lot of product. A little bit will do it.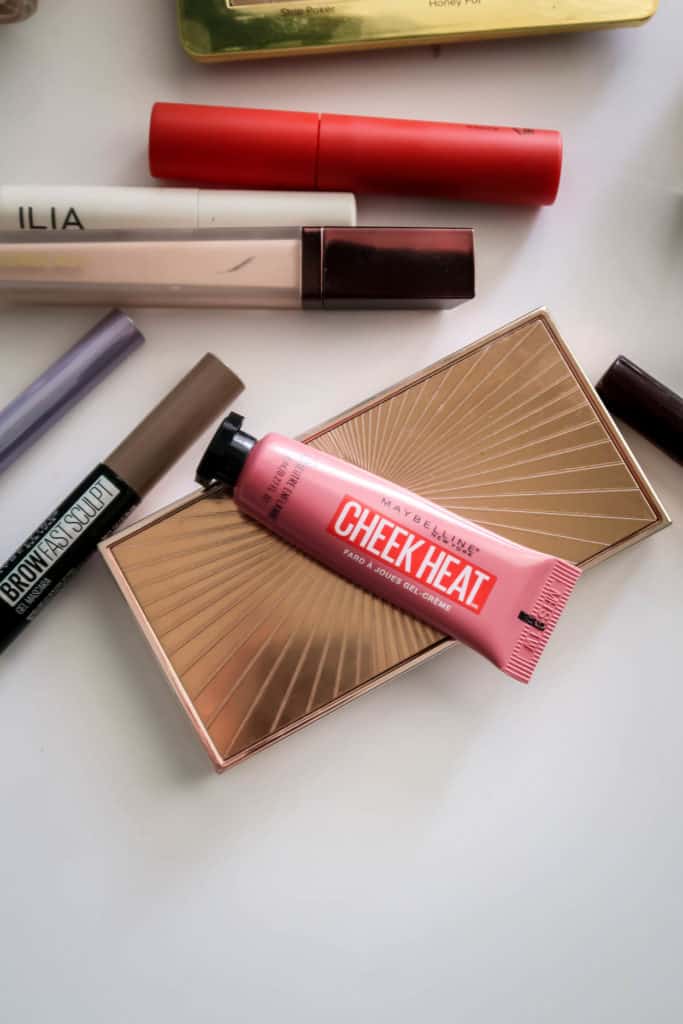 I'm so in love with this Maybelline cream cheek product. It gives the most beautiful pigmented color to the cheeks. It goes on and stays put. I've even worn it when it's warmer outside and I'm sweating more (gross, I know, but it's true) and it lasts!
Not sure how to wear or apply a cream blush? I can help! Check out this post I wrote on how to apply and wear a cream blush product.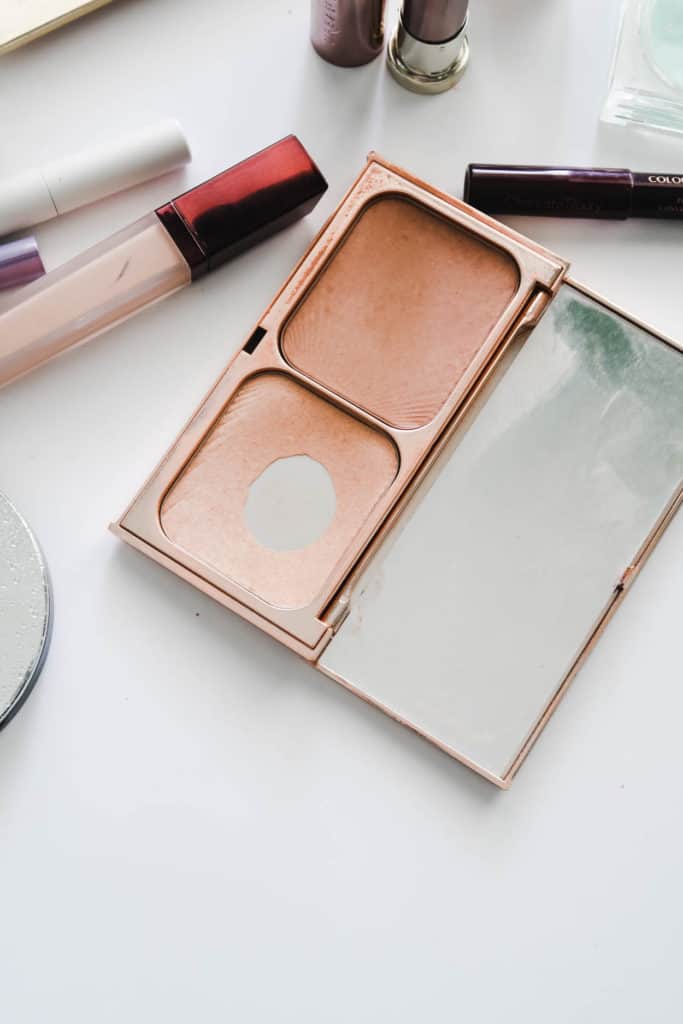 I have used this Charlotte Tilbury Hollywood Filmstar Bronze and Glow for a really long time. It's my go-to bronzer and highlighter. I think it's natural and I love the finish it gives to my skin. Some days, I'll use the bronzer as an eyeshadow to just open up my eyes.
This is a great way to instantly give my skin a more bronzed glow. I use a big fluffy brush and do the motion of the number three, starting at my hairline and down under the cheek, finally to the jawline. For the highlight, I'll add to the top of my cheekbones and along the center of my nose, and under my brow bone.
It's a GORGEOUS product that is worth every penny it costs.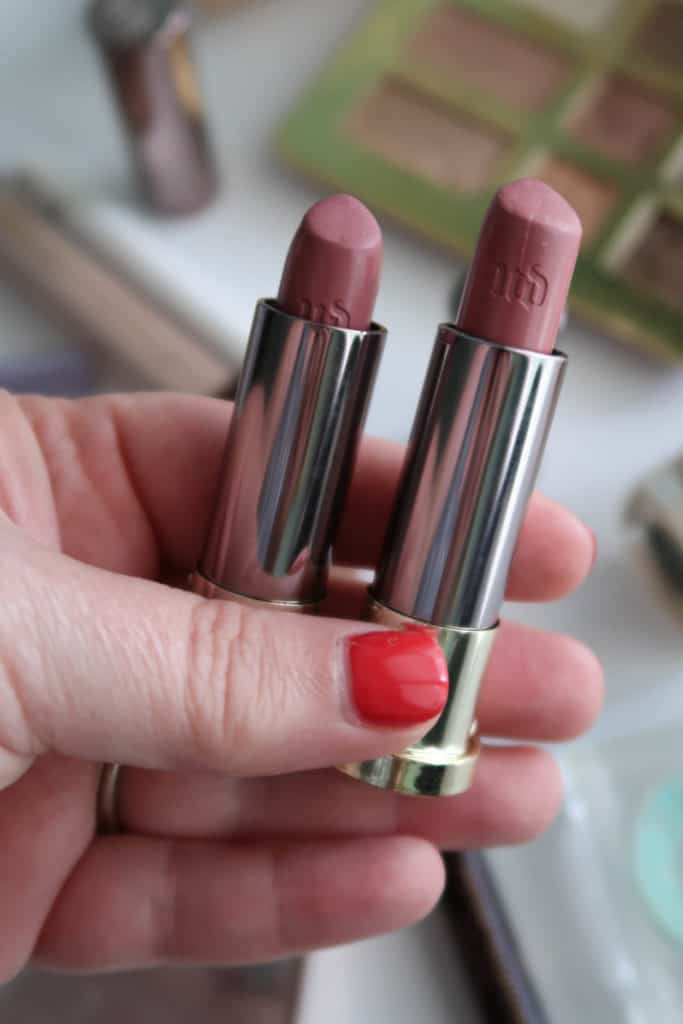 Urban Decay Backtalk Lipstick is for sure a lipstick I turn to almost daily. It's the perfect mauve-nude pink color. If I'm not wearing that, chances are that it's the shade Stark Naked. I love the creamy formula that Urban Decay lipsticks provide and they give off a lot of pigment.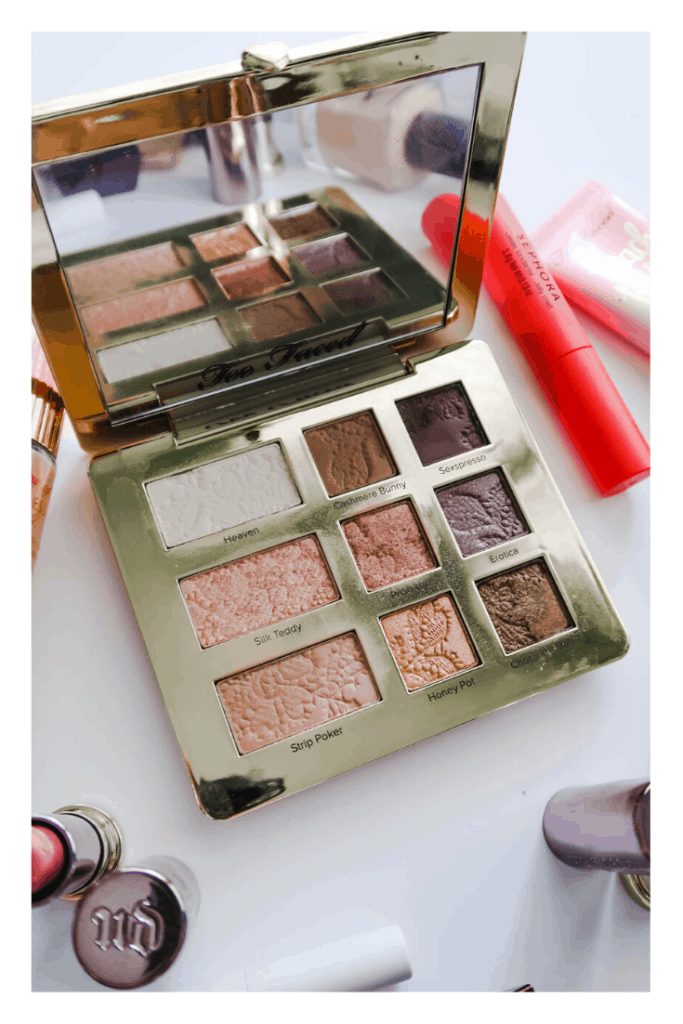 This Too Faced Natural Eyes Eyeshadow Palette is so, so pretty. It's that palette that can go from day to night in no time. I love the combination of colors and find myself using this palette for most eyeshadow looks and even just to darken my lash line some days.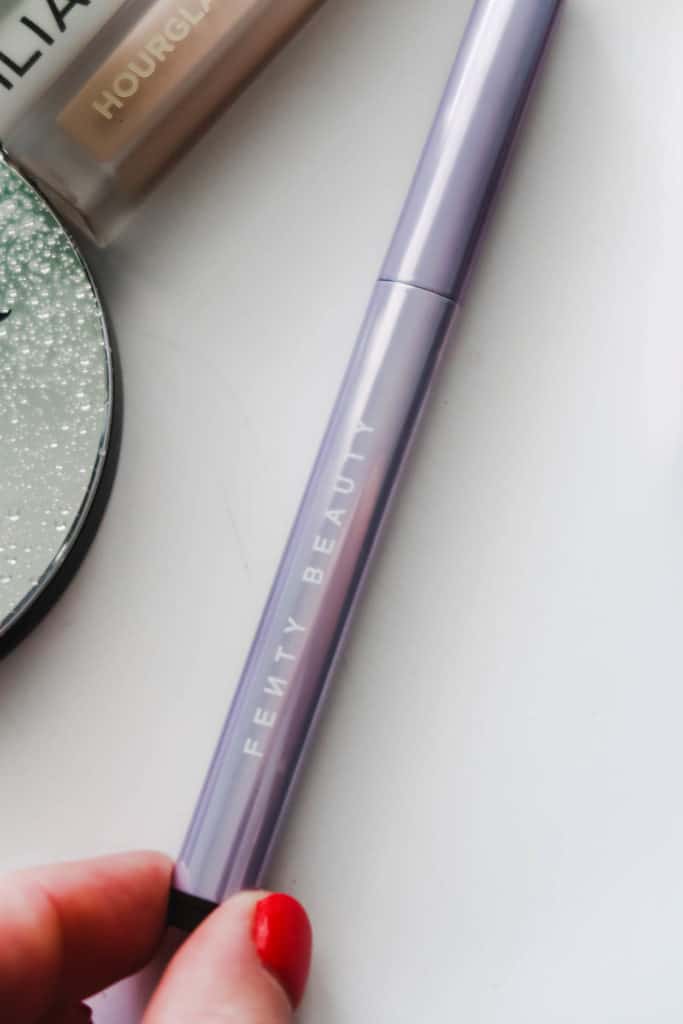 Fenty Flypencil Long wear Pencil Eyeliner is the only eyeliner that I wear nowadays. I wear the shade In Big Truffle, which is a chocolate brown matte. It's a creamy, long-wearing waterproof eyeliner that is so easy to apply. I find that it doesn't budge once I apply it and I need that with the warmer temperature.
I also like that it's a twist up pencil. I don't have to worry about sharpening it. The brand has made a lot of shades and different finishes available. It's a great product.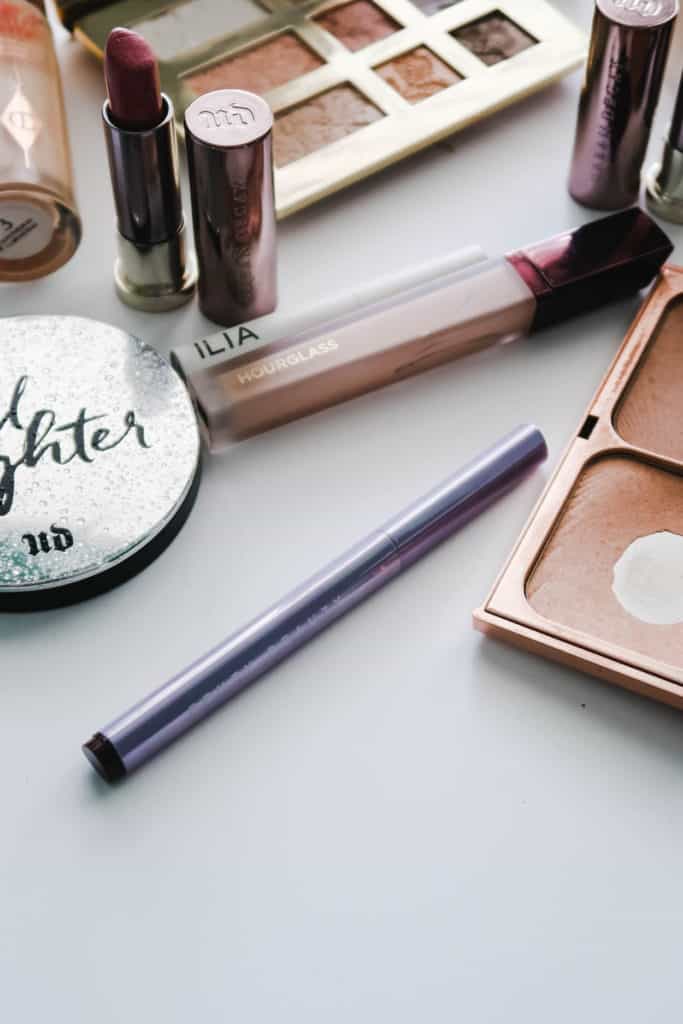 I'm also wearing the Ilia Limitless Mascara most days now. It's a clean beauty brand that a lot of people have told me that they also use. This mascara lengthens and separates the lashes and it doesn't feel clumpy or super thick. It has a dual sided brush that really gets in between each lash. I love this formula!
I'm also still using the Hourglass Vanish Airbrush Concealer. I just love the formula and it does a good job of hiding imperfections so easily. This dries down pretty fast so sometimes I'll apply one layer and then add another layer once the first one has dried.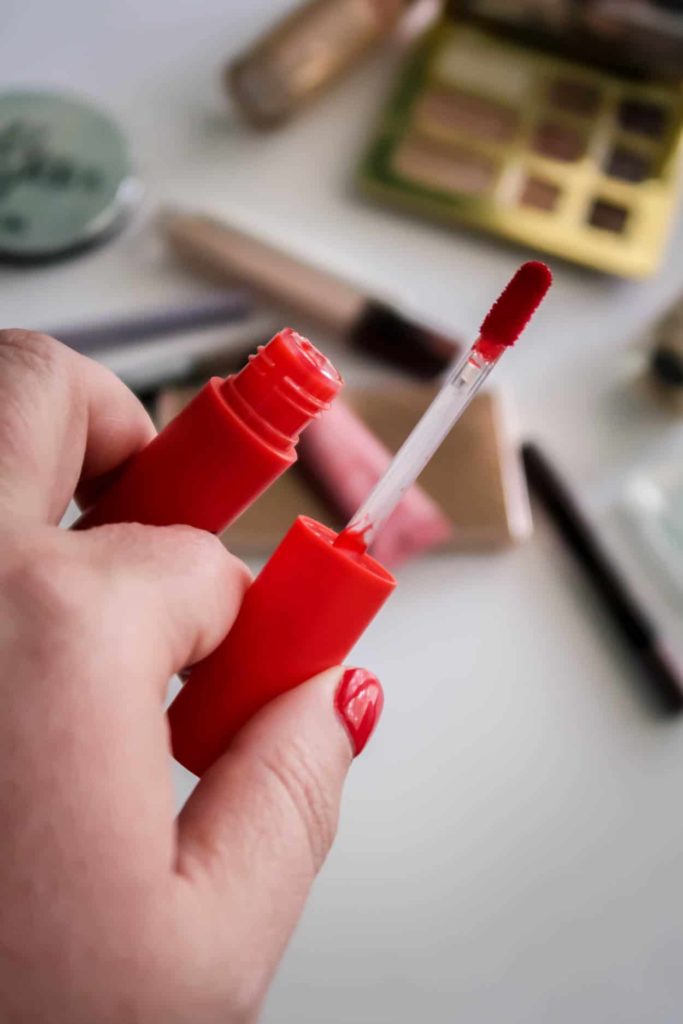 The Sephora Jelly Melt Glossy Lip Tint is a product that retails for $10.00 and I'm obsessed. It starts off with a glossy lip color, but once it dries down, it is more of a lip tint. It's so pigmented, but doesn't feel heavy at all. It's really comfortable to wear and you can build up the color easily. This is a throw on and go type of lip color.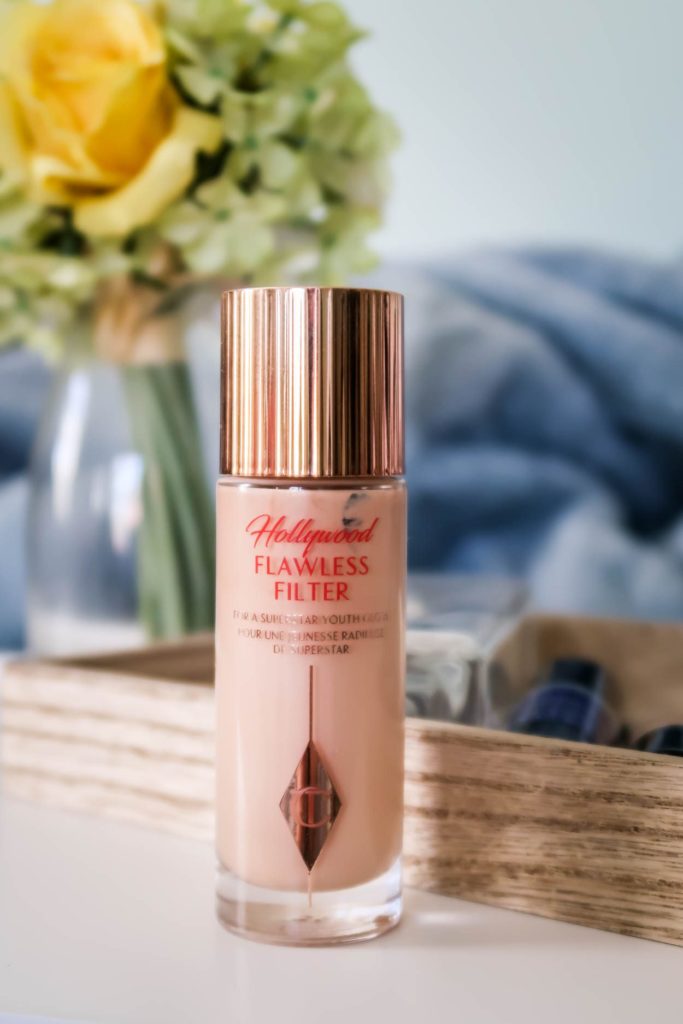 The Charlotte Tilbury Hollywood Flawless Filter is a unique product. You can use it alone to give the skin a more alive look to the skin or you can use it to highlight. You can use this as a primer also. Think of this as a complexion booster that illuminates the skin in the most natural way.
This product will leave your skin looking radiant and more alive. You know when you just feel like your skin look so dull, this is the product you need. You can use this on your face, neck and shoulders as well.
Shop The Post