Today I'm sharing my four most used makeup products. These are my must-have, go-to products that I use pretty much every time I am wearing makeup. These products help me look my most put together, with very little effort. I don't need a full face of makeup daily, but I still want to look put together and these products will ensure that I'm looking my best, with minimal effort!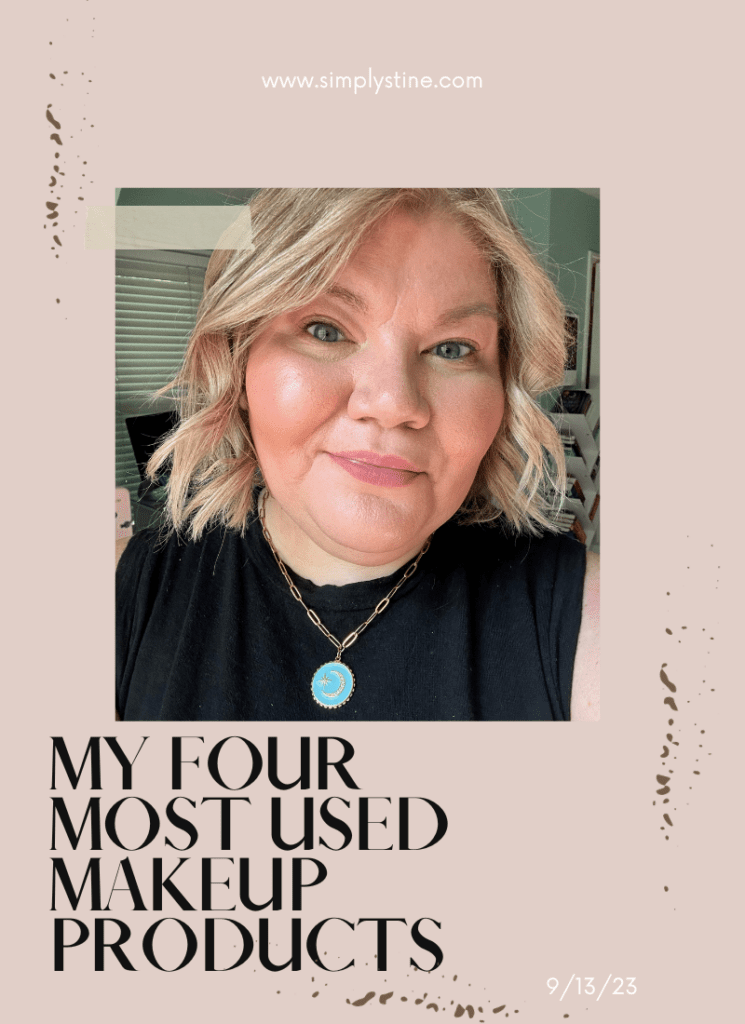 A Good Foundation
I've realized that my favorite type of complexion product is one that still looks like my skin. My biggest tip with finding a good foundation finish is to wear what you feel most comfortable wearing. I personally want to see radiance and glow on my face. There is a time and a place for a full coverage foundation and honestly, it's not necessary most days. For me at least. Most days I'll reach for a skin tint, which offers light coverage, but just enough to give my skin a glow and a touch of color. It helps to balance out my redness and any imperfections I want to make less noticeable.
I also really do love a good tinted moisturizer. Not only are we getting skincare ingredients, but we're also getting coverage and a touch of SPF protection.
Recently, I just finished a bottle of the Armani Luminous Silk Foundation. It's an oil-free foundation that gives me a buildable, radiant finish. I wear shade 4.75 and it's a perfect match for my complexion. The finish on this foundation is outstanding. It's buildable so I can use a very small amount for light coverage, or I can build it up for full to medium coverage. It's an automatic repurchase for me.
Some of my Favorite Foundation Options
A Bronzer To Wake Up My Complexion
When I'm done applying my base makeup; my skin has no dimension. I have to add in color and wake up my complexion. I always, always apply a bronzer to my skin. My favorite bronzer has been the Charlotte Tilbury Filmstar Bronze and Glow Contour Duo. While this says a contour shade, I use this as my bronzer and it has been my go-to for years.
I like to apply bronzer starting from my temple (right along the hairline) and down to my cheekbone area, and finally along the jawline. I'll brush a little bit over the bridge of my nose. You don't need tons of product, but a good bronzer adds depth and warmth to your complexion.
A Good Bronzer For All Skin Types
Not all bronzers are the same and I think some work better for different complexions than others do! There are also different finishes: Matte and Illuminating.
Other Bronzers I enjoy using:
Bronzer For Eyeshadow as well
If I need a quick and simple eye look, use your bronzer. Simply take a fluffy brush and apply to the entire eye area (primarily focusing on the crease area.) I promise you, it will make your eyes open up and you'll appear more put together than you think!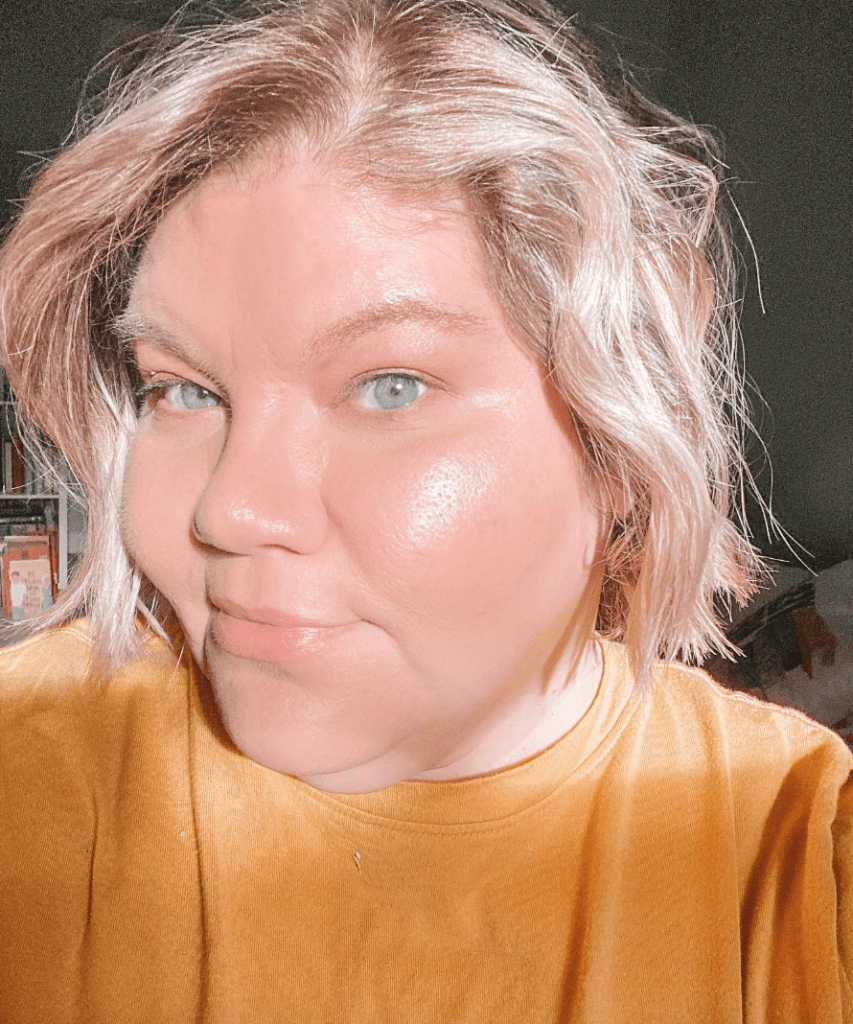 Mascara Is a Must
I have zero lashes. They're stick straight and pretty much don't hold any curl. I have no volume and my lashes are very light in color. So yeah, I basically hit the lash(less) jackpot. UGH. Because of all of that, I need a mascara that gives me volume, gives me length, and will not transfer under my eyes.
Have sensitive eyes? Tubing mascaras are a great option as they coat the lashes and don't come off until you wash your mascara off. This is my go-to style of mascara during allergy season.
My go-to mascara options are:
Other Mascara Formulas To Check Out
Mascara comes in so many different forms: Some have a wet formula. Some have plastic applicators. Some have more of a dry formula. Find what you like best and what works for your lashes!
Have you tried a brown mascara? I love it because it's softer than a deep black and it just gives this softness to my lashes. There are so many colors of mascara available and I think it's fun to experiment with different colors.
Eyeko Lash Alert Mascara (Also available in different shades and works great for those with sensitive eyes)
Ever heard of a mascara dry shampoo? I was skeptical at first, but this really does work! Just gives my lashes a refreshed look and deepens the color. I really swear by this.
Pop of Color On The Lips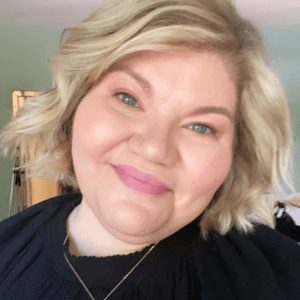 One of my biggest tricks to looking more put together than I really am is to add a pop of color on the lips. Seriously, just give it a try. It can be whatever color you love the most. Maybe a muted rose or a bold red lip. Rock whatever lip color makes you feel your best!
Signature Lip Color
My absolute favorite ride or die lip color is Charlotte Tilbury Pillowtalk. It's the perfect matte, nude pink lip. I've been wearing it for years. I swear by it and I love the formula of both the lip liner and the lipstick.
Most days I'll be in a nude lip. It's just easy for me to apply on the go, but I also do love a good pop of color. Here are some of my favorites I reach for:
Now my four most used makeup products vary season to season. Since we're (hopefully) getting into cooler temperatures, I'll start using more hydrating products for my complexion. I'll be able to wear cream makeup products a lot easier (hello, less humidity) and I'll be rocking those fall lip colors. I'll share some of those soon!
New Series Coming to Simply Stine
Below are some of the common makeup mistakes that I see daily and I want to start a series where I address each of these issues. I'll show you simple makeup tips to help you rock that makeup look with confidence. I'll teach you how to properly pick out shades for your complexion and how to apply them. Plus, I'll share some tricks for upping your makeup game! Stay tuned!
Common Makeup Mistakes I See
Not color matched correctly (Incorrect Foundation/Concealer shades)
Wearing harsh, dark colors that aren't blended properly
Flat complexion (No dimension)
Neglecting your eyebrows (Overdone or not touched at all)
Contour colors applied too low on face (or wrong shade)
Eyeliner application
Blush placement