Here are all the books I read (and listened to) in the month of August. Overall, I finished 6 books. Of course I got some romance in (thanks to Christina Lauren) but I also ventured out and tried a few books that aren't my typical go-to: A love story about a husband who turns into a shark (Yes, you read that right) and a Sci-Fi story that's soon to be a movie. There were a few other books that I enjoyed as well.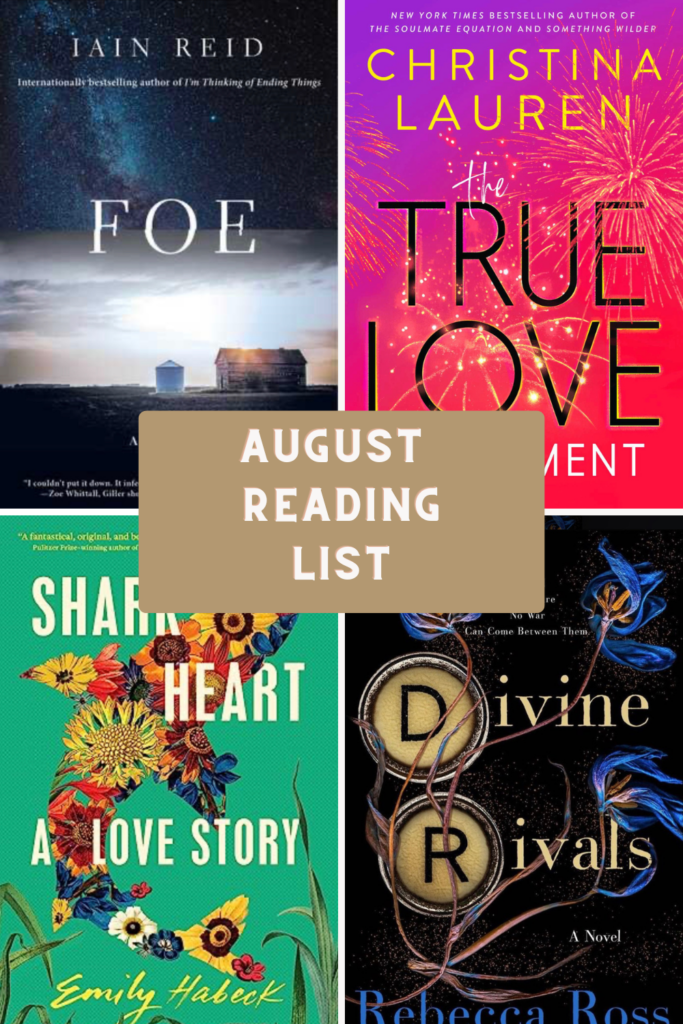 They support small, independent bookstores! I'm all for that. Plus, you can choose which bookstore you want to support. It's an easy way to help support small businesses. PS Their app is so easy to use! Give it a try.
The Books I Read In August
So far, I've read 55 books this year. While I don't really concentrate on the actual number, I do love seeing that reading is still an important part of my life. Here are all the books I read (and listened to) in August.
Do You Like To Read Romance Books?
4⭐️
Whew. This was such an incredible book to listen to on audio. This book has drama. It's super sexy. It has family issues. This is an age-gap romance. Also, just an FYI, there is infidelity involved in this.
The one thing I love about this book is that the main character is such a powerful, strong women. Even when she doesn't think she is. She was a single mother doing her best. She got married and her life changed… In more ways than one.
5⭐️
O.M.G. THIS BOOK. A bit magical. A bit dystopian. Definitely a love story.
This is the first book in the series and just so you know, this book ends in a major cliffhanger. I'm already counting down until book 2 is released.
P.S. Roman might just be my favorite book boyfriend I've read in quite a long time.
4⭐️
This IS a love story, just as the title says, but it's the most unusual love story I've read in a long time. I listened to this book on audio and loved the narration. This book had me laughing (quite often) and it also has some very tender moments in it.
Yes, it's unusual, but in the best way.
5⭐️
I'm going to be honest and admit that Christina Lauren books can be a bit of a hit or miss for me. I'm happy to say that The True Love Experiment was a total hit in my opinion. The premise of this book involves a reality tv show and our main character, Fizzy. Can she find love? Now, this book is better understood if you read the first book, The Soulmate Equation. (Which I did and it was just ok to me) but just know that this book is funny and so, so sweet.
You've got a hottie with a british accent who is a single father. SWOON. He's the producer on a reality tv show.
Fizzy is a romance author who happens to end up agreeing to be the main contestant on a reality dating show.
Enemies to lovers? Yes, please!
Do You Enjoy Reading Sci-Fi Books?
3⭐️
This is the 6th book in the Shatter Me Series by Tahereh Mafi. I LOVED this series so much. Considering this is the last book in the series, I hate how this series ended. I couldn't get into this book. I kept waiting and waiting for it to feel like the other books in the series: the incredible story between the two characters (YOU KNOW) and learning more about Juliette's powers and future. It just wasn't what I was hoping for.
Now there is a novella that in told in Aaron's POV (I believe) and I haven't read that one yet. Overall, I'm still so happy to have discovered this series and I'm glad I got the chance to read about these characters and the story.
4⭐️
This is going to be a movie, so after watching the trailer I decided to read the movie. It's part sci-fi and a bit dystopian. It's also a story about marriage. It's set sometime in the future (they don't really say how far in the future) and life is very different. There's also an element of space travel and AI.
Again, not my normal read, but I'm really happy I read it.
Just an FYI…I listened to this on audio and I enjoyed it BUT there were some things in the actual book that would have been helpful to physically see. You'll understand when you read the book.
Those were all the books I read (and listened to) in the month of August. Now tell me, what did you read?