It's officially time to discuss my September 2020 Reading List. For once, I felt like I read both of my Simply Stine Book Club picks pretty early in the month. This allowed me to really enjoy some other books/audiobooks as well. So let's get into what books I read in September!
Heart Bones by Colleen Hoover
I love me some Colleen Hoover. Her books are always easy reads, but also really bring out all of the emotions. She could write anything and I'd read it without even seeing what it was about. Heart Bones is her newest release and it didn't disappoint. If you have Kindle Unlimited (like I do) you can read this for free!
Here's the Synopsis:
Life and a dismal last name are the only two things Beyah Grim's parents ever gave her. After carving her path all on her own, Beyah is well on her way to bigger and better things, thanks to no one but herself.

With only two short months separating her from the future she's built and the past she desperately wants to leave behind, an unexpected death leaves Beyah with no place to go during the interim. Forced to reach out to her last resort, Beyah has to spend the remainder of her summer on a peninsula in Texas with a father she barely knows. Beyah's plan is to keep her head down and let the summer slip by seamlessly, but her new neighbor Samson throws a wrench in that plan.

Samson and Beyah have nothing in common on the surface.

She comes from a life of poverty and neglect; he comes from a family of wealth and privilege. But one thing they do have in common is that they're both drawn to sad things. Which means they're drawn to each other. With an almost immediate connection too intense for them to continue denying, Beyah and Samson agree to stay in the shallow end of a summer fling. What Beyah doesn't realize is that a rip current is coming, and it's about to drag her heart out to sea.
One of the passages that really stood out to me was : "Damaged people recognize other damaged people. It's like a club you don't want a membership to." This book was about damaged people who struggled. Damaged people who were good people, who just needed something (anything) remotely good to happen to them for once. This book broke my heart. I felt that parts of it were a bit rushed, but other than that, it was fantastic.
4/5 Stars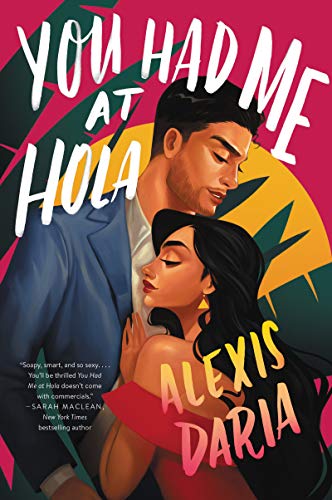 My second book club pick was You Had Me At Hola by Alexis Daria. This was a very hyped book on Bookstagram and while I enjoyed Ashton and Jasmine, this book was not everything I had hoped it would be. Again, I think parts of this storyline were so rushed, while others dragged out. It's a cute romance and I loved the addition of the script from the show that they're working on. However, I just didn't love this one.
Here's the Synopsis:
Leading Ladies do not end up on tabloid covers.
After a messy public breakup, soap opera darling Jasmine Lin Rodriguez finds her face splashed across the tabloids. When she returns to her hometown of New York City to film the starring role in a bilingual romantic comedy for the number one streaming service in the country, Jasmine figures her new "Leading Lady Plan" should be easy enough to follow—until a casting shake-up pairs her with telenovela hunk Ashton Suárez.
Leading Ladies don't need a man to be happy.
After his last telenovela character was killed off, Ashton is worried his career is dead as well. Joining this new cast as a last-minute addition will give him the chance to show off his acting chops to American audiences and ping the radar of Hollywood casting agents. To make it work, he'll need to generate smoking-hot on-screen chemistry with Jasmine. Easier said than done, especially when a disastrous first impression smothers the embers of whatever sexual heat they might have had.
Leading Ladies do not rebound with their new costars.
With their careers on the line, Jasmine and Ashton agree to rehearse in private. But rehearsal leads to kissing, and kissing leads to a behind-the-scenes romance worthy of a soap opera. While their on-screen performance improves, the media spotlight on Jasmine soon threatens to destroy her new image and expose Ashton's most closely guarded secret.
3.5/5 Stars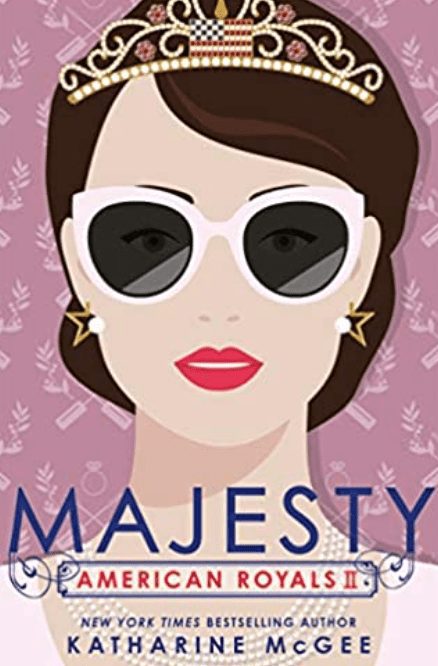 I LOVED American Royals by Katharine McGee, so when I saw that a sequel was being released, I was beyond excited for it. Imagine if America had a Queen as well as a Royal Family, and not a President. Right now, that sounds pretty incredible.
Majesty picks up from where the last book, American Royals left off. I won't spoil anything for those of you who haven't read American Royals yet, but it did end on a cliffhanger. While I loved being in this story again, I have some issues with the book.
IF there was another book being released after this one, I would give this five stars. I just love the characters and the story. However, the author has stated that she's not continuing the storyline and well, I just hate that. (She has since said that she left some storylines open…so fingers crossed for a third book. I feel like we need it)
I felt like a lot of the first book was spent on certain relationships and I'm not so sure why, after reading this second book. I think you'll know what I'm talking about if you read this book. WHY?!?!?!?! I felt like I became invested in certain relationships and this was not what I was expecting.
I still can't stand Daphne. Like not at all. I'm waiting for a storyline to explain her behavior.
What about Jefferson?!?! I felt like he was kind of not in this book and for it to be a finished series, I am a bit confused.
While I didn't hate the book, I hate that this is the ending of the story for these characters. Katharine, please I beg of you, continue this storyline. We need it!
4/5 Stars (I struggled with that rating)
I finally finished the Pucked series by Helena Hunting. This series was funny, super steamy, and just what I needed. I laughed way more than I expected to and I somehow realized that I love a good sports romance. I'm not sure which was my favorite book out of the whole series because I really enjoyed each one of them so much!
This is NOT for someone who isn't ok with very open door bedroom situations. There were things that happen in this series that left my mouth wide open. Some I just couldn't understand, HOWEVER, it's still a great series. Just feel like you need to know that before you go into it blindly!
4/5 Stars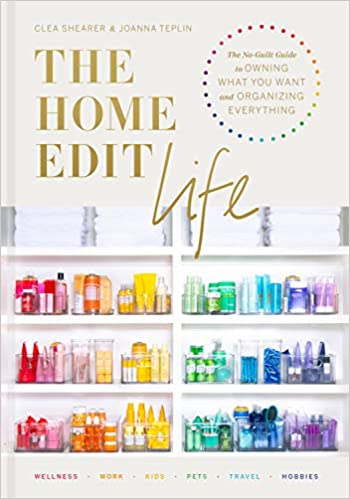 I just love The Home Edit team. I've followed them on Instagram for a long time now and am so glad that they're on Netflix. They're funny and I love anything organization. Of course I pre-ordered their book when I saw it was launching. I think this book is just a nice visual for how they organize. Is it life changing? Depends on each person, honestly. I just love them and will always support them. Also, their product line at the Container Store is so good.
October 2020 Simply Stine Book Club Picks
I've really stressed over choosing what book(s) to include for October's book club picks. I've been reading reviews and asking for suggestions. There are just so many good books out there right now that it's easy to get overwhelmed. I was searching for at least one good spooky, thriller type read. So I hope I haven't let you down!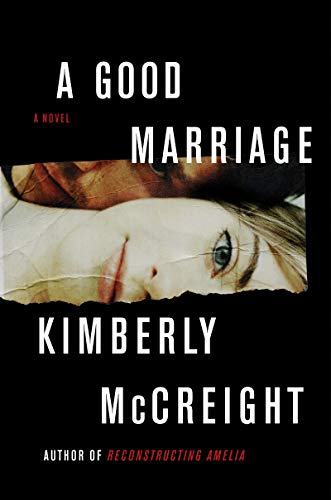 The amount of people who told me to choose this book was crazy. It's not a new release, but it's got a solid almost 5 star review. I feel like this is the perfect read for a good murder-mystery for October. Here's the synopsis:
Lizzie Kitsakis is working late when she gets the call. Grueling hours are standard at elite law firms like Young & Crane, but they'd be easier to swallow if Lizzie was there voluntarily. Until recently, she'd been a happily underpaid federal prosecutor. That job and her brilliant, devoted husband Sam—she had everything she'd ever wanted. And then, suddenly, it all fell apart.
No. That's a lie. It wasn't sudden, was it? Long ago the cracks in Lizzie's marriage had started to show. She was just good at averting her eyes.
The last thing Lizzie needs right now is a call from an inmate at Rikers asking for help—even if Zach Grayson is an old friend. But Zach is desperate: his wife, Amanda, has been found dead at the bottom of the stairs in their Brooklyn brownstone. And Zach's the primary suspect.
As Lizzie is drawn into the dark heart of idyllic Park Slope, she learns that Zach and Amanda weren't what they seemed—and that their friends, a close-knit group of fellow parents at the exclusive Brooklyn Country Day school, might be protecting troubling secrets of their own. In the end, she's left wondering not only whether her own marriage can be saved, but what it means to have a good marriage in the first place.
Another thing I'm doing differently this month is including an audiobook. Have you ever listened to an audiobook? I LOVE them. It makes me take time outs to put away social media, turn off the tv, and just let myself listen to a story. I'll turn it on when I'm cooking, when I'm walking, while I'm driving in the car. I've surprised myself with how often I find myself wanting to give them a listen.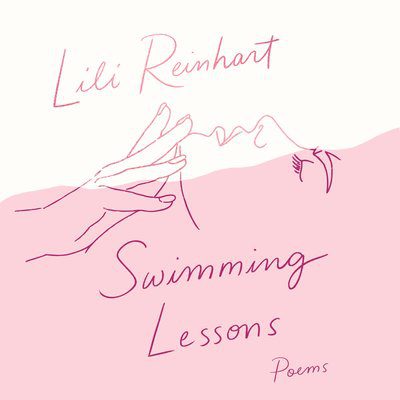 Lili Reinhart recently published a book of poetry called Swimming Lessons. Instead of reading the book, I decided to purchase the audiobook instead. It's less than $6.00 on Libro.fm! She narrates the poems herself.
Synopsis:
Swimming Lessons explores the euphoric beginnings of young love, battling anxiety and depression in the face of fame, and the inevitable heartbreak that stems from passion. Relatable yet deeply intimate, provocative yet comforting, bite-sized yet profound, Lili's poems reflect her trademark honesty and unique perspective. Swimming Lessons reveals the depths of female experience, and is the work of a storyteller who is coming into her own.
Speaking of poetry….Have you ever read or experienced Milk and Honey by Rupi Kaur….if not, you're in for a treat! I really fell in love with poetry after that book.
Why a book of poetry? I really try to push it with my book club picks. I dare you to try something different. When is the last time you picked up a book of poetry? I believe there are a lot of emotions behind poetry. Sometimes we can relate and sometimes not at all.
I LOVE Libro.fm. They work with Independent Bookstores. If you sign up, you'll get a free audiobook! When you sign up, I get a free audiobook as well! I'm actually a paying member and pay with my own money monthly!
I hope you'll join me in reading the October Book Club picks! What books do you have on your list to read this month?
Shop The Post