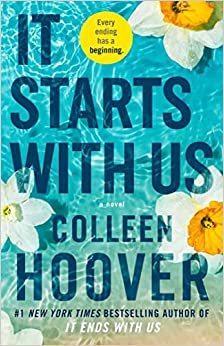 Synopsis:
Lily and her ex-husband, Ryle, have just settled into a civil coparenting rhythm when she suddenly bumps into her first love, Atlas, again. After nearly two years separated, she is elated that for once, time is on their side, and she immediately says yes when Atlas asks her on a date.
But her excitement is quickly hampered by the knowledge that, though they are no longer married, Ryle is still very much a part of her life–and Atlas Corrigan is the one man he will hate being in his ex-wife and daughter's life.
My Thoughts:
Was this book necessary? NOPE, but I'm thankful that Colleen Hoover wrote it. I don't want to give anything away so I'm going to keep this review very simple and spoiler-free.
You must read It Ends With Us to understand this book and the storyline. This book made me fall in love with a certain character even more. He sets the bar so high for how men should treat their partners. Ugh, I adore him. The story alternates between the two characters perspectives and you get to learn a bit more about what happened in the past that wasn't shared in the first story.
There were parts of this story that just annoyed me, BUT I'm still happy that I read it.
Shop The Post