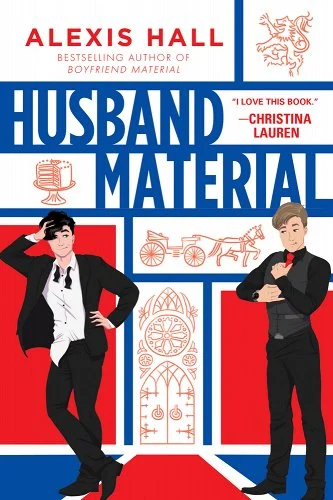 Synopsis:
WANTED: One (very real) husband, nowhere near perfect but desperately trying his best
In BOYFRIEND MATERIAL, Luc and Oliver met, pretended to fall in love, fell in love for real, dealt with heartbreak and disappointment and family and friends…and somehow figured out a way to make it work. Now it seems like everyone around them is getting married, and Luc's feeling the social pressure to propose. But it'll take more than four weddings, a funeral, and a hotly contested rainbow balloon arch to get these two from I don't know what I'm doing to I do.
Good thing Oliver is such perfect HUSBAND MATERIAL.
My Thoughts:
I LOVED the first book, Boyfriend Material. I listened to both of these on audio as I love the narrator, Joe Jameson. A really funny read, but with serious subjects. Luc and Oliver are one of my favorite couples that I've had the pleasure to read about. Their relationship is so pure and sweet and I just adore them as a couple. I really hope there will be a third book in the series as I don't want their story to end.
You do need to read the first book, Boyfriend Material, to really understand this storyline.
Shop The Book