Yes I'm sharing my November 2022 Reading List at the end of December, ha! It's been a bit of a hectic season for many of us, myself included. Better late than never, right? Anyways, here are the books that I read in November. I didn't read a lot, but what I did read I enjoyed. Stay tuned for my December Reading List and my 2022 favorite reads.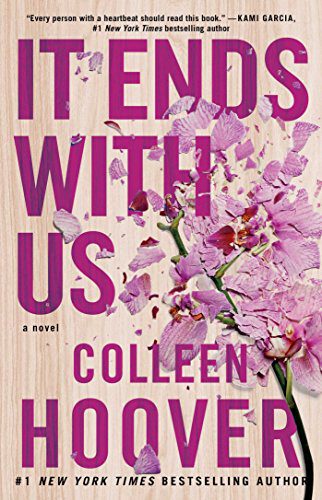 Synopsis:
Lily hasn't always had it easy, but that's never stopped her from working hard for the life she wants. She's come a long way from the small town where she grew up–she graduated from college, moved to Boston, and started her own business. And when she feels a spark with a gorgeous neurosurgeon named Ryle Kincaid, everything in Lily's life seems too good to be true.
Ryle is assertive, stubborn, maybe even a little arrogant. He's also sensitive, brilliant, and has a total soft spot for Lily. And the way he looks in scrubs certainly doesn't hurt. Lily can't get him out of her head. But Ryle's complete aversion to relationships is disturbing. Even as Lily finds herself becoming the exception to his "no dating" rule, she can't help but wonder what made him that way in the first place.
As questions about her new relationship overwhelm her, so do thoughts of Atlas Corrigan–her first love and a link to the past she left behind. He was her kindred spirit, her protector. When Atlas suddenly reappears, everything Lily has built with Ryle is threatened.
My Thoughts:
This was a re-read (and listen) before I started It Starts With Us. Lilly, Atlas, and Ryle have such an incredible story. I highly recommend reading the Epilogue of this book if you're wondering about her stance on domestic violence and what made her write this story.
Lily and Ryle. UGH. Lily and Atlas. UGH. I don't even know where to begin. This book has a lot of trigger warnings, especially domestic violence. It's a heavy story, but I enjoyed it. Sometimes the people we love the most are the ones that can be the most dangerous. This story just broke my heart. Numerous times.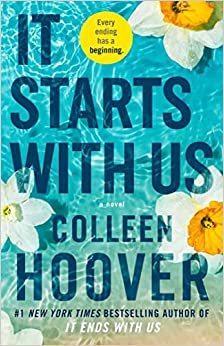 Synopsis:
Lily and her ex-husband, Ryle, have just settled into a civil coparenting rhythm when she suddenly bumps into her first love, Atlas, again. After nearly two years separated, she is elated that for once, time is on their side, and she immediately says yes when Atlas asks her on a date.
But her excitement is quickly hampered by the knowledge that, though they are no longer married, Ryle is still very much a part of her life–and Atlas Corrigan is the one man he will hate being in his ex-wife and daughter's life.
My Thoughts:
Was this book necessary? NOPE, but I'm thankful that Colleen Hoover wrote it. I don't want to give anything away so I'm going to keep this review very simple and spoiler-free.
You must read It Ends With Us to understand this book and the storyline. This book made me fall in love with a certain character even more. He sets the bar so high for how men should treat their partners. Ugh, I adore him. The story alternates between the two characters perspectives and you get to learn a bit more about what happened in the past that wasn't shared.
There were parts of this story that just annoyed me, BUT I'm still happy that I read it.
Synopsis:
Bee Hobbes (aka Bianca Von Honey) has a successful career as a plus-size adult film star. With a huge following and two supportive moms, Bee couldn't ask for more. But when Bee's favorite producer casts her to star in a Christmas movie he's making for the squeaky-clean Hope Channel, Bee's career is about to take a more family-friendly direction.
Forced to keep her work as Bianca under wraps, Bee quickly learns this is a task a lot easier said than done. Though it all becomes worthwhile when she discovers her co-star is none other than childhood crush Nolan Shaw, an ex-boy band member in desperate need of career rehab. Nolan's promised his bulldog manager to keep it zipped up on set, and he will if it means he'll be able to provide a more stable living situation for his sister and mom.
But things heat up quickly in Christmas Notch, Vermont, when Nolan recognizes his new co-star from her ClosedDoors account (oh yeah, he's a member). Now Bee and Nolan are sneaking off for quickies on set, keeping their new relationship a secret from the Hope Channel's execs. Things only get trickier when the reporter who torpedoed Nolan's singing career comes snooping around—and takes an instant interest in mysterious newcomer Bee.
And if Bee and Nolan can't keep their off-camera romance behind the scenes, then this merry little meet cute might end up on the cutting room floor.
My Thoughts:
This was a cute holiday read. VERY STEAMY. There were parts of the story that I wished had happened sooner, but that's how books are sometimes. Overall a cute read and wow…..the steam in this one. Imagine a Hallmark Christmas movie that's rated R (at the very least).
Plus size representation. Mental Health Issues.