Happy September! Are you excited for this time of year or are you one who would rather have Summer vibes all year long? There's just something about cooler weather, a cozy blanket, a good candle, and a book in your hands. Honestly, it's the best time of year in my opinion. Y'all can have the sweat and humidity, I'll take leggings and sweatshirt weather any day!
Now, let's get to discussing my August 2020 Reading List. I didn't get a lot of reading done this month and that's ok! I read two books and listened to one audiobook. I'm ok with that!
All The Books I Read In August
This is the third (and final) book in the Coffee Girl Series by Sophie Sinclair. In this book, we get to read the story of Andie and Cameron. We still get Kiki and Tatum, Sarah and Lex, Let's not forget about TJ! Plus, we meet Andie's best friend Mandy who I adored.
There's good banter between Andie and Cameron. Great chemistry and steam of course. However, this book just didn't do it for me as much as the first two books did. I loved parts of the storyline, but I felt it was rushed and I just didn't get what I wanted to out of this read.
3/5 Stars
Thanks to Libro.fm, I was gifted an audiobook of Boyfriend Material and I honestly loved it so much. This was also a Simply Stine August Book Club pick!
This is an LGBTQ Fiction read and I feel like if you enjoyed Red, White and Royal Blue, then you'll also really enjoy this book.
Luc and Oliver are hysterical when together. They're opposites, but compliment each other in a way a partner should. Even if it is a fake relationship, you can tell that there's so much more!
This story has family drama, complicated relationships, friendships when you need them the most, lots of awkward moments, and lots of laughs. I really loved the audiobook and am happy that I gave it a listen!
4/5 Stars
Ok so where to begin with this book. It's a very hyped book right now. It's also available on BOTM. So because I had heard so many amazing things about this book, I added it to my must-read list. I also included it as a part of my picks for my Simply Stine Book Club for August.
This book was very raw. Very uncomfortable and at times, it kinda stressed me out. I suppose this is exactly what the author was wanting. Afterall, it's about a twenty-three year old woman who is going through a lot.
Luster, is a story about a young woman, Edie, who makes some rather bad decisions in her life. She's in a relationship (if we call it that) with an older, married man. His wife is also in the story, as well as their adopted daughter. Her living situation is not ideal. She doesn't seem to have any support. No friends. Her work situation is again, a lot.
There were moments where I cringed. Moments where I said WHAT THE HELL out loud!!! There were lessons to be learned reading this book and it reminded me of how crazy, scary, and lonely life as a twenty something can be.
I at first gave this book a one star. Then I thought about it and I honestly think that the writer is talented. Very talented, even. This story just wasn't for me. So I considered the one star and changed my review to a two star. Talented writer for sure, I just don't want to read this book ever again.
2/5 Stars
September 2020 Simply Stine Book Club Picks
Alright so my choices for my September 2020 Simply Stine Book Club have major potential to be incredible reads in my opinion. First of all, Colleen Hoover can do no wrong. Secondly, You Had Me At Hola has been getting some really good reviews.
I hope you'll join along and read with me! Let me know in the comments if you plan on joining me!
I will read EVERY Colleen Hoover book that she writes. No questions asked. I have said that she is one of my go-to authors. No questions asked. When I saw that she had a new book coming out, I instantly knew I wanted to choose it for my book club pick!
Synopsis:
Life and a dismal last name are the only two things Beyah Grim's parents ever gave her. After carving her path all on her own, Beyah is well on her way to bigger and better things, thanks to no one but herself.

With only two short months separating her from the future she's built and the past she desperately wants to leave behind, an unexpected death leaves Beyah with no place to go during the interim. Forced to reach out to her last resort, Beyah has to spend the remainder of her summer on a peninsula in Texas with a father she barely knows. Beyah's plan is to keep her head down and let the summer slip by seamlessly, but her new neighbor Samson throws a wrench in that plan.

Samson and Beyah have nothing in common on the surface.

She comes from a life of poverty and neglect; he comes from a family of wealth and privilege. But one thing they do have in common is that they're both drawn to sad things. Which means they're drawn to each other. With an almost immediate connection too intense for them to continue denying, Beyah and Samson agree to stay in the shallow end of a summer fling. What Beyah doesn't realize is that a rip current is coming, and it's about to drag her heart out to sea.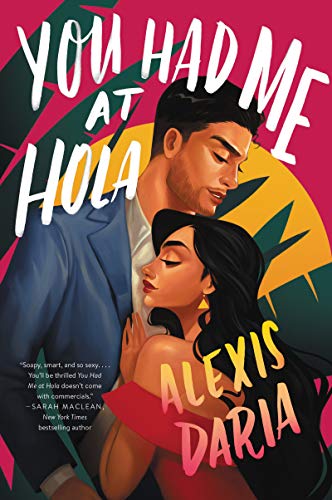 This book, You Had Me At Hola, has been all over social media. I noticed it enough to look into it and I think it will make for a good read! This book has been described as a mixture of Jane The Virgin and The Kiss Quotient. Both I love. Fingers crossed this will be a good read!
Synopsis:
Leading Ladies do not end up on tabloid covers.
After a messy public breakup, soap opera darling Jasmine Lin Rodriguez finds her face splashed across the tabloids. When she returns to her hometown of New York City to film the starring role in a bilingual romantic comedy for the number one streaming service in the country, Jasmine figures her new "Leading Lady Plan" should be easy enough to follow—until a casting shake-up pairs her with telenovela hunk Ashton Suárez.
Leading Ladies don't need a man to be happy.
After his last telenovela character was killed off, Ashton is worried his career is dead as well. Joining this new cast as a last-minute addition will give him the chance to show off his acting chops to American audiences and ping the radar of Hollywood casting agents. To make it work, he'll need to generate smoking-hot on-screen chemistry with Jasmine. Easier said than done, especially when a disastrous first impression smothers the embers of whatever sexual heat they might have had.
Leading Ladies do not rebound with their new costars.
With their careers on the line, Jasmine and Ashton agree to rehearse in private. But rehearsal leads to kissing, and kissing leads to a behind-the-scenes romance worthy of a soap opera. While their on-screen performance improves, the media spotlight on Jasmine soon threatens to destroy her new image and expose Ashton's most closely guarded secret.
https://bookshop.org/shop/SimplyStine
Did you miss my July 2020 Reading List?
Shop The Post