Today we are discussing Vitamin C Serums. Why? A good Vitamin C Serum can do so much for your complexion. It protects your skin from inflammation, brightens your complexion, neutralizes free radicals, stimulates collagen production, and helps with dark spots. It's THE anti-aging product you want in your skincare routine.
Oftentimes I'm asked, what makes a good Vitamin C Serum? There are so many products available and at all price points. It can be hard to pick with so many available. Below are some of my favorite products I have used in my personal skincare routine. I'll discuss why I like them and also discuss how each one is a bit different.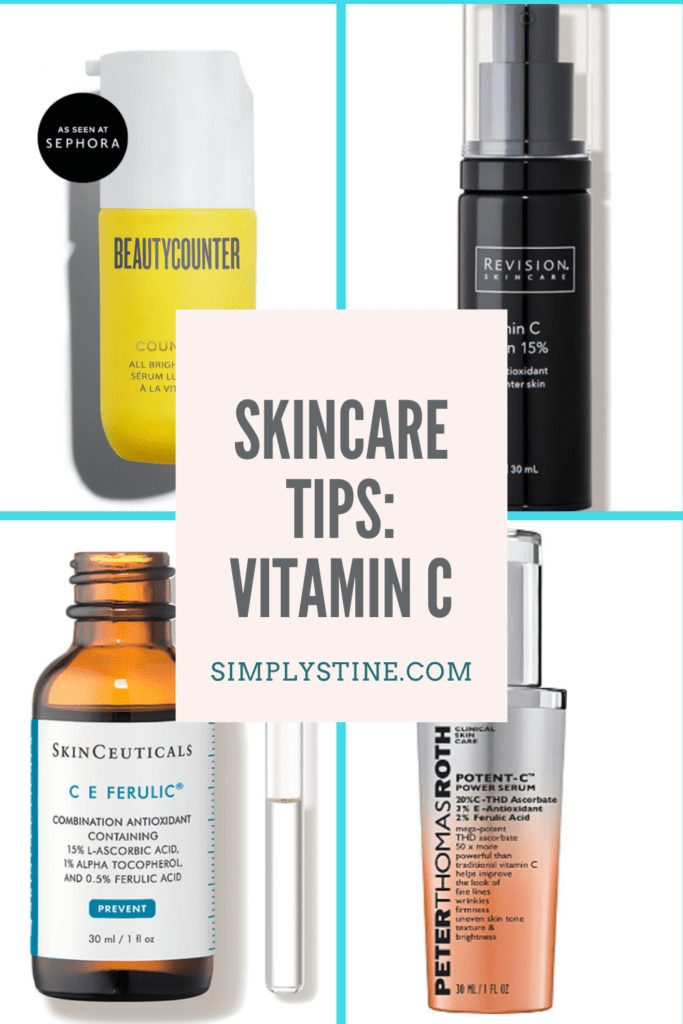 Things To Know About Vitamin C
There is a lot of information to process when it comes to Vitamin C products. First of all, they're not all created the same. While it's an important ingredient to use in your skincare routine, it is one that you really need to research before using. Not all Vitamin C formulas are the same!
–There are typically three forms of Vitamin C that brands commonly use in their products:
Sodium Ascorbyl Phosphate is a more stable form of Vitamin C. It has less chances of oxidizing and irritating the skin. It converts into Ascorbic Acid once it's in the skin. Less effective than L-Ascorbic, BUT it's also a much gentler form and less irritation. It is also light, water, and air stable. Meaning it will last longer if by chance you expose it.
L-Ascorbic Acid is the other more commonly used form of Vitamin C and considered the most effective. This is a lower cost form of Vitamin C, compared to Tetrahexyldecyl Ascorbate. This is not for people who experience sensitivities and are prone to redness, etc. When choosing a product that features L-Ascorbic Acid, you'll want to ensure it's packaged in a dark bottle.
Tetrahexyldecyl Ascorbate (A modified form of Vitamin C that allows the product to be soluble in oil and liquids. It does convert into L-ascorbic acid and behaves in exactly the same way as L-ascorbic acid, but without the irritation and sensitivity ) Also good to note that it is a much gentler form of vitamin C, even with those who have issues with using reactive products, and has been known to calm the skin
–There are different percentage Vitamin C Serums on the market. Depending on what form of Vitamin C they're using, you'll probably notice between 15-20% and sometimes more.
-Vitamin C will protect the skin from free radical damage
-Vitamin C will work to stimulate collagen. Think plump, healthy skin
-Helps with hyperpigmentation on the skin (age spots, etc)
-Vitamin C is water soluble. Meaning sometimes the formula can't make it through to the very deep levels of the skin. Meaning, you're getting only a small portion of the Vitamin C that you're applying. To combat this, some brands will use a higher percentage of Vitamin C, ensuring some of the formula makes it. This can cause sensitivity.
-Vitamin C can cause sensitivity. Think redness, inflammation and a burning sensation. Most commonly from L-Ascorbic Acid.
-Vitamin C is MAJORLY unstable. If it is exposed to air, light, and high temperatures, the formula changes and there is a loss of stability for the product. You'll notice the formula changes color. You will need to keep it out of hot temperatures, exposure to air, and the sunlight.
-Vitamin C is SAFE for use while pregnant and/or nursing
–There are even products for the eye area that include Vitamin C
My Picks for Vitamin C Serums
Truthful moment here. Vitamin C is one of those products that every brand has created. There are so many of them on the market, at all price tags. Do your research before jumping the gun! DO NOT just go for the product with the highest concentration of Vitamin C or the most expensive. Take your skin type into consideration and go from there.
15% Pure Vitamin C (L-Ascorbic Acid)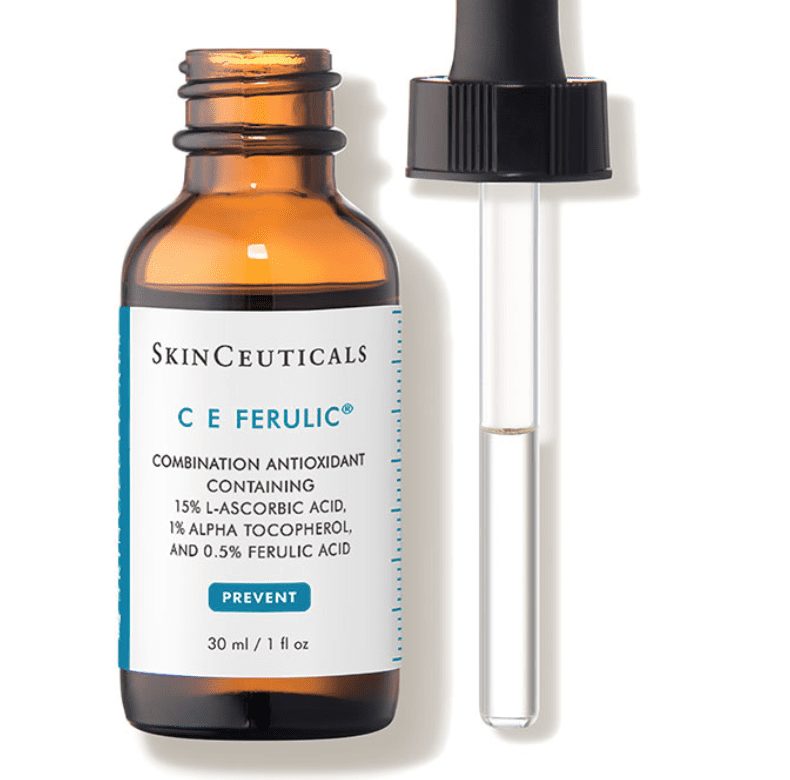 I've preached about the powers of this serum so many times and I can't get enough of it. In my opinion, I think it's the best Vitamin C serum that I've ever used. It's a blend of Ferulic Acid and Vitamin C and together, they're a fantastic combo. It's pricey, but well worth the money. It's probably one of the best I've ever used and that I've repurchased time and time again.
This does contain L-Ascrobic Acid meaning that it can cause sensitivity and it can oxidize quickly. However, SkinCeuticals formulated this product to be a higher pH, so it is said to not cause sensitivity. I think that just depends on the person and their skin type. I have not experienced sensitivity with this one.
15 to 30% Pure Vitamin C (THD Ascorbate, an extremely stable and effective form of Vitamin C. This advanced Vitamin C technology originates from Japan)
This is the Vitamin C product that I'm currently using and so far, I REALLY like this one. I see that my skin is brighter, any dark spots I have seem to be fading nicely and I swear I notice a difference around my laugh lines and my "11's" between my brows. Again, expensive, but in my opinion worth the splurge.
I also think that their Vitamin C Lotion is a good option as well!
3% Sodium Ascorbyl Phosphate (an alternative to ascorbic acid)
This was probably the first Vitamin C Serum that I ever tried. This Vitamin C Serum also features Collagen, a form of Hyaluronic Acid, and also Vitamin E. I think it does a nice job of brightening the skin, helping with anti-aging, and it hydrates. It's an oil-free formula, but I will say that the scent is pretty strong with this product and I feel like they could ditch the color additive in the formula.
I don't think this is a bad serum, but for me, I didn't notice it doing much of a difference when I got into my later 30's. I didn't think it did much for my hyperpigmentation either. It did brighten my complexion.
20% Vitamin C (L-Ascorbic Acid)
There's been a lot of talk about Timeless Vitamin C products and anytime I've researched it or asked around, this is a brand that is always mentioned. Their Vitamin C and Ferulic Acid is said to be a dupe for SkinCeuticals. It's super affordable. Maybe worth a shot?
18.0% Vitamin C (tetrahexyldecyl ascorbate), 1.9% Vitamin E, 0.5% Bakuchiol, 0.5% Bisabolol
This is another Vitamin C Serum that has been suggested to me numerous times when I've asked others what they're using. One thing I appreciate about this brand is that they have a list of restricted ingredients that aren't used in their products. Plus, their price point is really good! This is a brand that is new to me, but I'm very interested in learning more about!
It doesn't list the percentage of Vitamin C, but it does use Sodium Ascorbyl Phosphate. It is the third ingredient listed.
This has over 15,000 reviews on Amazon and it's almost at a five star rating. This is also a plant-based serum and it's a leaping-bunny certified product. That means it's certified to be cruelty-free. With that many great reviews and it's under $20.00, I'm curious!
Sodium Ascorbyl Phosphate (comparable to a 15-20% L-ascorbic acid serum)
This award-winning Vitamin C Serum is Vegan friendly and also cruelty-free. If you're looking for a more clean beauty Vitamin C Serum, this is a good option. It combines a blend of antioxidants that help to brighten, tighten and smooth the skin. This formula contains Konjac Root, Ferulic Acid, Hyaluronic Acid, Clary Sage, Chamomile Extract and Grapefruit.
10% combining two forms of Vitamin C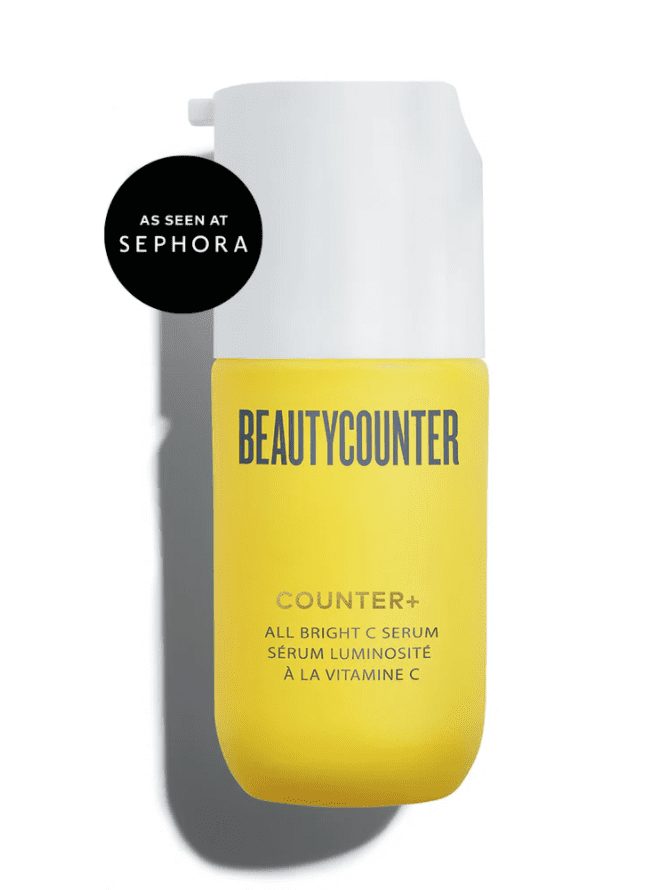 This formula features a 10% blend of two forms of Vitamin C: 5% Tetrahexyldecyl Ascorbate (Antioxidant that helps to reduce dark spots,brightens, etc) and 5% Bis-Glyceryl Ascorbate (Vitamin C (Helps to moisturize the skin and provides antioxidant benefits). It also features Turmeric Extract (gives the product it's gorgeous coloring and also helps to even the skin tone) and Camu Camu Fruit Extract which helps to reduce the appearance of dark spots.
*Yes, this is a part of an MLM. I realize that but I think that the products are actually great. I've only tried a couple and this is one of them. This is a fantastic Vitamin C. It's also vegan and cruelty free. My friend Ashten is a consultant and I've linked her shop for you to browse!
Doesn't disclose their exact percentage of Vitamin C used in the formula, but justs says that the product is formulated to work at the concentration recommended for maximum results without irritation.
Derma-E has kindly sent this product my way more than a few times. I think it's a good option for those who want a Vitamin C product that is from a clean beauty brand and who want a more budget friendly product. It contains a pH level 5.5- 6.5 and is 5% Vitamin C and 1% Hyaluronic Acid. The brand recommends storing in the fridge for best results.
20% THD Ascorbate, 3% Vitamin E, 2% Ferulic Acid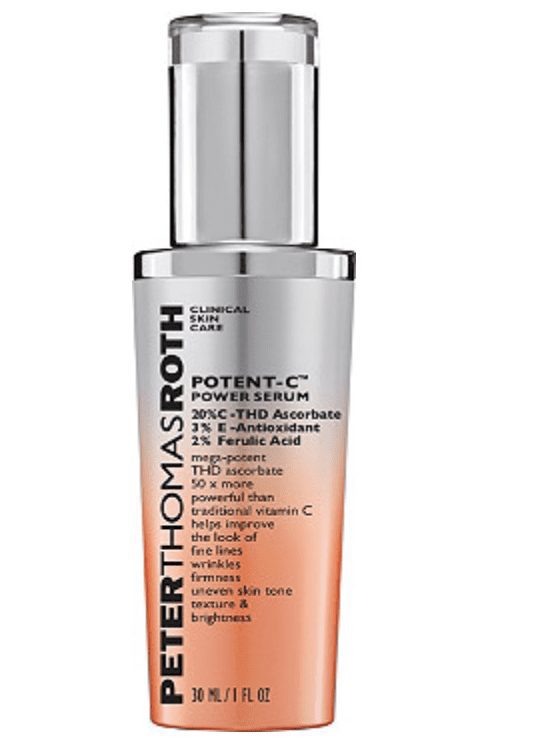 Since this contains THD Ascorbate, it is going to penetrate deeper into the layers of skin. This is a 20% formulation, but I love that it's combined with Vitamin E and Ferulic Acid. It's like a powerhouse trio for your skin. You will notice that this does have a rather odd scent; it's the Ferulic Acid which smells like hot dog water. LOL! It's totally fine and supposed to smell that way.
I hope you found this guide to Vitamin C Serums helpful. Of course, there are a lot more options out there. These just happen to be the ones that are on my radar or are ones that I have personally used in my skincare routine. If you're working on upgrading your skincare routine to handle aging concerns, Vitamin C Serums are a sure way to brighten the complexion, fight free radical damage, improve skin tone, help with hyperpigmentation issues and more.
Shop The Post