Jump to recipe
One of my favorite cocktails to have lately is a spicy jalapeno margarita. I'm not even into "spicy" things, but this drink honestly is so good. It's sour, but with a kick. Rob and I have been making these at home and everytime I share the drink on social media, people ask me how I make it. So why not just share our recipe?!?! So, if you're wanting to spice things up at home (I HAD TO) you need to make this drink! If you aren't into anything spicy, try my SIL's recipe for a fantastic margarita.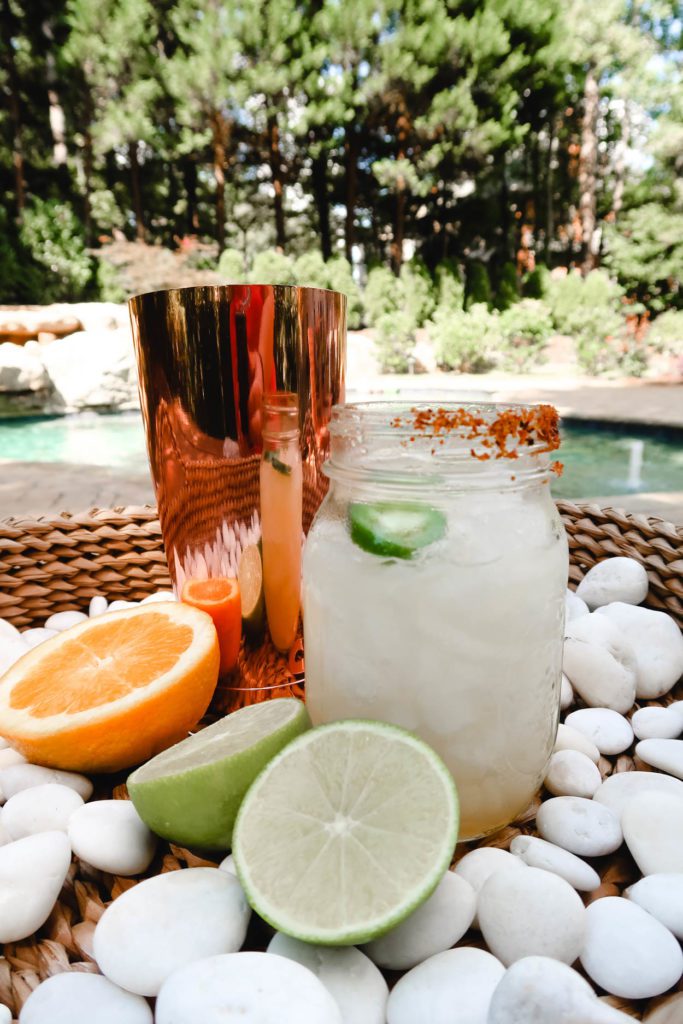 This Cocktail Shaker Set makes such a great gift! I was sent this Copper set in a PR package and it's a stunner! I'm so, so happy looking at that beauty on my bar. We get a lot of use out of it and it's a quality product.
As far as glasses go, I like to mix it up! Sometimes I'll use a mason jar or I'll go a bit extra and serve the margarita out of a glass like these:

Jalapeno margarita
The recipe is simple. Add ingredients to a cocktail shaker, pour and enjoy!
Spicy Jalapeno Margarita

Cuisine
Cocktail
Category
Food
Notes
You can use 100% fresh lime juice (purchased)
I prefer a Silver Tequila (Patron Silver, Casamigos Blanco)

Ingredients
2 ounces of Tequila (Roughly one to two shots, your preference)
3 TBSP of Fresh Lime Juice (About 1 1/2 limes)
1 TBSP of Orange Juice (About 1/2 an orange)
2 TSP of Agave Nectar (if you prefer a touch of sweetness)
Jalapeno Slices
Salt or Tajin for glass rim
Crushed Ice
Instructions
Grab a glass and add fresh lime juice to rim of glass. Add sugar, salt, or Tajin to rim of glass.
In your cocktail shaker, add crushed ice, lime juice, orange juice, agave nectar, tequila, and jalapenos. Give it a serious shake.
Pour into glass and garnish with lime and extra jalapenos.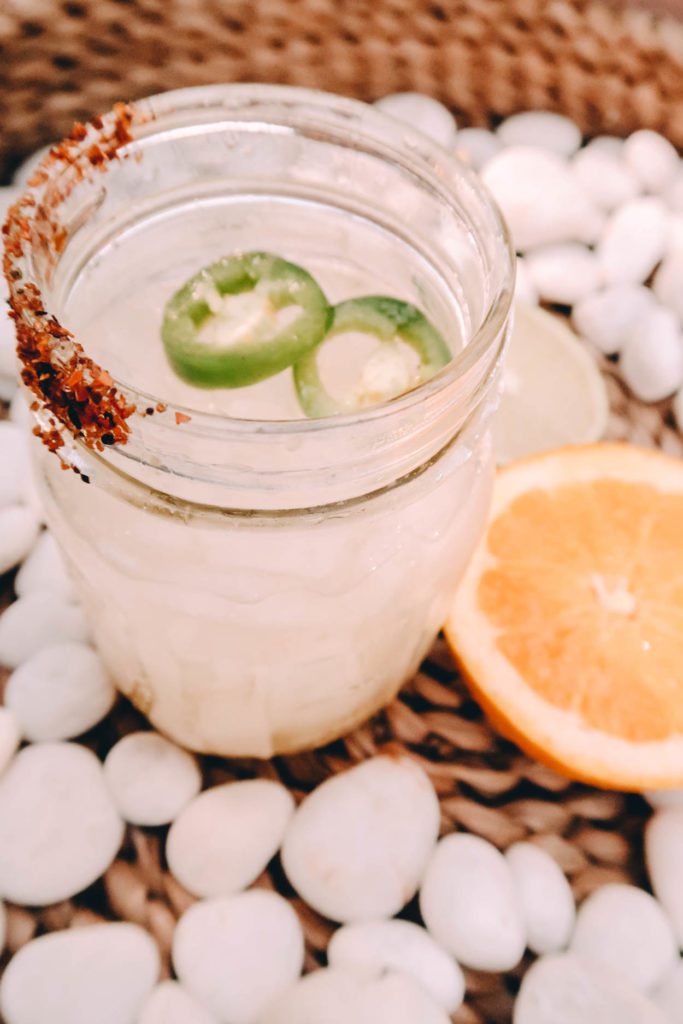 This cocktail is so good and can be customized to your liking. If you want things a little less spicy, feel free to add less jalapenos AND be sure to remove the seeds and membrane of the jalapeno. If you want it spicy, add more and keep the seeds! Sometimes I'll also get a little crazy and add some muddled pineapple or mango to my cocktail shaker before I mix everything up.
My motto is to have fun with it and see what happens! Also, if you've never experienced Tajin, you are missing out.
Enjoy! Do you like to enjoy a Spicy Jalapeno Margarita?