I found a recipe online once that someone suggested for chocolate chip cookies and when I tell you that they were THE BEST chocolate chip cookies I've ever had; it's still not doing the recipe justice. They're chocolatey, buttery, slightly salty with notes of caramel, and they're addicting. They're perfectly crispy on the outside and gooey in the middle. Honestly, they're incredible.
One day, I decided to make the cookies and I went to the website I had went to before for the recipe and the website was no longer available. I FREAKED OUT. WHY didn't I make a copy of the recipe?!?! Thank goodness my friend Vivienne had made a copy of this recipe and sent it my way. Lesson learned. (This was the link to the original recipe, who I believe was someone by the name of Miss Kate. Sadly, it no longer works.)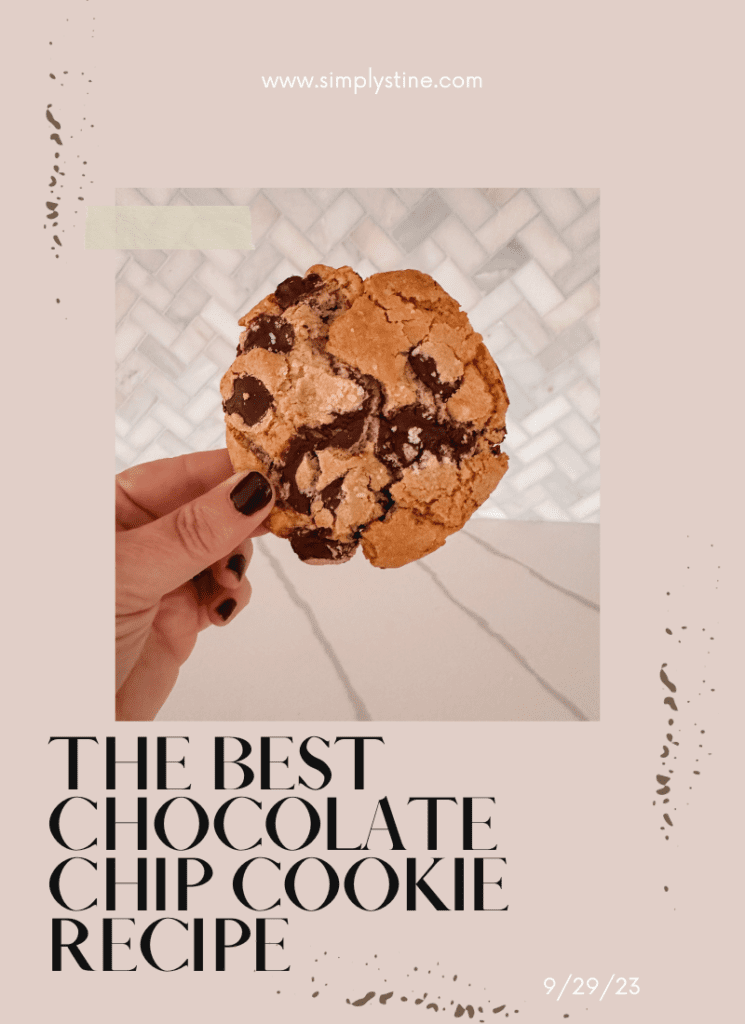 I still get requests for this recipe because after I shared it on my website, people began making them and realized also, that they are indeed worth the effort. They are rich and buttery and unlike any other chocolate chip cookie I've had. The recipe is pretty easy, but does require some effort:
-For one, it requires two different types of flour.
-Two, you need to use good chocolate. Splurge and you won't regret it.
-Three, they have to sit in the fridge for at least 24-36 hours so the flavors all come together. Can you skip that part? Sure, but I'm telling you that the cookies won't be as amazing as they could be. Trust me.
THE ONLY Chocolate Chip Cookie Recipe You'll Need
This isn't my recipe as stated above and I'm pretty sure it's a recipe that is inspired by Jacques Torres. Just know that they are the best chocolate chip cookie I've ever had and yes, I do have cookie dough in my freezer so I can always have one if I'm craving one! Enjoy!
Ingredients Needed
2 cups minus 2 Tbsp. cake flour (8 1/2 oz)*
1 2/3 cups bread flour (8 1/2 oz)*
1 ¼ tsp. baking soda
1 ½ tsp. baking powder
1 ½ tsp. coarse salt, such as kosher
2 ½ sticks (1 ¼ cups; 10 oz.) unsalted butter, softened
1 ¼ cups (10 oz.) light brown sugar
1 cup plus 2 Tbsp. (8 oz.) granulated sugar
2 large eggs
2 tsp. vanilla extract
1 ¼ pounds bittersweet chocolate chips or chunks, preferably about 60% cacao content, such as Ghirardelli
Sea salt or kosher salt for garnishing (I use Maldon for this. THE BEST)
Tips:
Weigh your flour measurements. Trust me. The flours are the same amount, BUT they have different weights. Simply using measuring cups won't give you the correct amount needed.
I like to use Ghirardelli 60% Cacao Content (Bittersweet Chocolate, chunk, chocolate chips) I mix sometimes using chips and also adding chunks as well. Higher quality chocolate is worth it! I also sometimes use Guittard. (Target even carries this brand!)
The recipe says 350 degrees, but you know your oven best. So do what you think seems right.
Steps For Chocolate Chip Cookies
–Combine flours, baking soda, baking powder, and salt in a bowl. Whisk well; then set aside.
–Using a mixer fitted with paddle attachment, cream butter and sugars until very light and fluffy, about 3 to 5 minutes. Add the eggs, one at a time, mixing well after each addition. Mix in the vanilla. Scrape down the sides of the bowl with a rubber spatula as needed. Reduce the mixer speed to low; then add dry ingredients, and mix until just combined. (This can get messy, so make sure you go very slow.) Add the chocolate chips, and mix briefly to incorporate. Press plastic wrap against the dough, and refrigerate for 24 to 36 hours. The dough may be used in batches, and can be refrigerated for up to 72 hours.
–When you're ready to bake, preheat oven to 350°F. Remove the bowl of dough from the refrigerator, and allow it to soften slightly. Line a baking sheet with parchment paper or a nonstick baking mat.
–Using a standard-size ice cream scoop or about 1/3 cup – scoop six mounds of dough onto the baking sheet, making sure to space them evenly. Sprinkle lightly with sea salt, and bake until golden brown but still soft, 15 to 20 minutes. Transfer the baking sheet to a wire rack for 10 minutes, then transfer the cookies onto the rack to cool a bit more.
–Repeat with remaining dough.