On social media, my blog and in real life, one of the most common questions I'm asked isn't necessarily my skincare routine (a close second) but instead, my hair care routine! People want to know what I use for sleek, smooth hair. As someone with bottle blonde hair, I can tell you that the products that you are using in your hair care routine do make quite a difference in the quality of your hair. Also, an amazing hair stylist.
My biggest concern with my hair is keeping it healthy. While I love being blonde, I don't want to have overly processed, damaged hair. So I work really hard on using products to protect my hair, keeping up with regular trims and a lot of hair treatments.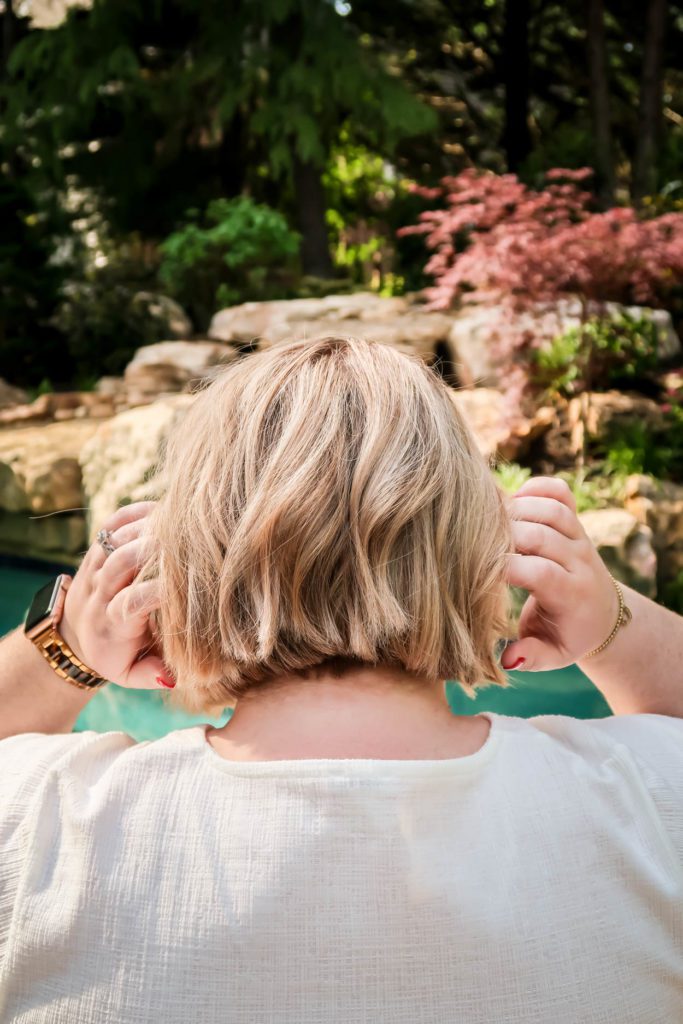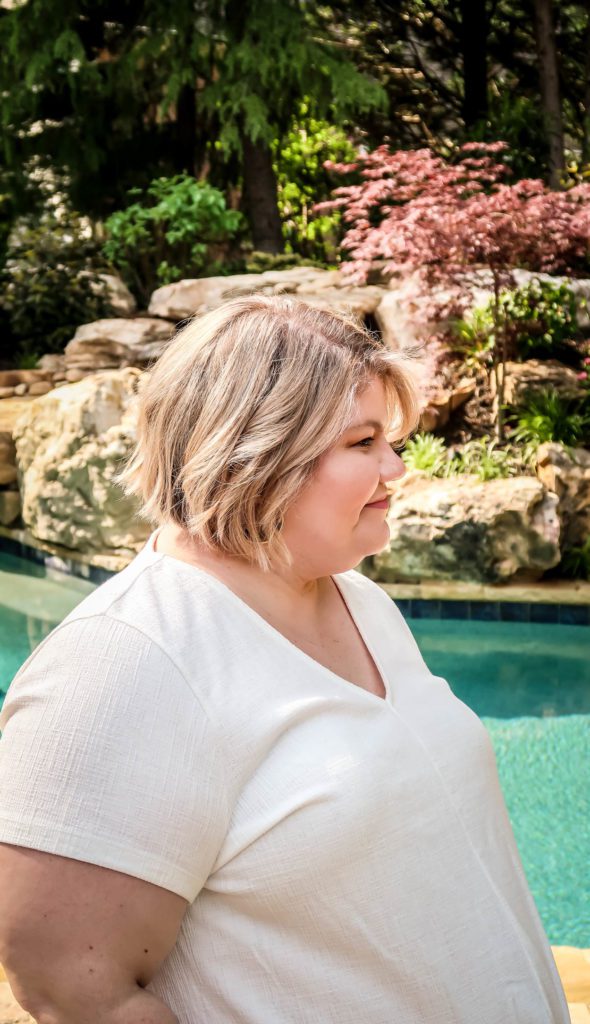 What Is Your Hair Type
I think it's important to know what your hair type is so you're guaranteed to be using the correct hair products for what your hair and scalp need.
Is your hair fine? Is it thick? Is it coarse? Is it damaged? Is it chemically processed? These are all questions to consider.
I have chemically treated hair. I also have very fine, soft hair. It's wavy when air dried and it's not a good look. My hair is getting thinner and I swear it was never this fine before all of my hormonal issues. I use hot tools on it about twice a week and try to not use the flat iron as much as I used to.
How To Find Out What Your Hair Type Is
I used to believe that I had very thick hair. I was wrong. So for the longest time I had been using incorrect products. I actually have fine hair, but a lot of it. My hair is actually getting even more fine (BOO!) as I'm aging. I never would have known this without going to a professional hair stylist.
Have a conversation with your hair stylist. Ask them questions. If you're with someone who's professional, they will do their best to ensure you are using the correct at-home hair care routine. They will also be sure to provide you with the best services (cut and color, etc) for your hair type.
If there's one thing I ask of you, don't assume you know what type of hair you have. I know this sounds silly, but trust me! Get a professional opinion!
My Favorite Hair Products
I'm the type of person that really likes to vary up my hair products. I pay attention to my hair and my scalp and go from there. Right now, my scalp is starting to get a little bit more oily as it's been getting a bit warmer outside. Once Summer is here, I'll be in the pool often so I'll need to protect and hydrate my hair. I also deal with frizz year round, but even more so in the warmer months. #HelloHumidity
Below are a listing of all the products I normally keep on hand. My hair care routine varies, but I try to keep the routine the same and switch products around from time to time. Shampoo, Condition, Deep Condition, Protect and Prevent.
I have an extremely sensitive scalp which makes it difficult when it comes to trying new products. I might really like the product, but my scalp will end up becoming really dry and inflamed. I've learned this and know the signs, so I always pay attention to how my scalp is reacting to a product.
The Best Dry Shampoo
Living Proof Perfect Hair Day Dry Shampoo
If you're in need of a good dry shampoo, I think that this is one of my absolute favorites. I don't think it leaves the scalp or the hair feeling really full of products, but it does a great job at absorbing the oil on my scalp. I also like it to give my hair a bit of texture as my hair is really fine and really soft.
My Favorite Everyday Shampoo
Living Proof Perfect Hair Day Shampoo
I've been using this shampoo for a couple of years now and I really like it. I'd say it's the shampoo I use the most. It's not heavy, does a great job at cleansing my scalp and it's supposed to help with repelling dirt and oil. I've repurchased this so many times at this point.
Color-Safe
For Fine, Medium, Thick Hair
My Everyday Conditioner
Living Proof Perfect Hair Day Conditioner
A great conditioner that I think really does make a difference in my hair. It's not heavy at all, which is what I need since my hair is so fine. My hair feels hydrated when I use this and I've noticed less breakage and less shedding. (That makes me sound like a dog, ha)
Fine, Medium and, Thick hair
Not heavy (weightless conditioning)
My Go-To Detangling Spray
Living Proof Restore Perfecting Spray
I have seen this on Instagram and other beauty blogs, so one day I decided to try it. I have this one spot on my hair that always gets tangles and it drives me crazy. This product works! It's like a leave in conditioner, and also helps to protect from heat damage. Also, it protects from UV damage.
I spray this on my roots to my ends when I have damp hair and then use my hairdryer.
My Favorite Styling Treatment
Living Proof Perfect Hair Day 5-in-1 Styling Treatment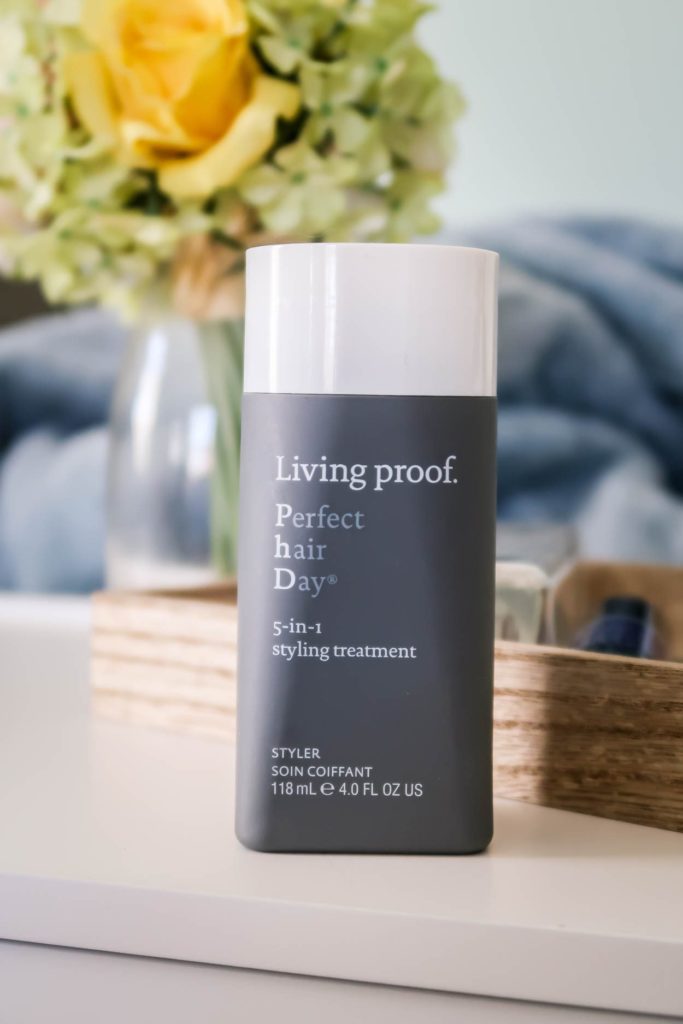 I get really frizzy hair really easily. This product was suggested for me. It helps with adding volume, smoothing the hair, conditioning, strengthening and adding a finishing touch to the hair before blow drying. It helps so much with frizz control and humidity. Plus, it helps protect hair from heat damage of up to 450 degrees and helps with UV damage.
When I skip this product, I can tell a big difference in my hair and it's not a good difference. My hair doesn't feel as full, it doesn't seem as sleek and it has a tendency to frizz a lot easier. This is exactly the product I need for sleek and smooth hair.
Can be used on any hair type
The Best Product For Volume
Living Proof Full Dry Volume Blast
If someone tell me that they need volume, this is the first product I will suggest. This will give you SO MUCH VOLUME and very easily. I simply spray this into my roots and oh my gosh. The bigger the hair the closer to jesus.
This product adds space between hair fibers to create volume and texture and boy does it work! This does wonders for my baby fine hair that always seems to fall flat.
Great for fine, flat hair types needing volume and texture
Why I Use A Scalp Massager
If I notice that my scalp is being a bit off, I use this product. Typically even once a week I'll use it. It's from Sephora and it's a little hair tool with "massagers" that helps to invigorate your scalp and honestly it just feels good.
Why I Use A Scalp Scrub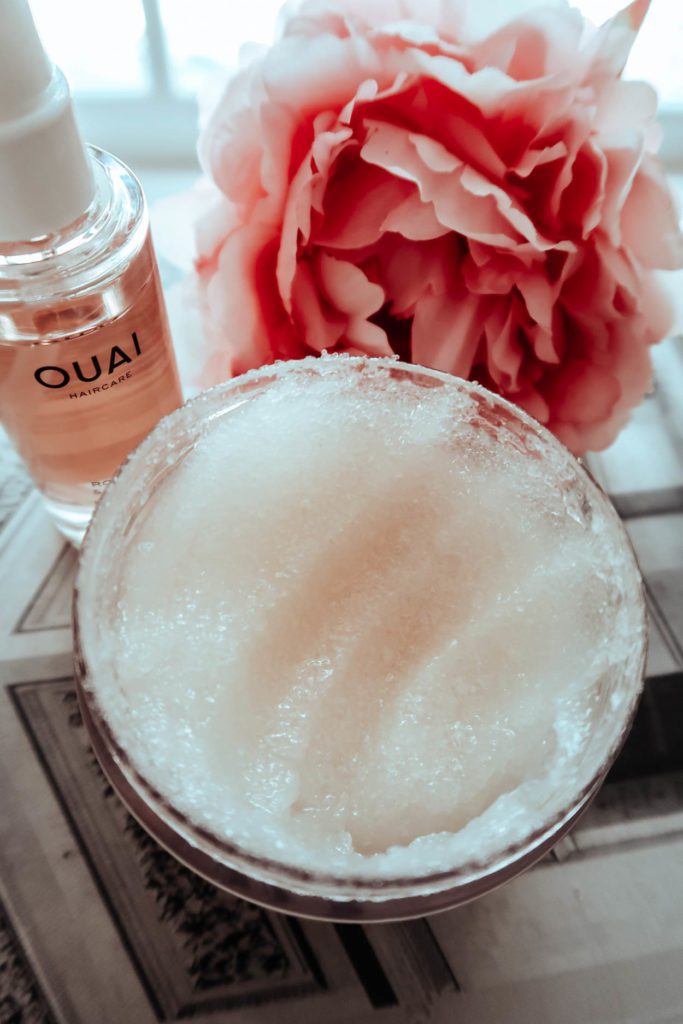 Not only does this product smell absolutely incredible, but it also helps my scalp not have excess oils and also helps with the dry scalp issues that I commonly have. You can also use this scrub as a body scrub as well. Did I mention that it smells INCREDIBLE?!?!
Multi-Use product that can be used as a scalp scrub and a body scrub
The Best Texturizing Spray I've Used
The best dry texturizing spray I've ever used. I use it almost like a dry shampoo as well. It gives my hair that feeling of being not so clean, which is honestly when I have the best luck with my hair holding curls and waves. It smells so good! It's the best texturizing spray I've ever used.
The Best Products For Damaged Hair
I really have fallen in love with the Olaplex Hair Care product line. I first started getting professional treatments, but then also started using their products for my at-home hair routine. I've seen TREMENDOUS improvement in my hair. I have less breakage, less shedding, and my hair seems so much healthier overall.
This is a new product that I've added to my routine recently and I really like it. I've used their No 3 Treatment for years (it's the best at keeping my hair healthy) so I thought why not add the shampoo and conditioner as well. So far I really like it.
I think the Olaplex line of products are great for anyone who has damaged hair and especially for any bottle blonde.
Great for all hair types, especially chemically treated, damaged hair
You need the smallest amount of this product as it really suds up.
You apply this conditioner to the hair and leave on for about three minutes. It's really good! It helps repair the hair and also helps to hydrate. I don't think it's super heavy on the hair. This gives me really sleek, shiny and smooth hair.
Great for all hair types, especially chemically treated, damaged hair
I've been using this hair treatment product for years and I swear it's the one product that has kept my hair healthy. THIS IS NOT A CONDITIONER, instead it's a treatment that helps re-link the broken bonds caused by chemical and thermal damage. It's like a repair from within product.
If you have damaged hair, give this product a try! You must use it on wet hair and leave on for up to 45 minutes. I've heard after 45 minutes that it doesn't really do much of anything for the hair. So I normally wet my hair and put this on and wrap my hair in a towel. Then shampoo and condition.
Great for chemically treated, damaged hair
Must-have for smooth hair
I splurged on this product during the Sephora sale and it's still a new to me product, but so far I like it. Again, like the No 3 Treatment, this product helps to repair broken bonds. It also features grape seed oil, Vitamins D, C, and E to help nourish and protect the hair as well. Plus a lot of other things that are way above my head, BUT I do know that it helps to repair, strengthen and hydrate the hair.
You have to tip the package of the product and lightly tap the bottle for the oil to come out. I will admit I don't love the packaging. I know they say that you only need a couple drops of this product, but it's annoying that it takes a while to get the product out. I need to talk to my stylist to see how many drops I should be using.
I apply about three drops to damp hair, concentrating on the mid-length area of my hair to the ends.
I use what I have left on my hands (or a drop) to my dry hair to help with shine and smoothing my hair
Great for chemically treated, damaged hair types
Briogeo Don't Despair, Repair! Deep Conditioning Hair Mask
I bought this conditioning mask when it featured the honey bear bottle. I HATED that packaging, but I love this hair mask. It makes my hair so soft and shiny and it really hydrates.
I only this like once a week, but it really packs a punch! I'll sometimes do this after I use a purple shampoo, which can be very drying to the hair. This is a must-use product if I want smooth hair because it really hydrates and softens my hair.
Great for all hair types
An awesome product for curly hair
You probably notice that I don't have hairspray on that list and it's because I really don't use it that often. If I do use a hairspray, it's normally the Aveda Air Control hairspray. It's light, but it holds just enough.
So there you have my favorite hair care products that I use to keep my hair looking smooth and sleek. It seems like a lot, but just like with makeup and skincare-once you start working on the routine, it's easy! I feel like if I'm paying to color my hair, I need to protect that investment.
I'll be back with another post with my favorite hair tools, next! I want to know, what products do you use for smooth hair?
Shop The Post