It's been a while since I've shared my morning skincare routine and I figured right now is a good time as I'm slowly making some adjustments to my routine because it's warming up outside. I'm no longer requiring heavy moisturizers, but instead using products to protect my skin from UV rays and helping keep my combination skin happy.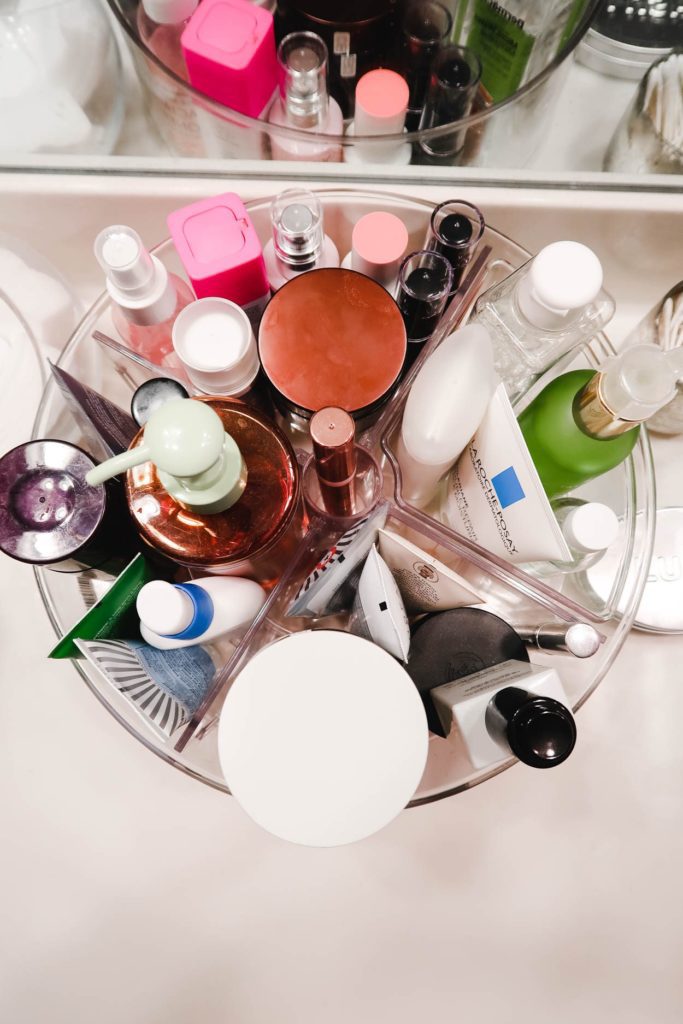 Skincare Routine Steps
The biggest difference in my skincare routine is the fact that I'm no longer wearing heavy duty moisturizers in the morning. Instead, I'm going more for the lighter products that still offer hydration and also include an SPF. I've also used up quite a bit of products and have started experimenting with some new skincare brands that I haven't used before. Other than that, my routine looks pretty close to what it did previously.
Cleansers That I Use in the AM
About three times a week I use this brightening cleanser from Revision Skincare. This is a new-to-me skincare brand that I've been trying out and so far, I'm very impressed. The brightening cleanser helps to brighten the complexion, but it also exfoliates and it doesn't strip the skin of it's natural moisture. This cleanser features:
-Salicylic Acid (Beta Hydroxy Acid) to help exfoliate pores and exfoliate dead surface cells
-Glycolic Acid (Alpha Hydroxy Acid) helps to exfoliate and improve skin texture
-Sucrose Laurate naturally derived surfactant cleanses the skin but doesn't strip it of its natural moisture
-Vitamin C, Licorice, Lily Extract all help to brighten the complexion
-Vitamin E helps to nourish and restore the skin
*Use twice daily. Apply a nickel size amount to your hands. Lather and use circular motions all over the face, avoiding the eye area. Rinse.
Since this cleanser does contain acids, you want to make sure that you are using an SPF with this product as your skin will be more sensitive to UV rays.
If I have used a sleeping mask the night before and really treated my skin to some good pampering, in the morning I will simply rinse my skin with a micellar water. My absolute favorite Micellar Water is the Dr Jart Dermaclear Micro Water. I've gone through at least two bottles now and I just ordered my third. I love this Micellar Water because it's not oily and it really does a great job of gently cleansing my skin. It features:
-Hydrogen Bio Water which is said to draw out impurities
-Dead Sea Salt which has an antibacterial and disinfecting effect
-Coconut Water is also antibacterial, but it also helps to hydrate the skin
I've never used a micellar water that I have loved this much. I'm a true fan forever. So on the mornings when I just need a light cleanse, I simply add this to a cotton pad and swipe on my face. Then I continue with my routine.

Why Do We Need To Use a Toner
So why do we need to use a toner? This is a question I get asked A LOT! A lot of people are afraid of toners because they used to contain a lot of harmful ingredients that used to dry out the skin. That's not the case anymore thank goodness. Now we have toners that helps to further hydrate our skin and also provide antioxidants and also help soothe the skin.
One of my favorite toners that I have on hand is the Kiehl's Calendula Herbal Extract Toner. My MIL got this for me as a gift for Christmas one year and I have been using it since. This toner is a great option for those of us who have normal to oily skin and who also experience redness, dullness and some sensitivity. I use this as a part of my morning skincare routine and my nighttime routine.
Another option that I love would be the Fresh Rose & Hyaluronic Acid Deep Hydration Toner. This is such a great toner for all skin types as it contains real rose petals and hyaluronic acid. It helps minimize pores, but it also increases hydration.
A great drugstore toner that I've used in the past is the Thayer's Alcohol-Free toner. If you need a great toner at an affordable price, this is a great choice. I can order this on Amazon or even find at Target.
When and how do we use a toner? You'll want to use your toner after you cleanse your skin. Some have spray bottles while others you'll need to pour onto a cotton pad and swipe over the skin. I sometimes keep a spraybottle full of toner and spritz on my face throughout the day to keep my skin hydrated.
Vitamin C Serum
If there is one product I have used that has made a drastic difference in my skin, it's probably the addition of using a Vitamin C Serum. If you are experiencing uneven skin tone, roughness, dullness, fine lines and acne-this is a product you must be using.
What exactly is Vitamin C? Also known as Ascorbic Acid, Vitamin C is a product that is going to help repair the skin cells. It's going to help with UV damage and air pollution. It's an antioxidant that is going to fight off free radicals. When you use a Vitamin C product, your skin is triggered to help repair itself and basically tells the skin to produce collagen and elastin. Hello, anti-aging! It's also going to help brighten the complexion and help with dark spots over time.
Vitamin C is a must-have product in my routine. My go-to serum is the SkinCeuticals C E Ferulic Acid. It's a serum that contains vitamin c, as well as vitamin e. The combination of both of those ingredients offers double protection against free radicals. Is it expensive, 100% but I think it's worth the price tag.
I was recently out of my SkinCeuticals and decided to venture out and try a different brand. I turned to Revision Skincare once again and opted to try their C+ Correcting Complex 30%. I chose this serum because it's great for free radical damage, fine line and wrinkles, hyperpigmentation, and dark spots. Plus, it is good for ALL skin types, even sensitive skin.
Other brands that I think are worth mentioning:
-DERMAdoctor KAKADU C 20% VITAMIN C SERUM WITH FERULIC ACID & VITAMIN E
–CeraVe Skin Renewing Vitamin C Serum
One thing to note when purchasing a Vitamin C product is that if it's a serum, you will want the packaging to be a container that won't allow light through the packaging. Vitamin C will break down if it's exposed to light or air. I'm also going to touch on Vitamin C being a part of my morning skincare routine and how I use it at night with Retinol in my next post.
Other Serums I Use in the AM
Right now, the only other serum that I'm using with my Vitamin C serum is the Peach & Lily Glass Skin Refining Serum. I LOVE this serum. It features Niacinamide, peptides, hyaluronic acid and other ingredients. I feel like this has really given me the "glass skin" appearance to my complexion. My skin looks radiant and shines. I also think this helps calm my skin if I'm experiencing any inflammation.
Moisturizing My Skin
This is where I really pay attention to my skin and determine how I'm going to hydrate my skin. It also depends on what activities I'm planning on doing for the day. Here are a few of the products I have on hand right now that I'm using:
–Revision Skincare TruPhysical Intellishade (Anti-Aging Tinted Moisturizer w/SPF) I've been using this for over a month now and I really like it! This product helps to correct, conceal, brighten, and hydrate the skin. A little bit of this goes a really long way! This sunscreen/moisturizer works great and the color adjusts to perfectly match my skin tone. It's SO GOOD!
-La Roche Posay Toleriane Double Repair Face Moisturizer I purchased this product when my skin had a slight flare up and was way sensitive. I like this moisturizer so much that I'm still using it. The formula features Prebiotic Thermal Water which helps to hydrate and soothe the skin and it's oil-free.
–CeraVe Face Lotion with SPF This hydrating lotion features Niacinamide and Hyaluronic Acid. Plus, it has an SPF 30 that protects your skin against UVA and UVB rays. It's a good drugstore hydrator!
Eye Cream To Help Moisturize
Eye cream is such an important step in my morning skincare routine. Right now, my eyes are watery and gross from my pollen allergies. So they're a bit on the puffy side most days anymore. Also, if you're wanting your concealer to last, it's important to hydrate the skin around your eyes. If you're using a good product, it might turn out you don't even need concealer anymore!
I just finished a tube of the Erno Laszlo Multi-Task Eye Gel Cream for my AM eye cream that I was using. I liked it but so far haven't ordered a replacement for it yet. So I'm back to using an old standby, my Origins GinZing Eye Cream. The formula features coffee beans, ginseng, magnolia extract, and natural optic brighteners to instantly give a bit of radiance to the under eye area. If you're dealing with puffiness, under eye circles, darkness, then this is a great eye cream for you.
Some tips for using eye cream:
-I will start off with using an eye mask in the mornings if I have time (Right now, I have plenty of time) The ones that I use vary from either the Skyn Iceland patches that are my favorite because they stay in place and I can go about getting my coffee and everything while wearing them and they don't' move. I also really like these cheapie eye masks I found that Kathleen Jennings (Queen of skincare on IG) suggested. Also, any of the Pixi Beauty eye patches have been great!
-I keep most of my eye products in the fridge that I use. I find that it helps with puffiness because of the product being cold when I apply it.
-A little bit goes a long way with eye cream. I suggest about a pea size. Rub it between your two fingers and TAP or lightly spread under the eye area and across the top of your eyes. ONLY put on top of eyes (under brow bone) if you don't get oily eyelids.
Sunscreen Every Single Day
You must wear sunscreen every single day. Even me, being indoors all day, I sit right by two huge windows. I'm getting exposure to UV rays and blue light from my computer screen all day long. I wear sunscreen even on cloudy days.
So my favorites are these that I'm going to mention below. I don't think a good sunscreen has to cost a fortune, but some are better than others that are on the market. Do your research. See what works best for your skin. There are a lot of different formulas out there so I'd say expirement.
–EltaMD is a brand that I have grown to really love. Great quality products that work and don't freak my skin out.
–Supergoop! Unseen is another favorite sunscreen that I wear. This also acts like a makeup primer as well. I really like this one.
–Neutrogena Ultra Sheer Dry Touch is a great drugstore go-to sunscreen that I'll use every so often
-Sephora just launched their Sun Safety Kit which features an assortment of products. I always order one of these.
My morning skincare routine might seem like a lot of steps, but it's really not! I will normally include a hydrating mask on days where I want to really indulge, but most days my skincare routine is under five minutes. Occasionally I'll do some exfoliation in the morning, but a lot of the times I do that at night.
Next, I'll share my night time skincare routine with you and share the steps that I'm taking to ensure that my skin is properly taken care of. I'll also share some of my favorite skincare tools as well.
Shop My Routine