I thought today we'd talk a little bit about my Spring Skincare routine and the products that I'm currently using. I've previously talked about the correct order to apply skincare products, but today I want to get into each of the actual products I use and why I find that it works for my skin type. Plus, I want to go over the benefits of using each of the products.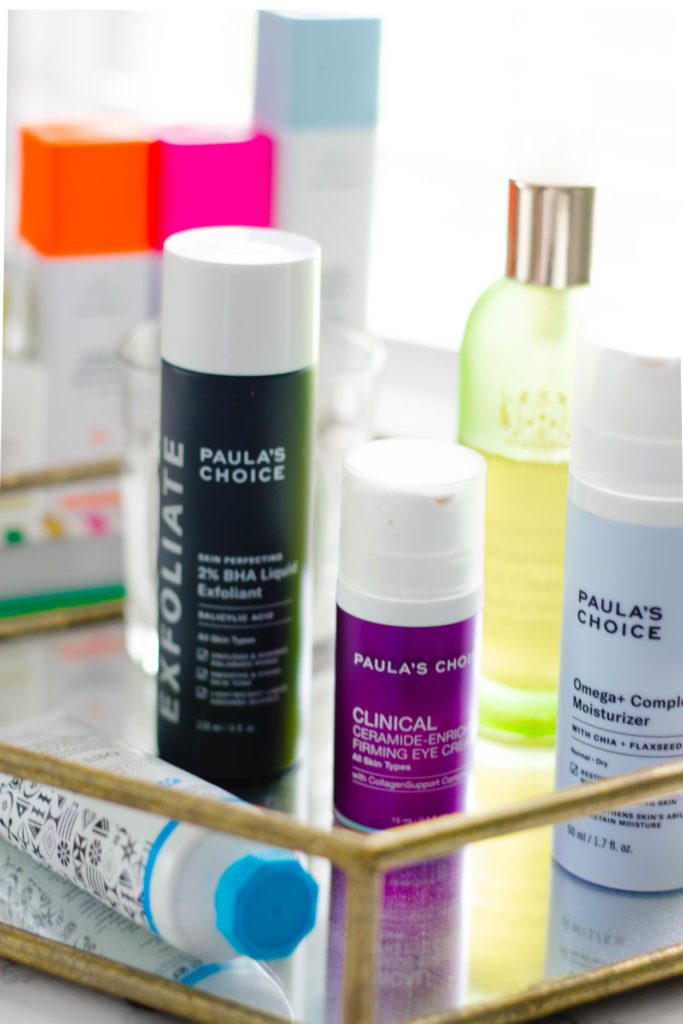 My Skin Type
I will say that I've been lucky that I haven't really experienced any sort of "bad" skin issues, BUT having crazy hormone levels isn't always fun when it comes to your skin. My skin type tends to be more on the sensitive, combination side. I burn easily and am pretty fair. I tend to get oily down my t-zone, but can be dry in other areas. I do have some freckles, but I don't tend to break out that often. I do have issues with rosacea, but nothing else really.
As far as aging goes, I am starting to notice my skin changing a bit, especially my eyelids. I'm starting to see more fine lines and wrinkles than I used to, but nothing that has caused me to turn to Botox….yet. I'm 38 years old (even typing that makes me uncomfortable) and I have been using anti-aging products for a very long time. I feel that has helped me tremendously as far as the appearance of my skin.
My Spring Skincare Routine
Now, I will NEVER tell you that your skincare routine needs to look like mine, but if you want to really see results, it will take using certain ingredients and products. Plus, it's all about prevention. There's no other way around it. If you don't want age spots, fine lines and wrinkles and so on, you need to use stronger serums, etc.
As far as my Spring skincare routine goes, I still always do a double cleanse, exfoliate at least every other day, tone, essence, serums, and a moisturizer. I have switched to a lighter moisturizer than I was using before and I'm using more products with SPF. Also, the face masks I am using will go back to being more hydrating as I will be in the sun more often. I've put away the heavier moisturizers that I was using in the Winter, and now primarily using them at night only.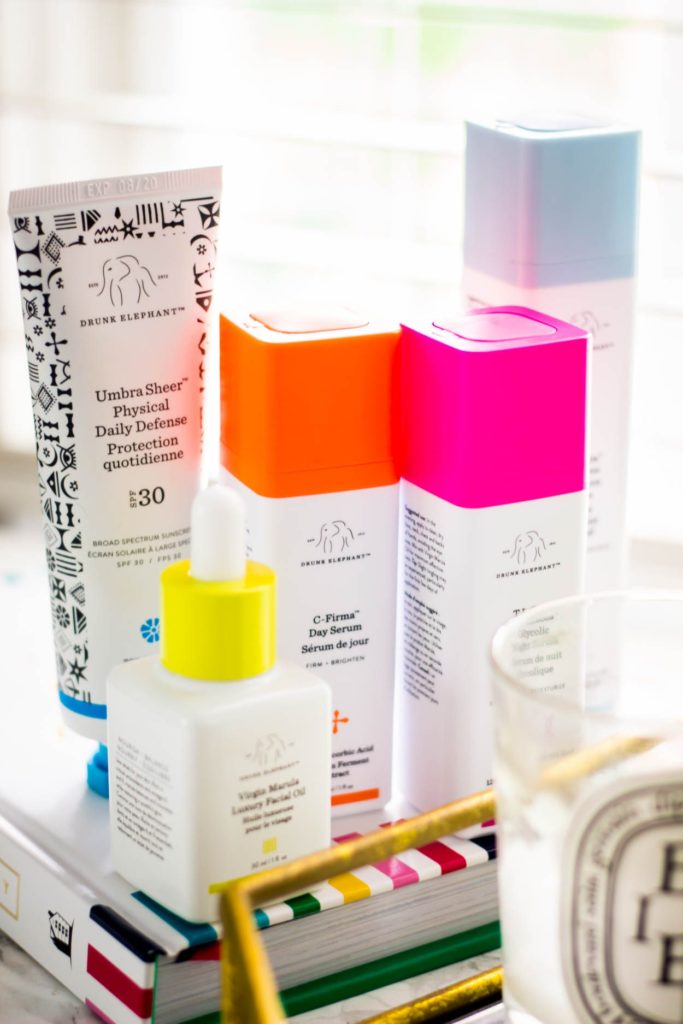 The Drunk Elephant Difference
One brand that has impressed me so much as far is skincare would be Drunk Elephant. Curious about the name? While developing her small skincare line, she noticed that when Elephants eat the fruit of the Marula Tree, they become drunk. One of her first skincare products was her Virgin Marula Oil. Hene the name, Drunk Elephant.
The skincare line has blown me away so much so that it is primarily the only skincare brand that I'm basically using other than a couple of others right now. I started using this routine somewhere around last year and the difference in my skin is crazy. My redness has basically gone away completely, I don't have issues with flare-ups anymore. I used to get dry patches constantly and they are pretty much gone. My pores have decreased dramatically and fine lines that once concerned me have not disappeared completely, BUT there is a noticeable difference.
Call me SERIOUSLY IMPRESSED and I feel like when a beauty blogger is no longer really using a lot of random bands (because we do have to test products) that says so much. Drunk Elephant has turned into a skincare product line that is my go-to along with a couple of others. I have been primarily using their products for a while now and I'm sold. The products have been life-changing for me and my skin.
If you're looking for a really good Vitamin C, the Drunk Elephant C-Firma Day Serum is really, really good. I've been using this since late last year and I'm so impressed that it will be a repurchase for sure for me.
You should be using a Vitamin C Serum if you're concerned with uneven skin tone, aging concerns like loss of firmness and elasticity, and even dullness and uneven texture. It's a must-use product for me and it has been for years!
I really like using this Vitamin C Serum because it's packed with nutrients, fruit enzymes, a strong antioxidant complex (15% l-ascorbic acid, .5% Ferulic Acid, and 1% Vitamin E), and a chronopeptide that mimics the benefits of Vitamin D. All of these ingredients help to brighten and firm the skin.
Using this serum will help with neutralizing pollution, environmental stressors, and the ever so damaging free-radicals. Plus, it helps to replenish lipids, helps reduce dark spots and wrinkles, AND if all of that wasn't enough, the pumpkin ferment extract and pomegranate enzymes help to dissolve your dead surface skin cells. Plus, it also hydrates the skin and adds radiance and brightness to your skin.
One interesting fact to know about the C-Firma Serum is that it will stay active on your skin for up to 72 hours. It can't be washed off or come off the skin. This Serum's pH level is 3.3, which is an ideal level based on Drunk Elephant's understanding. It's a non-irritating Serum that is 100% free of essential oils and fragrance.
PS Yes this will smell like a salty slab of bacon. All Vitamin C Products basically smell like this and it's completely normal!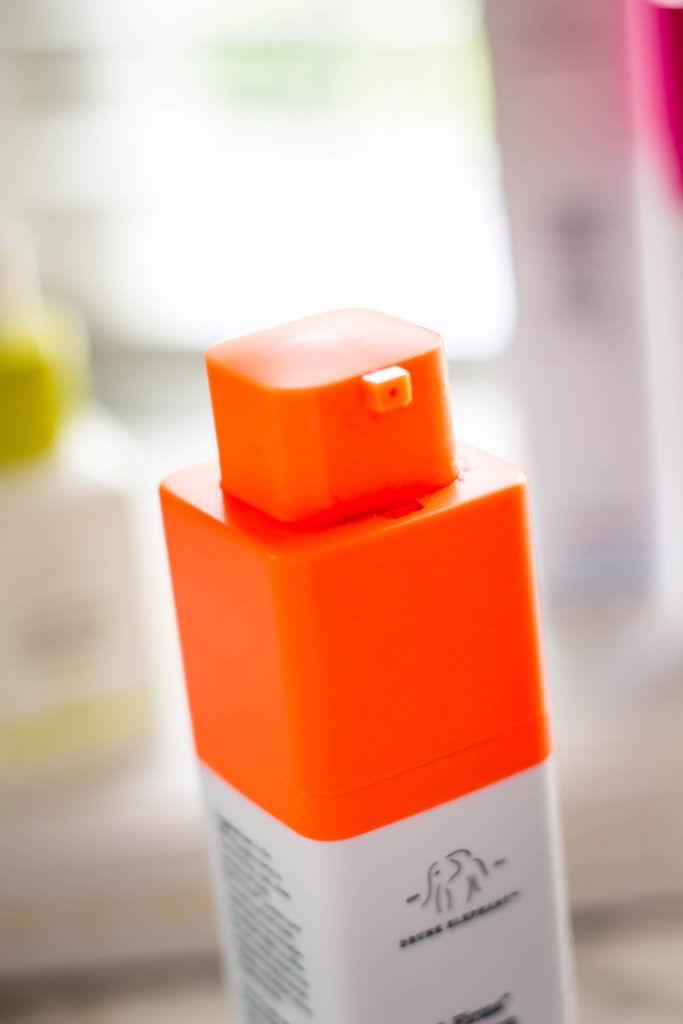 This Glycolic Resurfacing Night Serum is incredible. Again, it's great for those with uneven skin tone, dullness, and uneven texture and for those of you who struggle with enlarged pores.
I use this nightly and have noticed SO MUCH of a difference with my pores especially. This night serum helps to remove dead skin cells by dissolving the "glue" that holds them together on the surface. It provides a smoother, more even-looking complexion. It contains a blend of AHA/BHA which combines glycolic, lactic, tartaric, citric, and salicylic acids. Plus, they combine raspberry extract. You're getting a chemical exfoliation with any harsh side effects.
To be soothing and calm the skin the included horse chestnut, bearberry, and white tea. This combination will also help those who struggle with broken capillaries
So for those of you who are working hard to eliminate fine lines and wrinkles, discoloration, excess oiliness and enlarged pores, this is the Serum to add to your nightly routine!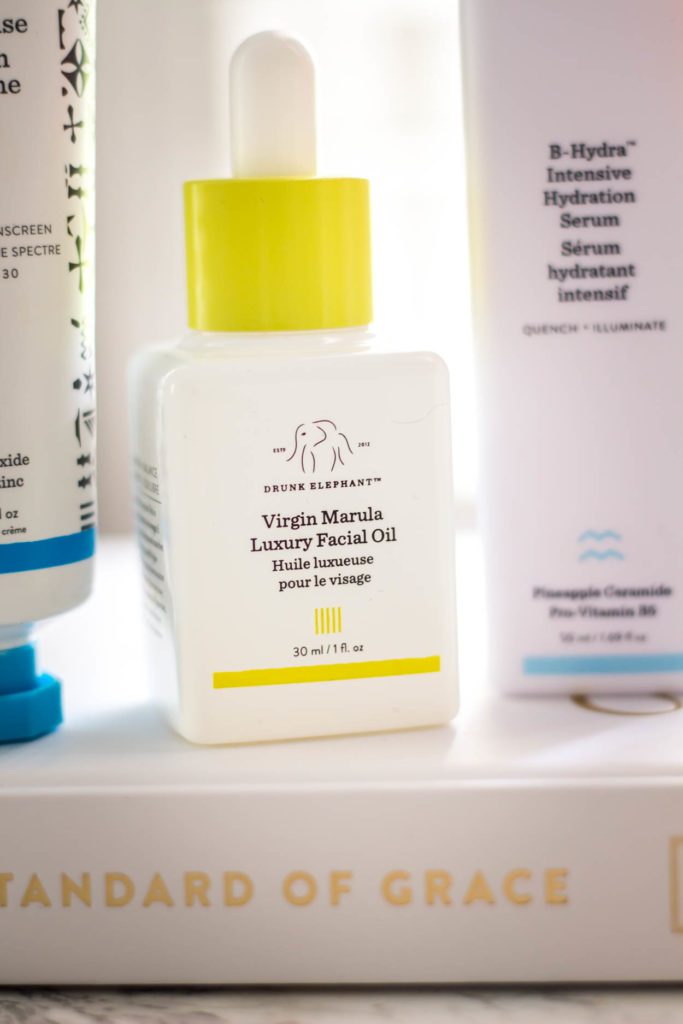 I wasn't the biggest fan of a facial oil until I tried the Virgin Marula Facial Oil from Drunk Elephant. Sometimes the facial oils left my skin with residue and they just didn't sink into my skin. Not at all an issue with the Drunk Elephant Virgin Marula Oil.
This facial oil is high in antioxidants, hydrates, nourishes, soothes, and basically brings your skin back to life. Plus, it provides a gorgeous glow to the skin!
This oil sinks right into my skin, without leaving any sort of residue behind. It's clinically proven to reduce the signs of aging and helps protect the skin against environmental stressors and free radicals. BUT the biggest difference I've noticed since using this is that it helps with redness so much!
The Virgin Marula Oil comes straight from the Marula fruit, it's not altered in any way and there are no chemical fragrances added at all. It is naturally anti-microbial and great for all skin types.
What else you need to know:
This Virgin Marula Oil is totally pure, which is the way it is used by African women. So close your eyes and pretend you're sitting under a beautiful Marula tree… skin will never know the difference! With regular use as part of your complete Drunk Elephant skincare routine, your skin will be balanced and optimized to look and feel it's healthiest.
I like to use this oil daily, BUT also immediately after using the Babyfacial.
I think that the T.L.C. Sukari Babyfacial is the star of the show when it comes to Drunk Elephant products. It's a facial that resurfaces your skin and helps with uneven texture and pores. It gives the skin an incredible radiance and it's AMAZING! I'm not sure I've ever used a treatment product that I've liked this much before??!
I consider this a weekly treat for my skin. I was warned about using this at-home facial since I have slightly sensitive skin, but I have had zero issues with it. The results are incredible and my pores feel like they've been deep cleaned, the texture of my skin is so much smoother and my face literally glows! It's the one product that I think has helped me to achieve "glass-like" skin.
So what's in this facial treatment that makes it so good? It's a 25% AHA and 2% BHA with glycolic, tartaric, lactic, citric, and salicylic acids. It also contains chickpea flour, pumpkin ferment, and a soothing blend of matcha tea, milk thistle, and apple.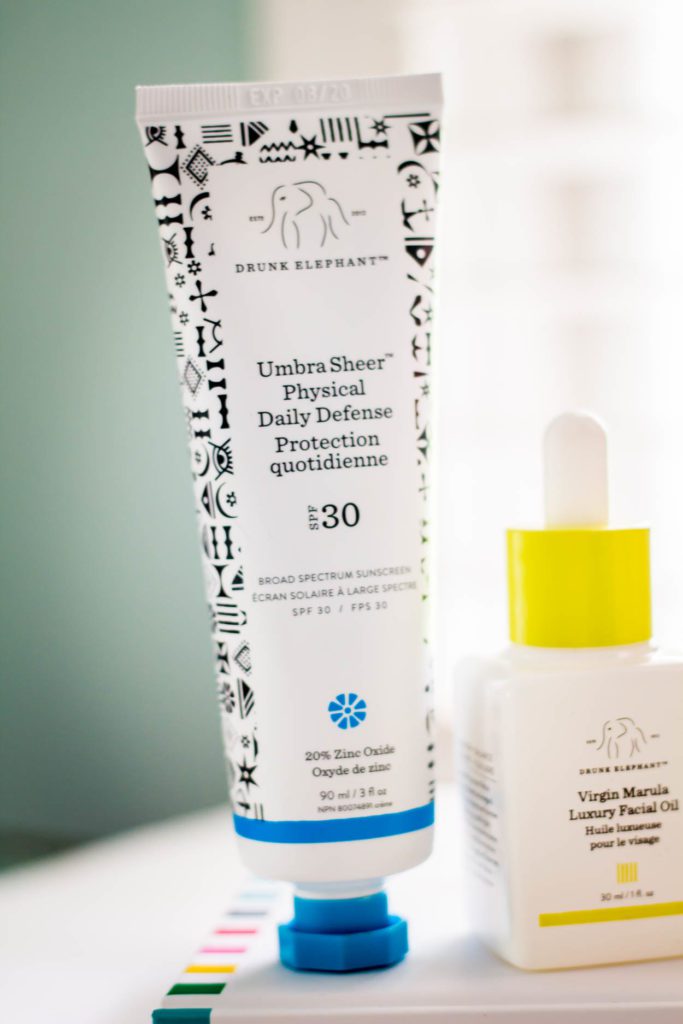 I can be rather particular about SPF on my face. The biggest reason being they sometimes irritate my skin. Some people get breaks outs from SPF, get oily from the ingredients and often find that the formulas leave a white residue on the face. This product DOES NOT contain any chemical screens or silicones. So I have had zero issues with a white residue, breakouts or any oiliness when wearing it.
This sunscreen provides both UVA/UVB protection. I apply it every single morning. It has no effect on how my makeup wears or anything. I love this SPF.
It contains 20% Zinc Oxide which is ideal for all skin types, Astazanthin-Rich Algae Extract which is a potent antioxidant that provides defense from oxidative damage. Also, it has Sunflower Sprout Extracts that help to neutralize free radicals.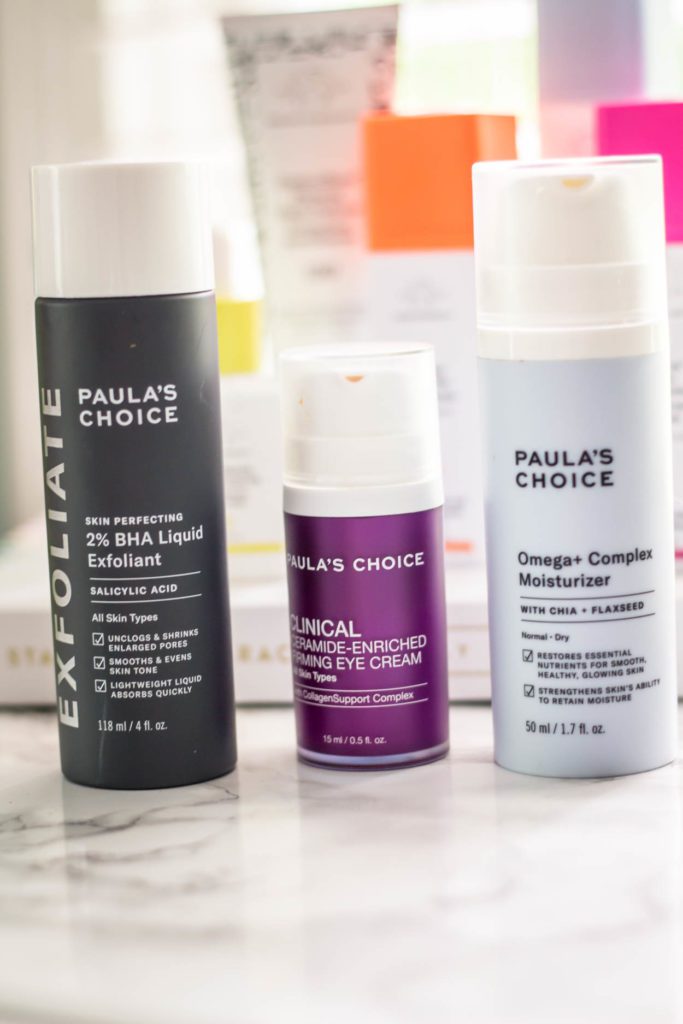 Paula's Choice Skincare
I have talked about Paula's Choice Skincare products for years on Simply Stine. They are a brand I continually use and look forward to their new releases. I recently finished up a bottle of their Peptide Booster and need to re-order it. It was a great product.
One of the reasons that I love the brand so much is that they are budget friendly, but their products are incredible. There's a lot of information behind the products and the ingredients and that I really appreciate. Plus, their Customer Service is some of the best I've been in contact with. They are always happy to answer questions, etc.
This is one of the best liquid exfoliants that I have ever used. It's incredible. I have been using this one for years and always go back to it. It's gentle enough that it works on my sensitive skin and I can use it daily.
This liquid exfoliant exfoliates dead skin cells and helps clear out all of the junk out of your pores. This exfoliant features Beta Hydroxy Acid (which we know as Salicylic Acid) and it is a lifesaver for my complexion.
I use this mostly once a day, but sometimes twice. I pour it onto a cotton pad and wipe all over my face and neck. I prefer this exfoliant over most physical exfoliants because for me, it's just worked better.
This moisturizer was recently sent to me to try and I've been really enjoying using it. It's great at hydrating my skin, without being too much for my AM routine. If you have dry skin or have visibly noticeable flakes, this is a great moisturizer for you to consider.
What I really like about this product is that this moisturizer feels very lightweight, but yet it's very hydrating. It contains shea butter and a range of Omega Oils. Ceramides, plant oils that help calm the skin, natural antioxidants (passionfruit, guava) that help to strengthen the barrier of the skin and also to allow the skin to feel softer.
For my daytime use, I pump out one to two pumps and lately, I've been mixing it with my foundation and creating my own tinted moisturizer. I'm very impressed with the moisturizer and would for sure reconsider it for repurchase once I'm done. I think with it warming up that it might be a little too hydrating for me, but once the temperatures drop, I'll be back to using it. For now, it will be my nighttime moisturizer.
Paula's Choice sent me this product previously and I enjoyed it so much that I bought one for myself when I ran out. This eye cream is fantastic for those of us who have dry under eyes as it has ceramides that help to hold onto hydration on the skin.
I also think that this eye cream helps to minimize any puffiness around my eyes. I have extremely sensitive eyes (they water constantly and are always bothering me) so I sometimes have a hard time with eye cream. This eye cream worked wonderfully for me.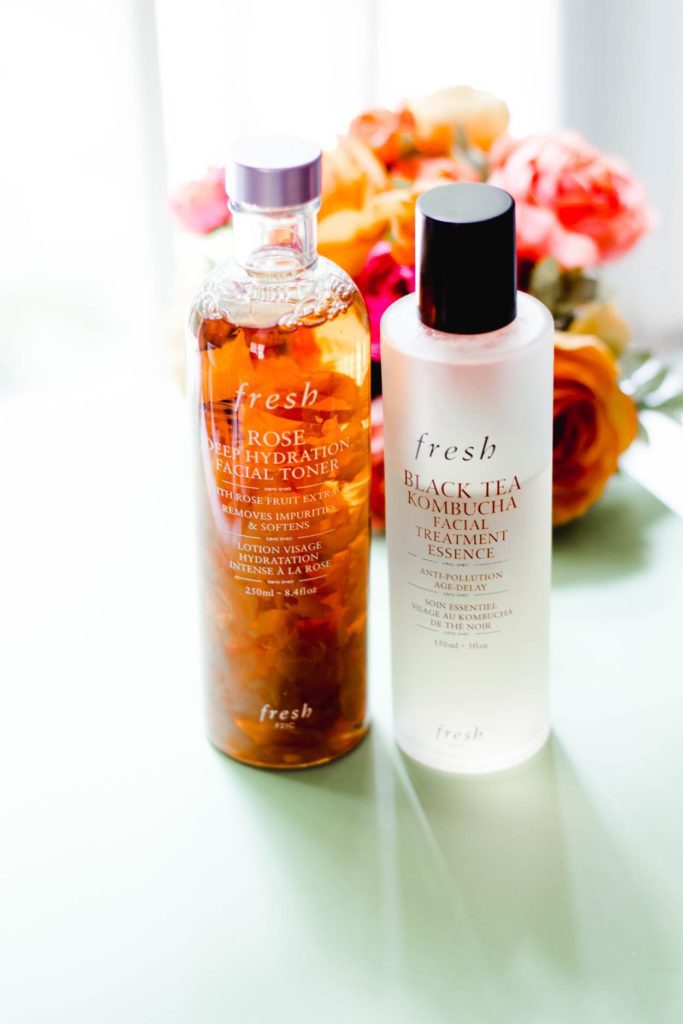 Fresh Beauty Loves
I can't post a skincare post and not include Fresh Beauty products as they are one of my absolute favorite skincare brands to use. I love their Soy Cleanser and have used it for years. It smells incredible and does a great job of not stripping away moisture, but great for removing dirt and debris on my face. I use this cleanser every night after my first cleanse.
I have talked about this product so many times that you guys are probably TIRED of hearing about it. I can't help it because it's amazing! It's good for all skin types and the results I get when consistently using it are crazy.
The Kombucha Essence gives my skin some serious hydration as well as plumping my skin. It helps minimize pores, improves elasticity, and smoothes the skin. It's INCREDIBLE!
I get a lot of flack about this being expensive and it is pricey, BUT it is a product I won't go without. I'm actually out right now and I can tell the biggest difference in my skin. It's incredible for hydration as it hydrates the skin for 24 hours! It's a holy-grail product for me.
I will always have a lip balm on hand. The Fresh Beauty Sugar Lemon Lip Balm is so good. It just screams Spring to me. It helps moisturize my lips and it's not sticky. That's a must for me.
The Balm includes Sugar to help prevent moisture loss, apricot kernel oil, black currant seed oil, grapeseed oil, and Vitamin E to help protect the lips.
They have different flavors available, but if you love lemon meringue pie, you will LOVE this flavor.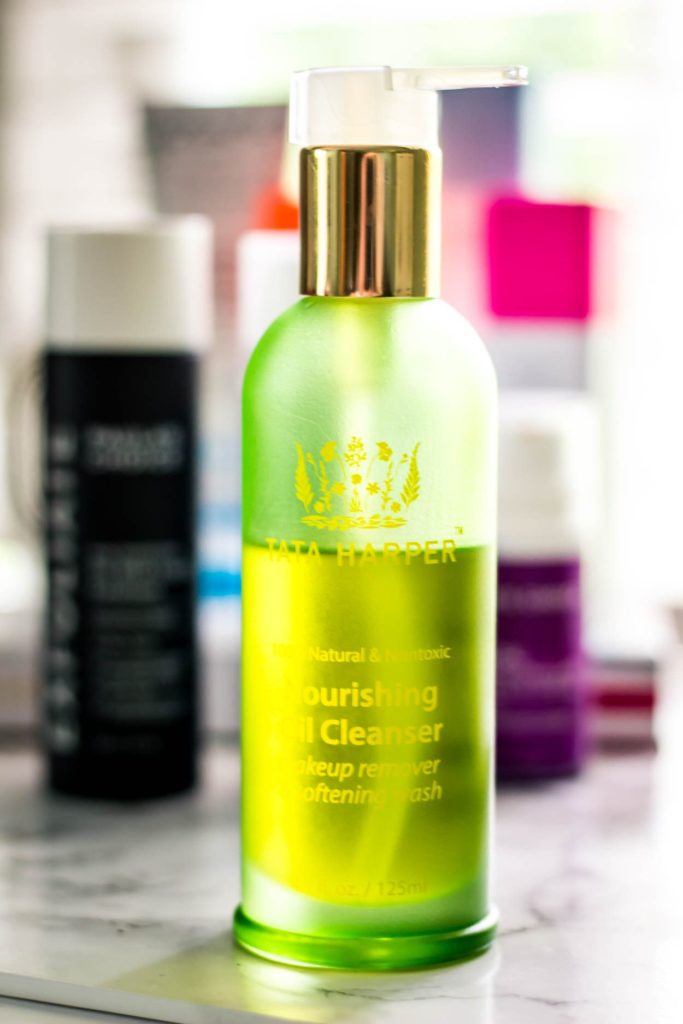 Queen Of Green Beauty: Tata Harper
I once read something about Tata Harper product that has always stuck with me; Most products only contain one active ingredient in them, but Tata Harper's products contain at least 27 (or something close to that) active ingredients in each product. Yes, they are expensive, but you are buying a product that is free from artificial chemicals, toxins, artificial colors, and fragrances. They're basically as clean as you can possibly make a product while being effective.
While I have used some of the Tata Harper skincare products, the one product I always have on hand (and beg for around my birthday or Christmas each year) is their Nourishing Oil Cleanser. I'm addicted to the scent, I love the way it cleanses my skin. It removes makeup and it hydrates my skin. I've never used an oil cleanser that stands up to this one. Ever.
The ingredients in the Cleansing Oil are biocompatible oils and esters that leave the moisture barrier of the skin intact, for a softer texture and cleaner skin. There's also a source of Omega 3,6, and 9 as well as White Rose Geranium Essential Oil. It smells incredible, it leaves my face feeling incredible.
I'm telling y'all, this is a MUST-HAVE product for me.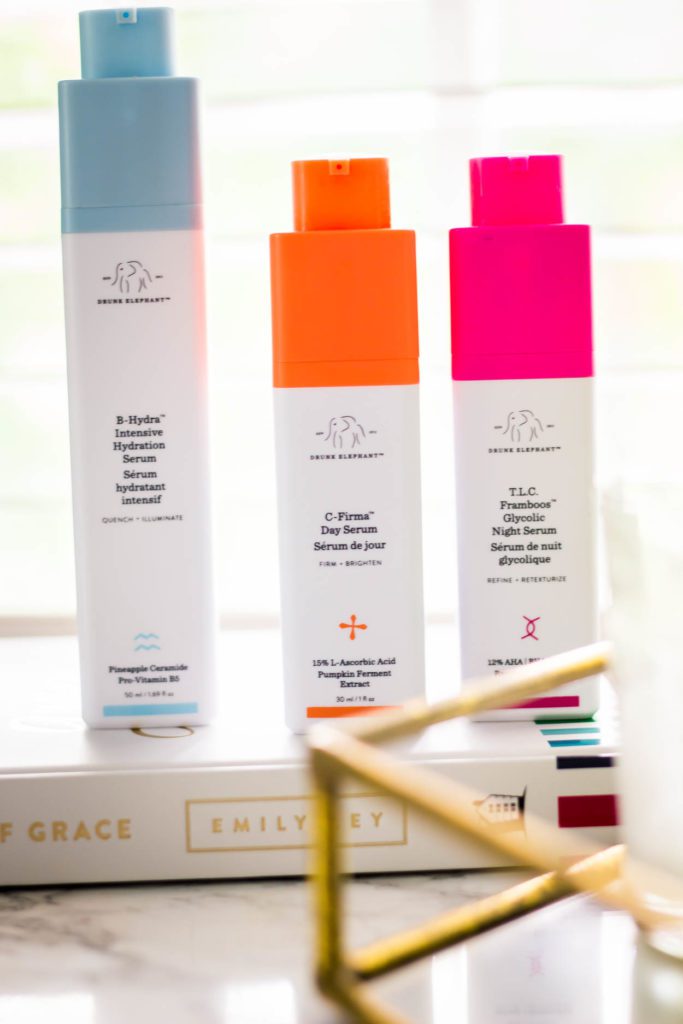 So that's my Spring skincare routine, not including skincare masks. I plan on doing a separate post featuring all of them because I do rotate through several of them weekly. If you've forgotten the steps to a good skincare routine, refer back to this post that explains everything about what order to use what products.
This post contains affiliate links and press samples sent to me for review.
Shop My Favorites