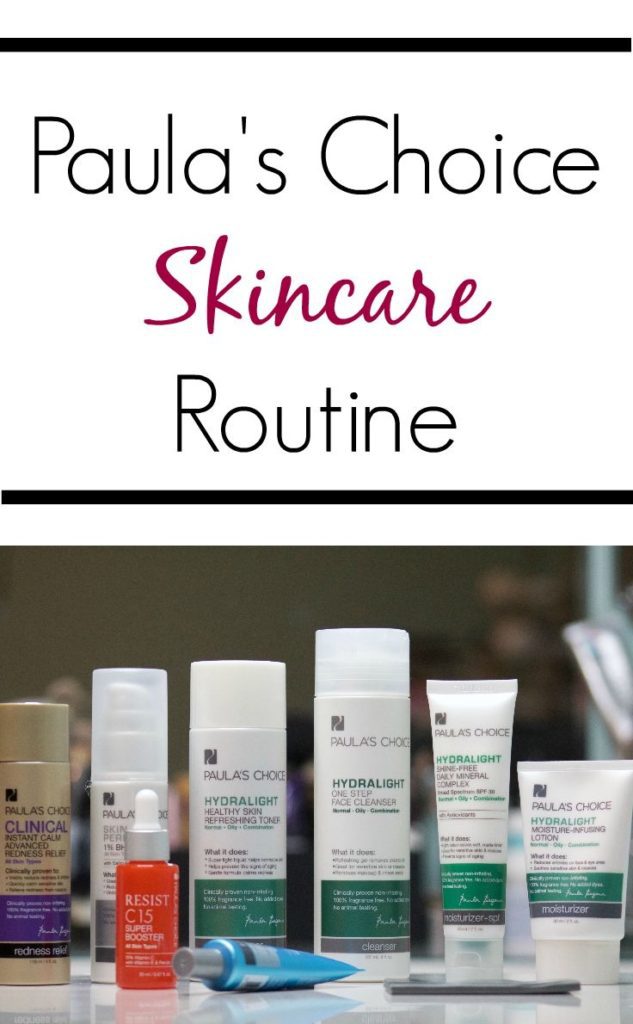 This is a sponsored post on behalf of PRIMP and Paula's Choice
Simply Stine and Paula's Choice go way back. My cousin first introduced me to the brand and I've been a loyal customer since. I do take breaks from time to time, but I was excited when I was offered a chance to try a customized routine thanks to PRIMP. Oh, you haven't heard about PRIMP? PRIMP stands for Pretty In My Pocket and it's an app that every beauty lover to newbie needs to download asap! It allows you to search looks, reviews and so much more. I'm a featured Beauty Expert (Power Primper) on the App and I use it myself and love it!
Working with PRIMP and Paula's Choice has been awesome! I got an opportunity to speak with a skincare expert at Paula's Choice, who customized my skincare routine. She was super helpful and listened to my concerns and issues I currently experience with my skin and also what I was looking for in a skincare routine. My issues? Redness, sensitivity and combination skin. I also told her that I'm trying really hard to follow a good anti-aging routine. She told me the products she suggested and some information about why she chose them for me. It was such a great phone call to have someone personally pick out my skincare. Amazing experience! Psst..that's another feature from Paula's Choice that anyone can experience. Just call 1-800-831-4088.
I've been using the products for almost three weeks now. IMMEDIATELY I noticed a difference. Before I started using my personalized Paula's Choice routine, I had been traveling and was sick. My skin felt irritated, dry and sensitive. My pores were enlarged and I had spots that were dry and other areas that were oily on my face. I was dealing with some pretty bad skin issues.
[line]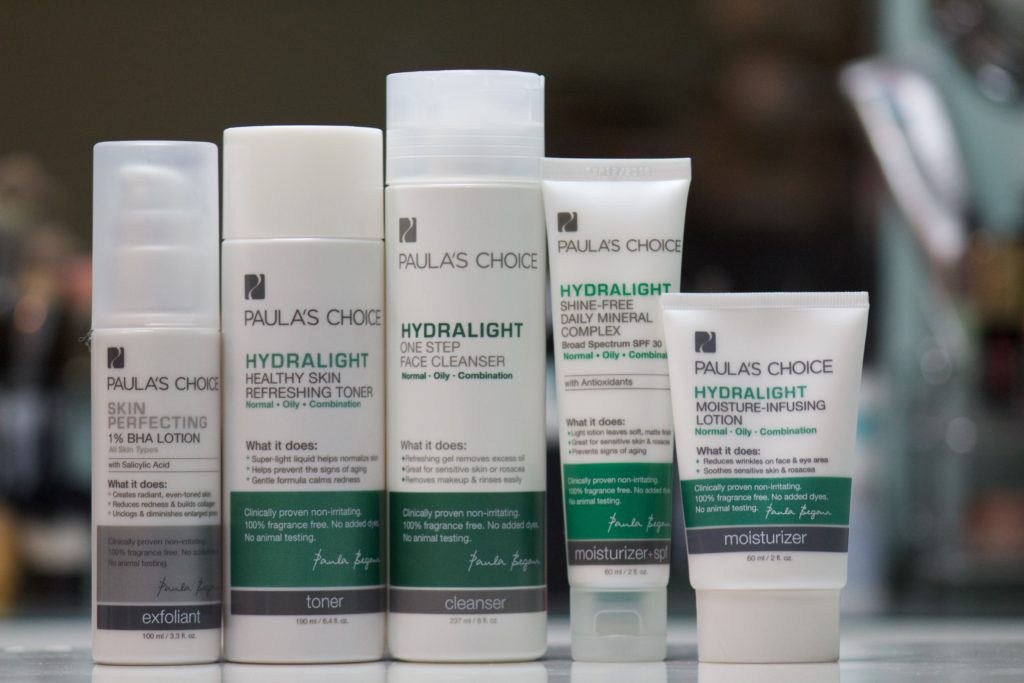 Here are the Paula's Choice products that I am using right now. I follow the exact step and instructions as listed on the products and so far everything is working out perfect! I'm going to talk about each product and give some thoughts and feedback on them.
Hydra light Advanced Kit -$119.00 BUT on sale for $99.00- (For anyone with Combination/Oily Skin. Extra Sensitive Skin and Redness) I love this kit because it's everything I need to help calm my skin, prevent signs of aging and to help reduce my oily skin! *Contains the following products:
Hydralight One Step Face Cleanser (First Step)
(Normal to Oily/Combination Skin) This is a gel cleanser that I have been using as my first part of my routine. It's a great cleanser and even though I have some dry areas on my skin, this hasn't irritated them at all.
Hydralight Healthy Skin Refreshing Toner (Second Step)
(Normal to Oily/Combination Skin) A LOT of us aren't using a toner, but we should be! This isn't your typical toner that we're used to. You know the kind that has a lot of harmful ingredients that dry out our skin, but instead, the Hydralight Toner helps to improve skin function, and reduce cellular damage. Plus it's full of good anti-oxidants!
Skin Perfecting 1% BHA ( Beta Hydroxy Acid) Lotion Exfoliant (Third Step)
(All skin types) This is one of my favorite products out of all of them that I was sent. It's a do-all, fix-all type of product! It helps to exfoliate the skin, reduce breakouts, and it lightly hydrates the skin. If you suffer from blackheads, this is amazing at helping to get rid of them.
Hydralight Shine-Free Daily Mineral Complex SPF 30 (Fifth Step AM)
(Normal to Oily/Combination Skin) I love that I don't have to use two separate products in the daytime. This moisturizer also features an SPF 30, so I'm getting my hydration and my protection in one product! Also, this will leave your skin with a nice matte finish!
Hydralight Moisture-Infusing Lotion (Fifth Step PM)
(Normal to Oily/Combination Skin) This is my night time moisturizer. A little bit of this goes a very long way. It leaves my skin feeling hydrated and I love that it doesn't leave a heavy, greasy feeling on my skin.
Blotting Papers
This is why I love Paula's Choice so much! They even include blotting papers for us! Obviously they know with combination skin types, that we are going to need these! They work fantastic and can be thrown in your purse to take with you to touch up during the day!
[line]
Not included in this kit, but products that were also sent to me were the RESIST C15 and the RESIST Super Antioxidant Serum. These two products came packaged together and retail for $84.00. *No different if you purchase them separately*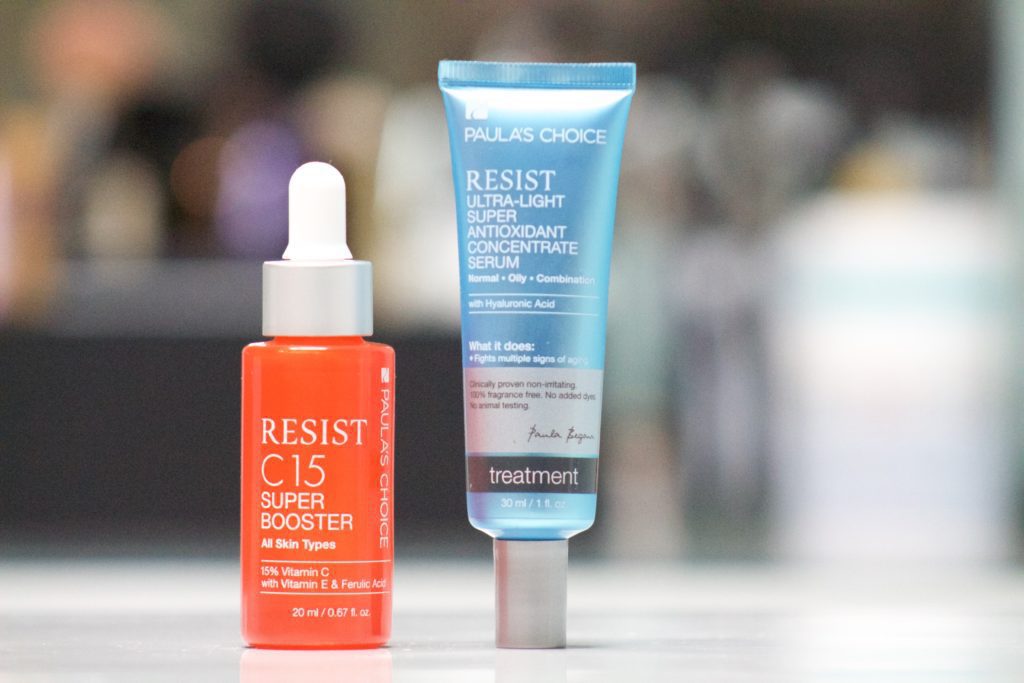 The RESIST C15 Super Booster ($48.00 when purchased on its own) (Fourth Step AM/PM)
(All Skin Types) A concentrated blend of 15% stabilized vitamin-c, antioxidant vitamin E, ferulic acid and peptides. This is just a fantastic way to get an extra dose of goodness to your skin. I have normally been a little bit on the sensitive side when it comes to Vitamin C in skincare, but this hasn't been an issue at all! Perfect of those who have issues with brown spots, wrinkles and want a more radiant, bright complexion!
RESIST Ultra-Light Super Antioxidant Concentrate Serum ($36.00) (Fourth Step AM/PM Mixed with the RESIST C15)
(Combo/Oily Skin Types) Think of this as a very silky, antioxidant rich serum that brightens, nourishes and repairs the skin. I have use this serum before and it's amazing. I love it because it contains so many good for the skin ingredients like Hyaluronic Acid. It's got Vitamin C for helping with brightening the skin, Peptide and Ceramides help to rebuild the skin's barrier and help with firming the skin. It helps reduce inflammation and also helps with fine lines and wrinkles. Also excellent for enlarged pores! It's so lightweight, you won't even feel it on the skin!
I use the C15 and the Super Antioxidant Serum together. This is going to give my skin a boost of stabilized vitamin c and antioxidants to help repair any visible signs of aging and to help stimulate collagen production for smother, brighter and firmer skin.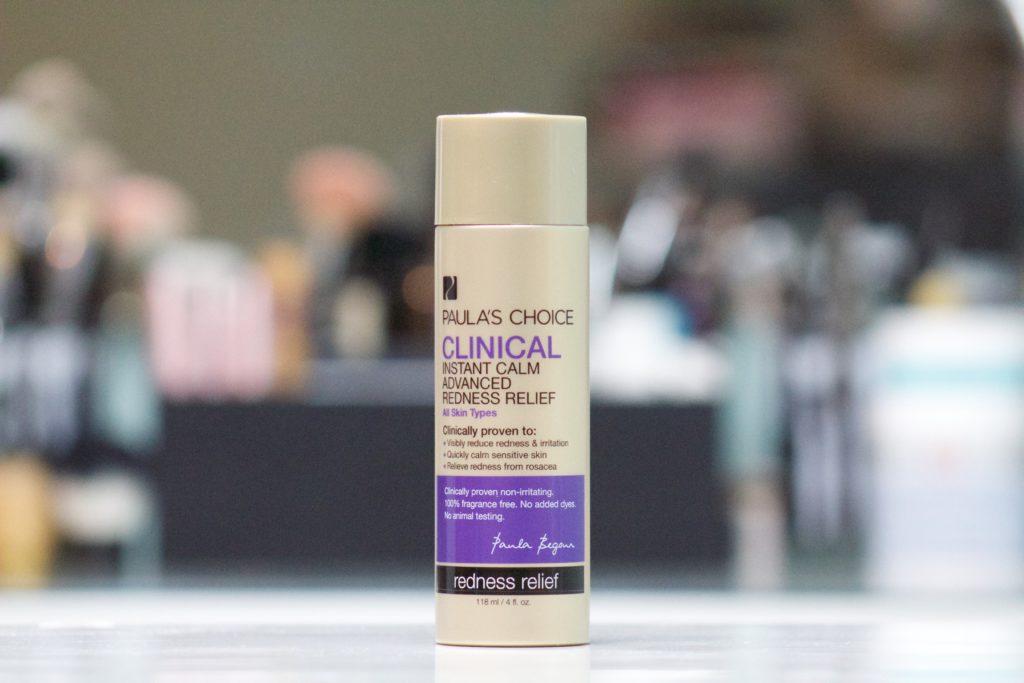 I also received the Clinical Advanced Redness Relief ($18.00) This is going to be more suitable for skin types such as those who experience redness, sensitivity and those with rosacea. This liquid treatment will help calm down redness, especially if you have rosacea! It's very gentle and contains antioxidant that will help with the signs of aging, but also soothing anti-irritants (willow bark and green tea) that will help to normalize the skin and heal it. Think of this as a go-to for more than just your face! You can use this post shaving, waxing or if you are dealing with a pest bug bite! You can use this after your toner or in place of your toner, whatever your preference!
[line]
My skin has completely changed and it happened so quickly. The texture of my skin seems smoother, my pores and redness have decreased so much and my skin feels more normal than combination. I feel like, with continued use, this skincare line could be a holy-grail because it's changing my skin daily. This was the first time that I used the Hydralight line from Paula's Choice as well as the RESIST C15 and I think this has been the best combination for my skin so far.
PROS of Paula's Choice: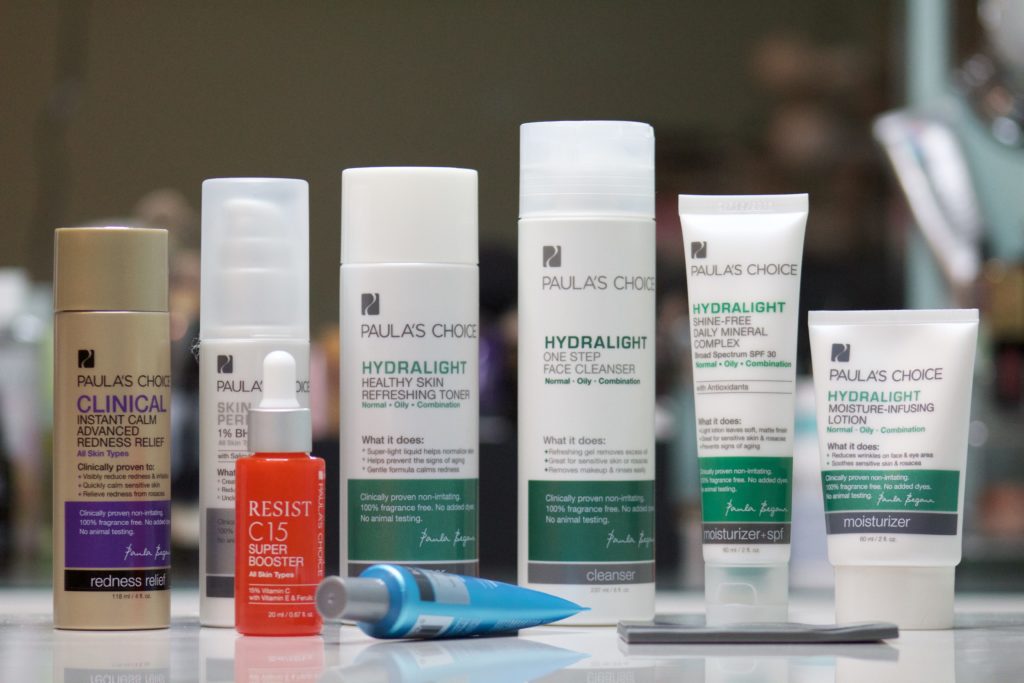 -60 Day Money Back Guarantee
-Extremely budget friendly (The products mention above would normally cost me $203.00, actually $183.00 since the kit was on sale-that is cheaper than just one of the previous products I had been using)
-The have research to back up their products
-Their customer service is amazing! Extremely helpful and always there to answer any questions
-Their website is full of information and expert advice. Seriously, here is an article that I read up on Fragrance and Skin-Care. If there is a skin concern, they will have information on it. It's like your own personal encyclopedia for skincare! You can check them out here
-Their products contain to dyes, animal testing or fragrances
-Packaging of products is amazing. They are clearly labeled as to what they are (cleanser, toner, exfoliant, etc) and they even provide you with stickers to help remind you what step each product is in your routine
-Their product line has something for everyone! Rosacea, Sensitive Skin, Acne, Anti-Aging. Their website makes it easy to find products for specific issues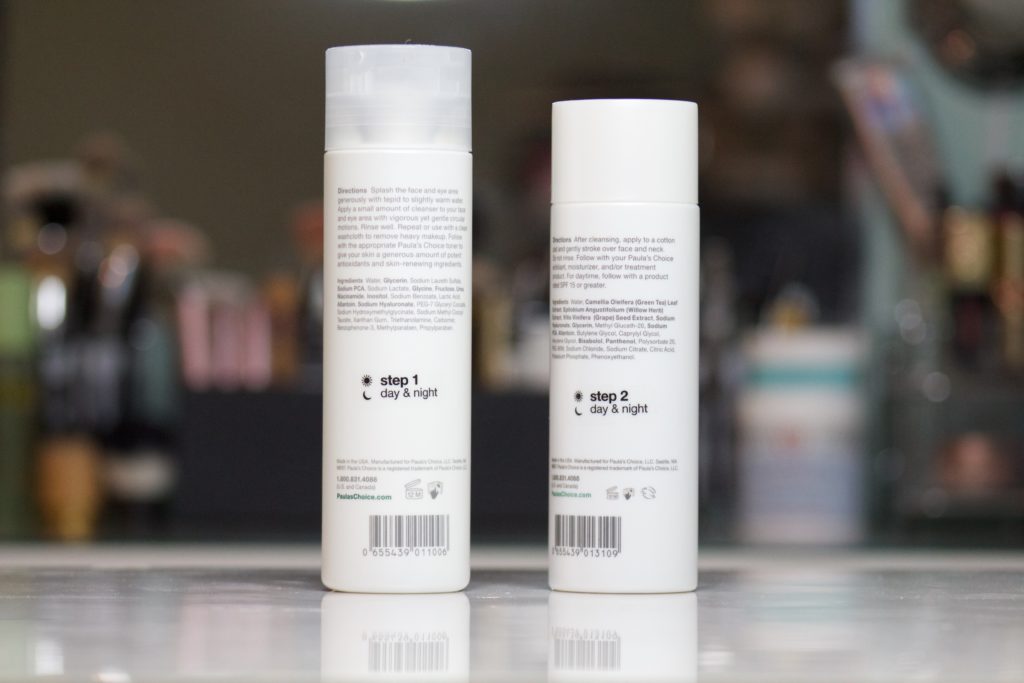 [line]
Nothing makes me happier than finding great products, that are also budget friendly for you guys. As a Power Primer, I am offering my readers 20% off AND free shipping with the promo code: PRIMPFALL20. This will be good until December 31, 2015. I hope you'll at least try one, if not more products! Let me know what you end up trying or if you are already a Paula's Choice fan!
For more information on Paula's Choice products and to shop, click here! Don't forget to use the code!

Thanks to PRIMP and Paula' Choice for this incredible opportunity! I also hope that you'll download the PRIMP app! It's amazing and full of information and reviews. Also, be sure to follow the other Power Primpers who share reviews, how-to's and so much more! To download the app and for more information, click here! If you download it, let me know! I'll be sure to follow you!

Sponsored Post. All thoughts and opinions are my own.