I've been adding some items to my Spring beauty and fashion wish list recently. Turns out that Sephora's Beauty Insider sale starts tomorrow and I'd be a horrible beauty blogger if I didn't offer up some suggestions on what to buy.
I could have gone crazy with suggestions, but I know there are 4,989,658 other suggestions out there. So I tried to keep the post at a minimum while still giving you some ideas on what to stock up on, what to try and what products I personally love.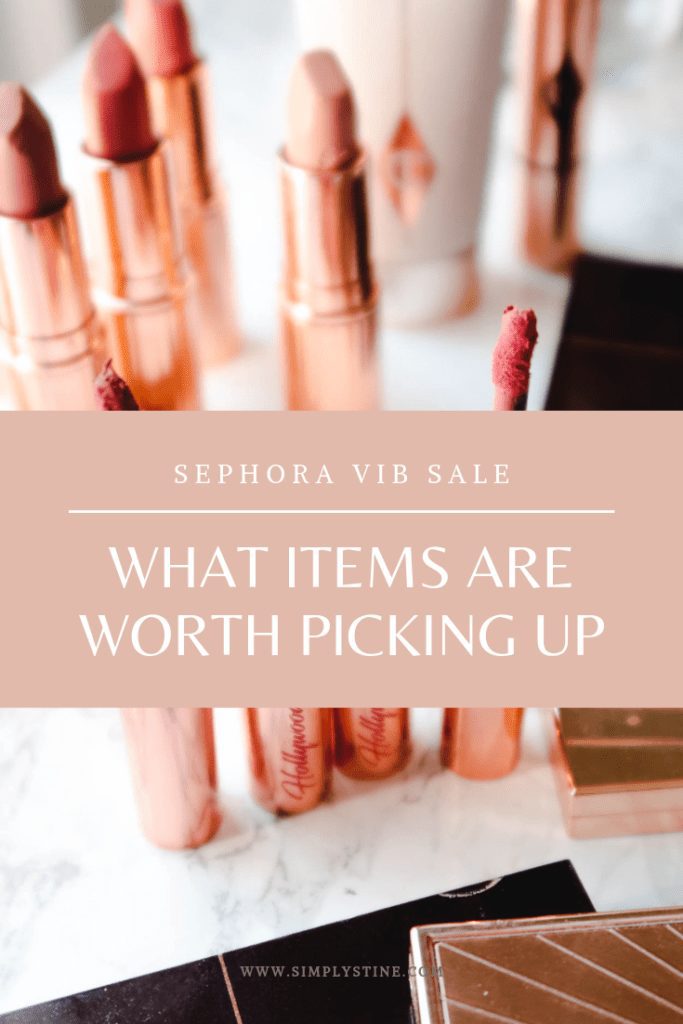 Sephora's Beauty Insider Sale: What To Buy
Since we're all probably going to be outside more often since it's warming up, I think it's really important to make sure you are using products that contain SPF. I LOVE the IT Cosmetics CC+ Cream because it offers great coverage, hydration and also SPF protection.
This kit is a great price. For $1 more than you'd normally pay for the CC+ Cream, you also get the following. It contains the following:
– 1.08 oz/ 32 mL Your Skin But Better™ CC+ Cream (in your shade choice)
– 0.6 oz/ 20 mL Confidence in a Cleanser
– 0.237 oz/ 7 mL Secret Sauce™ Clinically Advanced Miraculous Anti-Aging Moisturizer
– 0.169 oz/ 5 mL Bye Bye Under Eye Eye Cream
Again, with it being warmer outside, I know a lot of people are worried about their makeup sliding off their face. I know when I get hot, my eyeliner and mascara are one of the first things I have to change up.
I really like the Marc Jacobs Beauty Highliner Gel Eyeliner. It lasts during the really hot weather and honestly, I've had some major meltdowns and it's outlasted my tears. I like the formula and there are so many colors and finishes available.
This is one of my favorite fragrances from the brand and I've never tried one of their candles before. This scent is incredible and I feel like it would be the perfect gift. So whether you treat yourself or someone else, that's up to you!
Also, I really, really want to experience the Frangipani Fragrance they just released. It's one of my favorite scents ever.
If you've been wanting to experience Drunk Elephant, this is a great kit to start off with! This skincare set contains some of their most popular products (I have a post coming very soon featuring the products I love from the line) inside a travel-friendly bag. The products are supposed to last 30-45 days so it's long enough that you'll be able to notice if the products work for your skin type or not.
Another product that was just released from Drunk Elephant that I want to try is their Slaai Makeup-Melting Butter Cleanser! The reviews have been great so far and I LOVE a cleansing balm!
If you're in need of a good setting powder, this is a great option! I ran out of the one I'm currently using and I think I'm going to switch to this one next! It's a great option for all skin types and it works great to blur imperfections on my skin and helps my makeup stay in place.
I don't know a lot about this brand, but I am intrigued. I've heard some people talk about it BUT I want to try it myself. It's reminding me a little bit of The Ordinary JUST because of pricing. This is a slow-released retinol that is formulated with Reti-Star Stabilized 1% retinol and a Granactive Retinol .5%. Plus, there is squalane which helps to hydrate and soothe the skin.
Best part of all? It's $9.99. Consider me sold. I want to give this a try!
I have to give it to Sephora because they have really improved the Sephora Collection line of products. I happened to see the palettes while browsing the Sephora site for new beauty products. There are 6 palettes to choose from AND they are only $14.00!
I love the Light Warm Palette, but I think there are several others that I could easily wear. If you're into neutrals and also fun pops of color, I think you'll like these!
Also, the Sephora Collection Rouge Lacquer collection has a great shade range and only costs $13.00. I've got my eye on Be The Boss, a red-orange. It promises to be a balm-like lip product and those are my favorite this tiem of year!
If you experience inflammation and or redness frequently, you should really consider an Ice Roller. It helps to reduce redness and swelling in the skin. It helps with puffiness under the eyes and soothes the skin.
These skincare tools are very hyped up, but I have to say that an ice roller is a great option. Now you could aways use an ice cube BUT……
So Ilia is a brand that I really want to try. It's a clean-beauty brand and from what I've read about the brand and what I've seen, I think I'd really be into the products. Plus, they're vegan, gluten and cruelty-free!
The Color Haze Multi-Use Pigment is exactly what it says it is, a pigment that you can use on both cheeks, lips and wherever else you'd like! I tend to use a lot of cream-based products in the Spring and Summer and every single one of these colors looked GORGEOUS! It's a softly whipped pigment that you can easily wear a light wash of or build it up.
There were so many Charlotte Tilbury products I could post on here to pick up during Sephora's Beauty Insider Sale. However, one of my absolute favorite products from the brand is their Goddess Clay Mask. I LOVE IT! It's one of my go-to face masks and it works fantastic on the skin.
Most clay masks can dry out the skin, this one also hydrates. It's this magical mask that works on all skin types and leaves your skin looking flawless after one use. I swear by it and I think this is a great item to pick up during the sale.
I haven't been this impressed with a self-tanning product line in a long time! I have been using the Isle of Paradise Tanning Drops for my face recently, but right before I left for Ohio, I used them in my body moisturizer and LOVED the subtle glow it gave me.
I plan on doing a full blog post to discuss the products I've used from this brand soon, but if by chance these drops become available during the sale (they're always sold out) pick them up! You won't be sorry! I purchased the green (medium glow) and love it!
Other Beauty Items on my Sephora Wish List
Other brands and products that I'm very interested in trying (that are new to me) are all of the Patrick Ta products and especially his new fancy fan (LOL), Glow Recipe Pineapple-C Brightening Serum, The Ordinary AHA 40% + BHA 2% Peeling Solution (Dupe for the Babyfacial?!?! That's what I've heard! THIS IS NOT ON SALE but it's so cheap it's ok) Fresh Beauty Rose Deep Hydrating Sleep Facial, Kerastase Blond Absolu Anti-Brass Purple Hair Mask and everything Indie Lee, but especially their I-Recover Mind & Body Gel.
Sephora's Beauty Insider sale is a great time to stock up on products that you use regularly and also a great time to try products you've been wanting to experience; especially the pricey hair and skincare tools!
So as far as the Sephora Sale goes, here are the dates and information you need to take advantage of th sale.
VIB ROUGE: April 26 to May 1st get 20% off (Code HEYROUGE)
VIB: May 2nd through May 6th get 15% off (Code HEYVIB)
Beauty Insider: May 2nd through May 6th get 10% off (HEYINSIDER)
What are you planning on picking up?
Sephora's Beauty Insider Sale