Sure Sephora drops new makeup and skincare releases often (daily) BUT often times, I'm not really that into new releases. #SorryNotSorry However, after browsing the Sephora website, these are the new makeup and skincare products you need to know about! Useful, beautiful and they stand out over a lot of other new releases if you ask me!
New Makeup And Skincare Products You Need To Know About From Sephora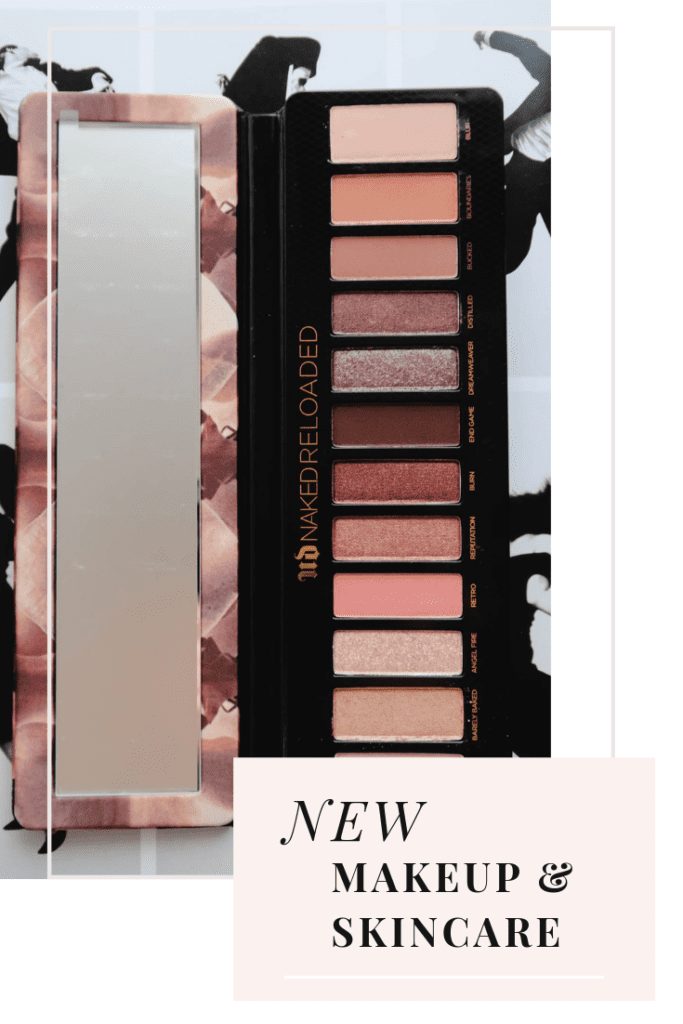 Pat McGrath Eye Ecstasy Eyeshadow and Mascara Kit*
I LOVE Pat McGrath not only as a majorly talented makeup artist, but her products that she has released are incredible. Pricey? Yep, but honestly, totally worth it.
Her newest release is the Eye Ecstasy Eyeshadow and Mascara Kit. With this makeup kit, you'll be getting a mini eyeshadow palette, a FetishEyes Mascara and an Angel Dust Loose Pigment. Her eyeshadows are incredible and the colors that are included look BEAUTIFUL! I've never tried her mascara or loose pigment, so I'm excited to give those a try.
If you've wanted to try Pat McGrath but haven't been able to afford the products, this might be a great makeup kit to pick up!
NARS Orgasm Jumbo Blush*
While this ISN'T a new release, I still had to mention the NARS Orgasm Jumbo Blush because this is a limited-edition version of the cult-classic Orgasm Blush from NARS. This is my ride or die blush that looks good on so many skin tones! It's the perfect pinky-peach blush with golden shimmery highlights.
This limited-edition blush comes in the most beautiful pink palette. I'm VERY into this and will buy this as it is a blush I use constantly and am almost out of the one that I have now. Plus, that pink compact is calling my name!
NARS Orgasm Oil-Infused Lip Tint*
This sheer lip tint is infused with Raspberry Seed Oil and Pomegranate Extract to provide your lips hydration and protection. It's a gel-oil texture that is supposed to not be greasy at all! Plus it's the perfect peachy-pink color that we all have come to love!
I will pretty much by anything that NARS pumps out in their Orgasm Collection because I love the shade so much. So I'll for sure be buying this once it's released.
Dior Pump 'N' Volume HD Mascara*
The latest Dior Mascara is their Pump 'N' Volume HD Mascara. It promises to give you 94% extra volume on your lashes. So yeah, I'm interested already. With this mascara, you pump it before you apply it. By pumping it, you just simply squeeze the tube. An interesting concept.
The mascara also features Vitamin B and Cotton Extract. The ingredients are supposed to help strengthen and protect the lashes. Also, it is supposed to be easy to remove, claiming it only requires warm water. Call me curious…
Anastasia Beverly Hills DipBrow Gel
If you're a fan of the original DipBrow Pomade, then you'll love this! Why? Because this is the pomade in a gel formula! This is a long-lasting formula that is also waterproof. Basically, your brows won't budge! It's available in 11 colors, so you should have no issues finding a correct color match!
Sephora Collection Glow Away Peel Pads
I love a good peel pad, so I'm excited to see Sephora release some in their own collection. These peel pads are only $15.00 for 60 pads! Talk about budget friendly!
As far as ingredients, they contain Glycolic Acid from Sugar Cane, Natural Peptides from Marine Algae and Natural Aloe Vera. Glycolic Acid helps to exfoliate and smooth the skin. Marine Algae helps with anti-aging and tightening and firming the skin. Aloe Vera, as we all know, helps to soothe the skin.
If you're looking for something to help with enlarged pores and to help improve your overall skin texture and radiance, these might be a good product to try!
Volition Beauty Strawberry-C Brightening Serum
I've never tried anything from Volition Beauty before, but this Strawberry-C Brightening Serum caught my attention. This is great for all skin types, including those with pores, dryness, dull and uneven texture.
Strawberry Fruit and Seed Extract help with brightening dull, unclog pores and brighten the skin texture
Kakadu Plum helps to reduce redness and give luminosity to the skin
Hyaluronic Acid is amazing for hydrating and plumping the skin
When I think of Vitamin-C, I think of oranges. Anyone else?!? So I find it interesting to see Strawberries being used. However, there are a lot of great reviews of this serum on Sephora, so I'll take that as a sign I need to give this a try!
St. Tropez Gradual Tan Watermelon Infused Body Lotion
Anyone else hate that self-tanner scent? I sure do so I was excited to see that St. Tropez released this Watermelon infused body lotion! I also like that it's a gradual body lotion that will provide you with a small amount of color the more that you use it.
Like I said before, I have cut back MAJORLY on the number of products I'm purchasing. So when I'm actually interested in a product enough to think about purchasing it, it's now a big deal, ha!
These new makeup and skincare products you need to know about are products that I'm very into and want to try! Let me know what you are wanting to try!
Products with * will be available for Rouge to purchase on 3/18-3/20 and everyone else on 3/21.
Shop The Post