Did you guys have a good weekend? How was Easter? Since we're all still staying in our homes, we had a pretty laid back weekend. Lots of book reading, cleaning and prepping for the week ahead. I finally cleaned off our screened in porch which was covered in layers of pollen because I couldn't stand sitting inside all day long. I will admit I'm going a bit stir crazy, but like every week, I'll survive. Hoping for good weather this week so I can enjoy sitting outdoors.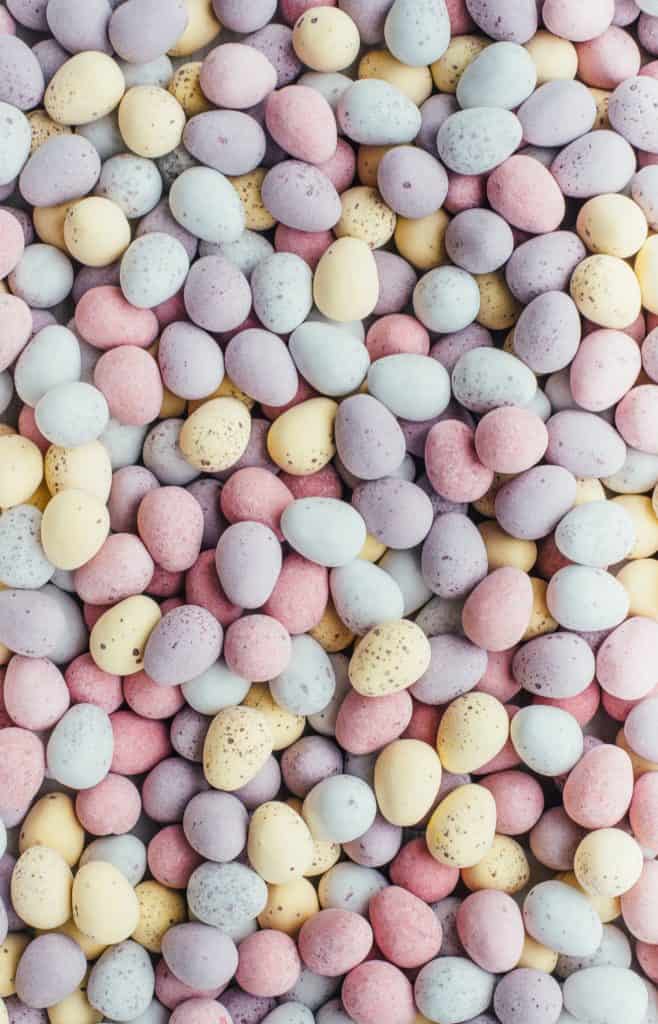 Apparently I'm a Baker Now
I do enjoy spending time in the kitchen, but baking isn't exactly my go-to for fun. This weekend Rob and I made homemade English Muffins that finally turned out! I tried once before but the muffins just didn't rise like I had hoped. Second time's the charm I guess! They were very easy to make and taste good!
I also made some of the best chocolate chip cookies I've ever had. That sentence is in all seriousness. The cookies were perfectly sweet, but also salty. I'll never make another recipe again.
Rob and I also made homemade bread for dinner. It was an easy recipe that we found on Pinterest and required no kneading. I added some flaky sea salt and italian herbs. I plan on serving it with some good olive oil and balsamic vinegar along with some cheese and fruit. It will make for a good casual lunch.
What will I bake next? Who knows, but I'll keep you updated.
Easter Was Different
Easter sure was different this year. We didn't dress up, we didn't have a traditional Easter dinner, and we didn't have family over obviously. We didn't have dyed eggs or even deviled eggs. I didn't even make Rob an easter basket, which I normally do. I don't know, it was just different. I mostly cleaned and read a little bit.
We also spent last night glued to the tv as storms were really bad in Georgia. I think I finally went to bed around 3 in the morning. Luckily we just had intense rain, some thunder and lightning. Others got hit pretty bad with tornadoes.
Again, it was just a very odd Easter.
Weekend Distractions
The Hamilton Soundtrack. I've listened to this Soundtrack so many times. I LOVE IT. Rob took me to see it in Chicago and it might be my favorite musical I've ever seen.
Rob and finally started watching Ozark Season 3. It's so intense and we're only on Episode 3! Killing Eve started again and it's another show I'm excited to start watching again.

I did an Olaplex Treatment on my hair. I wet my hair and slather this all over my hair and let it soak as long as I can. I've even done this overnight. It's the best product I've used for keeping my hair damage-free.
Have you ever heard of Laundry Stripping? I found this IG account and was floored by her cleaning hacks.
I played Jackbox.TV on Zoom with my BIL and SIL and it was so much fun. I highly recommend it.
I started going through shoes that I'm no longer wearing and am doing some donations. I even had shoes I never wore. I know…I know….
I cleaned up my computers. My files were so unorganized. I needed to go through pictures and organize them. It was long overdue.
Anyone else over grocery planning? I will say at this point, I'm running out of ideas for meals. If you need any inspiration, head to my Pinterest boards!
They announced that The Selection Series by Kiera Cass will be a movie on Netflix. I kinda wish it was going to be a series, but I'll take it as a movie! I LOVED this series.
Andrea Bocelli performed live from the Duomo di Milano. You can still watch it on his YouTube channel. His voice is incredible. He sang Ava Maria and Amazing Grace as well as other songs.
I read a book in one day because it was THAT GOOD! I can't wait to share it in my next Reading List that will be out soon! PS Do you have a book that you've loved?!? Let me know!
I ordered some goodies to be delivered to my family members out of state. Thank goodness for DoorDash and UberEats!
I've been really into Courtney Kerr's IG lives with her fiance! He's a restaurant owner in Texas and I love seeing his cooking tips!
The Week Ahead
I'm not sure how many days now it's been since we've been inside the house and not going anywhere except essential places. I'm just taking it day by day. Same goes for this blog. I'm posting when I feel up to it and trying to keep things normal around here.
It's been a bit different on the back end of things as brands are putting off new releases and I normally work with companies for sponsored work for campaigns. That's just not happening right now.
So as my mom would say, it is what it is. I'm using this time to do things that I've been wanting to do but have been putting off. I'm reading more. I'm spending time with my husband and cooking a lot more. Maybe I'll start a baking blog, ha! Just kidding.
Have a great week everyone! Stay safe and take care of yourselves.