When we talk about skincare, most of the time we're strictly talking about our facial area.  However, the SiO Beauty System isn't for the face.  Instead, this is for the area also known as your décolleté, aka your cleavage. This skincare technology is an amazing way to take care of your skin at home, without having to visit a spa!
As we get older, the décolleté changes.  It's sometimes no longer smooth and radiant, instead, the aging process happens and wrinkles, lines and such develop. I was really interested to learn more about the SiO Beauty System because it's something we all could benefit from and besides if we can improve the looks of our décolleté all while we're sleeping-I'm game!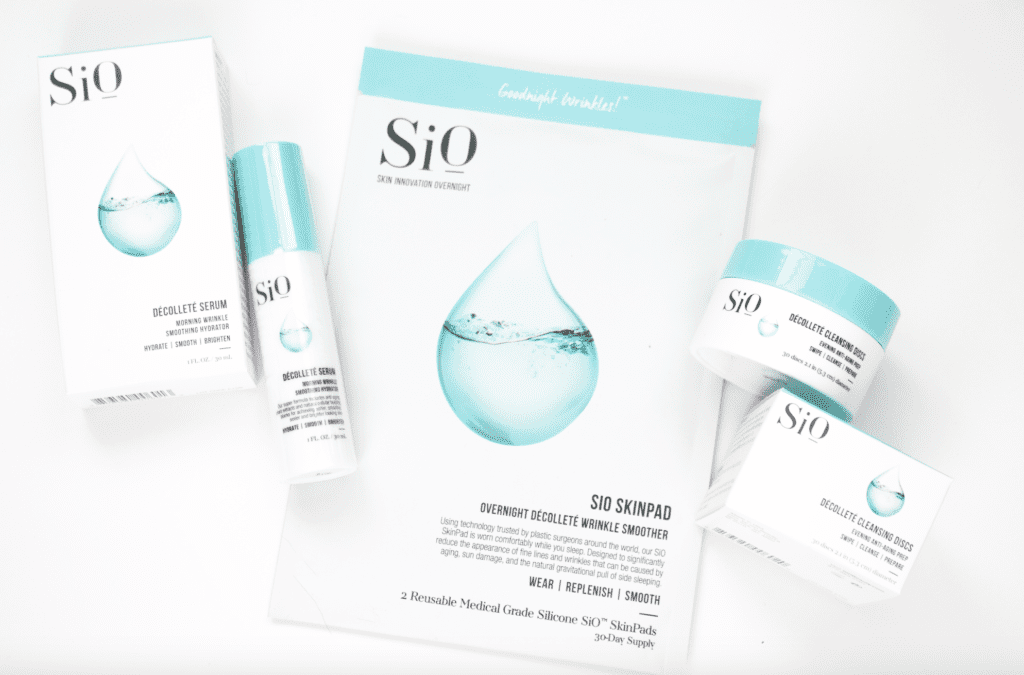 Meet Your Newest Skincare Obsession: SiO Beauty System
The SiO Beauty System consists of three products.  They help to exfoliate, hydrate and rid the skin of those pesky wrinkles, sun damage and uneven skin tone on the décolleté. I don't necessarily have any major wrinkles or sagging happening yet, but I do have some uneven skin tone and spots that I'd like to help soften the appearance of.  Will this make them go away totally? I'm guessing no, BUT even to help improve it a little bit, I'd be so happy.
The Décolleté  Cleansing Disks  $24.95
The Décolleté Cleansing Disks help prepare the skin for the SiO SkinPad.  They help to exfoliate the skin and reduce pores.  They contain glycol and lactic acids so they are helping to exfoliate and remove any old skin.  Plus, they will help give the skin a more radiant appearance an prepare the skin for the Skin-Pad.  They're alcohol-free and safe for any skin type.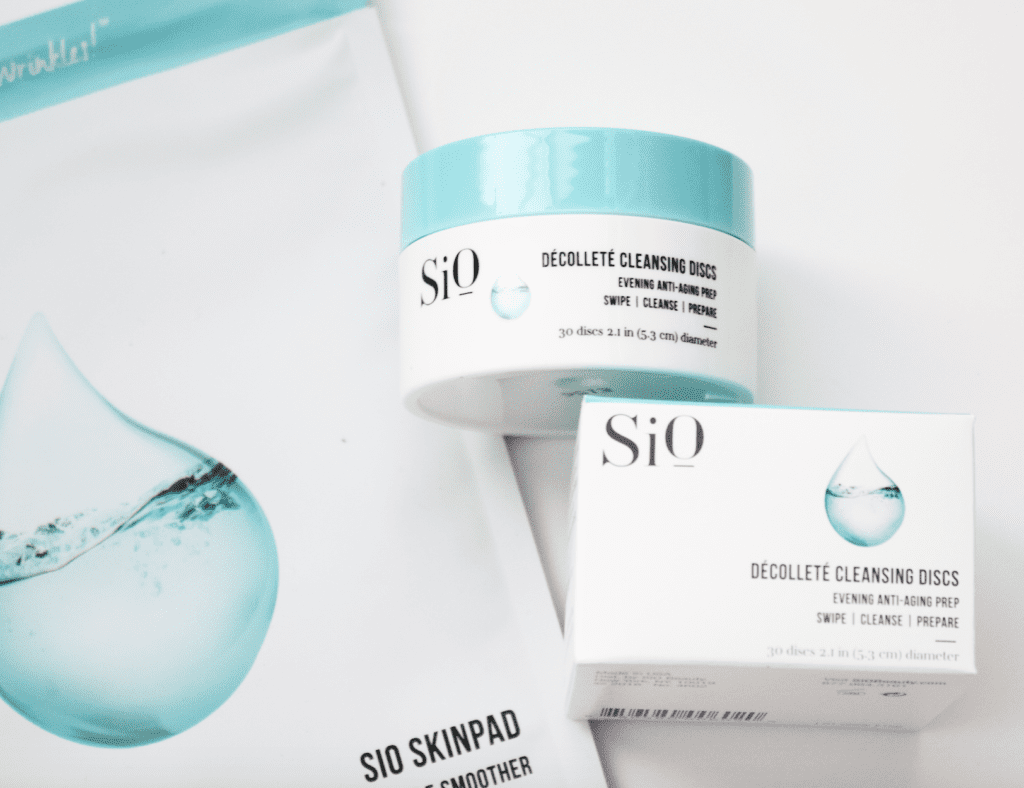 The SiO SkinPad  $49.95
The SiO Beauty website states that  "SkinPad is our patent pending "secret" to anti-wrinkle success." I find that very interesting and curious as to how a "pad" can do so much, but after researching it, it really makes sense.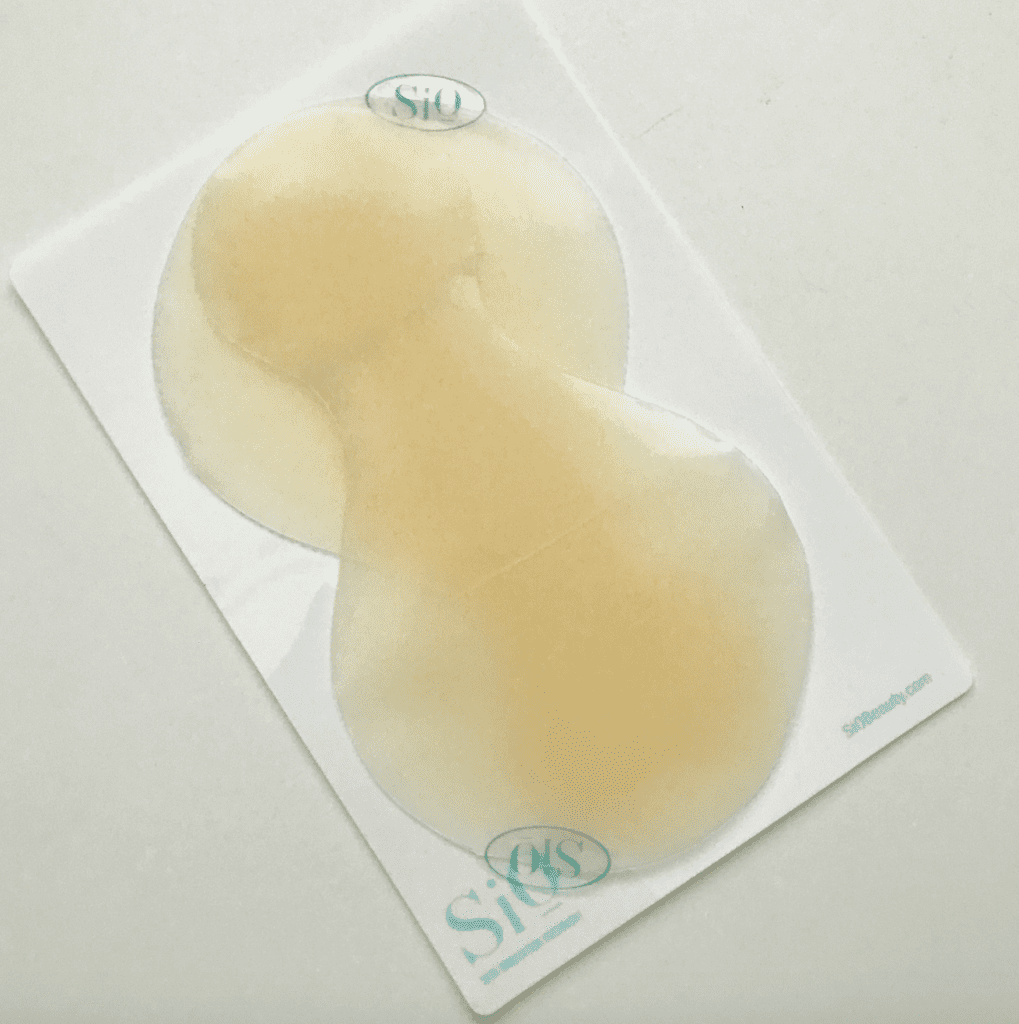 The SkinPad contains some of the same science that doctors and surgeons have used for the purpose of healing scars and burns.  It's designed to be worn on the chest, overnight and it helps to restore and hydrate the chest décolletage, prevent even more wrinkles from forming and restores and normalizes collagen.  Tired of having dull, sagging skin? This helps to soften the look of that area and with time, those wrinkles and crepey skin will seem less pronounced.
THE SCIENCE -The SiO SkinPad is made from silicon (Si) and oxygen (O). Silicone in its most basic form is composed one one atom of oxygen and two atoms of silicon. These form polymers, which are then linked together to maximize the permeability of the material. By creating the ideal material oxygen is allowed to pass through, while moisture is locked in creating the ultimate wrinkle-smoothing climate.
The SiO SkinPad can be washed with a mild soap and can be used for up to 15 uses.  One package will be enough for 30 uses as there are two pads included. Yes, there is adhesive on the SkinPad, but it's clinical tested, allergy tested and made of medical-grade silicone.  The adhesive that they use is cleared by the FDA for usage in medical devices and has been tested for safety, performance, and comfort.
The Décolleté Serum $59.95
The Décolleté Serum will be applied to the skin after removal of the SkinPad.  This serum will help smooth away the wrinkles, hydrate and protect the skin.  The more consistent you are with use, the better your results will be over time. Plus, with continued use, this will help stop future wrinkles from forming.
Shea Butter, Licorice Root, and Aloe help to protect the skin against inflammation
Contains a Vitamin C Matrix that is clinically proven to reduce hyper-pigmentation, spotting, blemishes and uneven skin tone.
Contains a black, white and green tea blend that helps with anti-aging
Sunflower Seed Oil helps the skin's barrier
Coconut Oil smooths the skin and infuses the skin with vitamins and minerals
Vitamin E reduces free-radical damage from UV exposure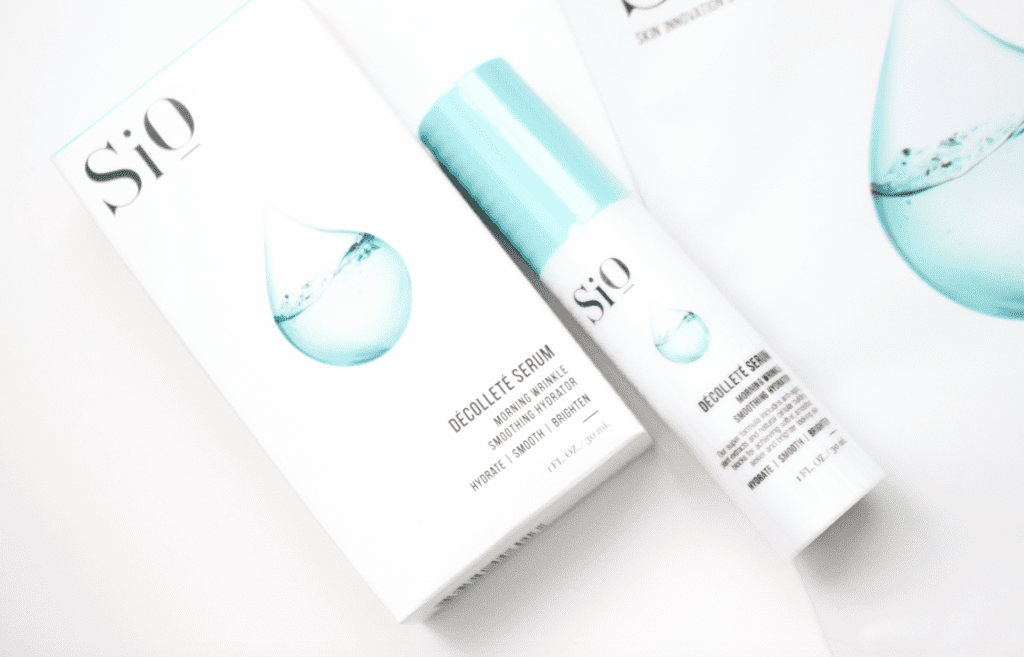 SiO Beauty System has impressed me and honestly, a lot more than I thought it would.  I don't really have a lot of lines and wrinkles, so I can't show you before and after, but I for sure notice how much more hydrated my chest feels.  I think that with the longer I use this, the more results I hope I'll see in the future.  If anything, I'm using this as more of a preventive product to help protect my décolleté against any future aging.
Psst…Guess what?!?! I've got an entire set to giveaway to one lucky winner! Enter to win below!