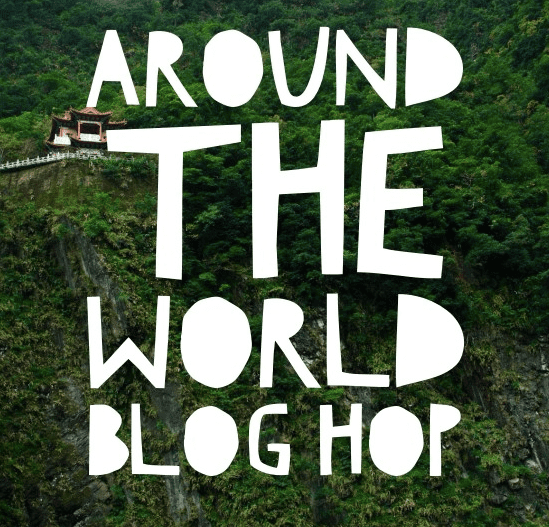 Hello lovelies!! I was recently tagged by the gorgeous and very talented blogger friend Kristina from The Feminine Files, to do the Around The World Blog Hop.  I've been seeing this one go around, so I'm excited to get to do it myself! Let's take a moment and talk about Kristina.  Her posts are always so, so good and I'm always seriously jealous of her nails and her lipstick collection, ha!  If you are ever in need of good swatches of either-check out her blog!  She is another Beauty Blogger who I read daily!!
Let's get started on the Around The World Blog Hop Questions:
1. What am I working on?
Right now, I'm working on my calendar for October.  I've been finishing up some September Favorites posts, a couple Truthful Tuesday posts (they are quickly becoming some of my favorite to write, if you haven't read any, click here and here).  I'm also getting some ideas ready for a Giveaway I'd like to do on my blog for my readers!  Giveaways are always fun and I love to spoil you guys.  I'm also finishing up my "social" calendar and RSVP'ing to a couple of events! Today I photographed a new-to-me eyeshadow palette and played around with it for a little bit tonight!
2. How does your work differ from others in its genre?
Honestly, I have no idea how to answer this.  There are so many Beauty Bloggers out there! It's a tough business to be in.  I always try to be honest about what I'm trying! I also like to do a decent amount of high-end and drugstore type posts.  I feel a good mix is important.  I love beauty products and I always want to make sure that I'm sharing my honest thoughts on items. That means I sometimes don't get to blog about them right away, but I'm ok with that, as long as I can give you an honest feedback of how the product worked or didn't work for me.  I also like to mix it up with some fashion and lifestyle posts from time to time.  Am I different? In some ways no, but my blog is my voice and my work, so kinda?!?
3. Why do I create/ write what I do?
I kept noticing that I loved reading blogs, especially beauty blogs.  I had worked in the spa industry for some time and took a huge interest in the entire beauty world.  I also learned a lot from makeup artists, skin care therapists and tt just kind of went on from there. People were constantly asking me questions about products and makeup-so I thought one day after reading a well known blogger-"HEY!! I could totally do this." And I did. It's been almost two years now! The whole blogging part of my life has become my career and it's so much more than a hobby to me.  I love what I do (Finally) and couldn't imagine doing anything else!
4. How does my creating/ writing process work? 
A lot of it takes research.  Who would have known I would still have to do research, but there are a lot of brands and companies out there.  Plus, I like to stay up-to-date on new releases, etc.  I normally will sit down once a month and come up with a long list of items that I have been using or products that have been sent to me and I'll come up with topics I want to talk about.  Sometimes an idea will hit me suddenly, so I always keep a notepad with me or I keep a list on my phone.  Once I have a list-I'll work on a topic and go from there.  I like to work outside or in my office.  Sometimes after an event that I go to, that I want to share-I'll come home right away and jot down notes.  If I'm using a product, I'll sometimes ask for other people to try it and let me know what they thought about it.  I'm already working on Christmas ideas!! The whole writing part of the post just comes to me pretty easily, unless it's something like a Truthful Tuesday post.  Then I'll write a first draft and go back over it probably about twenty times because those posts aren't always so easy for me to share.  It's always harder when it's your personal life and not just an eyeshadow review, ha!  I love going back to the posts and seeing all of the comments people have left and answering them.  I still try to answer as many as I can!
Who's next?
I'm going to nominate Ricci from Imperfectly Ricci.  I love following her on Social Media and her blog is fantastic!  You know how you meet those people on the internet and you're like "OMG! We would totally be friends in real life!!" Yep. I think we totally would be. She is a blogger I look up to because she keeps things "real" and her posts are helpful and funny at the same time.  I can see her true personality in her writing.  That's not something you can say about everyone blogging.  Her personality is great and she is seriously funny.  Follow her!!
I'm also going to nominate Jamie from Makeup Life and Love.  Sometimes I'll read her posts and immediately run out the door to go buy what she's talking about.  Her photographs are amazing and she just seems to be such a genuine person.  She makes me want to be a better blogger for sure.  I seriously advise you to subscribe to her blog and social media if you are a beauty lover.  Hands down one of my favorite blogs I read.
Those two ladies are bloggers who I really look up to and admire professionally.  So make sure you go ahead and check them out!!  Thanks for reading this blog hop post!! I love writing these kinds of posts and I hope it allows you to get to know me a little bit better and what goes on behind the scenes! Thanks, Kristina for nominating me!!