For a while, I wasn't really buying anything new when it came to beauty. However, I was finally running low on a few things and I got some gifts for my birthday and Christmas. I've already tried several of these products and thought I'd share a quick, first impression with you. Today we're going to be talking about all the new products I'm trying AND a couple products that I have ordered.
One of my goals was to simplify my entire beauty routine. The problem is, I LOVE trying new products and experimenting with my makeup looks. My entire routine has been scaled back, even my skincare routine. I'm working with a less is more attitude and when it comes to my makeup looks, I like a natural look. So you'll probably notice that the new products I'm trying are nothing flashy or super colorful, in fact they're soft and subtle.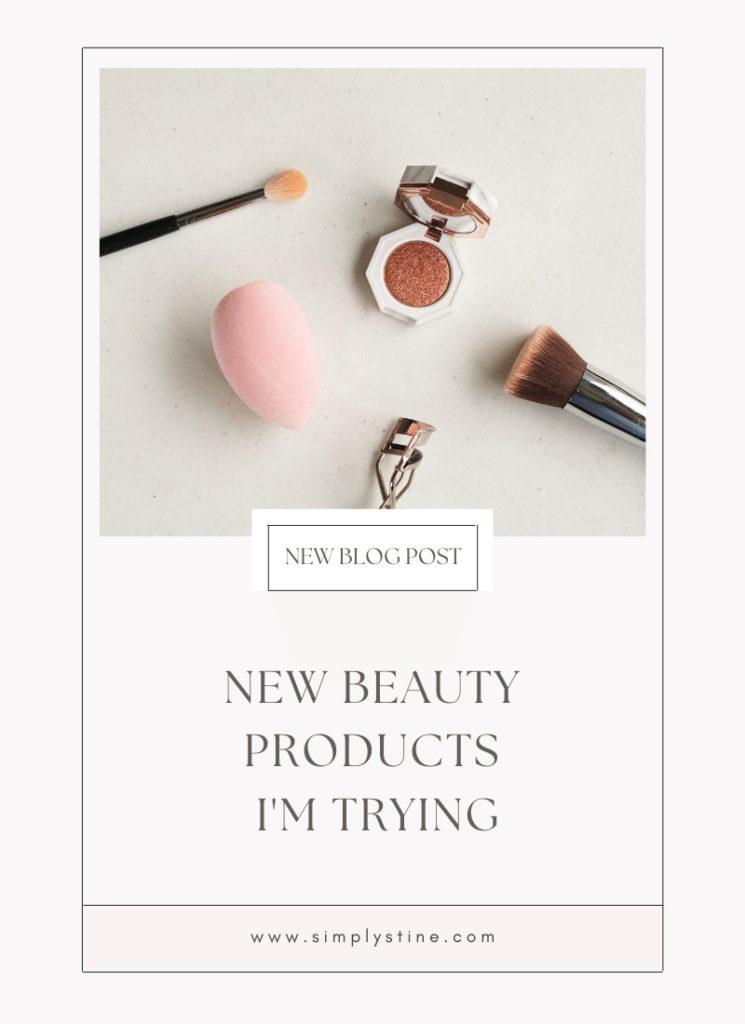 This was a random pick up, but I'm so glad I did. I'm slowly replacing some older makeup brushes I have and this new release from Rare Beauty caught my eye. It seems like really good quality and not a bad price point. This brush can be used on liquid or cream products. It's synthetic bristles are cruelty-free.
My good friend Heather sent me some goodies for Christmas and my birthday and one of them was the Rare Beauty Melting Cream Blush in Nearly Neutral. I tried this blush brush with this formula and it worked great. It allows you to build up color and the way the brush is shaped is perfect for blush and bronzer.
*Yeah, this product line is another celebrity line (developed by Selena Gomez) but everything I've tried has been great so far. I'm impressed at the products and also the price point of the products.

This Bronzing Stick is in fact 100% effortless. I picked up the shade Power Boost which is a tan with neutral undertones. It's the lightest shade in the collection, but the next one up, Happy Sol, seemed a bit too warm for my complexion.
This Bronzing Stick is so easy to use, especially with the Blush Brush. I swipe the brush on the bronzer and apply to my complexion. I like this method because I can control how much product I'm applying at once. I like to use this around my forehead, my cheeks and even my eyelids. It's a buttery formula and I think it blends into the skin so nicely. A great addition to the Rare Beauty product line.

This is one brand that has been all over social media. If you don't know, Gucci Westman is a mega makeup artist and her beauty line, Westman Atelier, is THE line right now. She's worked with Reese Witherspoon, Jennifer Aniston, Vogue, Louis Vuitton and more. The brand has been on my radar for a while now, but I never was in need of anything just yet. Again, my good friend Heather surprised me with the Petite Sticks Clean Glow Trio and WOW guys, they are good.
Words that come to mind when I think of Westman Atelier: Classic, Chic, Simple, Elevated, and Modern. The Petite Sticks Clean Glow Trio are products that give you a dewy, radiant look. It's what you'll use to sculpt, highlight and add a pop of color. If you're like me and you're into the simple and natural makeup look, I think you'll love this product line.
While the color selection that I was given is out of stock, the second set geared towards more warmer toned complexions is still available. Also, the full sizes of each product is in stock. First impressions of these products are really good. I want to do a complete post about this brand, so expect that soon! If you're into classic products that aren't gimmicky or too complicated, this is the brand!

YTTP is quickly becoming one of my favorite skincare brands. Each product I use wow's me and I get great results, without irritating my skin. The latest product I've tried is their brand new Superberry Dream Cleansing Balm. My SIL gifted it to me for Christmas and I've been using it since. It does a fantastic job at removing makeup, SPF, and everything else. It has a balm to oil consistency and I find it very easy to use. My skin feels soft after I use it.
I think that this product is priced about right and compared to other cleansing balms that are similar, this is a great option that won't break the bank!

I'm pretty sure it was Amy Chang from Bondenavant on IG that led me to try this Cleansing Oil. I normally use Tata Harper, but my store was out of the product and at the time, I needed something asap. Amy recommended this saying it was gentle, but effective and she's totally right. The product features Sunflower Oil, Jojoba Oil, Cucumber Seed Oil and more. It's definitely hydrating and does a really good job of removing makeup and cleansing my skin.

My mom and I both talked about how we loved this fragrance. We both had samples of it and when we were in Sephora, we both decided to pick it up. It smells so good. It's a woodsy type of scent and it smells unique on each individual because of the ingredients it contains. It reacts to each of us differently.
This is a unique fragrance. Here's the creator explaining the scent:
"I would describe it as a fresh woody modern fragrance. A musky crystaline scent that connects with your skin and enhances your natural smell. It smells like you but better! Your olfactive signature is your uniqueness, it's your magic…. the secret ingredient is, the one who wears it, YOU."—Romano Ricci

Products I've Ordered….
This is an overnight mask made to help reduce redness on the complexion. Sign me up! I'll report back!
I've used this previously and really enjoyed it for my daytime eye cream. It helps with depuffing and it offers a bit of color correcting. I ordered the cool toned product, but there is a warm version as well.
This buildable, medium coverage foundation just launched today! I've been on a waiting list since last year for this foundation, so I'm a bit excited about it. I love Charlotte's complexion products and find that they're some of my favorites. This is giving me it Cosmetics vibes because it contains quite a few skincare ingredients as well.
HAVE YOU TRIED ANYTHING NEW RECENTLY?