We're almost halfway through January 2022 and I thought I'd take a moment to reflect on 21 things I loved about 2021. Was 2021 great? No, but it wasn't horrible. For the past three years we've been dealing with a pandemic that has changed our way of living. However, I still want to acknowledge the good that came with 2021 because there were plenty of good moments. So let's talk about 21 things I loved about 2021!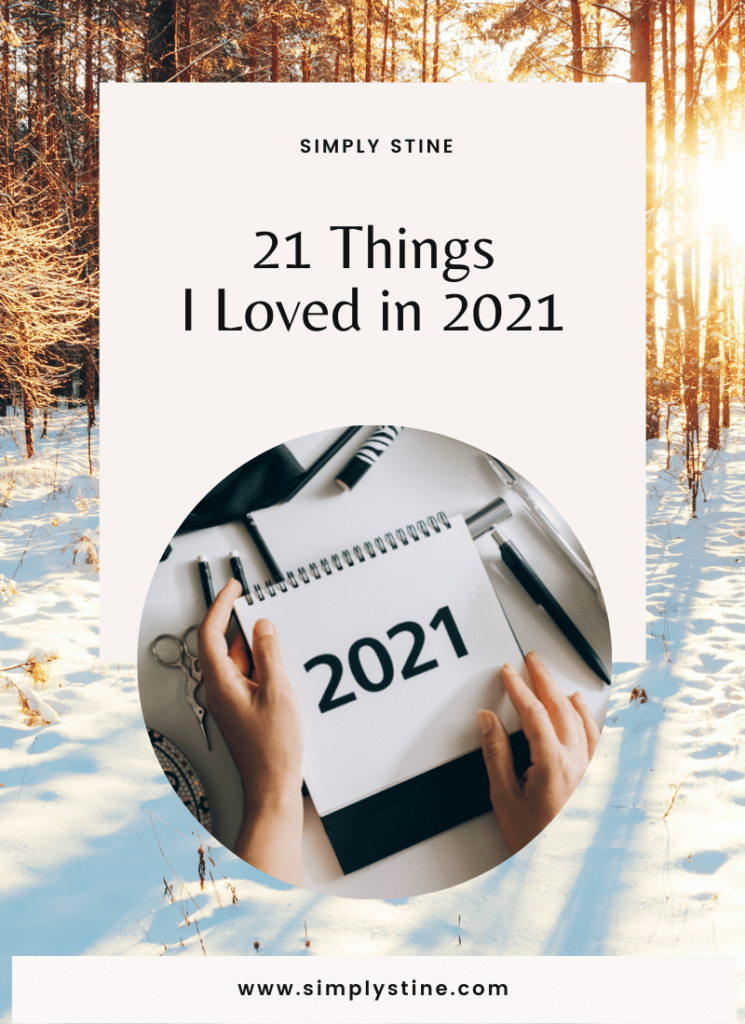 I got lots of reading time in. I finished 57 books and that's an impressive bump up from only reading 49 the previous year. I'm hoping for 75 books for 2022.
Quality time with my family. I got to go to Ohio numerous times and I always enjoy when I can sneak in a trip back home.
Going to the car wash was therapeutic for me. HA! If you follow me on IG, I normally shared my weekly trips on there. I love a clean, organized car and going to the car wash became a habit I enjoyed a lot.
I went to go to 30A again. Honestly, it's my favorite place to vacation……when it's not busy. Crystal clear water and all the seafood. It's heaven.
I found a lot of fun in playing my Nintendo Switch. Rob and I finished playing Luigi's Haunted Mansion and I still occasionally play Animal Crossing. Right now, we are loving Super Mario Party, Mario Golf, Super Mario Brothers U Deluxe, and I just got Big Brain Academy.
We got a Blackstone and we love it! I'm hoping to make some pancakes on it this weekend. Next up, I want to do some hibachi! Trying to be better about NOT eating out as often as we have been.
I made myself take breaks. Something I used to guilt myself for, but not anymore. I realize that I'm in charge of my schedule and I need to keep reminding myself of that.
I actually managed to keep money in a savings account. I'm working on being better about this and not buying things for the hell of it.
My friends. Both in real-life and online. Having constant support and encouragement is just a great feeling. Maybe you left a comment on a post, or maybe you sent a text. Did we hang out in real life? Those moments are the best.
TikTok has made me laugh more times than I can count. I would have never even downloaded it, except Becca kept telling me about BookTok and well, I have been hooked since.
The amount of times my nieces and nephews made me laugh. Hanging out with them is always so fun, unpredictable, and wild. Dance parties, "battling", pizza nights, movies, and more. Being an Aunt is so fun.
FINALLY getting back to visiting bookstores. There's nothing better than strolling a bookstore.
Rob and I made every Friday night a date night. Sometimes we went out, sometimes we stayed at home. I looked forward to it weekly. Hoping for more of this in 2022.
Yellowstone, Succession, Mare of Easttown, Only Murders in the Building, Dr. Death, Ginny & Georgia, Cruel Summer, Shadow & Bone, Sex/Life…..Some of the shows I watched in 2021. Some excellent, some passed the time nicely.
I sang (very loudly) Good 4 u more times than I'd probably like to admit.
My love of sitting in the car, drinking an iced coffee, and listening to an audiobook continued. It's not going anywhere in 2022 either. I look forward to these car dates as I call them.
Zillow Gone Wild. My brother and I send each other posts from this account. Wow is all I can say.
Out of all of the 21 things I loved about 2021, your support of Simply Stine is one that I'm so thankful for. I know there are thousands upon thousands of bloggers/influencers out there. I love creating content for Simply Stine and I love your DM's, blog comments, likes, and everything else. When you guys buy something using one of my links, I appreciate it more than you know. It just all means a lot to me and I hope you know that!
What would you say you loved about 2021?