Happy end of April! I think I say this every single time, but isn't it crazy how fast times flies anymore? Maybe that's just the fun part of being an adult?!? Anyways. I've carefully (ha) selected my April Lifestyle Favorites for you guys! I had a lot of fun doing it last month and actually more than one of you (really, ha) asked me to continue to do it. So here I am.
We've got Spring in full swing here in Georgia. It's warming up, allergies are horrible and it's time to start pulling out the dresses and shorts from the back of our closets. I've had the pleasure of having a couple of sick days lately, so my favorites for this month could actually consist of sinus medicine, cough drops and orange juice, but I won't do that to you! Instead, let's check out what I did pick out!
1. Wedges from Target (Sylvia Platform Wedge $29.99)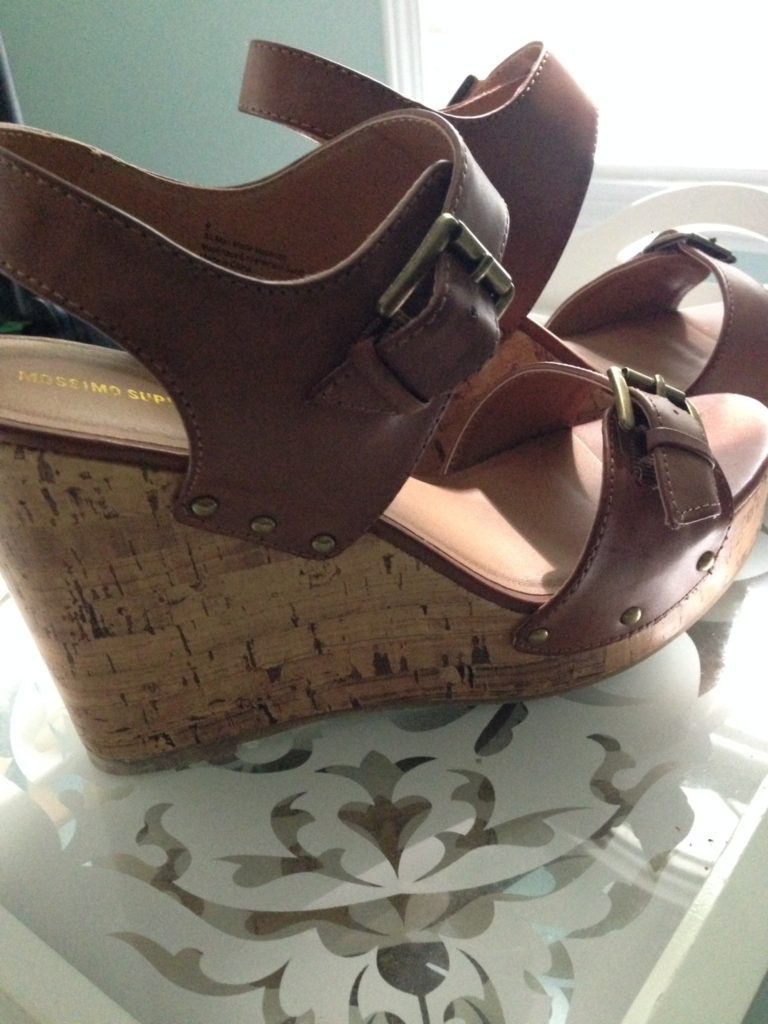 How cute are these? They also had them in black and I'll probably regret not picking them up. I have the widest feet possible and struggle like hell when it comes to shoes. If I tell my husband I want to look for shoes while at a store, he does this certain look and pulls out his phone because he knows it's gonna be a while. Truth. However, on this fantastic day at Target, these wedges DID fit! They're comfy and adjustable, which should work well for people with narrow feet as well. All for under $30.00. Yes!
2. Kate Spade Goodies
*Sigh* When the lady at the department store starts to remember your name, that's when you know that you are probably in there way too often. The truth is, I actually refuse to buy a single purse at full price. As soon as I'd buy one, more times than I'd like to admit; it would go on sale. I learned my lesson too many times and I won't buy a lures until it's discounted. It's a little game I like to play. I"m not cheap, I just try to be smart. I always have people ask me how I can afford so many expensive purses, but the truth is, I shop when they're on sale. Hell, I've been to Kohl's (yes, really) and seen purses for $100.00. WHAT?!?!?! So I check the sale racks often and also love to shop the Outlet stores. A new Kate Spade outlet just opened in Atlanta (it's also really close to the C. Wonder store) and I have found some great bargains there. So, yes. I made some purchases. I haven't bought a new purse in I don't know how long. Well, besides my C. Wonder purchase. I was after a functional, "basic" black purse. Got it.  I also happened to see a super cute pink and black cross body that I couldn't pass up. My Kate Spade wallet I just purchased cost me a whole $40.00!! SCORE!!!
3. Tazo Wild Sweet Orange Tea ($4.95)
I'm not a huge tea fan, but occasionally I do find ones that I really enjoy drinking. I seem to really like more floral, citrus flavors. I have a funny store about Teavana that I'll have to tell another time. It involved me leaving the store in tears because I had no idea how expensive the Tea I bought as a gift was going to be. Seriously, $100 for 3 cans of tea??? Anyways. Since I've been sick I've been drinking tea a lot more often. Not Sweet Tea. Good old fashioned Hot Tea. I enjoy drinking a cup of tea at night, but when I'm sick, it helps my throat feel so much better. Here are a few I've been enjoying:
4. Gone Girl
I read this book a while ago, but when I went to see the movie The Other Women (Fantastic movie), the trailer played for this movie and I picked up the book again. Such an amazing story that leaves you feeling like you know what's going on and then all of a sudden you're like WHAT JUST HAPPENED?!?!?! Fantastic book!

I also happened to film a quick YouTube Video to go along with this post.  If you aren't subscribed to my channel, make sure you do! The link for the video will be below. Comment below and tell me what some of your favorites from the month of April were!