I almost didn't write this post, but I felt like I had to. This post isn't about beauty or the latest fashion trends. Nope, today we're talking about how I'm celebrating 11 years of marriage.
This post is NOT to make you feel like shit if you are single or dealing with a bad breakup. #BeenThereDoneThat I honestly wrote this post because I remember years ago thinking to myself that I was never going to find that person who made it all worth it. I'd be alone forever because I couldn't find anyone who would actually care about me and love me like I deserved to be loved.
Also, I didn't know if I really felt the whole "marriage" thing was worth it or not. I'm writing this post because marriage is hard work, but when you're with the right person, it's a relationship that MUST be celebrated and talked about.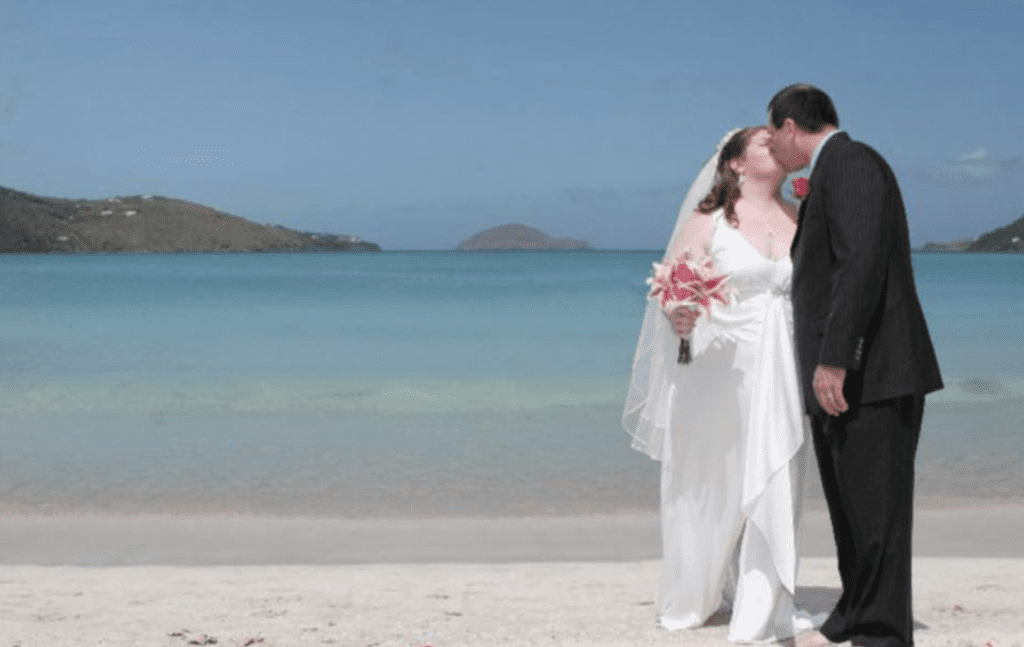 Magens Bay, St. Thomas
Rob and I had been together for quite a while before we got married. Which now, looking back, was probably a really good thing! Being the control freak that I am, I kinda just said: "hey we're getting married" and we started planning. We got married in St Thomas, on the beach at Magen's Bay, in sweltering hot heat. Things didn't always go as planned. Let me elaborate:
My then best friend decided to not go to our wedding when she was supposed to be my maid of honor (we are no longer friends by the way).
I was working a job where my boss would give us checks but didn't have the money in her account for us to cash them. Ever had to pay for a wedding? Yeah, you know how important money is then, ha!
Our wedding coordinator (who was kind of a joke if I'm being honest) forgot the champagne for our limo and for our guests, was late having the limo pick us up, didn't have the ceremony ready when we arrived (and we had to circle in the limo over and over again and we got car sick) the rose petals that I paid ridiculous amounts of money for, barely coated the sand that I was walking down the aisle on.
The photographer was just so-so and made Rob pose in ridiculous positions against a tree.
On our wedding video, there are random people swimming in the background of our wedding ceremony.
It rained the morning of our wedding and I freaked out since we were getting married on the beach
I forgot to wear SPF and being that I'm pale and was having a wedding ceremony early afternoon in the hot sun, wasn't the best idea.
Rob had to see me before the wedding because I didn't have any help getting my dress on LOL
I was so broke from paying for the wedding that I didn't even have enough money to have my hair professionally cut and colored so I had to do it myself before we left for vacation.
I never got to pick out my "dream" wedding dress and have that moment trying on horrible dresses and say "yes" to the dress. Instead, I ordered one online
Rob's suit didn't fit him right and we had it altered at least two times beforehand but finally just gave up and he wore it, even though it was tight in his arms.
This was a song Rob had put on a CD back in the day that he had made me. You guys, this song played on the radio the morning I was getting ready for our wedding. This isn't a song that's normally on the radio. EVER. WOW!
We were in Vegas. True Story: I cried because we got lost in the hotel and I was hangry!
The thing is, the wedding wasn't perfect, but it was beautiful because it was our moment. We were pretty much broke, but somehow as a team, we pulled it off! That wedding might not have been anything spectacular to some (I mean, we didn't even have a sit-down meal afterward because we couldn't afford it) but the fact that we did it together really showed me that we could accomplish things together and that's something that we always remember.
I have nothing but love and respect for my husband. He has the biggest heart and he is so patient with me. He has been my rock through some very difficult times and he's literally picked me up from the floor when I was at my worst and put me back together. That's the kind of person we all deserve to have by our side. That's one thing that I can't stress enough to someone. If you're with a person who doesn't treat you like a queen and show you respect and love; you deserve better.
He's dealt with my anxiety attacks and is understanding even at times when I have no idea how he can handle me. He's been by my side when I'm horrible and moody. He's listened to me cry and held my hand when the doctors have told me bad news. He's stayed with me even when others thought he'd leave. #Infertility
He prefers me with zero makeup and loves me in jeans and a t-shirt. Does he realize who he married?!? He would rather eat the food that I prepare than go out to eat. He brings me coffee and breakfast in bed all of the time. His new thing is "attempting" latte art each morning, ha!
When I'm stressed with things, he'll put his work aside and help me. He drives two exits super early in the mornings to get my favorite donuts on random days.
He encourages me even when I don't believe in myself. He stays by my side in Sephora and Ulta and never complains. He understands my cravings and that sometimes a girl just needs chocolate.
He tells me corny jokes that make me laugh more than I want to admit. He cleans the shower because he knows I hate it. He's dealt with me trying Whole 30 and survived even though I'm sure it was super tough to be around me. He watches The Bachelor with me and makes fun of Arie just as much as I do…"I love that a lot!"
He's made sure I have everything I need to succeed as a blogger. He's helped me build my website. He's taken plenty of photos of products and me pretending to be a model. He's bought me lighting equipment, computers, cameras, and even purchased products to make sure I'm still VIB Rouge.
He checks my analytics to see if a post I wrote is doing good and works on correcting my grammar mistakes because he knows that it's not a strong point in my blogging game.
He knows I'm obsessed with Christmas and immediately turns on Christmas music when we're in the car starting around Thanksgiving. He watches Hallmark movies with me and has a schedule of Christmas movies to watch before Christmas. He decorates the house with me and drives me around town to look at other people's lights.
Not a day goes by where he doesn't tell me how beautiful I am. Even when I'm at my worst, somehow he still thinks I look like a million bucks. He compliments my outfits. He will stop and look at my makeup and tell me he loves my eyes or something about the look. He helped blow dry and style my hair when I was having issues with carpal tunnel. He even did a YouTube video challenge of him putting on my makeup. It's pretty funny!
He takes care of our handicap dog. Which means setting an alarm at 3 in the morning to make him go to the bathroom and again at 6 am and every three hours after that. He gives him his medicine he needs all day and plays ball with Bailey even when he's slammed with work. I know by seeing how loving he is with Bailey and how patient he is that he would have been the most amazing father.
The thing is, I can't imagine my life without him. We have so much in common, but we're also so very different at the same time. I think that all of those differences are what make us work.
Marriage is about understanding and working together. Being patient. Being forgiving. Being a pair that works hard at keeping that spark alive. Every day isn't sunshine and rainbows and there WILL be bad days where you fight, argue and can't stand to be near each other. However, there are so many amazing days. Sure, 11 years is nothing compared to some people, but I think that in today's society, it's a huge accomplishment that I want to celebrate.
So happy 11 years, Rob. I love you more than you will ever know! You always tell me how lucky you are but I am truly the lucky one. I thank god every single day of my life for you and am so grateful for everything that you've done for me and for us. I love you!