I have three amazing StriVectin Skincare products to talk to you about today. These products have impressed me so much that they've been on constant rotation in my skincare routine. The weather is changing, so I'm slowly preparing for colder weather and dry environments. PS I can't wait till this humidity is long gone #ByeByeSummer StriVectin has it down when it comes to amazing ingredients in their skincare. Bottom line, their products work and do what they're supposed to.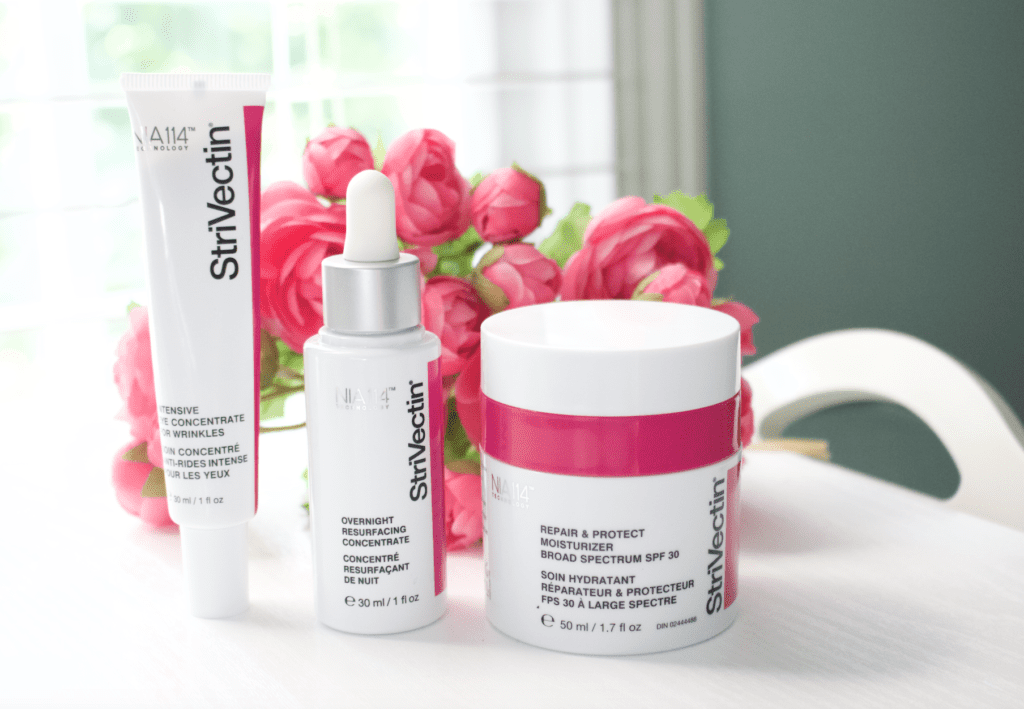 The three StriVectin Skincare products that I want to talk to you about today are products that StriVectin kindly sent me a while ago, but at the time I got the products in the mail, I was using a different routine I wanted to stick with. That routine has been done and I immediately went for the StriVectin goodies! Honestly, if I had to ONLY use these three products from StriVectin, life would be ok! They give me a nice exfoliation, hydrate my skin, keep it protected from UV Rays, help keep fine lines and wrinkles away and my skin feels soft as can be!
StriVectin Intensive Eye Concentrate for Wrinkles $69.00
Do you hate having bags under your eyes? Do you suffer from dark circles that won't go away no matter what you're using? This Intensive Eye Concentrate for Wrinkles is ahhhh-mazing! The formula is very lightweight, but so powerful. Don't worry, if you suffer from very sensitive eyes, you shouldn't have any issues using this. My eyes haven't been irritated at all by this product. This Eye Concentrate fights fine lines and wrinkles, crows feet, deep set wrinkles and helps to hydrate the under eye area and protect it from aging. The formula features light reflective ingredients which help to brighten up the under eye area and help fight the appearance of dark circles under the eyes.
How to use: AM and PM on clean skin. A small amount of this product goes a very long way!
StriVectin Repair & Protect Moisturizer $89.00
This moisturizer is basically magic in a jar. It features an SPF 30 and it's so good with my combination skin. It's not too heavy, and it works on the areas that are dry and the areas on my face that tend to be a little bit oily. I love using this before makeup because it gives me the perfect canvas to apply my makeup. When I use this moisturizer, my skin feels so soft and hydrated, without feeling oily or greasy. I can't wait to keep using this as the weather changes, so I can see how my skin feels when it's that much drier and colder outside.
How to use: AM only (as this has an SPF, which isn't necessary for PM routine) and a little bit of this goes a very long way!
StriVectin Overnight Resurfacing Concentrate $72.00
This serum is just so good. It features enzymes that exfoliate the skin and remove the dead skin cells, promoting skin renewal. When I use this product, my pores seem smaller, my redness calms down and my skin glows. I absolutely love this product so much that it might be my favorite StriVectin product that I've ever used.
How to use: Nightly, after cleansing and toning, but before serums and moisturizers.
---
StriVectin just continues to keep introducing new products with improved ingredients and technology. It's one brand that I look forward to using because I have such incredible results that speak for themselves when I look in the mirror. If you're looking for a product line to add to your routine, especially products for anti-aging, make sure you take a look at the products I mentioned above! They're quality products that are worth every penny that they cost! This isn't a sponsored post, I just really love StriVectin and love to share good products with you guys when I come across them!
Products sent for review purposes. All thoughts and opinions are my own.
Curious about other StriVectin product reviews I've done? Click below to read more!